A large part of any Disneyland vacation budget is the hotel. For those looking to save with affordable accommodations, Get Away Today has several options. On this week's hotel spotlight, we're highlighting the Clarion Hotel in Anaheim and sharing why it's one of our top-rated value hotels near Disneyland.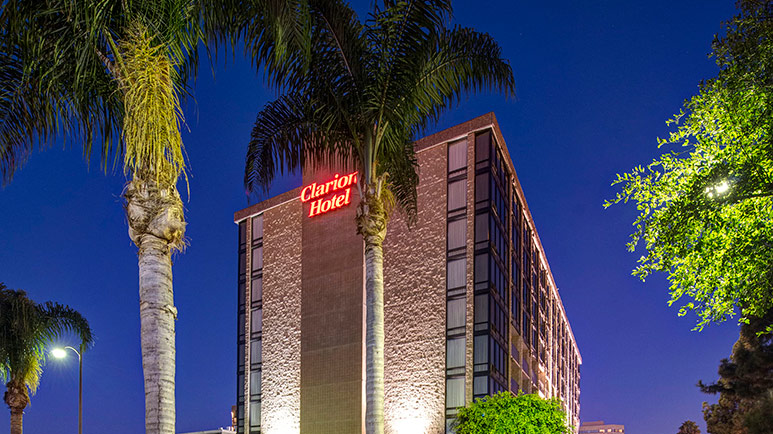 While Disneyland is expensive, it is definitely worth the cost – and more affordable than many people realize! One way to cut down on the cost of a Disneyland vacation budget is by choosing a value hotel that offers great rates AND great amenities. One of Get Away Today's top value hotel partners happens to be the Clarion Hotel in Anaheim.
Today, we're sharing our favorite things about the Clarion, as well as some reviews from guests who have stayed there recently. Once you've finished reading all about the Clarion Hotel in Anaheim, don't forget to leave us a comment with the hotel you think we should spotlight next!
Clarion Hotel in Anaheim: Location, Amenities, Reviews and More
Location
The Clarion Hotel in Anaheim is located on Convention Way and a short walk from the Disneyland Resort. While being right next to the Convention Center and Morton's The Steakhouse, it is also conveniently located near the IHOP, CVS, Carl's Jr., Roscoe's House of Chicken and Waffles, Taco Bell and Walgreens found along Harbor's Boulevard. It's the perfect location if you want to make sure you have plenty of options for food outside of the park, while still being nearby. As far as hotels near Disneyland, this one is convenient for other venues as well.
Amenities
You'll find more than just a great location at the Clarion Hotel in Anaheim. In fact, the hotel offers newly renovated rooms, an outdoor pool, sports lounge and on-site restaurant. They also offer standard rooms for families of up to five and studio suites (larger rooms with extra bedding) for families of up to six. For anyone looking for an affordable option that still offers lots of amenities, you should definitely consider the Clarion. Especially when you consider that booking with Get Away Today gets you exclusive amenities - specifically free parking and a free full breakfast each morning. The breakfast is easily a savings of $12- $18 per person while the parking is a savings of $14 per day. For a family of five staying four nights, that's an additional $116 - $146 saved!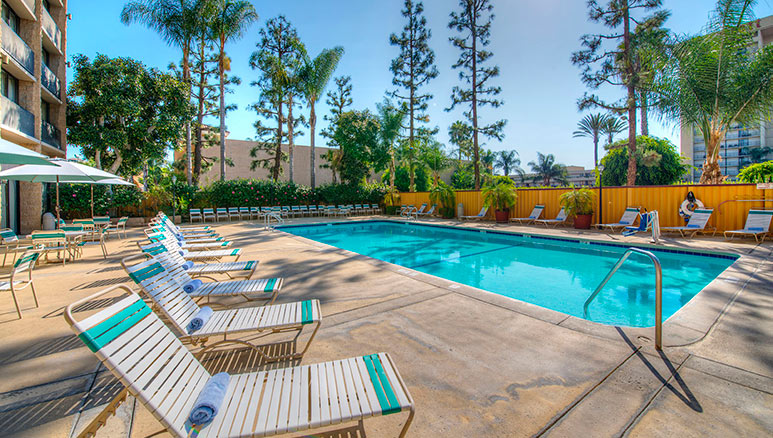 Reduced Rates
Speaking of exclusive Get Away Today offers, you can also take advantage of specially reduced rates for the Clarion Hotel in Anaheim. On top of the reduced rates, the Clarion also offers a 3rd Night Free special on select dates, for both their standard rooms and studio suites. This special is only for Get Away Today guests and can easily save you more than $100 dollars per stay.
Real Guest Reviews
Now that we've covered why the Clarion Hotel in Anaheim is such a top-rated and affordable option, let's look at what guests who have stayed there have to say:
"I had 4 adults and 2 kids in the studio suite and it was perfect. I loved having the hot breakfast and free parking. It was great being walking distance to the park. The staff were all friendly and helpful. I recommend staying here if you're on a budget. You won't be sorry."
Anon. on 2/6/18
"We had a fantastic stay. Everyone was helpful and kind. Service was wonderful. We especially appreciated the friendliness of the restaurant workers :). They made the start of each day extra good. Thank you!!"
Jane D. on 1/21/18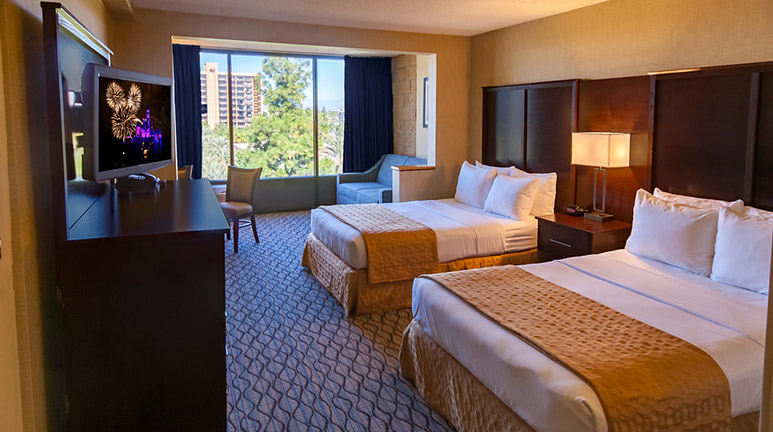 "The room was very clean; the staff was very nice and helpful. The free breakfast was always delicious also. The beds weren't as comfy as I had hoped, and the bathroom could use an overhaul. Other than that, everything was great and only a 15-minute walk to Disney."
Cassy T. on 12/15/17
"My daughter and I are returning guests, this is our fourth stay and on our next visit we will book this hotel. The breakfast crew is very well organized and very clean, helpful (hello to you three!! And thank you). The room is always clean, good job housekeepers.... the front desk is there for the guests 100%.... I requested a couple of things to be done in my room (blow dryer was not working properly, the shower head was leaking just a bit and I wanted fresh towels every day). When we returned from a long day at Disneyland everything was taken care of.... Thank you all!"
Marzia D. on 10/13/17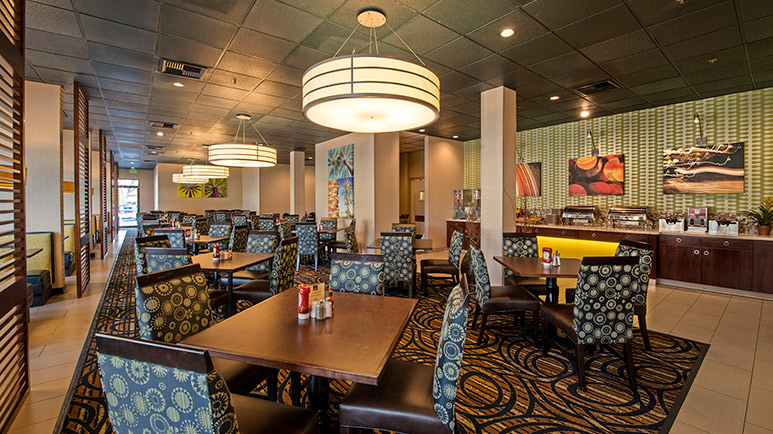 It's easy to see why the Clarion Hotel in Anaheim is one of our top-rated value hotels for Disneyland. Have you stayed here before? Let us know below!
If you're planning your 2018 Disneyland vacation, we'd love to help! On top of offering reduced rates at hotels throughout Anaheim, we also offer discount Disneyland tickets and expert Disney advice. Book online now or give our agents a call at 855-GET-AWAY.

Check out more of our hotel partners in Southern California: