The Marriott in Fullerton, California is a newly renovated hotel near Disneyland and Knott's Berry Farm. Its modern furnishings and conveniences make it a great choice for your next Southern California vacation.
Photo courtesy of Marriott Fullerton
Marriott Fullerton Review
Refer to our Marriott Fullerton review to help you decide whether or not this hotel near Disneyland is the one for you. We will go into detail regarding room types, dining options and more. If you have any questions, feel free to let us know!
Marriott Fullerton Review - Rooms
When you check in to your room at Marriott Fullerton, you're greeted with updated decor and technology. When you book with Get Away Today, you can choose between two standard room types at Marriott Fullerton; King Sized or Two Doubles. Sleep two to four guests comfortably, depending on room choice. You may also request a crib in the King room, for little travelers, from the front desk at the Marriott Fullerton. In either a King or Double room, the bathroom features a tub/shower combo, integrated lighting and Bath and Body Works products. Each standard room at the Marriott offers additional seating in room, as well as a workstation and plenty of outlets.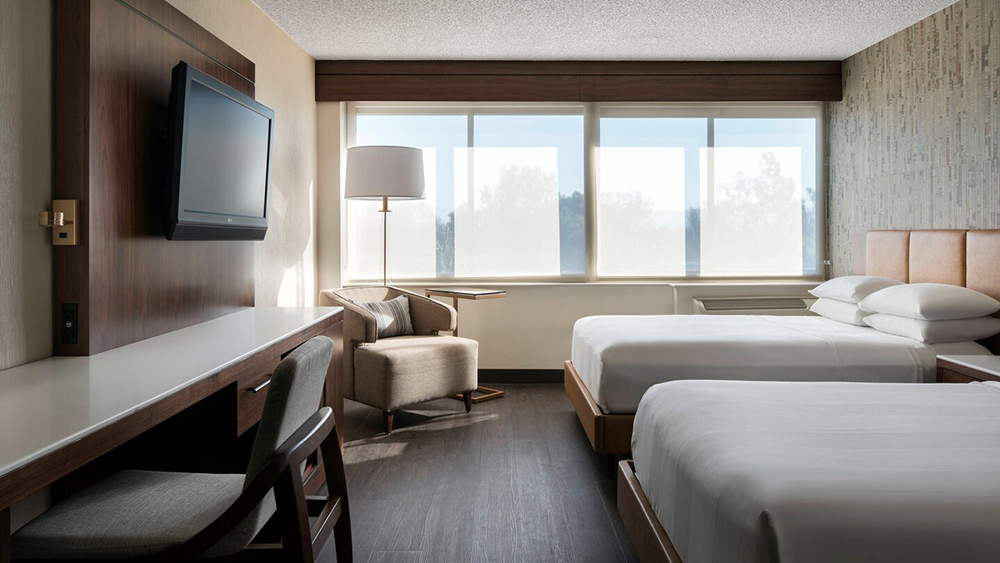 Photo courtesy of Marriott Fullerton
Marriott Fullerton Review - Amenities
In addition to the features laid out above, the rooms at the Marriott Fullerton include a coffee maker, and a mini fridge. Enjoy views of the city or local vegetation, depending on room type assigned, and free parking on-site. The Marriott Fullerton offers an outdoor pool and hot tub, as well as an exercise room. Guest rooms include perks like free Wi-Fi, cable and access to streaming services such as Netflix. With all these amenities, you'll want to stay a little longer to enjoy not just the local attractions, but time to relax at the Marriott as well.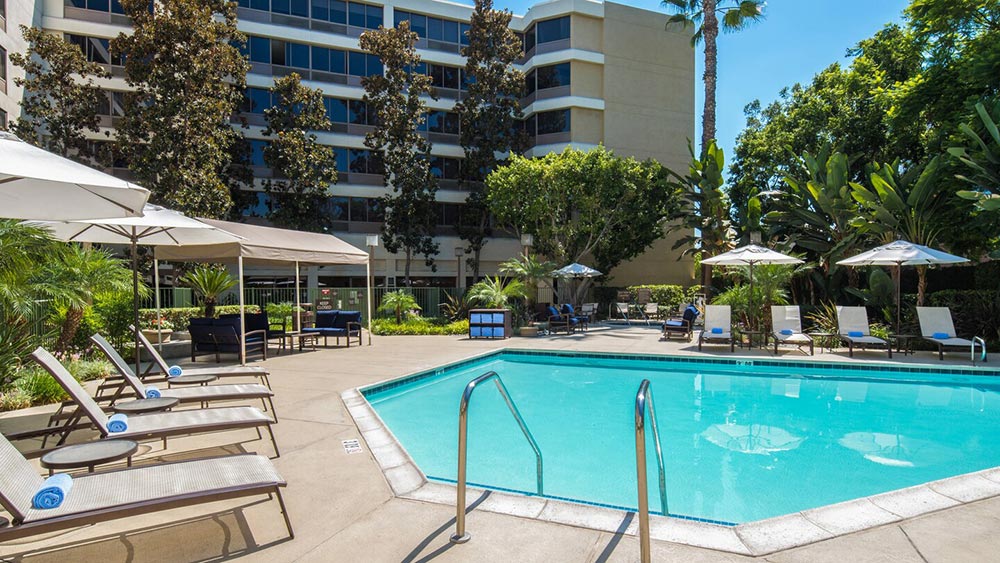 Photo courtesy of Marriott Fullerton
Marriott Fullerton Review - Dining
In addition to free parking for Get Away Today guests at the Marriott Fullerton, there is also a full, complimentary breakfast available each morning. Enjoy room service or in-house dining at spadra33. This restaurant features an Asian inspired menu available for breakfast, lunch and dinner.
Photo courtesy of Marriott Fullerton
Marriott Fullerton Review - Location
Sometimes it can be nice to stay in a hotel a little more removed from the Disneyland Resort. You avoid some of the daily traffic, but still be close enough to Uber or shuttle to Disneyland or Knott's Berry Farm fairly quickly. The Marriott Fullerton is about 10 miles away from both amusement parks, and it is adjacent to California State University Fullerton. Nearby dining options include Pieology Fullerton, In-N-Out Burger, The Habit Burger Grill and The Flame Broiler.
Marriott Fullerton Overview
The Marriott Fullerton is in such a great location if you want to enjoy college town eateries and proximity to the Disneyland Resort. With exclusive discounts and freebies when booking with Get Away Today, the Marriott in Fullerton is an excellent choice for your next family vacation. Whether you are looking for a hotel with a pool or conveniences like Netflix, you'll find it at the Marriott Fullerton.
Book Hotels Near Disneyland with Get Away Today
You can book hotels near Disneyland on our website, or by calling an agent at 855-GET-AWAY. Our knowledgeable agents are happy to help you make your choice and find the ideal location and amenities for your needs. We work closely with our partner hotels near Disneyland to ensure you receive the best service at the best prices.