When the weather outside is frightful,
there's a way to make your kids feel delightful.
You have somewhere special to go,
surprise them with Mickey Mouse built of snow!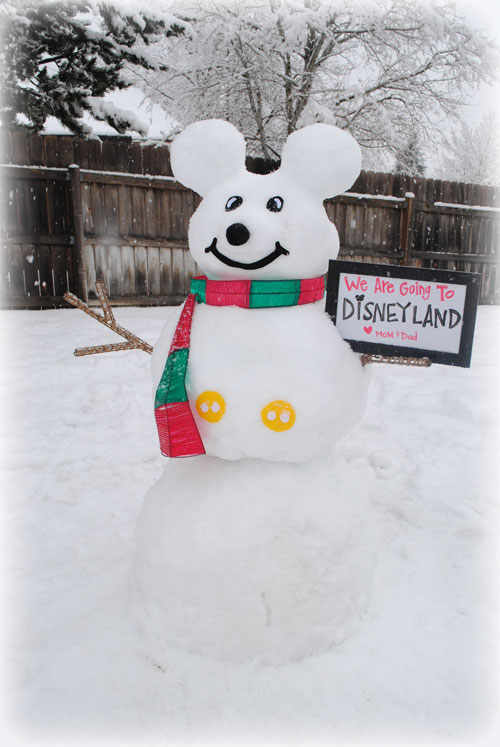 Happy Holidays! If you are planning to surprise your family with a Disney Vacation this Christmas Season, get a little help from Mickey Mouse and let the snow do the talking! We made our Mickey with some simple felt cut outs, the tip of a sock with stuffing for the nose, and an old scarf from a snowman lawn decoration. Feel free to use whatever you have around your house!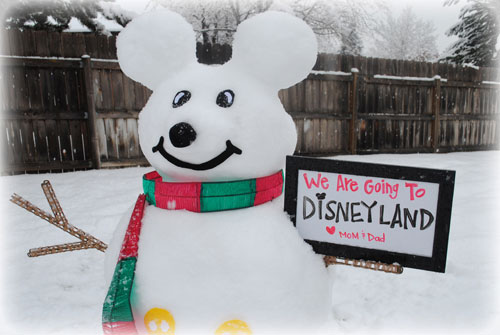 Can you imagine the joy and delight on your children's faces when the peek out the window to see this adorable Mickey Snowman telling them that they are going to Disneyland? It is the kind of White Christmas we all dream about. There's still time to plan your family's Disneyland vacation surprise - our office is open from 9am-1pm MST today, or you can book any of our vacations online throughout the holiday season!

Check out these other fun gift giving ideas:
3 Vacation Surprise Ideas for Christmas Morning
Vacation Gift Idea: Snow Globe Tutorial
Vacation Surprise Treasure Hunt Tutorial
Disneyland Vacation Countdown Chain