Wondering how to give a Disney trip for Christmas? Give the gift of a Disney vacation for Christmas with this cute ticket printable. Easy last minute idea to give a Disney vacation on Christmas morning.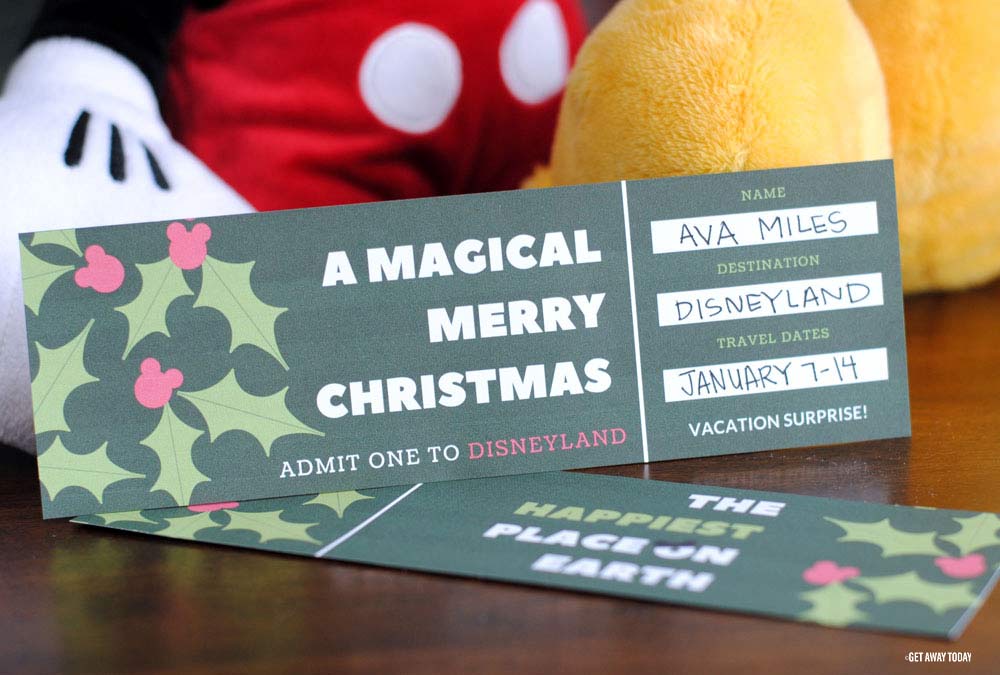 Have you heard the song on the radio about a grown up Christmas list? It is pretty touching. However, I must not be very grown up yet, because at the top of my Christmas list is a Disneyland vacation! Traveling for the holidays is so much better than filling the house with more toys and random stuff. Am I right?!
How to Give a Disney Trip for Christmas - Disney Vacation Ticket Surprise
If you have planned to give your family a Disneyland vacation this Christmas, but are still wondering how to give a Disney trip for Christmas, and announce the gift on Christmas morning, then you are in luck! This super easy Disney vacation ticket surprise printable is perfect for the job. It is quick and practically free!
Start by downloading the template. There are two sides to the ticket, so be sure to download the front HERE and the back HERE. Print the first side onto cardstock paper. The ticket prints up better if the paper has a little bit of heft to it. I wish I would have printed mine on the glossy cardstock! I think it would be even more authentic looking. But, it is hard to photograph, so I had to use the regular cardstock instead.
When you hit "print" make sure to select the box that says "Scale to fit media." That way you don't lose some of the design off of the paper.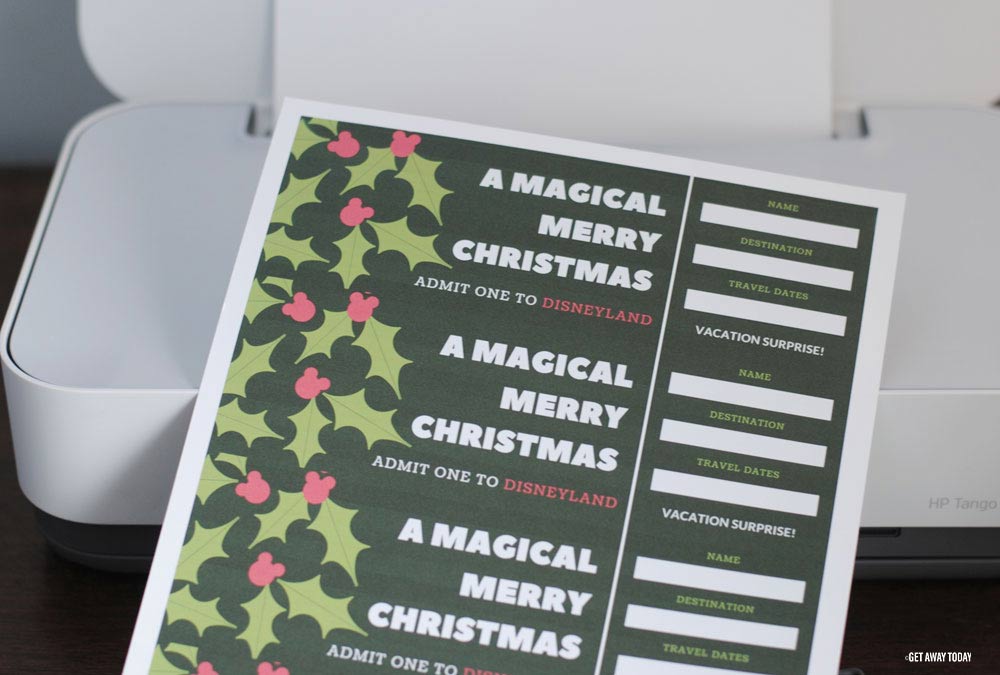 Then, take a peek at your printer to see how to insert the paper back into the printer to print the second side onto the back. Print the second side onto the page. It should line up perfectly!
I use a paper slicer to cut all of my projects. It is so fast and easy. If you don't have one, scissors are totally fine. Cut each Disney Vacation Ticket out so you have four rectangles.

How to Give a Disney Trip for Christmas - Fill in the Blanks
There is a small section on the front of the ticket that allows you to personalize the gift. Write in the Name, Destination, and Date of Travel. The Destination part can also be the name of the hotel you plan to stay in.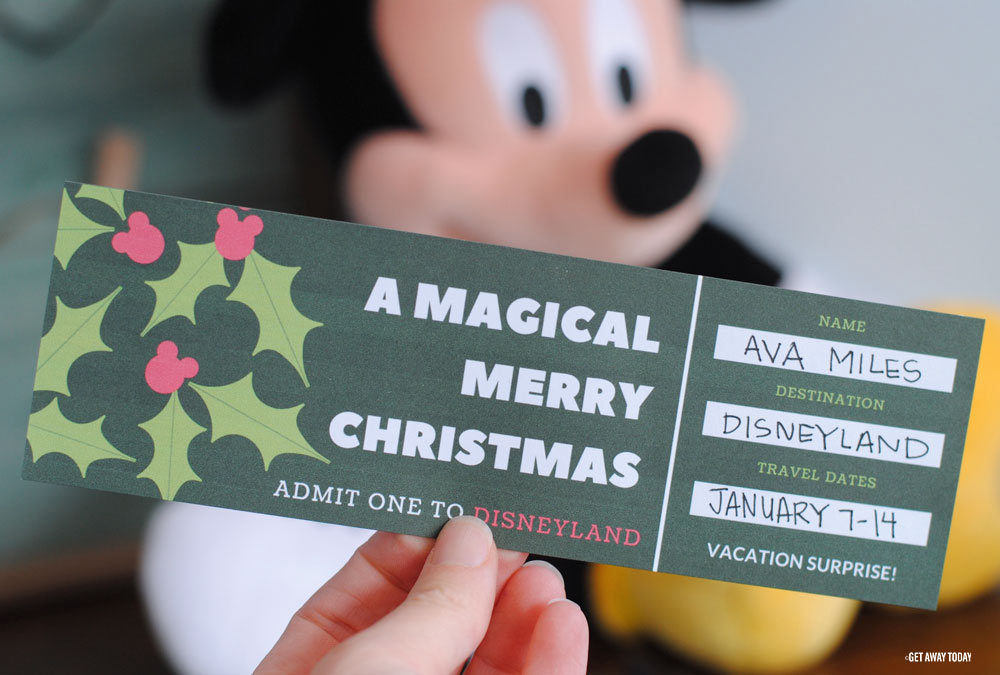 I gave my family a trip to LEGOLAND at Christmas last year and we didn't travel until April. They were so excited for months leading up to our vacation! It was the best gift of the day and they had to wait over three months to really experience it. It was totally worth the wait.
How to Give a Disney Trip for Christmas - The Reveal
There are so many ways you can give these fun Disneyland Vacation Tickets. Slide them into a mini stocking with some Hershey Kisses inside. Tie the tickets to the Christmas tree like an ornament and let your kids hunt to find the one with his/her name on it. Put it in an envelope that is addressed from the North Pole and write a letter to them from Santa! Wrap the ticket with a cute Disney stuffed character. However you decide to present the Disney Vacation Tickets you are guaranteed to earn hugs and kisses in return.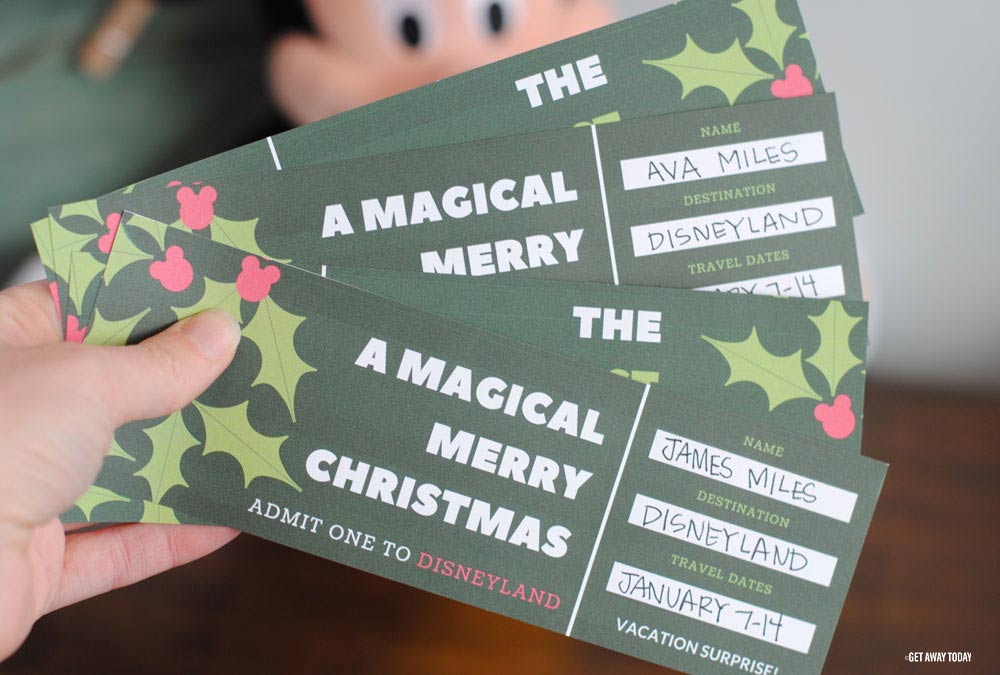 Merry Christmas! I hope your holiday is filled with the special magic and love of the holiday season. My grown up Christmas list really does include peace on Earth, health and happiness for all, and that Disney magic can fill our hearts and homes.
Let us know if we can help you plan how to give the gift of a Disney vacation, or any vacation for that matter! Packages are always available to book online, or you can give us a call at 855-GET-AWAY.