Disney Cruise Line has had some pretty amazing changes over the last few years. Since 2011 Disney Cruise Line has doubled its fleet with the beautiful new ships, the Disney Dream and the Disney Fantasy. One of Disney's original ships, the Disney Magic underwent a major refurbishment, making it better than ever before. Now it's time for the Disney Wonder to undergo a makeover of its own. We couldn't be more excited about the new changes coming to the Disney Wonder. Here on the west coast we are especially excited about the updates to the Disney Wonder, because we consider it "our ship." The Disney Wonder does Alaska sailings each summer, and next year it will offer 13 Baja Mexico sailings between the spring and fall. We are so excited!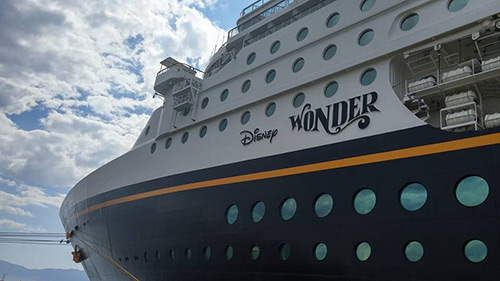 Here is a glimpse at the new changes coming to the Disney Wonder:
Marvel Super Hero Academy
This exciting addition to Disney's Oceaneer Club is exclusive to the Disney Wonder and is all about letting kids develop the heroes already inside themselves. With some of Marvel's greatest Super Heroes as mentors, kids will learn all about teamwork, problem solving and bravery. Real life and virtual visits from their favorite Marvel characters are sure to leave a lasting impression. Plus, they'll get to see Captain America's World War II shield, Iron Man's helmet, Spider-Man's web shooters and Black Widow's gauntlets all in the Marvel Super Hero Academy.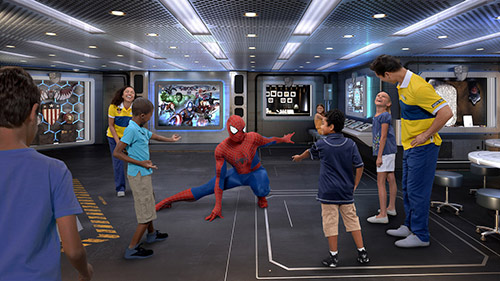 Photo Courtesy of Disney Parks Blog
More Oceaneer Club Experiences
Disney's Oceaneer Club which is available for children ages three to 12 years old, more customized experiences are being added including Frozen Adventures with everyone's favorite snowman and royal sisters. Club Disney Junior features favorite Disney Junior characters, storytelling and games. And Andy's Room will make your kids feel like they're part of Andy's toy collection in this incredible play area designed after the Disney•Pixar "Toy Story" trilogy. Plus, kids will love to get to meet the real Woody and Jessie!
A new "it's a small world" nursery
A new themed nursery will be available for cruisers who aren't quite old enough for the Oceaneers Club. The darling space is inspired by the classic Disneyland attraction and is available for kids ages six months (the minimum age for most Disney cruises) through two years old.
Tiana's Place Restaurant
One of the best things about Disney Cruise Line is their innovative rotational dining. Guests get to experience the cuisine and ambiance of different restaurants most nights of their cruise, all while keeping the same servers who quickly learn their guests' preferences. All new and exclusive to the Disney Wonder, Tiana's Place restaurant will transport families to the world of The Princess and the Frog; an era of southern charm, spirited jazz and street party celebrations, of course with a delicious southern-style menu. Now we'll finally be able to taste Tiana's delicious creations! Plus, diners will be treated to live jazz, swing and blues music. You'll feel completely immersed in Princess Tiana's life in New Orleans.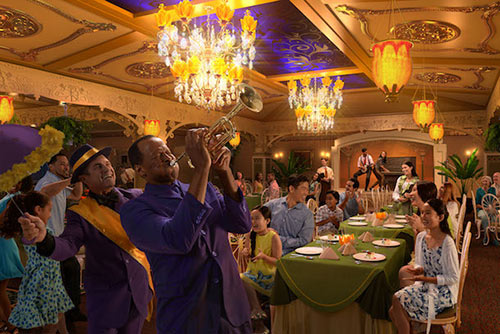 Photo Courtesy of Disney Parks Blog
Animator's Palate
As I mentioned, one of the best parts of the Disney Cruise is the rotational dining with the themed restaurants. One of these main dining restaurants is Animator's Palate which is being updated with two dinner shows; "Drawn to Magic" and "Animation Magic." These shows are already huge hits, and Animation Magic is one of the most interactive shows that will completely put your family's art work into the show.
An English Pub
Anyone who has been on a Disney Cruise knows that it's not just for the kids. There are special areas dedicated just to adults, and the Disney Wonder will unveil a brand-new pub themed after an authentic English tavern. Adults 21 and up will be able to enjoy specialty beers, including an exclusive brew that you'll only able to find onboard the Disney Wonder. Of course, it's still on a Disney ship, so guests who pay close attention will notice some Disney touches from some of the favorite films based in London.
Photo Courtesy of Disney Parks Blog
Water fun
The Disney Wonder's upper decks are also getting a complete renovation with great new water features. The Twist 'n' Spout water slide will provide splashtacular fun. Dory's Reef is a splash zone that offers a water play for toddlers - and is the only water play area that allows swim diapers. All swimming pools require kids to be completely potty trained. AquaLab is a pool and interactive water play area for kids and families, sure to make vacation memories you'll treasure forever.
Bibbidi Bobbidi Boutique
The Disney Wonder is going to be getting one of the most popular experiences of Disneyland and the other Disney Cruise ships. This shop offers magical makeovers for children - both boys and girls. Boys can choose from royal knight packages and girls have a wide range of princess packages available. On pirate nights, boys and girls can both get swashbuckling makeovers. Reservations fill up quickly and can even be made online before your sailing date.
Enhancements
Some of the most popular areas of the Disney Wonder are also being updated. The Cadillac Lounge (adult lounge), D Lounge (family lounge), Edge Senses (tween lounge), Cabanas (casual dining restaurant), Palo (adult only fine dining restaurant), Spa & Salon are all getting a facelift. And, the Disney Wonder is also getting a new Chill Spa just for teens and a new Walt Disney Theatre production sure to wow audience members of all ages.
We are so excited for these incredible updates and additions. The Disney Wonder will be dry docked from September 9 to October 23, 2016, to make all of these fabulous enhancements. The first sailing to include these updates will be on November 10, from Galveston, Texas. From there it will stay based in Galveston with Bahamas and Caribbean cruises through January, where it will move to San Juan, Puerto Rico on January 20, 2017 for a Southern Caribbean cruise before returning to Port Canaveral, Florida, where the ship will home port for the spring before heading to the West Coast and Alaska for the summer and fall of 2017.
In addition to these exciting new changes coming to the Disney Wonder, there's exciting news for ALL Disney ships. Guests will be able to pre-book two Meet & Greet opportunities with Disney Characters online before their sailing! Previously, guests had to wait until they were onboard to book these special experiences. In addition to this awesome update, guests sailings on cruises of 7-nights or longer that feature at least two sea days will also be able to pre-book a special Character Breakfast online.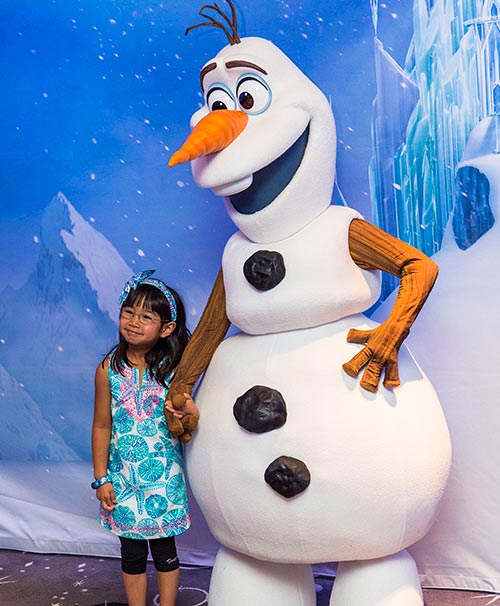 Photo Courtesy of Disney Parks Blog
If you haven't booked your cruise aboard the Disney Wonder, or any of the other Disney cruise ships, there's still time. You can call our cruise experts at 877-510-2929. We'd love to help you make your Disney cruise dreams a reality!

Check out these other great articles: