Have you ever wanted to take a cruise? Since we love all things Disney at Get Away Today, it's no surprise we're huge fans of
Disney Cruise Line
. Today we're sharing a Disney Fantasy review so you can decide if it's the right ship for you. With four ships to choose from in the Disney Cruise Line, it's so nice to learn details about each one individually.
Disney Fantasy Review
Take a look at our breakdown of Disney Fantasy itineraries, staterooms, dining options and more in today's article.
Disney Fantasy Review - Itineraries
You have a lot of options when it comes to Disney Cruise Line itineraries. You could sail anywhere from three days to nine when you choose the Disney Fantasy. For the upcoming year, Disney Fantasy departs from Port Canaveral, Florida, heading to the following destinations and more.
Eastern Caribbean - Disney Fantasy Eastern Caribbean itineraries invite guests to explore ports in St. Maarten, the U.S. Virgin Islands, Texas, Florida, New York and Puerto Rico.
Western Caribbean - Select a Western Caribbean itinerary and head to ports in Mexico, Jamaica, Grand Cayman, Florida and Texas.
Southern Caribbean - Your Southern Caribbean ports of call include St. Kitts, Barbados, St. Lucia, Martinique, Aruba, Antigua, the British Virgin Islands, Florida and Puerto Rico.
Castaway Cay - Castaway Cay is Disney's private island in the Bahamas. A number of Disney Fantasy itineraries include a stop at this piece of paradise. Included on your Disney Cruise to Castaway Cay is entertainment, beach access and gear (towels, umbrellas, chairs and hammocks), a swimming pool with slide and splash zones, Character meet and greets, a seasonal 5K, access to walking paths, a lunch buffet, soft serve treats, soft drinks, Disney Character experiences, kids' clubs and tram transportation. There are also additional-cost experiences you can opt to to as well.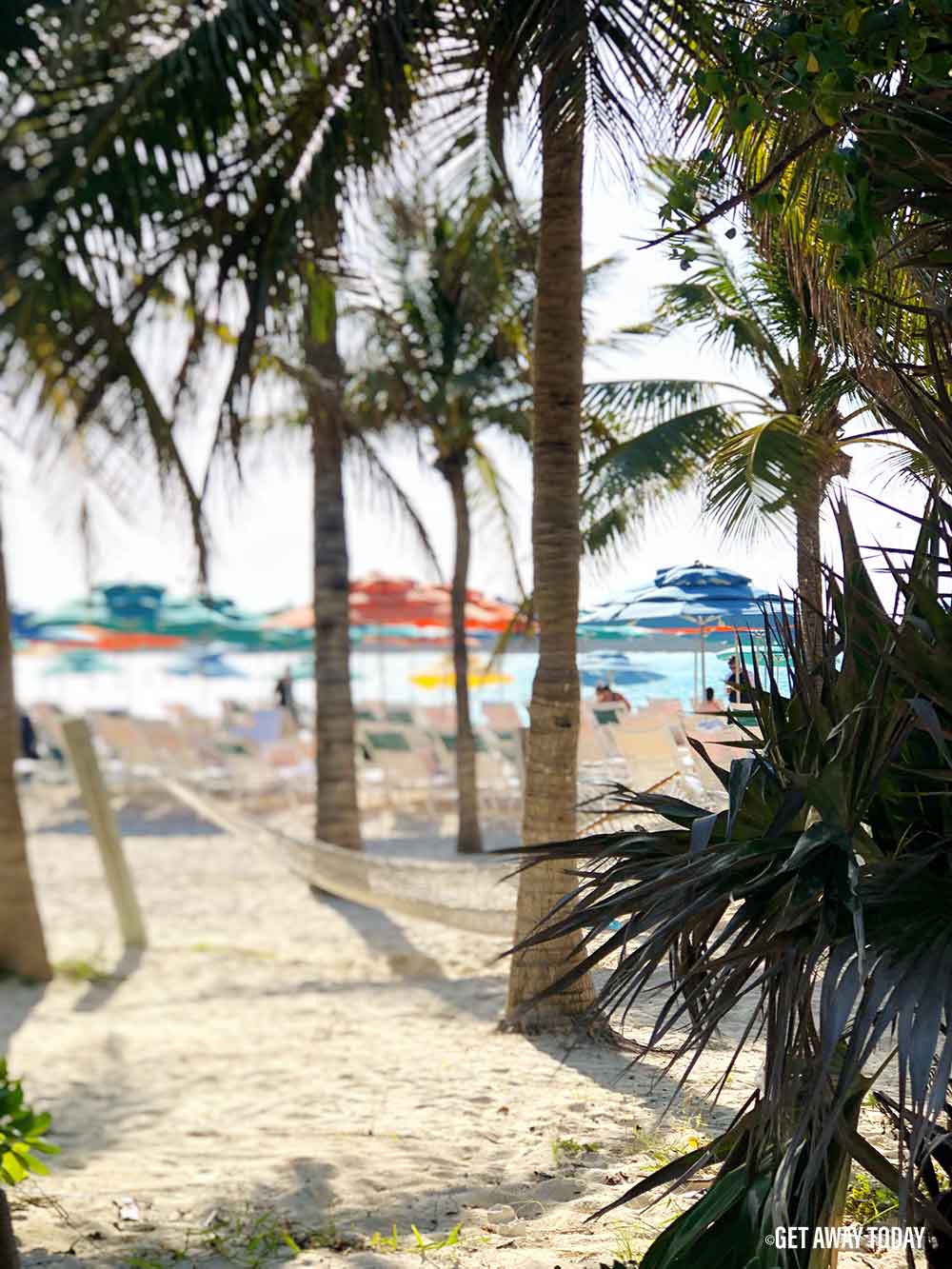 Halloween on the High Seas - If you'd like to celebrate Halloween on the High Seas, you can onboard Disney Fantasy itineraries to the Bahamas, Western Caribbean and Eastern Caribbean. Halloween cruises range in length from three to seven nights. During a Halloween on the High Seas cruise, the Disney Fantasy is decked out with decor, including a pumpkin tree with unique hanging jack-o-lanterns. Halloween festivities range from trick or treating to pumpkin carving, and Disney Characters are dressed in their costumes during the voyage.
Very Merrytime Cruise - Sailing over the holidays is a great way to make lasting memories! You can take a Very Merrytime cruise with Disney to the Bahamas, Western Caribbean and Eastern Caribbean. Very Merrytime cruises range in length from three to eight days. These festive cruises feature seasonal decor and activities such as gingerbread house making, tree lighting ceremonies and story time with Mrs. Claus. Very Merrytime cruises also incorporate Thanksgiving and New Year's Eve celebrations, including a feast, football viewing, fireworks and a family-friendly deck party.
Disney Fantasy Review - Staterooms
The Disney Fantasy features art nouveau decor without lacking modern conveniences. Since Disney Cruise Line is ideal for families, the staterooms reflect a family's needs. When you book a Disney Cruise with Get Away Today, you can request the following stateroom types. Remember, booking adjoining staterooms might actually save you money compared to booking the largest option possible.
Concierge Family Oceanview Staterooms with Verandah - Sleeps five in 306 square feet.
Concierge 1-Bedroom Suites with Verandah - Sleeps five in 622 square feet, including a separate bedroom and two bathrooms.
Concierge Royal Suites with Verandah - Sleeps five in 1,781 square feet, including a separate bedroom and two bathrooms.

Photo courtesy of Disney Fantasy Cruise Line
Verandah Staterooms
Deluxe Family Oceanview Stateroom with Verandah - Sleeps four to five guests and features a sitting area, split bath and murals that are revealed when kids' bunks are folded down.
Deluxe Oceanview Stateroom with Verandah - Sleeps three to four guests and includes a privacy curtain to separate sleeping areas, a split bath and fold-open kids' bunks with hidden murals.
Photo courtesy of Disney Fantasy Cruise Line
Oceanview Staterooms
Deluxe Family Oceanview Stateroom - Sleeps three to five guests and offers views of the ocean via one to two portholes.
Deluxe Oceanview Stateroom - This oceanview room sleeps three to four guests and includes one to two portholes.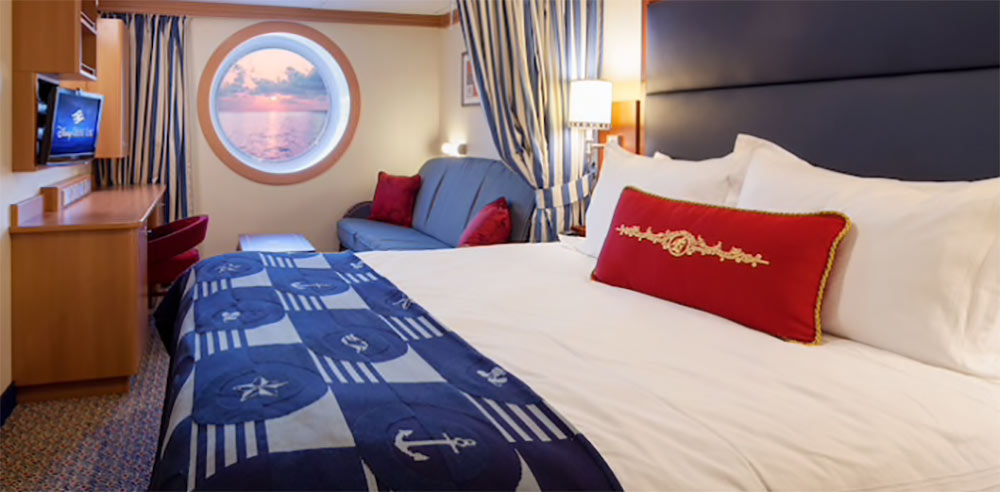 Photo courtesy of Disney Fantasy Cruise Line
Inside Staterooms
Deluxe Inside Staterooms - These staterooms sleep three to four guests and are the only style of room that includes magical portholes with real-time feeds of the ocean and animated Disney Character visits.
Standard Inside Stateroom - This stateroom sleeps three to four guests and also includes magical portholes to delight guests.

Photo courtesy of Disney Fantasy Cruise Line
Disney Fantasy Review - Amenities
You'll find so many amenities onboard the Disney Fantasy, ranging from the necessary to the extra magical touches that make it memorable.
Depending on the stateroom, some amenities may vary, but they generally include the following:
Custom Premium Plush Euro-top mattress
Frette® 300-thread-count, 100% cotton linens
Premium bath towels
22" LCD flat-screen TV on swivel arm, with remote-control
iPod® docking station
Full-length mirror
Ample closet space
Refrigerator
In-room safe
Hair dryer
Phone with voicemail messaging
Individual climate control
H20 Plus® spa, bath and shower products
WiFi (additional fee required)
A sitting area with a couch, TV and desk
A heavy privacy curtain to separate the sitting and sleeping areas
A "split bath": a bathroom with a vanity, sink, shower and tub and a half bathroom with a vanity, sink and toilet
Elevated wooden bed frames for under-bed storage of suitcases and other large items
A leather-upholstered ottoman with hollow inside storage
Attractive yet functional cabinetry in the living area
Now for the fun! Onboard the Disney Fantasy are a number of activities to keep you busy between ports. Many are included in your fare, so there's almost no limit to what you can do!
Broadway-caliber shows
Frozen, A Music Spectacular
Disney's Believe
Disney's Aladdin - A Musical Spectacular
Kids' clubs

Disney's Oceaneer Club
Disney's Oceaneer Lab
Edge
Vibe
"it's a small world" nursery (additional cost)

A number of dining options, including room service and unlimited soft drinks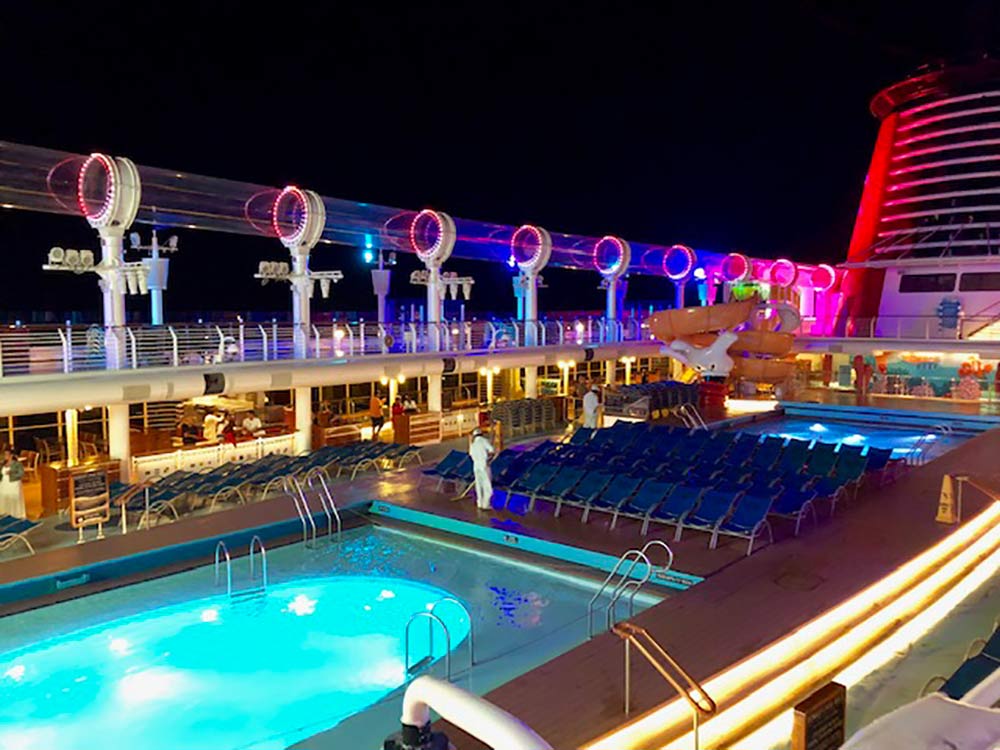 Pools and water slides

AquaDuck
Satellite Falls
Nemo's Reef
Quiet Cove Pool
Mickey's Pool
Donald's Pool
AquaLab
Funnel Puddle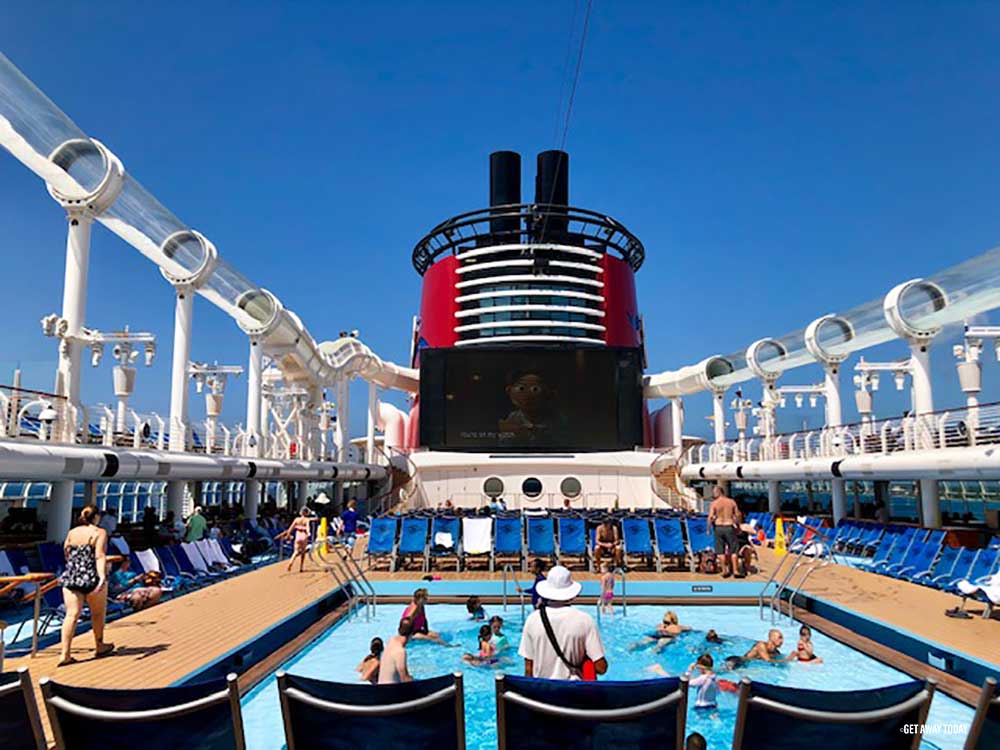 Deck parties
Character Experiences
Buena Vista Movie Theater
Walt Disney Theater
Pirate Night (select itineraries)
Star Wars Day at Sea (select itineraries)
Shopping
Fitness Center
Disney Fantasy has additional-cost experiences such as Bibbidi Bobbidi Boutique, Senses Spa and Salon, Royal Court Royal Tea (Character Dining) and select dining options. If there's anything you'd like to include in your cruise, let our cruise specialist know and they can help you book those additional activities.
Disney Fantasy Review - Dining
One of the things people love about a cruise is the food. And what's not to love about having a huge variety right at your fingertips?! There are more than a dozen dining options on Disney Fantasy, and you can even order room service at no additional charge. Disney Cruise Line features rotational dining, which means a selection of restaurants are included, and you'll enjoy a different one each night. As you rotate to a new restaurant each day, your servers accompany you so there's a familiar face assisting you with your meal.
Palo - Home of the Palo Be Our Chef program (additional cost), this eatery is an additional cost option for brunch and dinner. Palo serves Northern Italian cuisine and is an adults-only restaurant on Disney Fantasy.
Sweet On You - This dessert emporium offers over 20 gelato and 16 ice cream flavors. You'll also find an array of toppings and other sweet treats.
Royal Court - You can reserve additional-cost Character Dining experiences at Royal Court for ages 3 - 12. Various Disney Princesses will be in attendance.
Animator's Palate - This eatery is included in your fare, and it offers Asian and California cuisine. Dinner is accompanied by live entertainment and Animator's Palate is part of the rotational dining plan.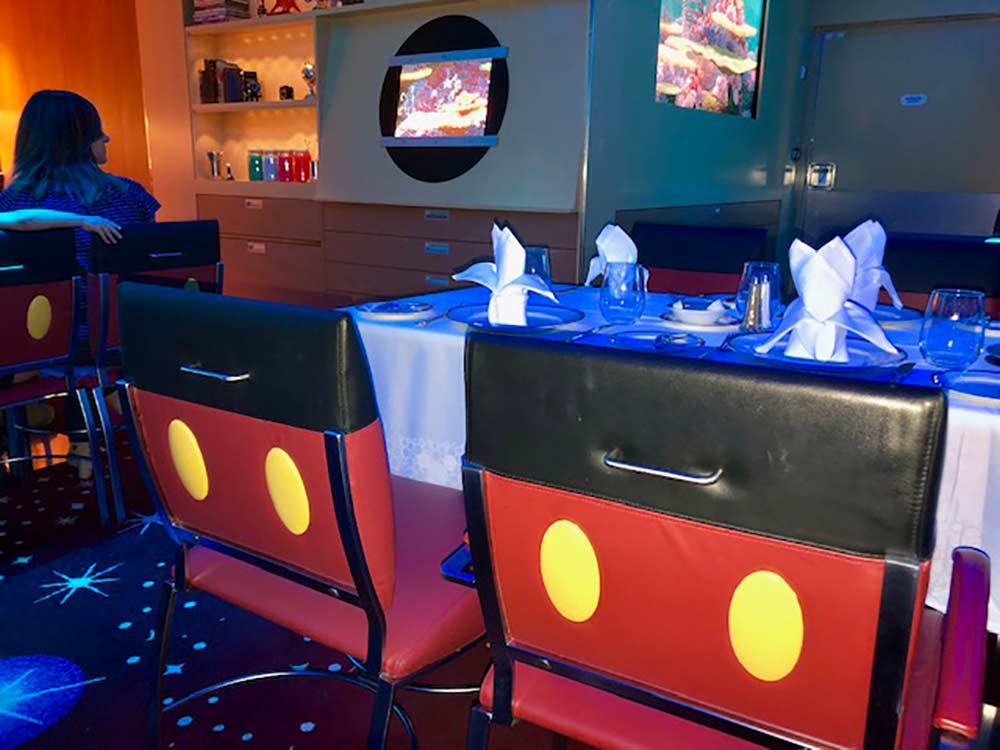 Remy - This restaurant is an additional cost, and it serves up French cuisine onboard Disney Fantasy. Remy is an adults-only dining destination, offering the height of luxury to guests.
Flo's Cafe - There are three different stations at Flo's Cafe: Luigi's Pizza, Tow Mater's Grill and Fillmore's Favorites. You can top off your tank with a pit stop at this snack stop, which is included in your cruise fare.
Eye Scream Treats - Inspired by Monster's Inc.'s Mike Wazowski, you'll find a variety of soft serve treats here, which are included.
Frozone Treats - Get your poolside refreshments here! Included in your fare, you'll find cold fruit smoothies at Frozone's.
Cabanas - For buffet-style dining, step into Cabanas. You can find breakfast and lunch here, and you can experience Cabanas in place of one of your assigned rotational dining restaurants if you'd like.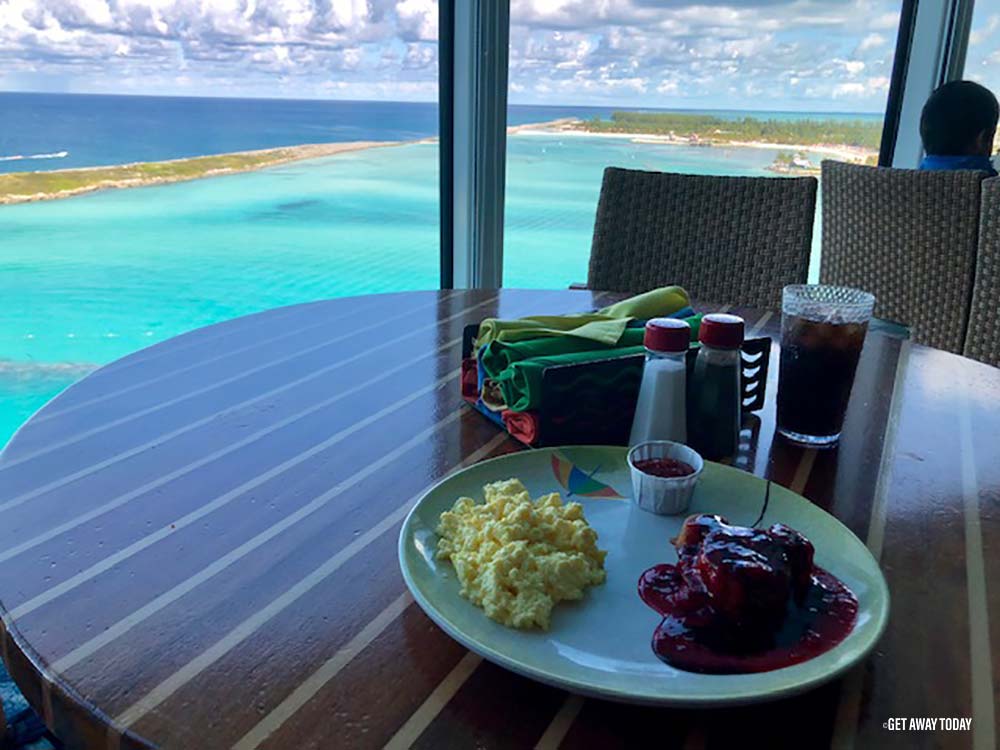 Enchanted Garden - This is another option in Disney's Rotational Dining feature. Enchanted Garden serves breakfast, lunch and dinner and features seafood, pasta, steak and traditional breakfast options such as made-to-order eggs and Mickey-shaped waffles.
Senses Juice Bar (in the Spa) - Additional fees apply to enjoy a treatment at the spa, and you can also recharge with a drink.
Preludes - This snack bar is located outside the Walt Disney Theater and is an additional-cost option onboard the ship. You can get snacks and beverages for your movie at Preludes - but here's a tip: take advantage of unlimited, complimentary self-serve soft drinks if you'd like to bring one into the movie.
Disney Fantasy Review - Overview
As you can see, there is A LOT to do onboard the Disney Fantasy. And we barely scratched the surface! Plus, at each port of call you'll find unique dining experiences, shopping and excursions. A cruise is a great family vacation choice because it's like experiencing more than one vacation, all while unpacking just once! If you have questions about Disney Fantasy or Disney Cruise Line, give one of our cruise specialists a call at 877-510-2929. You can also find cruise information online.