Today we're sharing our favorite Disneyland treats for #MovieMonday. We'll show you what they are, where to get them, and most of all, how delicious they look! Watch and see if your favorite Disneyland treats made our list.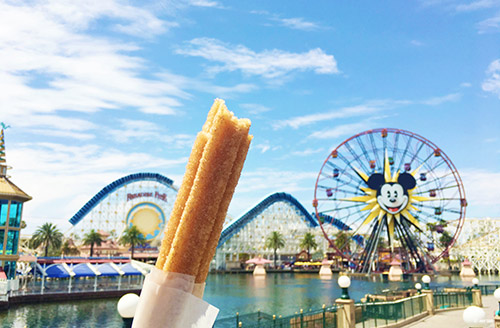 One thing that's almost impossible to decide is which of our favorite Disneyland treats really are our very favorite. Even deciding which of our favorite Disneyland treats to include in this video was tough. But, we narrowed it down and included our favorite Disneyland treats at the moment. Because Disneyland switches up their menu regularly, this is an ever evolving list. Enjoy watching our current favorite Disneyland treats and see if your favorite made our list:
As a recap, some of our favorite Disneyland treats that we included in this video are:
Hot fudge sundaes from Ghirardelli's Soda Fountain & Chocolate Shop in Pacific Wharf at Disney California Adventure Park. You can grab a free chocolate square each time you walk in the door. It's like a little amuse bouche before your main course... a sundae, of course!
Mint Juleps and Mickey Beignets from the Mint Julep Bar tucked away in New Orleans Square at Disneyland. Be sure to try the original as well as whatever seasonal flavor is on the menu when you're visiting. We've seen delicious seasonal flavors like blackberry, lemon, pumpkin, candy cane and more.
Dole Whip Pineapple Floats from the Tiki Bar inside Adventureland at Disneyland. You can now also grab an official Dole Whip from The Coffee House inside the Disneyland Hotel!
Churros and Mickey Beignets are two staples of any master list of favorite Disneyland treats. You can find both throughout Disneyland and Disney California Adventure. If you're looking for a new take on churros, try the California Churro cart in Downtown Disney. You can find everything from Fruity Pebbles-flavored churros to ice cream sandwiches made with churros.
Of course this is in no way a comprehensive list of our favorite Disneyland treats, but it's a start! Did your favorite make our list or the video? Leave a comment below with your favorite Disneyland treat and we'll be sure to try one the next time we're in Disneyland!
Speaking of going to Disneyland, when you're booking your vacation, we'd love to help. We have the best deals on Disneyland tickets and Disneyland packages. You can book online or call our agents at 855-GET-AWAY.