Are you giving the gift of a vacation this year? Does your family love the Disney movie Tangled? If so, this Rapunzel Hair Maze is the perfect idea for your Disney trip reveal!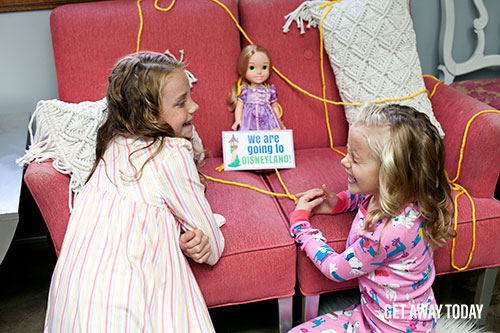 The excitement of the holidays can't be ignored as they get closer and closer. It's even more exciting when you're giving your family the gift of a Disney vacation! You'll have a hard time waiting until Christmas morning to tell your family the big surprise, but it is so worth it.
You can fight the urge of sharing the secret by planning how you're going to surprise them with the vacation news! There are multiple ways to plan a Disney trip reveal, but we love centering the surprise around family favorite characters while keeping it as simple as we can.
Easy and cute ideas can sometimes be hard to find, but we've created a Disney trip reveal that's both. Plus, it's perfect for the Tangled fans in your family!
For this Tangled inspired Disney trip reveal, you will need:
Yellow Yarn
Rapunzel Doll (Optional)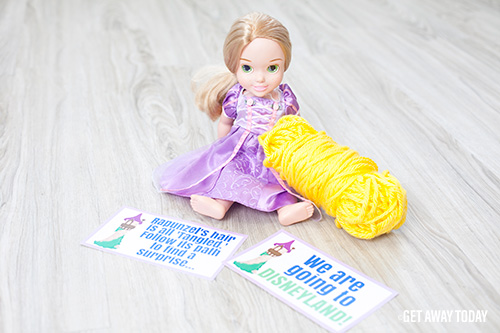 First, print off the printable that matches your Disney destination. We've made one for both Disneyland and Disney World. Cut your selected notes out before attaching your yellow yarn to the starting note that reads, "Rapunzel's hair is all 'Tangled.' Follow its path to find a surprise…"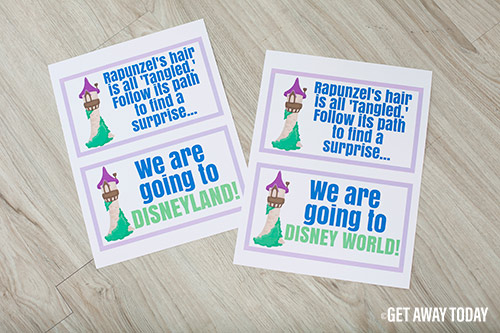 Now, decide where you want your maze to start. We love the idea of attaching it to the Christmas tree or even to your kids' bedroom door! You could always wrap it in a present – just make sure to leave a hole so that the yarn can trail out.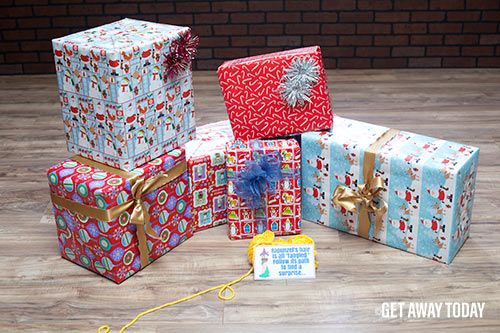 Next, start wrapping the yarn around the room and throughout your house. You can make the maze as crazy or as easy as you'd like. Have fun and lead your little ones up and down the stairs, through the bedrooms and maybe even outside if it isn't too cold.
Your kids will love following Rapunzel's hair and be absolutely amazed when they reach the end to find the big Disney trip reveal! If you have a Rapunzel doll, you can place her at the end of the yarn with the note announcing your Disney destination. You can even wrap the Disney trip reveal in a box with a DVD or other Tangled gear. No matter how you do it, your kids are going to love it!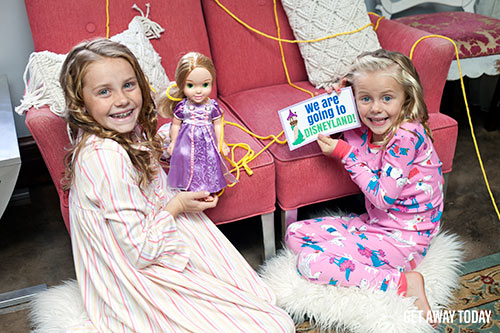 This Christmas morning is sure to be one your kids won't forget. When you give the gift of a vacation, you're giving more than just a vacation. You are giving your family memories and experiences that will last them a lifetime. It's not too late to book a surprise vacation so you can use this cute Rapunzel Hair Maze for your Disney trip reveal!
Your surprise vacation doesn't have to be right away, either. Give your family the gift of a future vacation this year and save by using our payment plan options. Or, if you already have this year's gift planned out, you can start planning next year's vacation gift. Our payment plan options allow you to lock in the best prices for just $125 down and the ability to pay on it throughout the year. Book any of our Disneyland packages online or give our travel experts a call at 855-GET-AWAY.

Check out even more ideas for your Disney trip reveal: