You've probably heard by now that Star Wars Galaxy's Edge
Walt Disney World
has opened. We're so excited that the east coast can now travel to a galaxy far, far away without having to head across the country!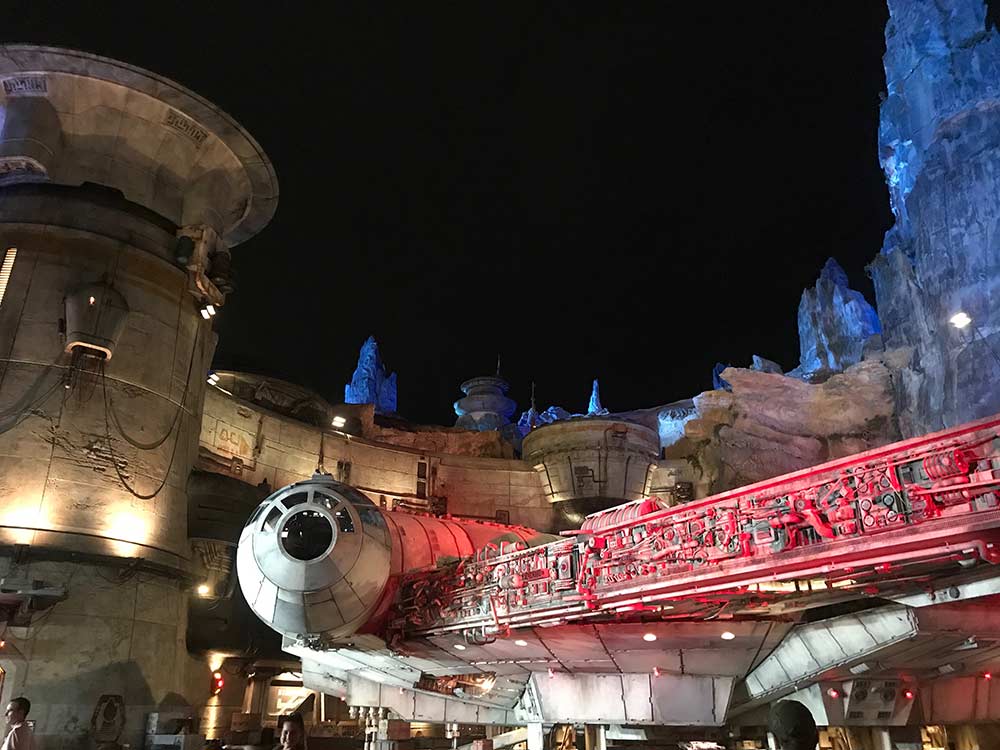 Star Wars: Galaxy's Edge Walt Disney World
At Walt Disney World, Star Wars: Galaxy's Edge opened in Disney's Hollywood Studios August 29, 2019. The 14-acre expansion provides opportunities to be truly immersed in all things Star Wars, from rides and entertainment to shopping and dining.

Star Wars: Galaxy's Edge Walt Disney World - Rides and Experiences
For the initial opening of Star Wars Hollywood Studios, one ride is ready to take you on the adventure of a lifetime. Coming in December a second will debut, offering yet another opportunity to be a part of the Star Wars universe. In addition to these experiences, be sure to make time for two others that go beyond just purchasing souvenirs.
Millennium Falcon: Smuggler's Run: Take a ride aboard the fastest hunk of junk in the galaxy! Six guests will man the roles of pilot, gunner and engineer. You're responsible for delivering goods for Hondo Onaka and returning the Falcon in one piece. Good luck!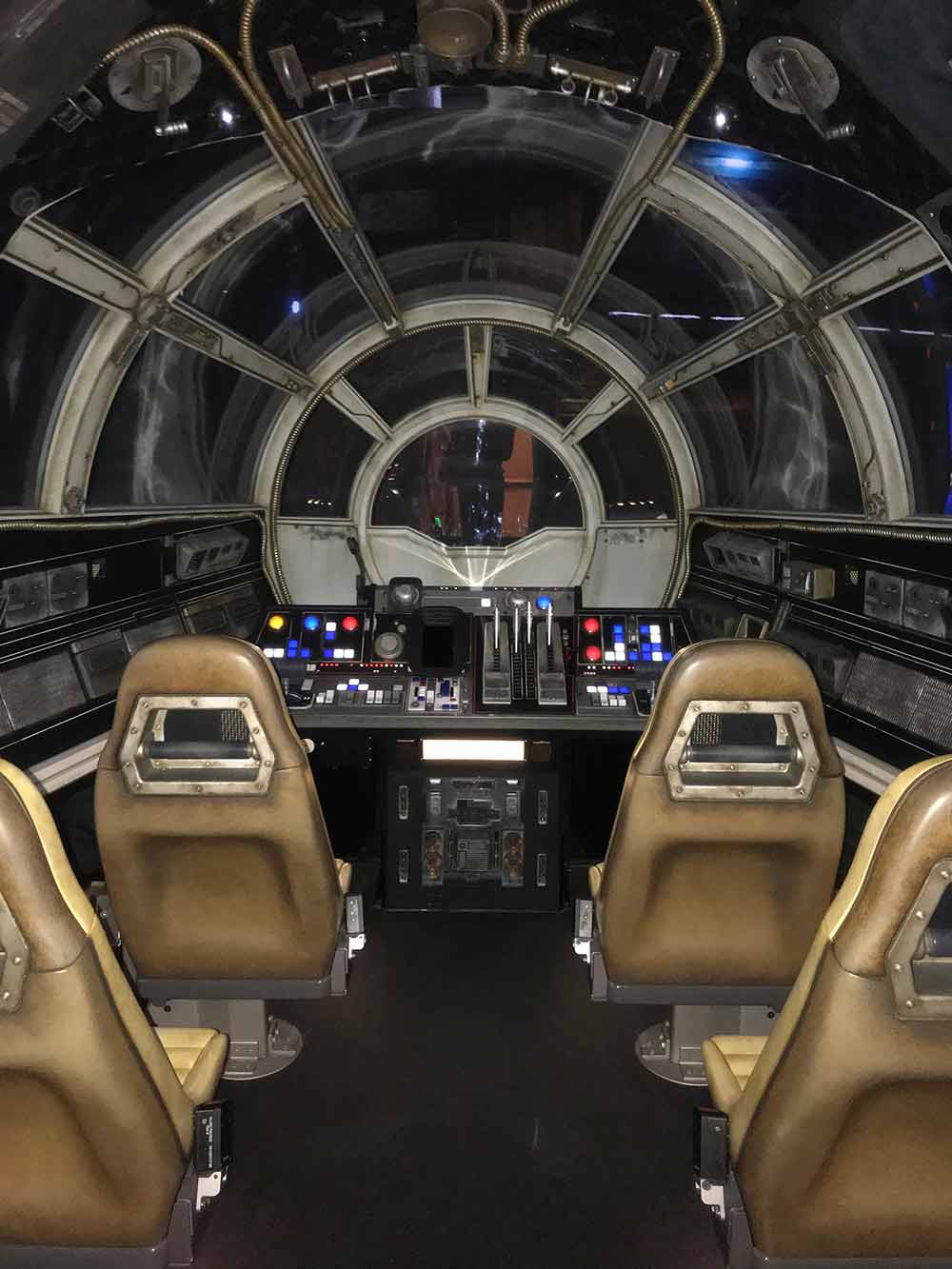 Insider Tip: You cannot request your seat assignment from Cast Members, but you are welcome to trade among your group. Try all three roles, and experience the difference between working as a gunner in manual mode versus automatic.
Star Wars: Rise of the Resistance: December 5, 2019, this ride opens and provides you with the opportunity to join the Resistance. With various elements, including walking, riding and amazing special effects, Rise of the Resistance is slated to be the most technologically-advanced ride ever produced by Disney.
Photo courtesy of Disney Parks
Savi's Workshop - Handbuilt Lightsabers: More than just a trinket shop, Savi's Workshop invites up to 14 guests at a time to build their very own custom lightsabers. With a no-cost reservation, you can access Savi's and bring up to two guests with you. During the build you'll be offered a variety of pieces, which we outline below:
Themed hilts, including your choice of Peace and Justice, Power and Control, Elemental Nature or Protection and Defense.
Kyber Crystal, including your choice of red, blue green or violet
4 sleeves (pick 2)
2 emitters (pick 1)
2 pommel caps (pick 1)
2 sets of activation plates and switches (pick 1 set)
Carrying case

The Savi's Workshop experience is $199.99 credits (dollars), and if you miss your reservation you will be charged that amount as a cancellation/no-show fee. So be sure you are really committed to building a lightsaber! You can make your reservation up to 180 days in advance via the Disney website, and you need to check-in at Savi's Workshop 15 minutes prior to your scheduled time. At least one member of your party needs to be 14 years of age or older for this build.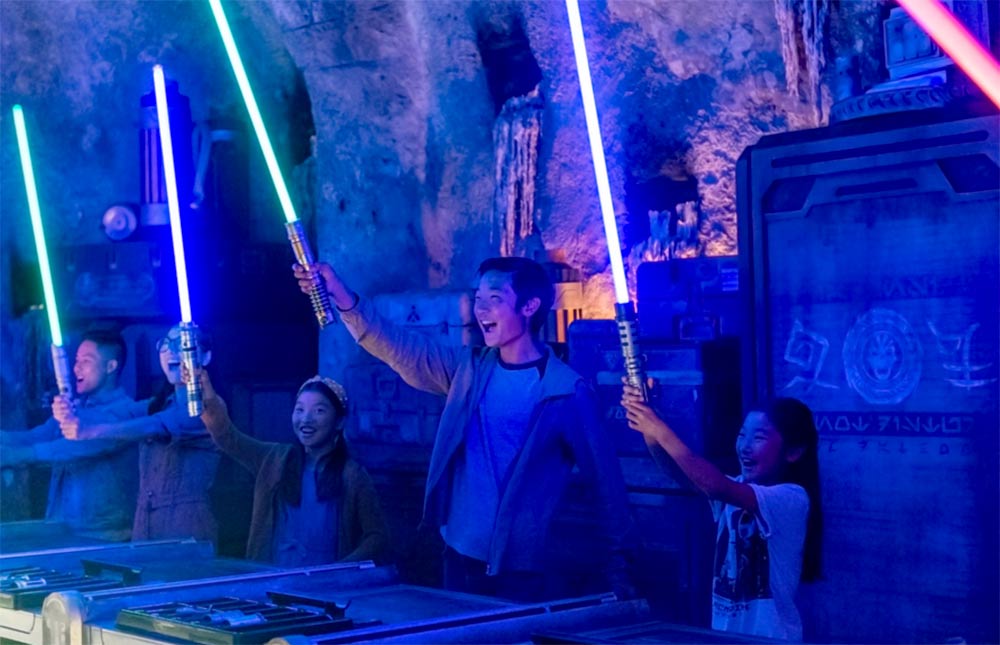 Photo courtesy of Disney Parks
Insider Tip: Purchase additional add-ons for your lightsaber at Dok-Ondar's Den of Antiquities in Black Spire Outpost.
Droid Depot: Are you interested in bringing home a droid so you can have a one-of-a-kind sidekick? You have the opportunity to build a custom droid at Droid Depot to fulfill that wish. This outpost doesn't require advance registrations, but it does limit the experience to a single builder accompanied by one guest. If you'd like to ensure the Droid Depot can accommodate you, you definitely can make a reservation up to 180 days in advance. You may get lucky and be able to walk in for this experience, but it's popular so we aren't making any promises! The custom droid build includes the following and more: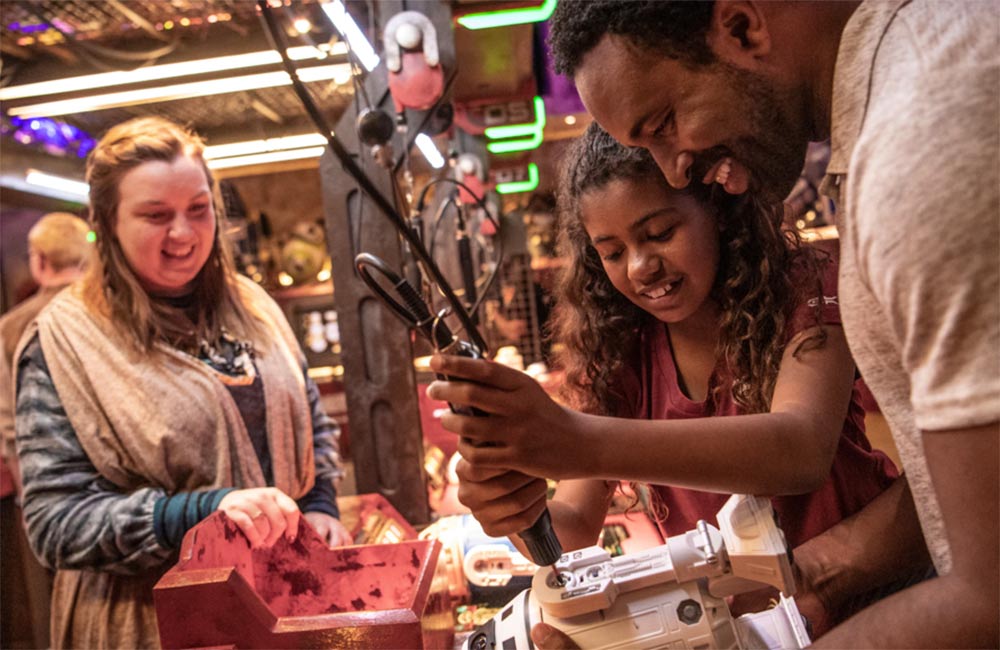 Photo courtesy of Disney Parks
Parts from BB-Series droids - dome, dome connection plate, body sphere, motivator.
Parts from R-Series droids - dome, body, center leg, two side-legs.
Build station - straightforward instructions for assembly your droid in a step-by-step sequence. Once you finish, your droid will be paired with a remote control and activated. Be sure to have a name ready!
Each astromech droid costs $99.99 credits (dollars) and includes a carrying box and instructions. You can add a personality chip to your droid for an additional cost. Disney does require at least one person in your reservation be at least 14 or older, although guests as young as 5 are encouraged to build and purchase their own droid with supervision. You can check in for your assigned time 15 minutes early.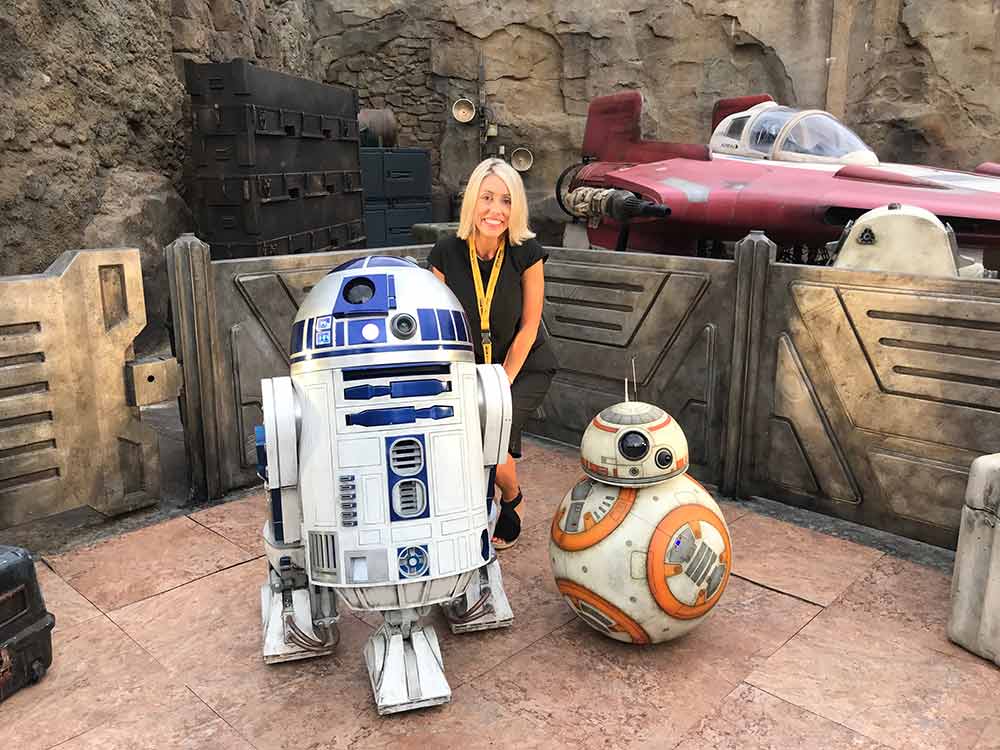 If you prefer to purchase a ready-made astromech droid, you're welcome to do so in Droid Depot. Options include C-3PO, DJ R-3X and more. Droid-themed merchandise is also available for purchase.
Insider Tip: Your custom, astromech droid (with optional personality chip) communicates with other droids via Bluetooth! While in its carrying case in Stars Wars Galaxy's Edge Walt Disney World, you'll notice your droid interacting with other elements and objects in Batuu as well.
Star Wars: Galaxy's Edge Walt Disney World - Black Spire Outpost
Stars Wars Galaxy's Edge Walt Disney World aims to offer guests an out-of-this-world experience. Once you enter, you feel as if you've left Disney World for the planet of Batuu. The land is designed with a number of outposts, much like you would find if you traveled to the edge of the galaxy on a trading mission. No matter what you're looking for to commemorate your visit to Star Wars: Galaxy's Edge, you'll find it at Black Spire Outpost. If you're looking for Disney-branded merchandise with printed "STAR WARS: GALAXY'S EDGE" logos, you won't find it on the planet of Batuu. Nearly everything for purchase in the outposts is rare and authentic to the Star Wars franchise.

Dok-Ondar's Den of Antiquities: No one knows where Dok-Ondar sources his unique treasures, but you can reap the benefits, regardless! Stop by this outpost for themed apparel, jewelry, art and collectibles, Disney pins, plushes and more.
The Creature Stall: Stop and say hello to the animatronic Loth Cat in the entrance, and then continue through the Stall to see what type of creature you'd like to adopt for yourself. Exotic finds from galaxies far and wide line the shelves and would make great companions as you continue to explore Batuu.
Toydarian Toymaker: You'll find hand-crafted toys and collectibles at Toydarian Toymaker. Browse plushes, figurines and more. Be sure to look for Zabaka, the toymaker herself, behind the scenes of the shop.
Resistance Supply: Tucked away by the ancient ruins is Resistance Supply. This is where guests can go to procure Resistance gear so you can fight the First Order. Just don't get caught by a Storm Trooper!
First Order Cargo: Located by the Millennium Falcon is First Order Cargo. The First Order is doing its best to encourage new recruits, and this outpost is where you can purchase everything you need to show your allegiance.
Black Spire Outfitters: Dress the part of a Batuu local in formal or casual attire available for purchase at Black Spire Outfitters.
Insider Tip: Money is referred to as "credits" on the planet Batuu, so know the lingo when you go to make purchases at any of the outposts. One credit is equal to one dollar, so it's not too tricky.
Star Wars: Galaxy's Edge Walt Disney World - Dining
Just like the rest of Black Spire Outpost, the dining experiences are unlike anything else you'll find throughout Walt Disney World. Leave the churros, Dole Whips, pretzels and other iconic Disney food in the other parks; here on Batuu, you'll sample more exotic flavors.
Oga's Cantina: Due to popularity, Oga's Cantina is now accepting reservations. Visit for breakfast, lunch or dinner and try dishes from all over the galaxy. The Cantina offers both alcoholic and non-alcoholic beverages and has a two-drink maximum. Additionally, your reservation allows for a 45-minute visit, and it is often standing-room-only. Although it welcomes smugglers, bounty hunters and other travelers who may be rough around the edges, Oga's Cantina is family-friendly. One member of your party must be 14 years of age or older, and you can check-in for your reservation 15 minutes early.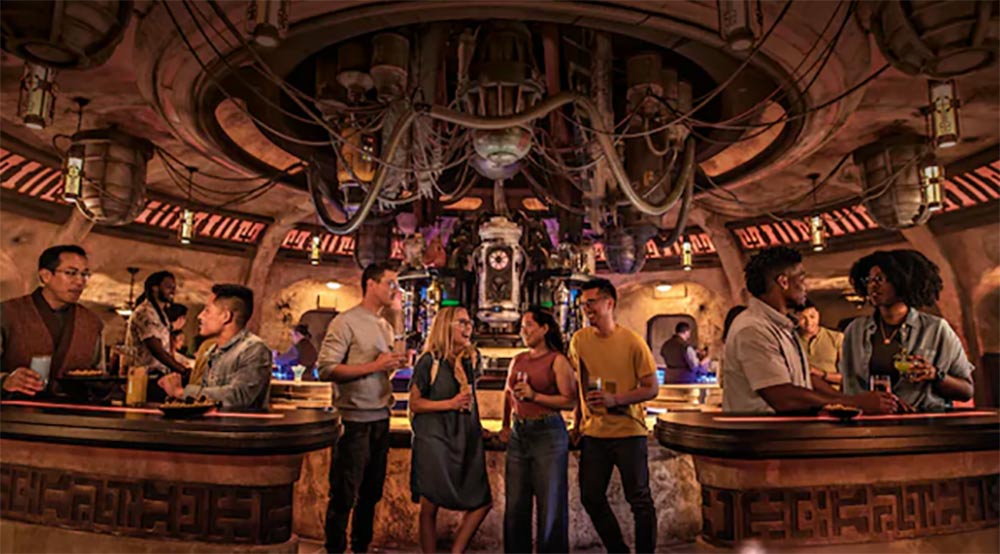 Photo courtesy of Disney Parks

Ronto Roasters: A retired podracer engine powers up each day to roast a variety of meats to perfection. Enjoy a wrap, turkey jerky and specialty drinks at Ronto Roasters.
Kat Saka's Kettle: Outpost mix is the Galaxy's Edge version of a Disney World staple; popcorn! This is a sweet and savory popcorn blend that can be purchased in commemorative buckets (or not!).
Milk Stand: Have you ever wanted to try Blue or Green Milk as seen in Star Wars? Now you can at the Milk Stand! Served cold, Blue and Green Milk are both non-dairy, slushie-style offerings in Galaxy's Edge. Guests report that Blue Milk has a more tropical taste, while Green Milk is more citrusy.
Photo courtesy of Disney Parks
Docking Bay 7 Food and Cargo: Much like a food truck gathering, this food freighter is manned by Chef Tuggs and offers a variety of menu selections. With a variety of allergy-friendly options, you'll find something for everyone at Docking Bay 7.
Photo courtesy of Disney Parks
Insider Tip: The Blue and Green Milk is very filling, so we suggest splitting one serving between two people. Also, we recommend combining the two flavors!
Star Wars: Galaxy's Edge Walt Disney World - Play Disney Parks App
Download the free Play Disney Parks app while in Star Wars Walt Disney World. This app transforms your mobile device into a data pad. Throughout Star Wars: Galaxy's Edge you can use your data pad to translate the foreign language of Arabesh that you see throughout the land. Additionally, your data pad allows you to hack into operating systems on Batuu, and even identify what's stashed in cargo boxes throughout the land. As you use the data pad and interact with Star Wars: Galaxy's Edge Walt Disney World, you earn virtual credits that can then be used to customize your avator.
Insider Tip: Using the Play Disney Parks app while waiting in line helps pass the time! Look around you for ways to interact with Galaxy's Edge via the app, including signs on the wall, droids and cargo in queue areas and so much more.
Star Wars: Galaxy's Edge Walt Disney World - Overview
We hope this overview of Star Wars Galaxy's Edge Walt Disney World helps you plan your trip! One other important thing to note is that Star Wars: Galaxy's Edge will be included in Extra Magic Hours! From September 1 - November 2, 2019, you can take advantage of early admission to Disney's Hollywood Studios using the Extra Magic Hours that all Disney Resort Hotel guests are eligible for. Be sure to check Disney's website for official park hours, but note that you can typically use Extra Magic Hours from 6am - 9am.
We encourage you to book early to ensure Walt Disney World hotels don't fill up! View all our Disney World vacation packages online, or speak to one of our travel experts at 855-GET-AWAY. We'll help you every step of the way when planning your Orlando vacation.