UPDATED MARCH 2019 You may not be traveling to a galaxy far, far away this Spring, but I sure hope you are able to travel to one of the amazing family vacation destinations we offer here at Get Away Today... the Disneyland Resort where Star Wars Season of the Force has invaded Tomorrowland. Crank your road trip into hyperspeed with these silly and entertaining Star Wars Mad Libs Printables. You can even use your newly acquired Star Wars knowledge as your kids participate in the Jedi Training: Trials of the Temple.

Download as many as you'd like of each of the four unique Star Wars Mad Lib stories below. You will definitely want these before Star Wars Land Disneyland opens May 31, 2019!

Star Wars Mad Libs The Mighty Force
Star Wars Mad Libs Jedi Training
Star Wars Mad Libs Quick Flight
Star Wars Mad Libs Rebel Princess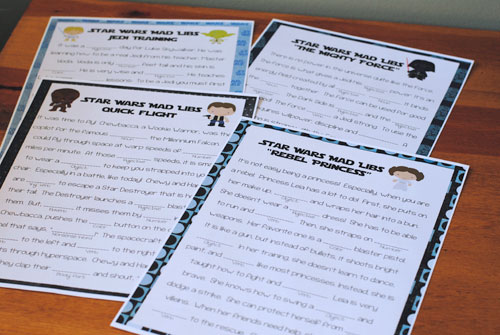 If you've played Mad Libs before, you know the drill. If not, it's super easy. To play, let one person be the scribe. That person fills in all of the blank spots in the story with suggested words from the rest of the group. There is a description of what type of word is missing from each area.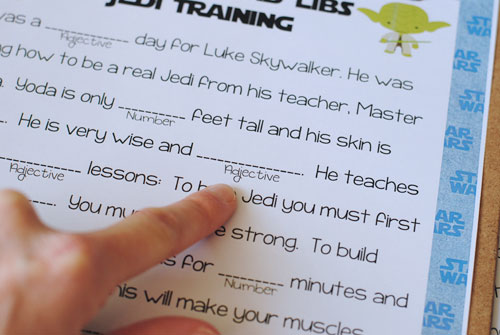 Just in case it's been a while since you've taken an English class, and you don't remember what the grammar identifiers mean, here is a quick guide:

Adverb: This is a word that modifies a verb, adjective, or other adverb. It is usually an "ly" word. Examples: Cheerfully, Carefully, Quickly, Happily, Wickedly
Adjective: A describing word. Examples: Beautiful, Soft, Shiny, Tall
Verb: An action word. Examples: Run, Jump, Dance, Sing, Wink
Object: A material thing that can be seen or touched. Examples: Lamp, Ball, Mountain

Once all of the blanks have been filled, then the scribe reads the story aloud. Be ready for crazy, because these stories are always outta this word. Take turns being the scribe, so that all players get a chance to create the story. And, since only the scribe knows which story you're using, you can replay with the same story and see how it's transformed into a completely new adventure. You know the saying at Star Tours... The Adventures Continue.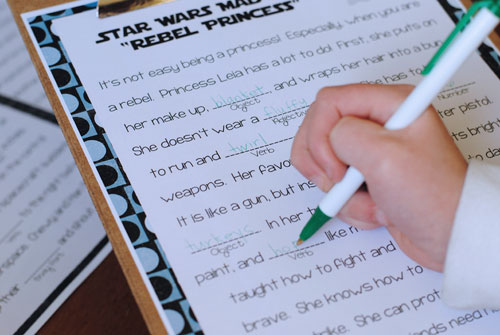 If you don't have plans set for your Spring Break vacation, make your plans now to experience all of the Star Wars excitement during Season of the Force. Make the most of your time and money with our Extra Day Free ticket that gives you a 5-day Park Hopper ticket for the 4-day price. Combine that with our 4th night free specials at select Anaheim area hotels or our Disneyland Resort Hotel sale for savings that will leave you starry eyed. Book any of our Disneyland packages online or call our agents at 855-GET-AWAY. We can't wait to help you plan a Disneyland vacation that's as epic as the Star Wars series.
Check out these other great articles: