There is one location in
Star Wars: Galaxy's Edge
that is the most exclusive and most mysterious of them all... Savi's Workshop. Today we are taking away some of the mystery and answering all of your questions about Savi's Workshop.
Savi's Workshop - Everything You Need to Know
When it comes to Savi's Workshop, there is a lot to know. We'll start with the basics like what it is and where it is. We'll also dive deeper and give you the details of how to get in, how much it costs and what options are available at Savi's Workshop.

What is Savi's Workshop?
Savi's Workshop is a small, reservations-only, custom lightsaber shop located inside Star Wars: Galaxy's Edge. While it is available to all park guests, it is the most limited capacity shopping experience inside Disneyland, so it makes it one of the most exclusive. Only 14 people are able to build a lightsaber at a time, and each person with a reservation can only bring up to two guests with them.
Where is Savi's Workshop located?
Because lightsabers are considered contraband by The First Order, Savi's Workshop is in a very discreet location without any obvious signage. You'll find it on the planet of Batuu in the Black Spire Outpost. The "secret" shop is located next to Dok-Ondar's Den of Antiquities. You'll know you're in the right spot when you see a blue banner with what looks very similar to a lightsaber hanging outside the entrance.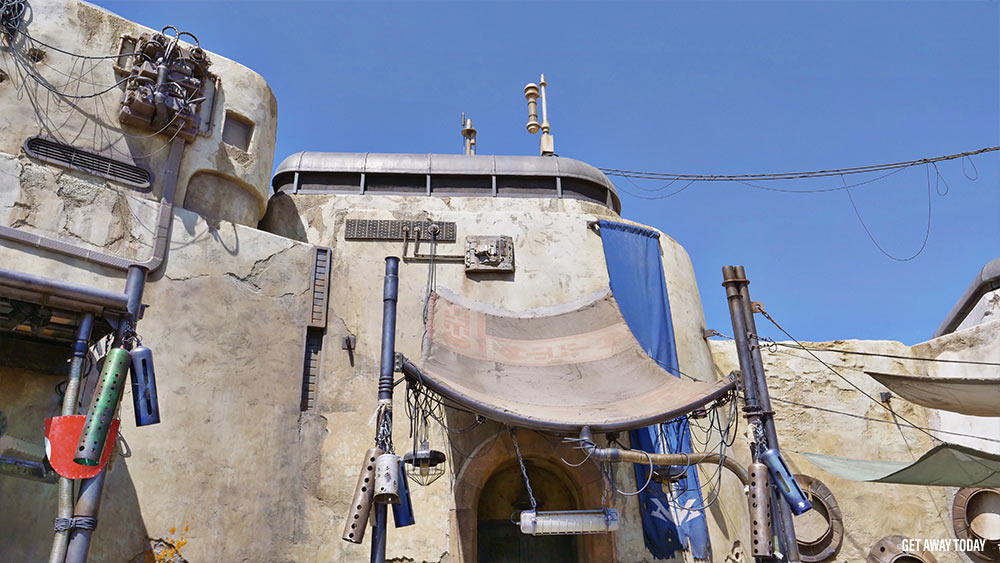 How do I get in to Savi's Workshop?
Because space is so limited, you'll need a reservation to get into Savi's Workshop. Luckily, getting a reservation is quite simple using the Disneyland app. Reservations can be made up to 14 days in advance, and soon that window will be extended to up to 60 days in advance. We always recommend making a reservation as early as possible for the best availability. There are a handful of reservations that are available for the same day beginning at 7am. You'll need a credit card to make your reservation and you'll be charged for the experience if you no-show. Additionally, one person in each party must be at least 14 years old to enter Savi's Workshop.
Once you have your reservation, check-in is pretty simple. If you happen to be visiting during a busy time when the Star Wars: Galaxy's Edge Boarding Pass system is being used, having a reservation for Savi's Workshop will grant you admission to the land. If the land is open, you'll just go right in. No matter how you enter the land, you'll want to head to Savi's Workshop 15 - 20 minutes prior to your reservation time to get checked in. A "Gatherer" will get you checked in and show you the different options available for your lightsaber.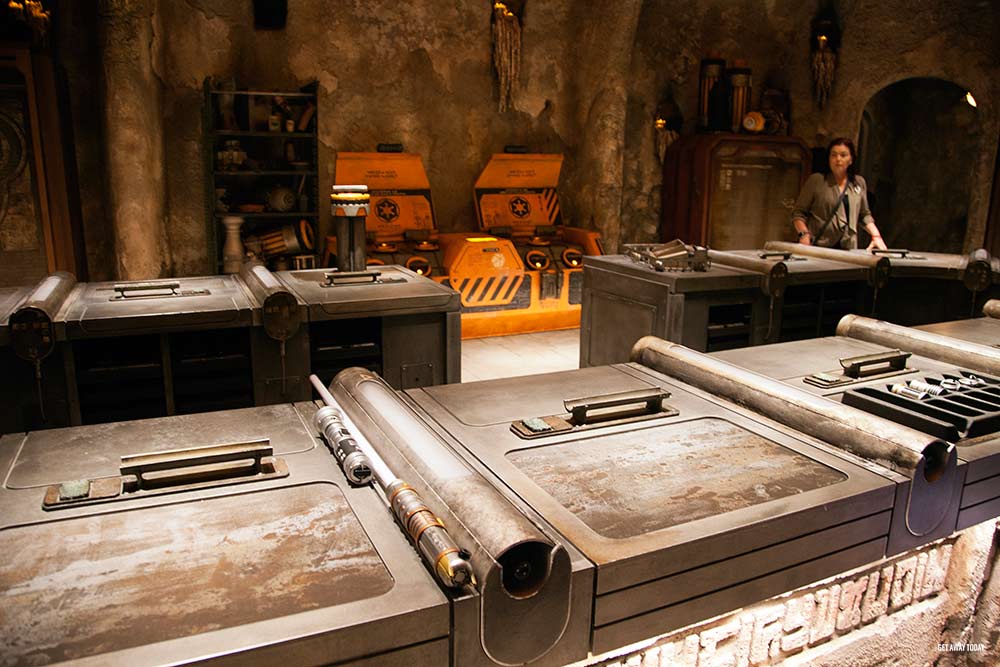 How do I build my lightsaber?
The process begins before you even enter the building. When you check-in, you'll select your hilt style. There are four to choose from:
Peace and Justice
Power and Control
Protection and Defense
Elemental Nature
Each of the four hilt styles has a unique design and back story that you get to review before selecting. Once you pick your hilt style, you'll be given a small pin to wear that lets the Gatherers inside the shop know which hilt you need for your custom lightsaber.
Once you enter the building, you'll be given your next choice: a kyber crystal. The kyber crystal is what powers your lightsaber. There are four crystal color options: red, blue, green and purple. After you pick your crystal, the Gatherers will come around with a tray of parts, including the hilt style you selected before entering. You'll then be instructed on how to build your lightsaber andwill then start assembling all of your pieces.
When you're done putting your pieces together, the Gatherers will connect the blades to the hilts. A special ceremony is performed, and you're then one with your lightsaber!
How long does it take?
The entire experience inside Savi's Workshop takes around 20 minutes. If you include check-in and reviewing the hilt styles, it's closer to 30 - 40 minutes total.
How much does it cost?
The custom building experience at Savi's Workshop is $199.99 + tax. And, if you don't show up for your reservation, you'll be charged $199.99. If you'd like to purchase additional kyber crystal colors, they're available for purchase nextdoor at Dok-Ondar's Den of Antiquities. Additional kyber crystals are $12.99 each.
Booking your Disneyland vacation
So there you have it... everything you've ever wanted to know about Savi's Workshop inside Star Wars: Galaxy's Edge. If you need help booking your vacation to Batuu, we'd love to help! All of our Disneyland packages can be found on our site, or can be booked over the phone by calling our agents at 855-GET-AWAY.