UPDATED MARCH 2019 Did you get a chance to see the awesome preview of Disney's new Star Wars Land that was premiered during their 60th Anniversary Television Special on Sunday night? The whole show was spectacular, but the
Star Wars Land Disneyland
is going to be epic! We can't wait for it to open May 31, 2019. It will be like stepping into a whole new galaxy. Luckily, you don't have to wait for the development of Star Wars Land to get immersed into the Star Wars Saga at the Disney Parks. Right now, the Season of the Force is going strong at Disneyland in California and Disney's Hollywood Studios in Florida. You can learn to fight like a real Jedi and rub shoulders with some of your favorite characters from the saga. Since the days before a Disneyland vacation seem to 'Endor' forever, I decided to put together a Disneyland Vacation Countdown Chain tutorial --Yoda style! It will add a little bit of Disney magic to each day as you count down the days to your vacation.
Building the Yoda chain is very simple. It is a perfect activity for children to help with. Start by cutting out the pattern pieces.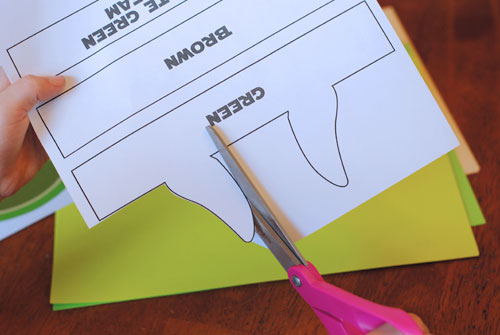 Then, trace the Green Face pattern piece onto the lime green paper. I was able to get three per sheet of paper.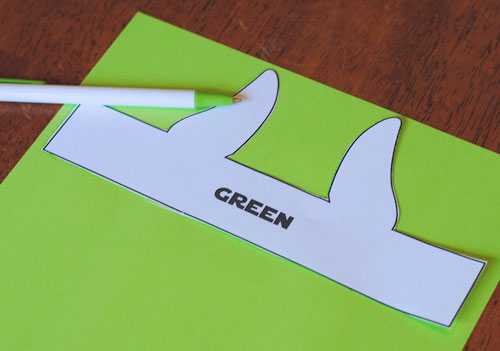 Cut around the lines. Then, fold the ears down towards the main part of the paper strip. Make a little crease, then, pop them up again.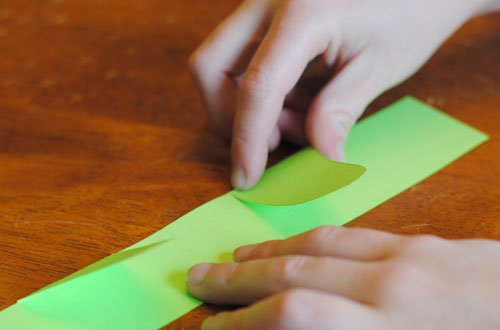 This makes a Yoda face. The most important part of a Yoda face is the ears!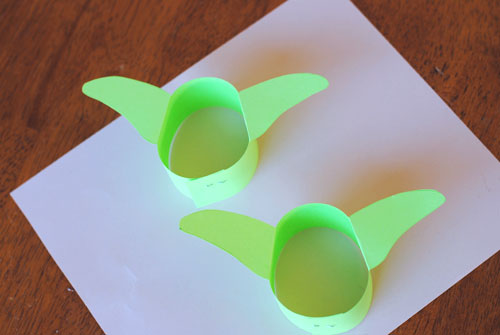 Cut strips of paper according to the template. You need one of each brown, light green, and cream strips for every Yoda you create. I used some
brown linen paper
that I found. It felt "Yodaish" to me. Regular brown paper would work fine too.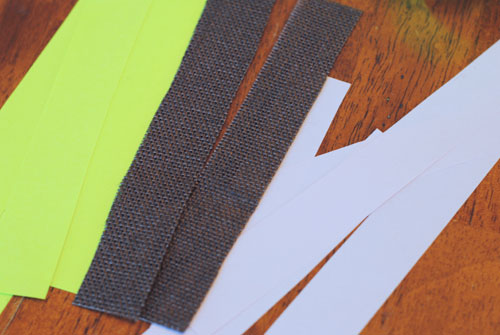 To add an extra element of fun to the countdown, you can add activity suggestions on the back of the strips of paper. Do it on each one, or just pick a few at random. Make them Star Wars related. A few ideas I wrote were:
Talk like Chewbacca for five minutes.
Make a light saber out of a pool noodle.
Build a pretend TIE Fighter out of blankets and pillows and be a pilot.
Turn on the Star Wars theme song and walk around the house like Darth Vader.
Whip up a batch of Star Wars Movie Munch.
Play "Yoda Says." (It's like the game Simon Says only Star Wars style)
Do your hair pretty like Princess Leia, or crazy like Chewbacca.
Watch your favorite Star Wars movie.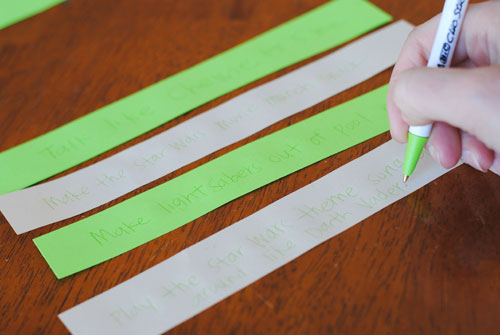 Build the Yoda chain, one strip at a time in the following order: Cream (arms), Green (head), Brown (body), and Light Green (feet). Thread the paper through the loop and then staple it together to form the links. The only ones that you need to pay close attention to are the Yoda head strips. You want to make sure that all of the ears have the folded part on the front. Once you get working on it, that will make sense!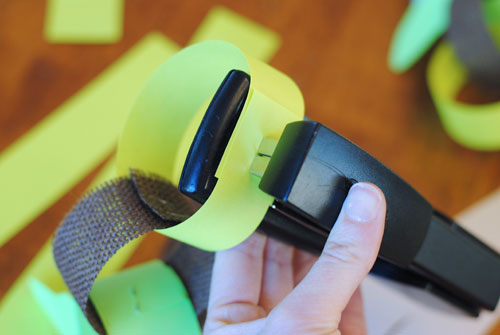 Once you have built a long enough chain, then it's time to add the finishing touches. Cut out the Disneyland or Disney World vacation header from the
template
. It says, "Ready are you? Wait. You must. But, fear do not. For a Disneyland Vacation, the time will soon come." You don't have to be a Jedi to figure that out! Or, perhaps you do. What Yoda is trying to say is that once all of the chain links are gone, it is time go to to Disneyland. YAY!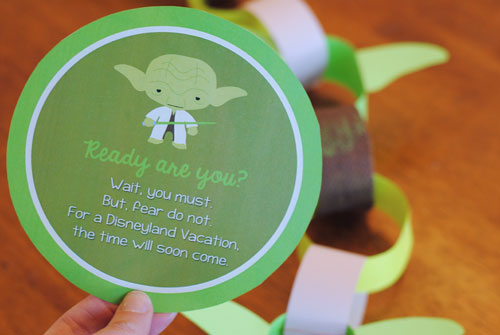 Attach the header to the chain with a piece of ribbon or string. Tie a knot at the top and then tape it to the back of the header.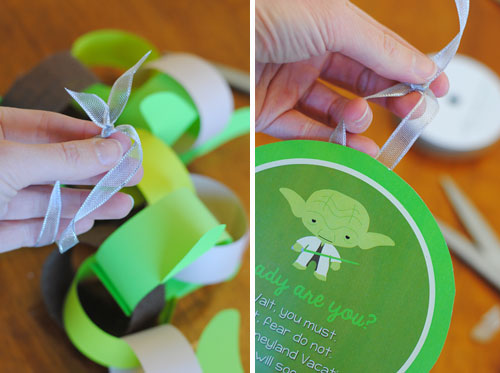 I hope you have a fantastic time counting down the days to your Star Wars Adventure at Disneyland. You won't to miss any of the action with Path of the Jedi, Star Wars Launch Bay, the new Jedi Training: Trials of the Temple and so much more!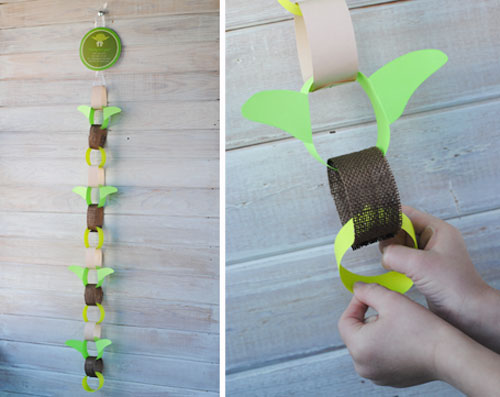 For your galactic adventure, book your
Disneyland package
online or call our travel experts at 855-GET-AWAY. We would love to help you experience a galaxy far, far away like never before.

Check out these other great articles: