UPDATED: MAY 2023. Star Wars: Galaxy's Edge opened in 2019, but we don't expect the hype to die down anytime soon! Luckily, we've put together a guide detailing everything to know about Star Wars: Galaxy's Edge at Disneyland.
Star Wars Land Disneyland
Guests first blasted off to space May 31, 2019. Ever since then we can't get enough of living out our very own Star Wars story at Star Wars: Galaxy's Edge. This completely immersive land at Disneyland Park allows visitors to explore a planet called Battu and discover Black Spire Outpost – a village filled with traders, smugglers and interplanetary travelers of every kind.
While visiting Batuu you can experience two new attractions, eccentric dining, quirky shops and interactive experiences around every corner. With so much to do and see, you'll want to make sure you have enough time to do it all!
Keep reading for everything to know about Star Wars: Galaxy's Edge before your first visit, or first visit in a while.
Everything To Prep Before You Visit Star Wars: Galaxy's Edge
There are two things that will really make your visit to Batuu memorable. Dressing the part and speaking the language. Both of these take just a little bit of preparation. One thing that is unique to Star Wars: Galaxy's Edge is that there is no set uniform that the Cast Members must wear. Instead, there is a collection of costume pieces that Cast Members put together themselves to create their own work uniform. Because of that, it's pretty easy to "bound," or dress like a resident of Batuu.
Dressing in layers with desert-inspired colors and unique hairstyles will make you fit right in. You can even purchase name badges that look like those they wear in the land. In fact, there were a few times when I thought for sure a park guest was a Cast Member. It's kind of fun to try to figure out who's who!
The next thing you can do to prepare, which is even easier than rounding up an outfit, is learning a few key phrases. Galaxy's Edge does such a good job immersing you in the story that they have developed their own phrases you'll only find in Batuu. Here are some phrases you'll want to use while exploring:
Bright Suns = Good day/morning
Rising Moons = Good evening/night
Til the Spire = Farewell

It's also important to know two words that are quite different and should not be mixed up on Batuu:

Hydrator = Water Fountain
Refresher = Bathroom
Everything To Know About Star Wars: Galaxy's Edge Rides
Arriving on Batuu isn't difficult at all. In fact, there are several different ways you can enter the land.
One entrance via Critter Country, another in Frontierland, and one in Fantasyland. The standby queue for Rise of the Resistance usually begins via the Frontierland entrance, but if you plan to rope drop that attraction be sure to speak to Cast Members about the best route to Galaxy's Edge.
Speaking of Rise of the Resistance, let's talk about the rides!
Millennium Falcon: Smugglers Run
At Millennium Falcon: Smugglers Run, you and five others will be able to choose between being a pilot, engineer and gunner on your high-speed adventure through the galaxy. Team up with beloved characters like Chewbacca and Hando Onaka as you try to complete your intergalactic mission on the most infamous ship in the Star Wars universe!
We recommend going with as big a group as possible. Up to six people can ride together and this way you can switch roles if you want to.
Pilot Tips: Since there are two pilots, each pilot operates a different function of the flight. The pilot on the left controls horizontal movements, while the pilot on the right controls vertical movements. Choose what one is more comfortable to you and try to move the controls as gently as possible.
Gunner Tips: Guests can choose between automatic and manual modes as the gunner. If it's your first-time riding or you don't feel comfortable with controls, we recommend choosing automatic. Manual is harder, as you'll have to aim the guns slightly.
Engineer Tips: If you have small children or anyone in your party who doesn't want a lot of responsibility, the engineer is the best role for them. All you need to do is hit the buttons – it's that easy.
Star Wars: Rise of the Resistance
Star Wars: Rise of the Resistance allows guests to team up with the Resistance as they attempt a secret mission against the First Order. This attraction is the most immersive and technologically advanced attraction to ever land in a Disney park!
Want to ride these two attractions in Galaxy's Edge? Standby lines are always an option, but there are other ways to skip the longer wait with Disney Genie+ and Lightning Lane.
Everything To Know About Star Wars: Galaxy's Edge Dining
Let's eat! Trying out all the new food at Disneyland Resort is one of our favorite pastimes, and now that we're in space there are some new Star Wars dishes to tempt your taste buds.
Oga's Cantina
At Oga's Cantina, guests will be able to grab a drink or snack and listen to the beats spinning by R-3X the Catina DJ – a former Starspeeder pilot on Star Tours. This unique atmosphere invites guests of all ages to partake in out of this world concoctions. Get free dining alerts for open reservations at Oga's Cantina here.
Milk Stand
At the Milk Stand, longtime Star Wars fans can try the galaxy's most unusual delicacy – blue milk! Now even more refreshments have been added to the menu, with new arrivals coming every once in a Tatooine sunset.
Blue Milk plant-based blend of Coconut and Rice Milk with alluring fruity characteristics
Green Milk plant-based blend of Coconut and Rice Milk with zippy citrus and tropical characteristics
Toydaria Swirl Green Milk swirled with savory Fruit Sauce, Mango Jellies, and topped with Chili Lime Seasoning
Bubo Wamba Family Farms Light-Up Souvenir Sipper
Mobile ordering is available via the Disneyland app for quick drinks. Which drink is your favorite in Black Spire Outpost?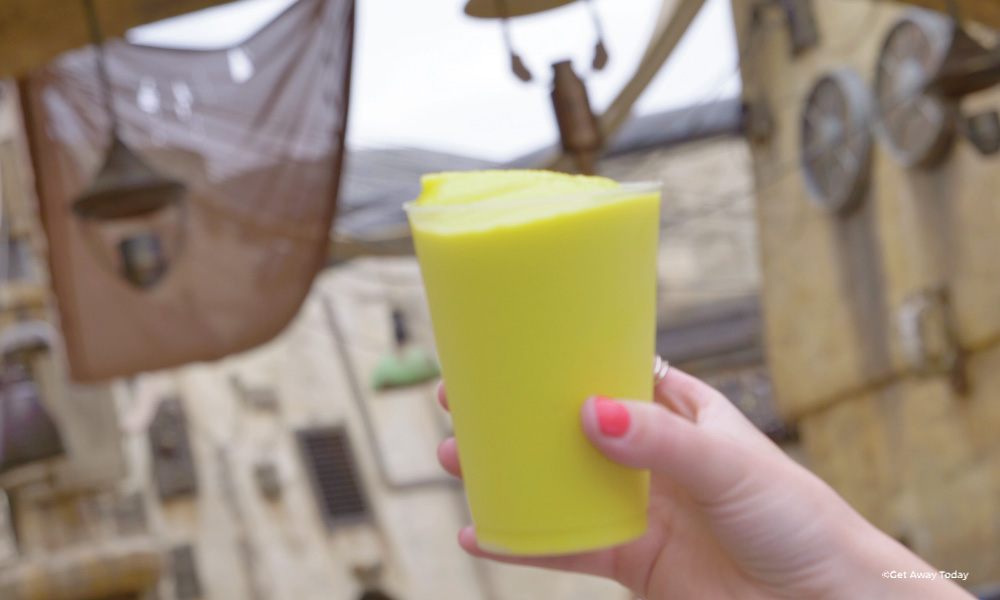 Docking Bay 7 Food and Cargo
At Docking Bay 7 Food and Cargo, dive into strange, but delicious dishes that bring interesting flavors to life. Mobile order or walk up order are both options at Docking Bay 7.
Indulge in dishes like:
Endorian Fried Chicken Tip-Yip
Endorian Roasted Chicken Salad
Felucian Kefta & Hummus Garden Spread (plant based)
Ithorian Garden Patty Bun
Seasonal Dishes
Specialty Non-Alcoholic Drinks
Ronto Roasters
Using a recycled pod racing engine to fire up a barbeque pit, guests can try the planet's most famous "Ronto Wraps" at Ronto Roasters. You can also add unique options like Meiloorun Juice or a Ronto-less Garden Wrap.
Ronto Roasters is also the home to the popular Ronto Morning Wrap with scrambled eggs, grilled pork sausage, shredded cheddar and peppercorn sauce all wrapped in a delicious pita.
Everything To Know About Star Wars: Galaxy's Edge Shopping
From building a lightsaber to customizing your own droid and outfitting jedis, Star Wars: Galaxy's Edge has intriguing merchandise for creatures of all kinds.
Savi's Workshop - Handbuilt Lightsabers
Savi's Workshop isn't a traditional ride, but it is an attraction all of its own. Step inside the secret enclave to create your own one-of-a-kind lightsaber.
With the guidance of the "Gatherers," you'll be able to construct your own legendary lightsaber by choosing between themes like Peace and Justice, Power and Control, Elemental Nature and Protection and Defense.
Only lightsaber builders and their guests are allowed inside. Get free alerts for open reservations at Savi's Workshop here.
Droid Depot
At the Droid Depot, you'll be able to build your very own galactic sidekick! Choose between the BB-series or R-series unit as you design, build and activate your droid in this immersive experience at Mubo's Workshop.
Kids especially love this experience as they watch the droid parts come by on a conveyor belt and choose the most eye-catching pieces to build it just the way they like it.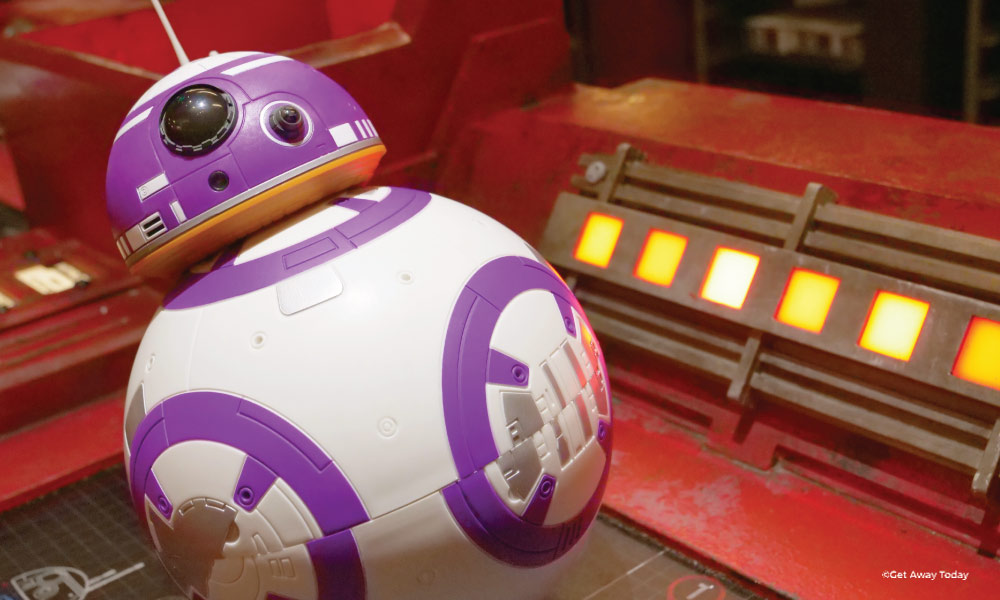 Toydarian Toymaker
At this quirky workshop, guests can purchase all manner of peculiar toys, playthings and handmade collectibles made by Zabaka the Toydarian – the Toydarian Toymaker.
Dok-Ondar's Den of Antiquities
At Dok-Ondar's Den of Antiquities, you'll be able to discover (and even buy) elaborate jewelry, kyber crystals and unique artifacts that have been collected from various parts of the galaxy.
Creature Stall
At Creature Stall, guests discover some of the galaxy's rarest species and even take a new friend home! Peek into cages filled with some of the rarest intergalactic species as you explore Bina's store for your own quirky companion.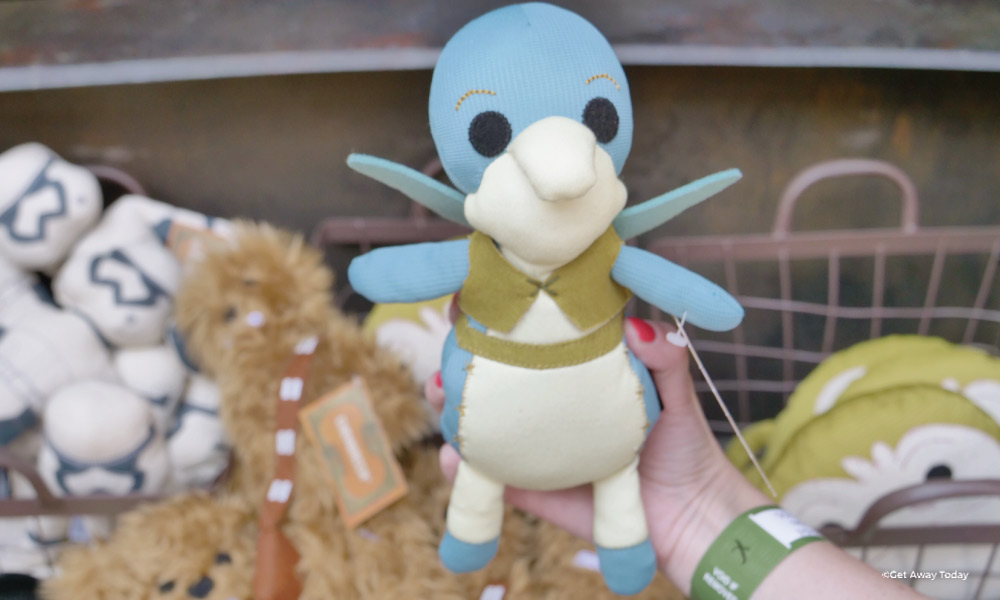 Black Spire Outfitters
At Black Spire Outfitters, guests can buy and browse a wide-range of stylish and functional garments and accessories – suitable for any world you decide to discover.
First Order Cargo & Resistance Supply
Whether you choose to sympathize with the Resistance or side with the First Order, you'll be able to purchase the gear you need to show allegiance in the galaxy's biggest battle.
At First Order Cargo and Resistance Supply, you'll be able to buy uniforms, helmets, training supplies and more.
MagicBand+ and Play Disney Parks App at Star Wars Galaxy's Edge
Before you go, you'll have two interactive options to secure before Batuu to enhance your Star Wars: Galaxy's Edge experience:
Play Disney Parks app. With this app, you'll be able to translate foreign languages, discover precious cargo, tune into communications sent by residents of other planets and even pick up side jobs to earn galactic currency.
MagicBand+. MagicBands+ are now part of the interactions in Star Wars: Galaxy's Edge. Play along with "Batuu Bounty Hunters" and discover even more immersive experiences.
As you can see, it's no surprise that Star Wars: Galaxy's Edge is out of this world! So, what are you waiting for? Book now to live your Star Wars dreams at Disneyland Resort!