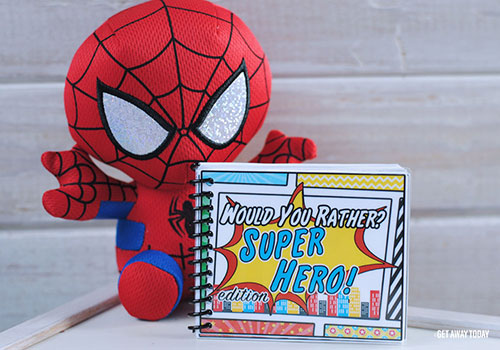 It's not a bird and it's not a plane, but it is a really fun free printable from Get Away Today! This Super Hero edition of Would You Rather is an entertaining activity for any SUPER get together. Warning: You will need to tap into your special powers to have the strength to decide on what proposed situation you would rather endure.
Questions like, "Would you rather be as rich as Iron Man or as good looking as Captain America?" and "Would you rather be related to Loki or Nebula?" are sure to make you break out in a sweat. How do you choose? That is the fun of the game! Be sure to grab your favorite super squad buddies and play together. It is a mighty good time.
It is incredibly easy to make your own free Super Hero Would You Rather Game. Start by printing off the six pages of questions for the game. You can download the free files below.
Super Hero Would You Rather Game Free Downloads
I printed the pages using color ink onto cardstock paper, so they were nice and sturdy. I wanted my version of Super Hero Would You Rather to last awhile! Maybe even as long as Thor.
Super Hero Would You Rather Game - Supplies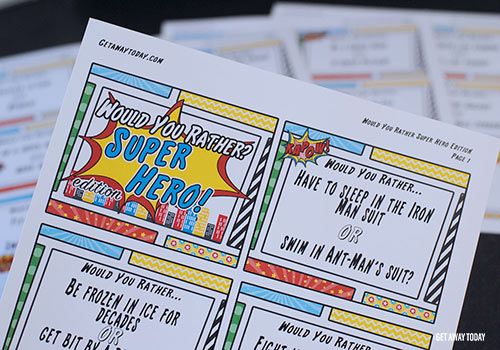 Cut out each individual question card. There is no particular order to the questions. I numbered the pages in the upper right corner so that you could keep track of the pages while you are printing. But, once they are cut, the Super Hero Would You Rather game cards can totally be scrambled like Spiderman's web.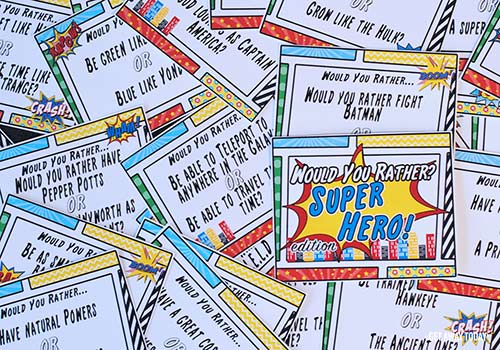 You can make the cards into a little flip book. I had mine bound with plastic spiral binding at the print shop. It was only a few dollars and was super easy. They even laminated the front cover page so it looks really great. Almost as great as Captain America. Almost.
If you don't want to bother with binding, the game can be played like a regular deck of cards, with participants choosing a card from the deck and answering the question posed on the back. How easy is that? Much easier than getting the Infinity Stone away from Loki. That was a real chore. Also, above in the supply list I linked a hole punch and book rings so you can purchase those and keep track of your Super Hero cards that way.
Our Super Hero Would You Rather Game is a question and answer game. You can play it with one reader asking questions to the group and letting everyone answer each question. Or, you can take turns reading the cards and answering them individually. You could even play it all by yourself. It's totally up to you!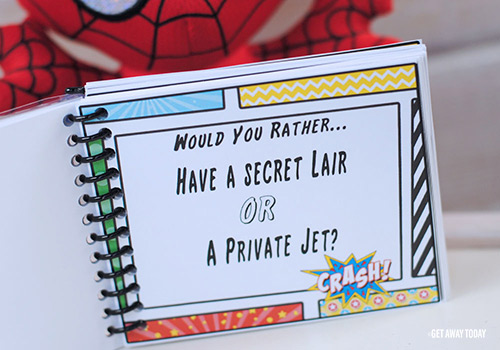 This Super Hero Would You Rather Game would be a perfect activity for a super hero party, road trip or a day at the Avengers Campus in Disney California Adventure. The game is small enough to store in a purse or fanny pack (you know you love them!) and totally portable. Read the questions while waiting in line at the new Guardians of the Galaxy - Mission: BREAKOUT! attraction or while you are chilling at the Guardians of the Galaxy: Awesome Dance Off. You could even bring them with you when you go to meet Spider-Man or Captain America and ask them the questions... although you may find some of their answers to be a little biased.
Would you rather meet handsome Captain America or the calm giant Groot? Good news! You don't have to choose. You can find both of the popular heroes at the Summer of Heroes event and even more of your favorite Avengers. Have your camera ready - you are going to want to document these heroic encounters!
If you haven't booked your summer vacation to Disneyland, there's still time. You have until September 10th to experience the Summer of Heroes in Disney California Adventure. Plus, you can take advantage of our discount Disneyland tickets and Extra Night Free hotel specials. Book any of our Disneyland packages online or give our travel experts a call at 855-GET-AWAY. Either way, we're here to make sure that your vacation is super!

Check out these other fun Would You Rather Game editions: