UPDATED MARCH 19, 2020: Right now, the question on everyone's mind is "When does Marvel Land open in Disneyland?" Everyone wants to know when the all-new Avengers Campus will be ready to welcome guests at the
Disneyland Resort
. We're thrilled that Disney has released the opening date for Avengers! You can explore this Marvel Land as of July 18, 2020.
Even more exciting is that our
Spring Kids
offer has now been extended for travel to December 15, 2020. This means that you'll be able to save up to $111 on 3-Day Disneyland Resort child tickets when you visit Avengers Campus this summer.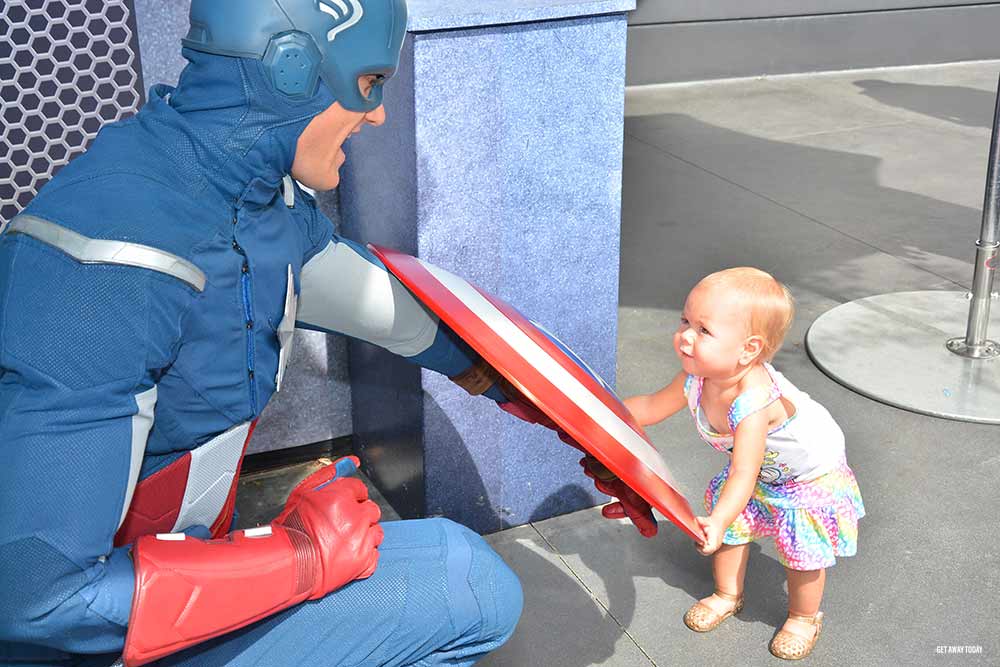 When Does Marvel Land Open in Disneyland?
Disney has initially said Phase 1 of Avengers Campus will debut summer 2020, so we know that on July 18, 2020, only part of this new experience will be ready for guests. Much like when we awaited the opening of Galaxy's Edge, we have some ideas about this new Marvel-themed area of the Resort and what it will include in Phase 1.

When Does Marvel Land Open in Disneyland? - July 18, 2020
We're excited that Disney will have this immersive, Avengers experience open by July 18, but did you know part of Avengers Campus in Disney California Adventure Park is already open? That's right! Guardians of the Galaxy - Mission: BREAKOUT! is part of the Marvel-ous master plan for this new land. It opened in 2018, inviting guests to join Rocket on a mission to break out the rest of the Guardians from The Collector's Fortress. We know this attraction was met with mixed feelings (because people LOVED The Tower of Terror attraction), but hopefully, the change now makes a lot more sense. All along, Disney was planning to create an entirely new experience in California Adventure with Guardians serving as an anchor attraction.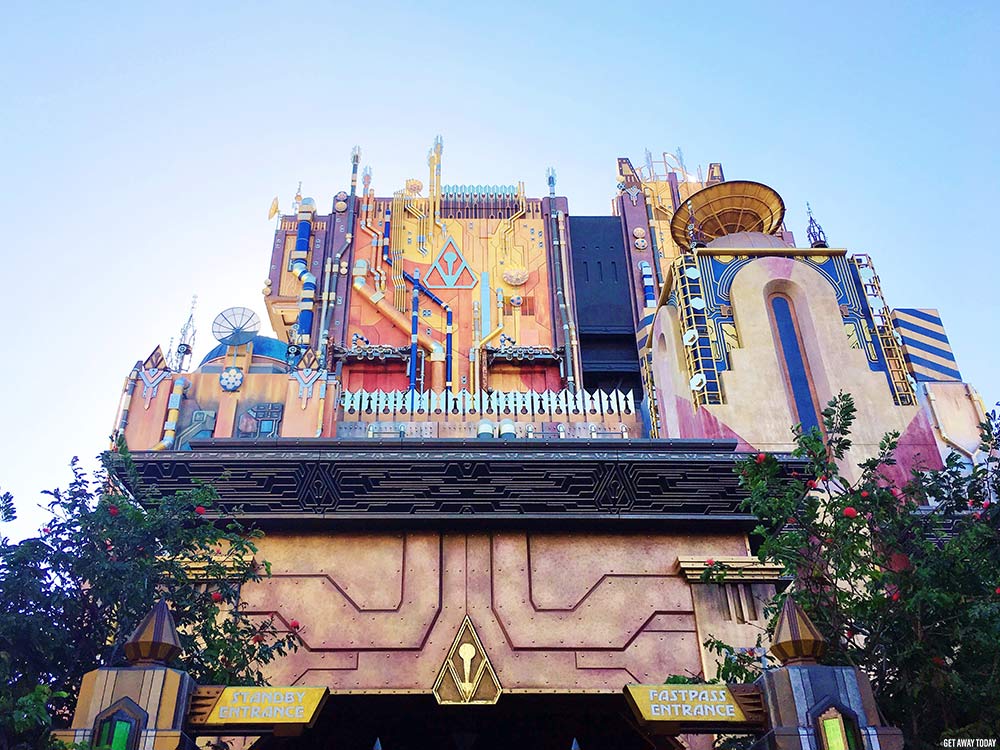 Marvel Land Location
In addition to wondering when Marvel Land would open, some guests don't know where it will be located. If you haven't been to the Disneyland Resort lately, you may not have seen the walls that went up around the former A Bug's Land at Disney California Adventure Park. As you enjoy this part of the Park today, you can catch glimpses of Marvel Land construction, especially in Cars Land.
Behind Mater's Junkyard Jamboree and Luigi's Rollickin' Roadsters, you can spot the cranes and the framework of the structures that will house the attractions, dining and merchandise in Avengers Campus.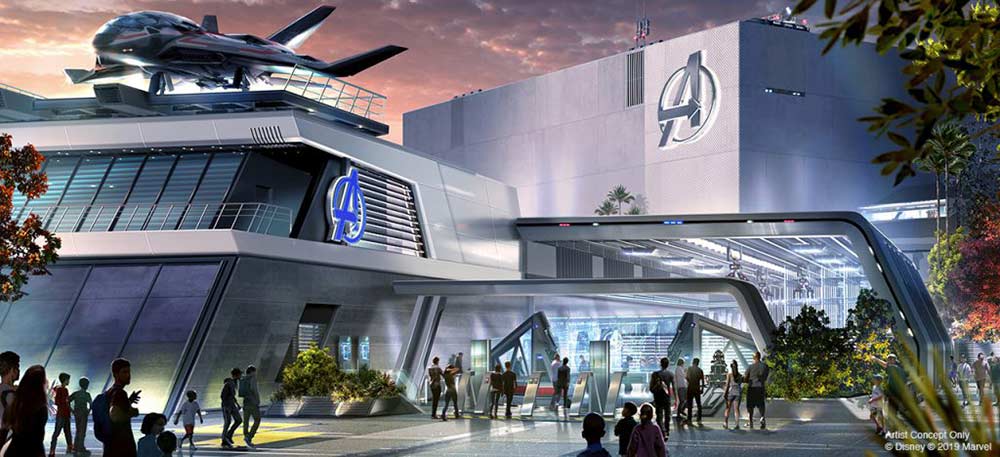 Photo courtesy of Disney Parks blog
From the mock-ups we've seen so far, it looks like there will be an entrance at the Spider-Man attraction (formerly the entrance to A Bug's Land) as well as an entrance from Cars Land and Hollywood Land. It looks like it will be fairly accessible, and we're really excited that Cars Land will have another way out again soon!
Marvel Land Attractions
Guardians of the Galaxy - Mission: BREAKOUT! - This existing ride in Disney California Adventure Park is already open and invites you to experience the thrill of a rescue mission. The queue offers a glimpse inside The Collector's fortress, and you can browse strange curios including a Cocoon of Unknown Origin, Cosmo the Spacedog, Asgardian weapons, eyeballs and even an appearance from Stan Lee (the creator of many Marvel characters). The queue gives you lots to explore as you await instruction from Rocket regarding the mission, and you may even spot relics from the former Tower of Terror Ride. Outside the ride itself, look for the Avengers hatch; it has been there to give us a clue that more Marvel is coming to Disney California Adventure.

During Halloween Time at Disneyland Resort, Guardians of the Galaxy - Mission: BREAKOUT! enjoys a temporary overlay every night. It becomes Guardians of the Galaxy - Monsters After Dark, which is a mission to rescue Groot after he's accidentally left behind. Since all the creatures in the Collector's fortress have broken out, it's your job to retrieve Groot and keep him safe!

Worldwide Engineering Brigade - This new building will house the Spider-Man ride. Touted as a tour of the WEB facility, when you enter you'll learn about the Web-Slinger vehicle you'll board for the 3D ride, WEB SLINGERS: A Spider-Man Adventure. Pay attention because you're going to be recruited to help capture Spider Bots that are now on the loose. The concept art shared by Disney shows references to Pym Technologies, SHIELD, Stark Industries, Black Panther and more throughout this new Spider-Man attraction. This ride is being compared to Toy Story Midway Mania!, but instead of shooting virtual balls, darts and rings at toys, targets, etc… you're slinging webs. This Spider-Man experience is based on the Tom Holland version of everyone's favorite teen Avenger.
W.E.B. Suppliers - Located across from the WEB building, Spidey merchandise will be available for purchase at W.E.B. Suppliers. You'll find the latest technology available at W.E.B., and we're really looking forward to the Spider-Bots guests can custom build! Much like the Droid-building experience in Galaxy's Edge, the Spider-Bots can be controlled via remote and will be interactive. You can also purchase a Spider-Bot carrying case, Spider-Man light goggles, a take-home spiderweb kit, Funko Pop! figurines and more.
Campus Supply Pod - This shop houses Marvel apparel and gear so you can suit up like the Avengers.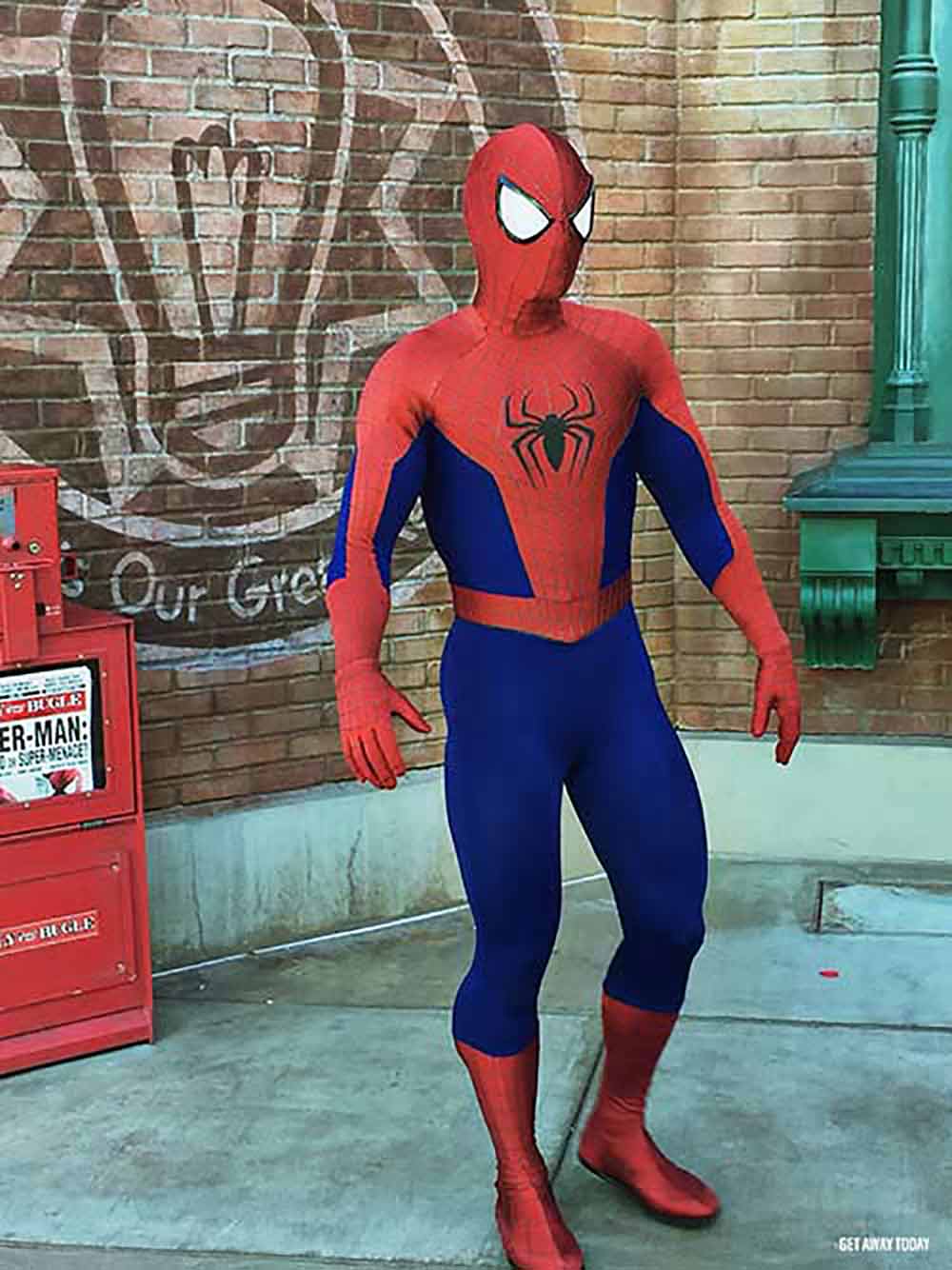 Dr. Strange Show - It sounds like Disney California Adventure Park is going to become home to a Sanctum for Dr. Strange. We hope we'll be able to explore the ruins of the California Sanctum before learning about the multiverse from Dr. Strange in a live show. Disney has revealed that Avengers recruits can witness spells and mystic arts training at the hands of Dr. Strange when the Sanctum opens in Avengers Campus.
Heroic Encounters - Of course, Avengers Campus wouldn't be complete without the opportunity to meet some of our favorite heroes! You can currently meet many Marvel characters in Disney California Adventure, but we think the Heroic Encounters will be more of a focal point in this new land. Some Disney and Marvel fans expect the Avengers will be seen walking throughout the new Campus and won't be relegated solely to meet and greet areas. Here's who we know will be making appearances in Avengers Campus:

Captain Marvel
Black Widow
Doctor Strange
The Guardians of the Galaxy
Black Panther
The Dora Milaje
Thor
Loki
Taskmaster
Ant-Man
The Wasp
Iron Man - debuting his newMark 80 armor
Spider-Man

Avengers Headquarters Building (Phase 2) - In the future (beyond 2020) when Phase 2 of Marvel Land opens, Disney will unveil the Avengers Headquarters Building. It will house a Quinjet mission to Wakanda that brings you face to face with the Avengers' number one enemy. We theorize, like many others, that you'll be battling Thanos on this ride. What do you think? The technology for this ride is rumored to be more advanced than anything Disney has released yet. From the concept art we've seen and the endless discussions we've had with other Marvel fans, we think you'll find yourself wearing something like a jetpack that combines with 3D-4D elements to put you in the middle of the action. We hope it feels like we're flying through battle and helping the Avengers defeat the likes of Thanos! This is being touted as an E-Ticket Attraction, which means something exceptionally immersive and thrilling. This lingo dates back to when Disneyland accepted actual coupon tickets for rides and they were organized in different categories.

Marvel Land Restaurants
PYM Test Kitchen - What kind of food will PYM Test Kitchen offer when Avengers Campus opens? We already know for sure there will be a play on sizing since PYM Technology is what allows Ant-Man and The Wasp to shrink and grow at the touch of a button. The menu will reflect the Marvelverse, like Oga's Cantina in Star Wars: Galaxy's Edge. In addition to the atmosphere making you feel like you're in PYM Labs, wouldn't it be great if the food catered to the tastes of the Avengers themselves? Disney has released a couple of menu items so far, which will include Impossible plant-based large and micro meatballs with pasta and the Pym-ini, which is a Panini served by the slice or as a large, multi-portion sandwich. We hope for other fun menu selections such as delicious cheeseburgers as a nod to Tony Stark, something leafy (salads) to remind us of that one time Groot ate a leaf off himself and, obviously, some locally brewed craft beers and signature drinks (both alcoholic and non). And if we're really looking to Marvel movies for inspiration, we're going to keep our fingers crossed there's an ice cream-based dessert in honor of Scott Lang's stint at Baskin Robbins before he was recruited to be Ant-Man.
PYM Tasting Lab - Adults can sample craft beer and specialty cocktails at the nearby PYM Tasting Lab.
Shawarma Palace - Not to give away any movie spoilers, but in Avengers End Game the gang gathers at a tasty Shawarma joint in NYC. As a nod to that iconic scene, Shawarma Palace opens in Avengers Campus. It is a food cart that offers snacks and beverages with Middle Eastern influence.
Terran Treats Food Cart - Taneleer Tivan opens a food cart near Guardians of the Galaxy - Mission: BREAKOUT! to invite guests to come to his fortress and taste some of his favorite, edible collectibles. This food cart will include menu items inspired from around the world.
Photo courtesy of Disney Parks blog
When Does Marvel Land Open in Disneyland? - Things We Know For Sure
Since Marvel Land is still in development, there are only a few things we know for sure. So, since we can't answer all the questions you may have, we'll share what we have heard from Disney.
The official name of Marvel Land at Disney California Adventure Park is Avengers Campus.
Avengers Campus will open in two phases, much like Star Wars: Galaxy's Edge in Disneyland Park. Phase 1 opens July 18, 2020, while Phase 2 may open in the year or two following.
Phase 1 of Avengers Campus will open with the first-ever attraction that features Spider-Man as the headliner at Disneyland Resort. It's called WEB SLINGERS: A Spider-Man Adventure and will feature immersive technology.
When Avengers Campus opens in 2020, it will debut PYM Test Kitchen, PYM Tasting Lab, Shawarma Palace and Terran Treats. These food and beverage options will offer unique tastes to guests as many are inspired by other countries and/or galaxies.
Book Now to Experience Marvel Land
Did you know you can book discount Disneyland tickets now with us and use them for travel any time this year? Plus, we offer an interest-free Layaway Plan so you can book now for as low as $175 down. You can make flexible payments on your own timeline as long as the vacation is paid off in full seven days before you travel. Plus, you can take advantage of the extended Spring Kids offer and save up to $111 on 3-Day Disneyland Resort child tickets for travel this summer. Book now and make travel arrangements to experience Avengers Campus as of July 18, 2020! Look at Disneyland packages online or give us a call at 855-GET-AWAY.