UPDATED MARCH 2019 The Force has been awakened in a major way these last few months with the release of the newest Star Wars movie and the incredible
Season of the Force event
going on right now at Disneyland. The disturbance has been felt across the nation! If your family is like most families in the galaxy, you'll be looking forward to watching The Force Awakens when it is released on DVD in a few weeks on April 5. If you haven't already pre-ordered yours, you can grab yours here:
The Force Awakens Pre-Order
. Use our Bingo game to celebrate your trip to
Star Wars
: Galaxy's Edge, which opens May 31, 2019 in Disneyland.
To celebrate this momentous occasion, we created our own version of The Force Awakens Bingo. This version of Bingo is a little bit different than the kind that is played in the retirement home. Here, each square is filled with a word that is part of the Star Wars The Force Awakens script. When the word is spoken during the film, the player gets to cover that space with a marker. I found that little (and not-so-little) Jedi enjoy candy markers the best. It can hard to prevent them from getting gobbled up, so make sure you buy plenty of markers. We chose black and white jelly beans to represent the light side and the dark side, of course.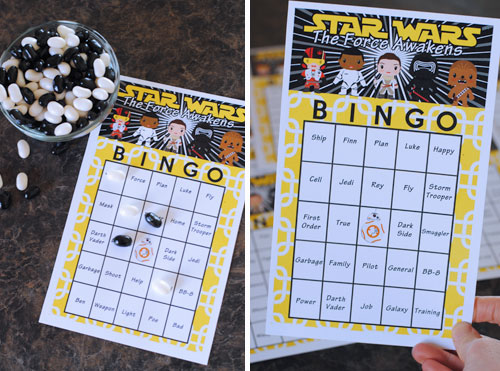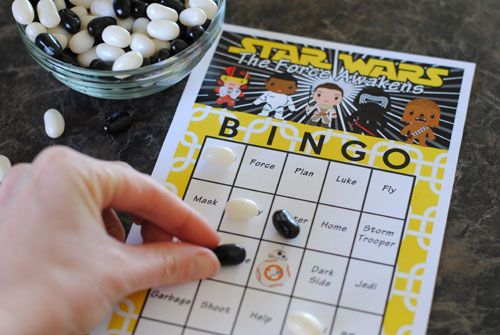 Just like regular Bingo, once one player gets five squares in a row that have been covered, they yell out, "Bingo!" Everyone clears their cards, and the game starts over again. You could put a Star Wars spin on it and shout out "Ewok," "Kylo," or even a Skywalker inspired, "Noooooo!" There are eight unique cards for you to download with two on each sheet of paper. If you have more than eight players, you can print duplicates. It will just make the race to say, "Bingo!" or "Lightsaber!" a little bit more intense.
Download your Star Wars Bingo cards here and enjoy: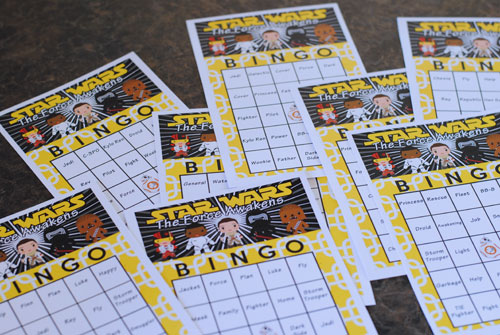 I hope your The Force Awakens viewing party is a hit with the Padawans in your life. If you are traveling to visit the Season of the Force at Disneyland, take your Bingo game along for the road trip as well. Laminate the cards and use dry erase markers or re-usable stickers to cover the spots to make things easy in the car. Then, when you arrive at the Disneyland Resort, prepare yourself to come face-to-face with Kylo Ren and Chewbacca at the Star Wars Launch Bay, watch Path of the Jedi, a condensed 4D compilation of the Star Wars trilogy at the Tomorrowland Theater, experience a scene from The Force Awakens on Star Tours - The Adventures Continue, and fight the Empire on Hyperspace Mountain; all part of the limited time Season of the Force. Kids ages 4 - 12 will want to register to be part of the show at Jedi Training: Trials of the Temple where they'll get to battle Darth Vader and the Seventh Sister Inquisitor. Then, take your family and grab lunch or dinner at the Galactic Grill with a special Star Wars themed menu.
When you're ready to book your Disneyland vacation, we'd love to help! Our discount Disneyland packages offer a wide range of hotels for every budget, and even include exclusive extras like free night promotions, waived resort fees, free breakfast and free parking at select hotels. Book online or let any of our Disney Experts help you book your vacation by calling 855-GET-AWAY.

Check out these other great articles: