Universal Studios Hollywood is located in Los Angeles County, in the heart of all the movie-making action. Universal CityWalk is a shopping, dining and entertainment district located in the heart of Universal Studios Hollywood. It's the perfect place to start your Hollywood experience or a great place to stop by even if you're not spending time at the theme park. Today we're sharing our most recent 11 tips for Universal CityWalk to help you make the most of your time there.
Tips for Universal CityWalk - What You Need to Know
1. Universal CityWalk parking is in the same areas as theme park parking. There are two parking lot locations. We prefer general parking in the E.T. or Curious George garage when only visiting Universal CityWalk. Parking in either of these areas will allow you to begin exploring CityWalk on the farthest end from the theme parks, closer to the movie theaters and live entertainment stages. Both of these parking garages also have electric vehicle charging stations. Parking fees are around $30 per car, per day and validation is available for select dining and entertainment when you choose valet parking.
2. Universal CityWalk security screening (as of summer 2023) only takes place for guests entering the theme park. For CityWalk shopping and entertainment, you don't have restrictions on bag size but should be aware that the same policies and code of conduct applies, despite being outside of the secure area. For the safety and convenience of guests, Universal Studios Hollywood has a Los Angeles County Sheriff's Department substation at Universal CityWalk Center Court. Despite not being in a secure area, we always feel safe at CityWalk and have noticed the presence of the LA County Sheriff's Department.
3. You don't need a Universal Studios Hollywood ticket to access Universal CityWalk. One of the best things about Universal CityWalk is that it's completely free to visit. You can people watch and window shop to your heart's content.
4. Shop like a pro!
CityWalk has almost all the same souvenirs from inside the parks, even Hogwarts merch and an entire store dedicated to
SUPER NINTENDO WORLD
. With so many unique storefronts it may be difficult to walk out of Universal CityWalk without spending a little something. We particularly love exploring stores like:
The Los Angeles Sock Market
Nectar Bath Treats
It's Sugar
Dodgers Clubhouse
Every store is so unique and wacky, especially the outside marquees and indoor displays!
Tips for Universal CityWalk - Entertainment
5. Make a late night out of Universal CityWalk when everything is aglow. Universal CityWalk District is open later than the theme park, usually until at least 10:00 pm during summer nights. If you're a night owl, or want to go out for a night on the town, Universal CityWalk is an awesome place to be. There is also live music, dancing and a large performance area at the end of Universal CityWalk near the Universal Cinema. It's always a party!
6. Make a Splash at Universal CityWalk. A colorful fountain display is at the center of CityWalk. It's been delighting little guests with music and surprise splashes for decades. When the sun is out almost everyone is tempted to take a run through the fountains—and it's encouraged! You'll often see a crowd gathered around to watch the fountains pop up and see who gets wet first.
7. CityFood for food court style eats
is ideal for staying on budget. Sometimes you just want a quick bite to eat without spending too much. We love the food court on the second level of CityWalk that offers some classic eats like:
Pink's Hotdogs
Taco Bell
The Habit
Panda Express
Firehouse Subs
Other quick service restaurants include places like Cinnabon, Starbucks and Wetzel's Pretzels.
8. Enjoy the themed restaurants.
For those who enjoy a leisurely meal and make a day of it, there are so many choices at Universal CityWalk. Some of our Get Away Today favorites include:
Bucca di Beppo
Bubba Gump Shrimp
Johnny Rockets
Jimmy Buffet's Margaritaville
If you want to dine at any of these restaurants, many accept walk ups but reservations are also a good option for peak travel seasons.
9. Don't skip dessert at Universal CityWalk. CityWalk is home to some indulgent desserts that will make you feel like you are splurging. One of our favorites is most definitely Toothsome Chocolate Emporium, now that's something worth sinking your teeth into! Voodoo Donuts is another fan favorite–you'll be amazed by what they do with a simple donut here. And if you're looking for some sweet souvenirs to take home we recommend Popcornopolis for their famed zebra popcorn and It's Sugar for some novelty gifts. Another noteworthy sweet spot is literally too sweet to eat—Nectar Bath Treats look like your favorite indulgences but they're only dessert for your skin! We love the cupcake bath soaps and dessert scented body butter. It's a wonderful gift to bring home.
Tips for Universal CityWalk - Overall
10. Enjoy Universal CityWalk in the morning
. The mornings in Universal CityWalk are pretty quiet, and you'll have the whole place almost to yourself. Starbucks and Jamba are ready to give you that morning boost. You can then do some shopping at your leisure and sit down for a nice lunch inside one of the many air conditioned restaurants.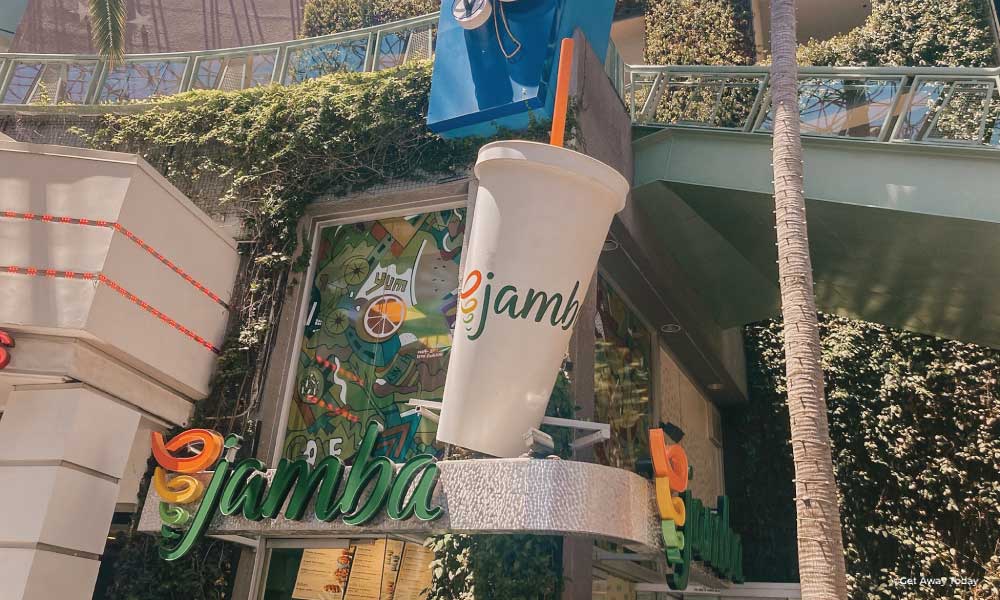 Make sure that as you're planning your Universal Studios Hollywood vacation that you schedule enough time to experience all that Universal CityWalk has to offer. If you haven't planned your Southern California vacation yet, we'd love to help.
All of our Southern California packages and Southern California tickets can be found online.E
We also have a team of travel experts that love Universal Studios Hollywood and would be happy to answer any of your questions and give personalized recommendations. They can walk you through when to go, where to stay, what to eat and so much more. Book online or call our agents at 855-GET-AWAY.