Make these simple DIY Tulle Minnie Ears in just a few minutes. They are perfect for a day at the Disney Parks or to create some Disney magic at home!
This year at Disneyland, guests will get to celebrate Mickey and Minnie Mouse with a festive celebration called "Mickey and Minnie's 90th Get Your Ears On Celebration!" Can you believe the iconic couple has been around for almost a whole century?! And they are still just as cute as ever. There are so many magical things planned for the event that are kicking off shortly. New foods, gear, apparel, photo backdrops, parades, shows, and more! If you are a fan of the most famous duo on the planet, then you aren't going to want to miss their special year-long celebration.
Mickey always says, "If you've got ears, say cheers!" Disney Park guests are going to want to get their ears on for this mouse-tastic event. There are so many adorable Minnie Ear options available at the parks and online, it is almost impossible to decide what to wear! This tutorial is for DIY Tulle Minnie Ears. I love this type of bow-tiful accessory, because they are super light weight and comfortable. They can be worn on all the rides at the park. They cost less than $3 to make! And, they are absolutely adorable.
If you want to make your own pair of DIY Tulle Minnie Ears, then you will need a few supplies to get started. Here is the list:
DIY Tulle Minnie Ears
Roll of Black Tulle
2 Metal Hair Clips
Cute Bows or Ribbon to Make Bows
Hot Glue Gun
Scissors
Smart Phone or Small Book for Wrapping
I just love a project that takes less than 30 minutes from start to finish. It is so satisfying. These Tulle Minnie Mouse Ears are seriously so quick and easy to create. To start, cut about 8 inches of the black tulle and set it off to the side. You will use it as a tie later in the process.
Getting Started on Your Tulle Minnie Ears
I used a iPhone for the next step. You could also use a small book or even use your hand if you want. The size of the object should be about the size of the finished tulle puff ball that you create. So, if you want a tiny Minnie Mouse ear, use some thing narrow. If you want a bigger one (like for an adult) you may want to use a paperback book or something about that size. This phone worked out to be a great size for kids!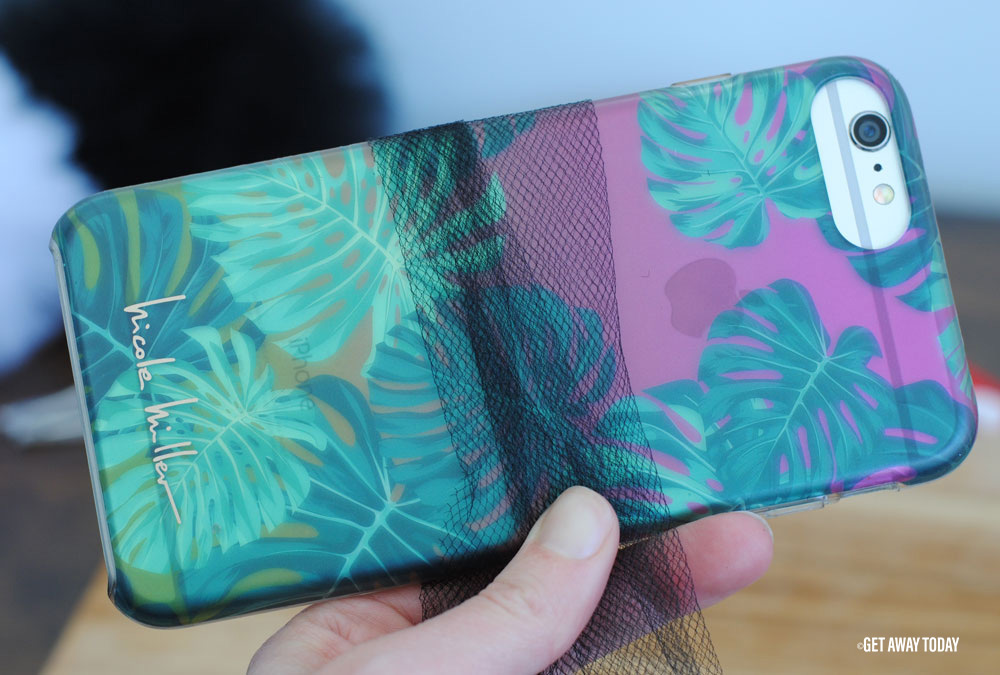 Wrap the tulle around the phone 15 times.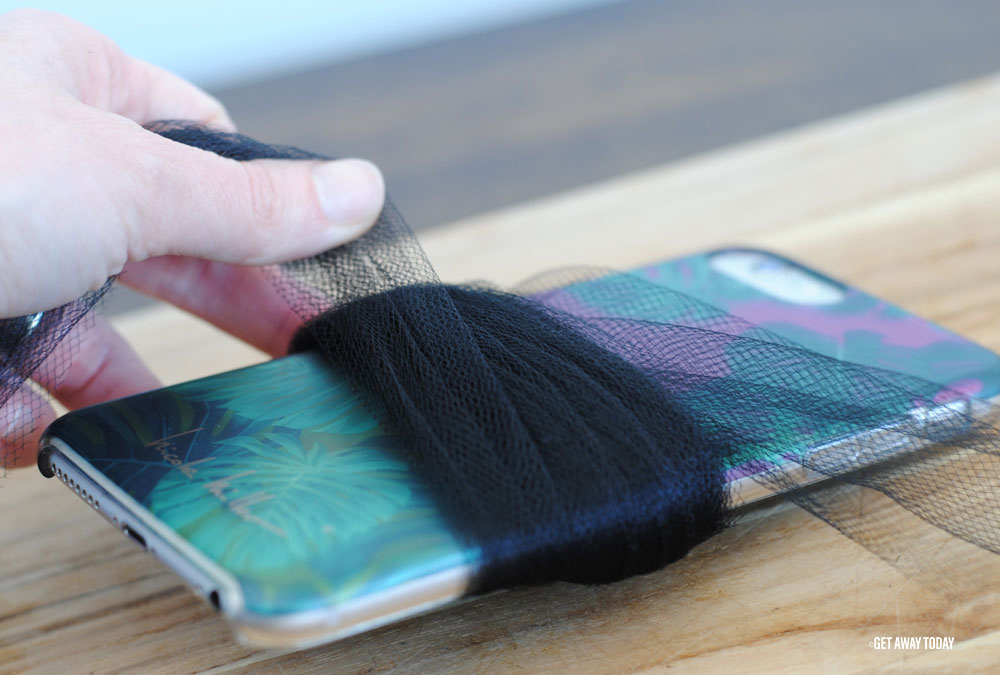 Cut the tulle from the remaining roll and set the roll aside. Then, slide the 8-inch section of tulle (that you cut earlier) under the wrapped portion. Try to get it in the center.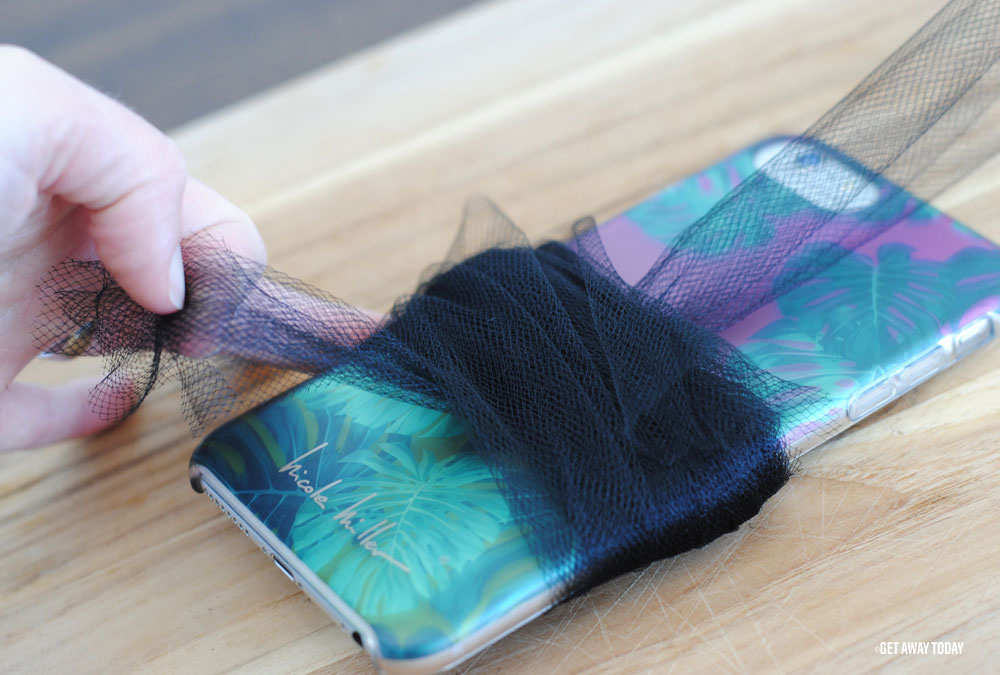 Then tie a knot right in the middle.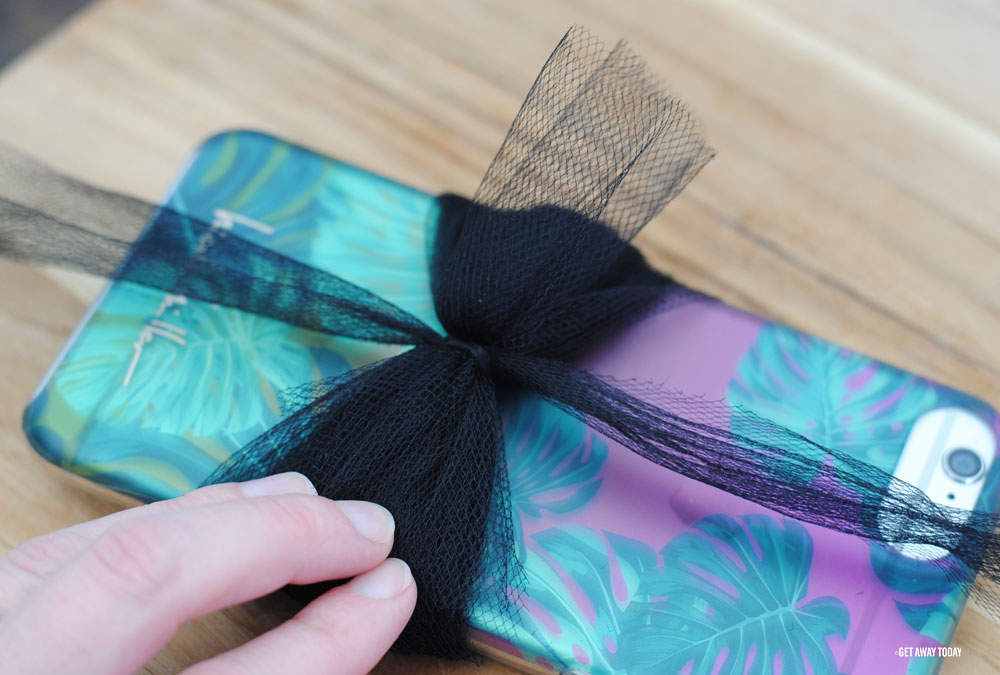 Carefully slide the tulle off of the cell phone. Make sure to keep you fingers on the center because the back side has not been tied together yet! Wrap the ends of your tying piece around the whole center and tie it off with a knot. You should have something that looks like a bow. Pull it tight when you make the knot. You don't want the pieces to slip out later.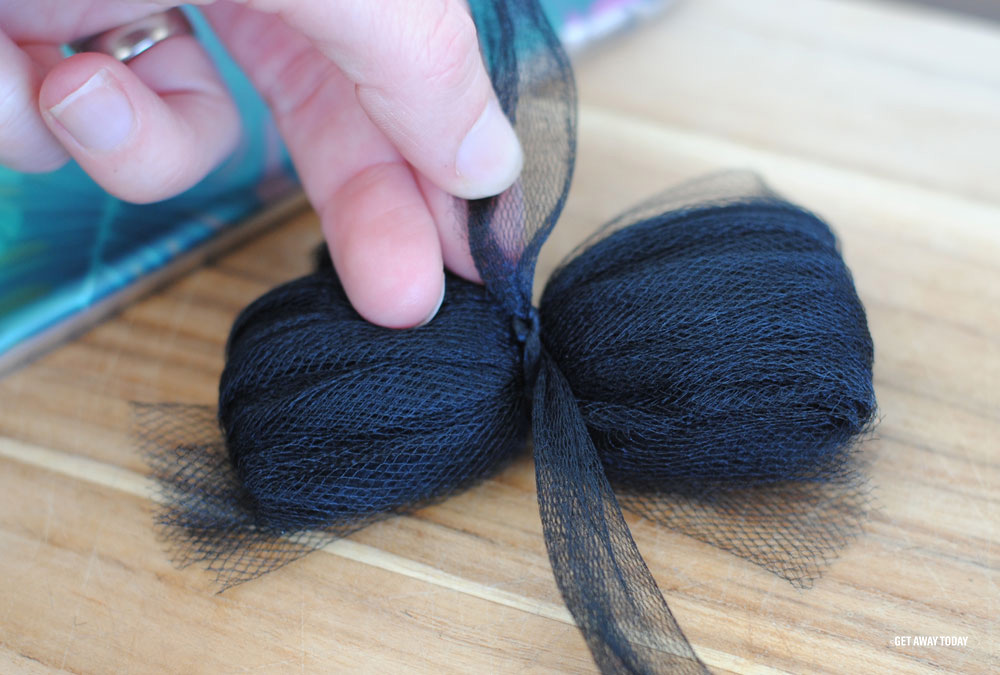 Now, slide your finger through one end of the bow. Try to get in the center of all of the loops.
Then slip your scissors thought the tunnel you made with your finger and cut along the outside edge of the tulle.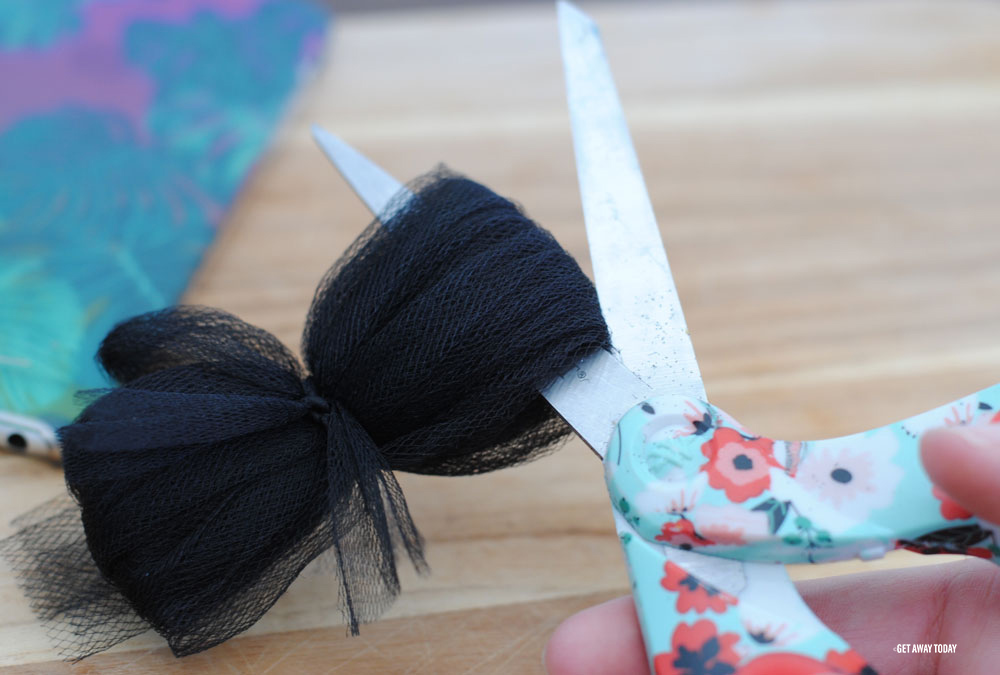 If you happen to have missed any of the loops, you can cut them individually now. Then, repeat the process on the other side. It will look like a flat little weird fluffy thing!
Next, pull the individual strands of tulle apart and fluff the pieces into a nice round ball.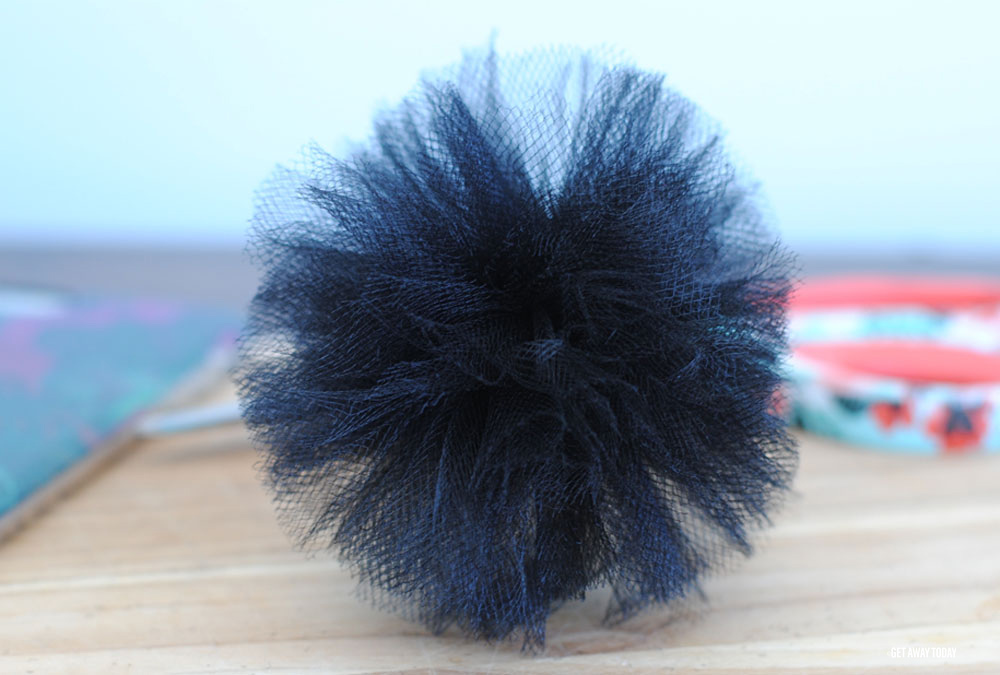 You need two balls. Minnie Mouse has two ears! So, do all of those steps another time.
Securing Your Tulle Minnie Ears
Then, heat up the glue in your hot glue gun. Spread the tulle ball out so you find the center. There are lots of ways to make "center" with a sphere. Just pick a spot that looks good to you! Open it up and flatten the tulle out to make it kind of flat on the bottom.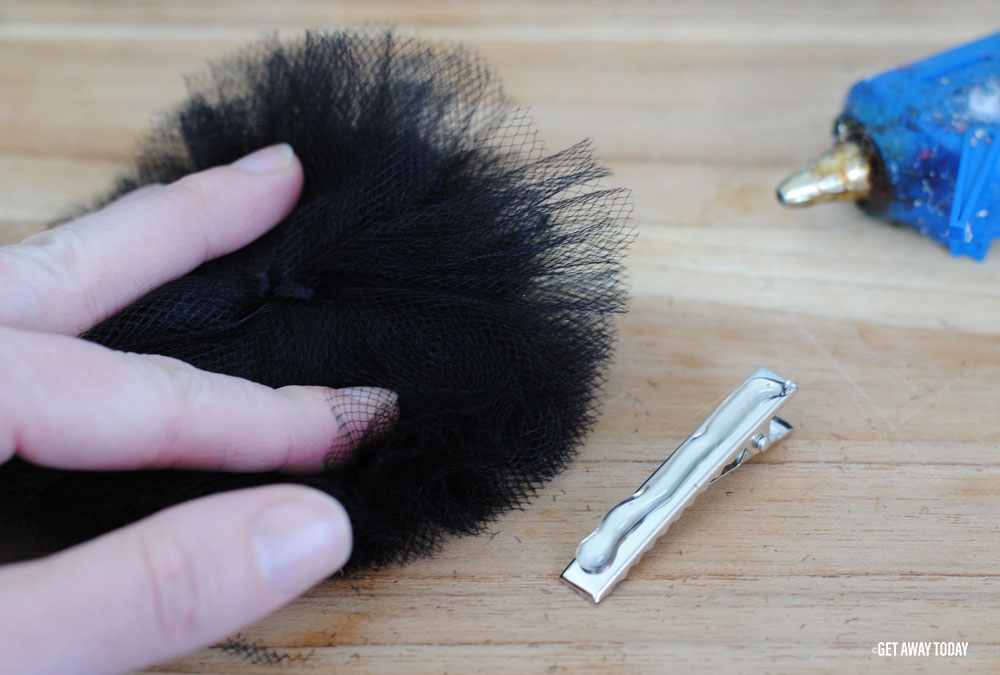 This is where the barrette is going to attach to the Tulle Minnie Ear. Place a line of hot glue along top of the barrette and then stick it to the spot you have ready on the ear. Hold it in place until the glue gets firm.
Then, you add the bow! Because, Minnie Mouse always looks fancy. She doesn't go out without a bow! Flatten the front part of the ear just above the barrette. Put a little dot of glue on the back of your bow and secure it in place on the tulle. Hold it until the glue sets up. It just takes a minute.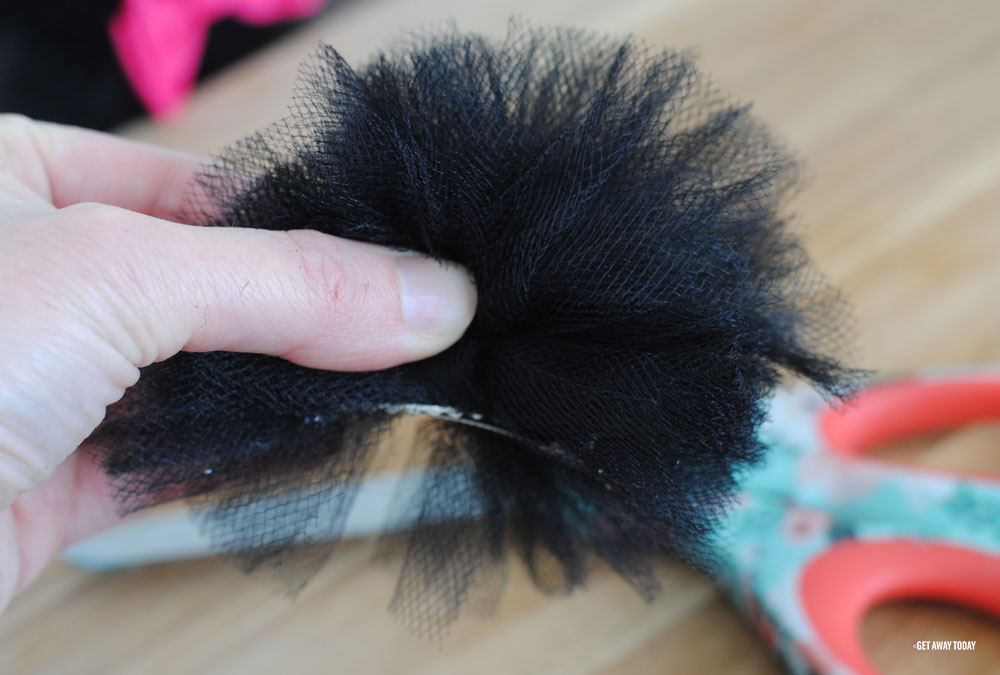 There are a lot of options for bows! I actually bought these bows at Walmart. They were pre-made in the craft section for only $1. It sure made the process easy. You could also make your own bows out of ribbon if you wanted something different.
Don't they look adorable?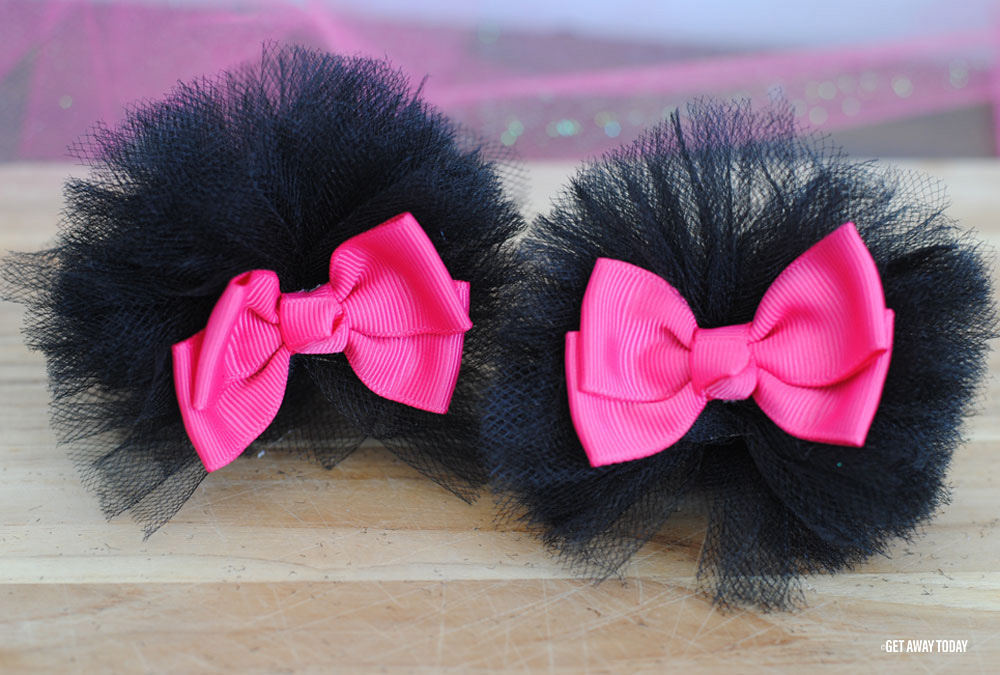 Clip the ears on whenever you need to have a Disney day! They are really quite comfortable. My little princess loved putting her ears on! I am sure your's will too.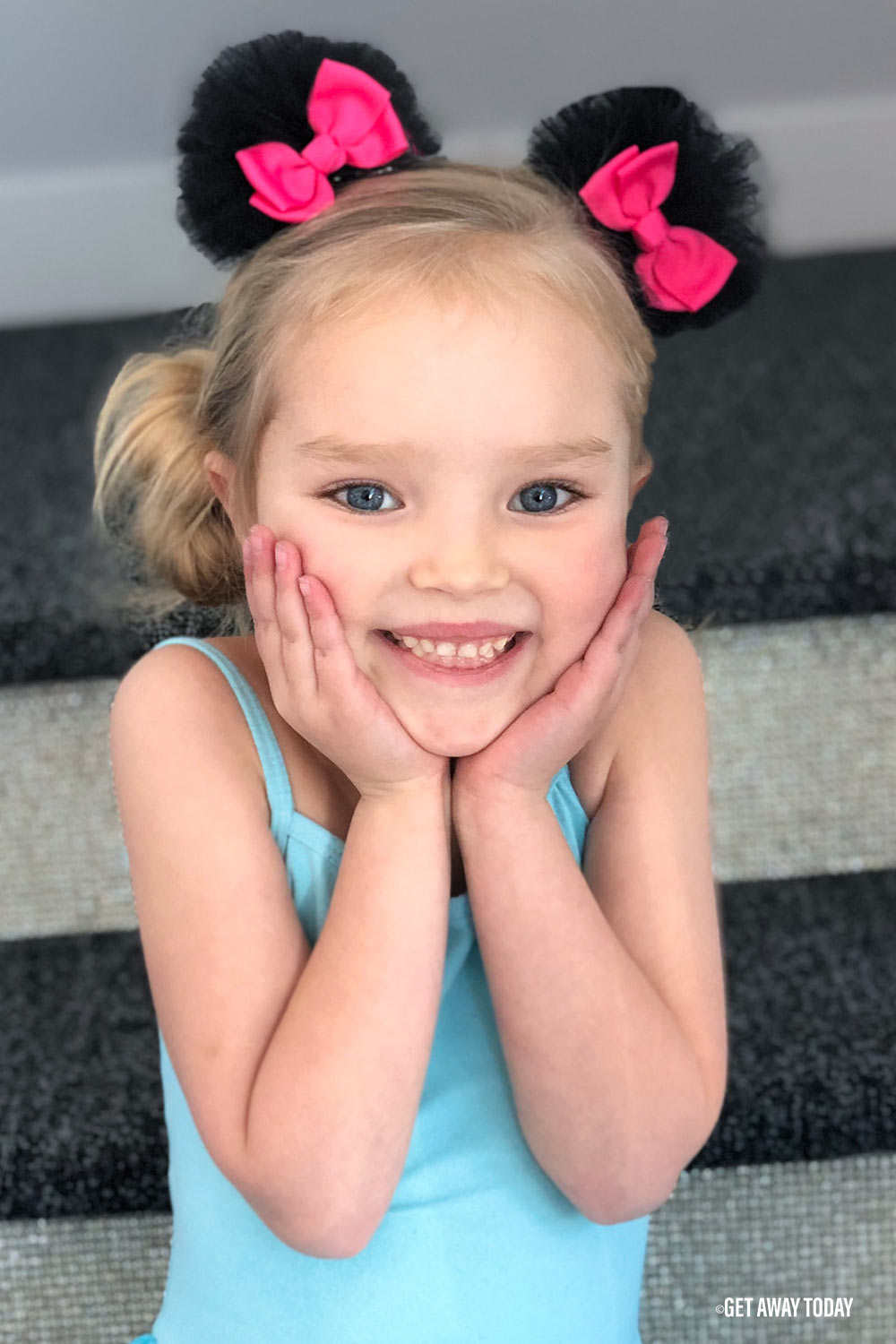 I hope you have fun at the "Get Your Ears On" Celebration this year at Disneyland. Minnie Ears are always in style at the Disney Parks. But this year, they are going to be a necessity!
Now that you have your tulle Minnie Ears, it's time to plan the vacation that goes with them! Whether you're heading to Disneyland, Walt Disney World or beyond, we can help. Browse any of our vacation packages online or give our travel experts a call at 855-GET-AWAY.