UPDATED JANUARY 2019 As the weather cools down and the holidays begin, Get Away Today would like to express our sincere gratitude for your support in helping make a difference in the lives of children! We are delighted to announce that we recently made a donation in the amount of $11,000 to the Children's Miracle Network and over $55,000 to Education Foundations throughout Utah, Arizona and neighboring states. This brings our annual amount of cash and in-kind charitable donations to over $230,000.

These donations are part of Get Away Today's "Vacations Equal Donations" program. Giving back to the community has always been a main focus of Get Away Today's owners, Chuck and Julie Smith. Even when the economy was harsh, the agency still succeeded in sending large donations to children who have needed it most. The Smiths built the "Vacations Equal Donations" program as a vital part of their business. It is a simple formula to ensure money goes back to help the communities they love. With every vacation package reserved, a portion of the vacation's purchase price is donated to the Children's Miracle Network, a partnered school district foundation, or other charitable organization.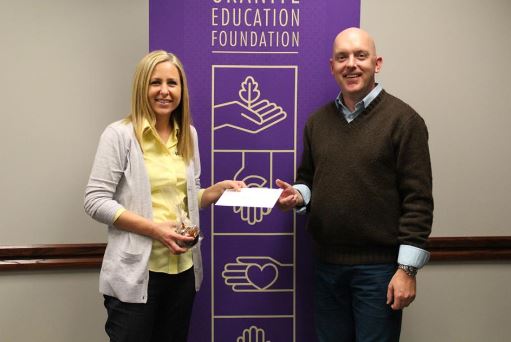 Here Jennifer Tanner, Client Relations Director for Get Away Today presents a check to Brent Severe, Executive Director for Granite Education Foundation. Image credit: Granite Education Foundation

Because of their love for the community and desire to help make each family's vacation magical, Get Away Today was awarded the title of Best Travel Agency in the Best of State Awards.

As the year wraps up, it's time to look forward and plan for next year's vacations - while helping kids! Some of our specials include a $10 ESPN Zone Game card with each 3-Day or longer Disneyland Resort ticket, FREE night specials at many of our Southern California hotels, up to 25% off Carnival Cruise Line, and our amazing Layaway Lock-In plan to hold your entire package and lock in your savings for just $175 down! As always, we also have deals for Mexico, Hawaii, Sandals, Beaches and more! If you have any questions about any of our vacations or the donation process, please feel free to give us a call. We thank you again for your continued support and everything you do to help us make a difference in the lives of children!