UPDATED JUNE 2023. Our Get Away Today team loves exploring all Walt Disney World has to offer. From four headlining theme parks, two splash-tastic water parks, an entertainment district and more than 25 Walt Disney World Resort hotels, we have done it all!
We visit Walt Disney World on a regular basis to survey different attractions, hotels and aspects of the Resort so your vacation can be the most magical yet! For those planning a Walt Disney World vacation, Get Away Today is your partner in travel and here to help you every step of the way.
There are four main theme parks that make up Walt Disney World Resort:
Magic Kingdom Park
EPCOT
Disney's Hollywood Studios
Disney's Animal Kingdom Theme Park
In addition to those main theme parks, Walt Disney World is also home to two water parks:
Disney's Blizzard Beach Water Park
Disney's Typhoon Lagoon Water Park
And that's not all! Various sports and entertainment offerings make up the massive Disney property in Orlando, making this a vacation destination for everyone:
ESPN Wide World of Sports Complex
Disney's Oak Trail Golf Course
Disney's Oak Trail Golf Course – FootGolf
Disney's Fantasia Gardens Miniature Golf Course (prior to 4:00 p.m.)
Disney's Winter Summerland Miniature Golf Course
If you call Disneyland home or have seen Disney theme parks featured in one of many Disney shows, you are probably already familiar with the look and feel of Magic Kingdom. Magic Kingdom is what many refer to as the "castle park." Inside there are the classic attractions like the Haunted Mansion, the Pirates of the Caribbean, "it's a small world", the Jungle Cruise and many others—each with their own flair and fun.
In addition, some retired Disneyland attractions have found their way to Walt Disney World while others here at Magic Kingdom are completely unique.
Today we're exploring attractions that can only be found at Magic Kingdom of Walt Disney World Resort in Orlando, Florida. Check out the top unique attractions to see at the Magic Kingdom.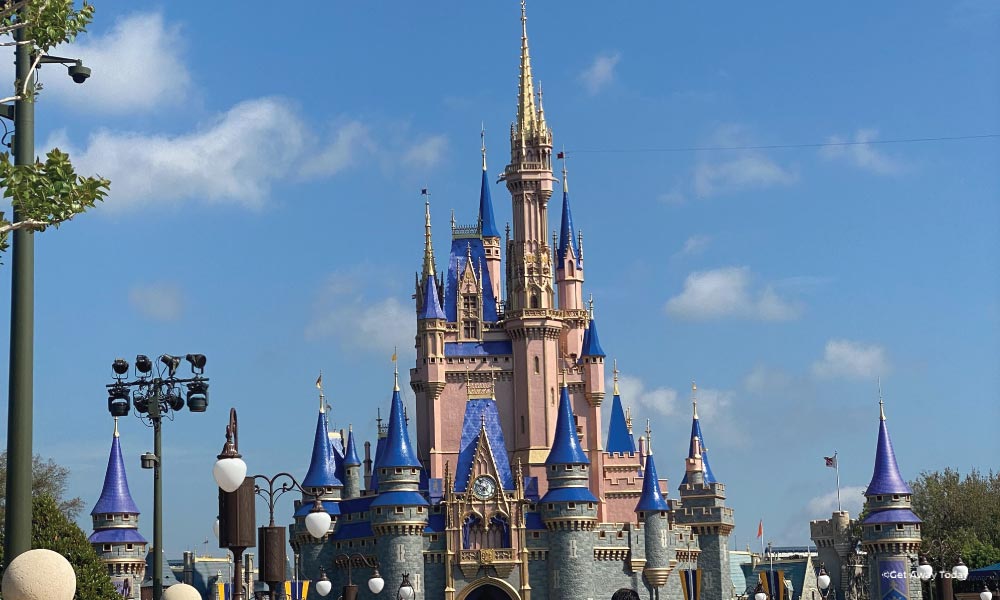 Unique to Magic Kingdom: Monsters Inc. Laugh Floor
Monsters Inc. Laugh Floor is a comedy club hosted by our favorite interactive digital monsters, Mike and Sulley!
Located in Tomorrowland you'll step inside the only laugh factory in Monstropolis and make your way into a comedy club hosted by Monster of Ceremonies Mike Wazowski. These scare-actors love to engage the audience. With help from their pals, they collect your laughter to power Monstropolis.
Don't be surprised if you become part of the show! Just text your favorite joke before the lights go down. Watch Mike Wazowski's video while you wait and listen for the instructions.
Unique to Magic Kingdom: The Hall of Presidents
Did you know Walt Disney World has an entire section of Magic Kingdom dedicated to the hard facts that created America? Located in the heart of the park, Liberty Square features The Hall of Presidents.
A full presentation that features every president of the United States from George Washington to Joe Biden. A keen eye will notice there are 45 and not 46 figures onstage but do you know why? Because Grover Cleveland served 2 non-consecutive terms as both the 22nd and 24th president. How's that for some Disney and U.S. history knowledge to share with your family while you're there?!
While inside, be sure to look around the area for some amazing exhibits and facts about the United States. For example, there are only three places in the world where you can find the official seal of the United States: the Oval Office in the White House, the museum that houses the Liberty Bell and the Hall of Presidents in Walt Disney World!
Unique to Magic Kingdom: Country Bear Jamboree
This Walt Disney World original was featured at Disneyland Resort for a short time but now can only be found at Magic Kingdom in Florida.
Country Bear Jamboree is one of the very last attractions that Walt Disney personally helped develop. Originally planned for a never-built Disney ski resort in Mineral King, California, the show with the singing bears happily moved out to Florida in 1971 and has been performing daily at Magic Kingdom park ever since.
Be sure to stop by and visit Max, Buff, Melvin and the gang who are waiting to give you a "Wild and Wooly Good Time."
Unique to Magic Kingdom: Walt Disney's Carousel of Progress
The famed Sherman Brothers wrote the amazing tune featured here, "There's a great big beautiful tomorrow, shining at the end of every day."
If you are a Disney fan, you will agree that there is a great big beautiful attraction called The Carousel of Progress located in Tomorrowland! It truly is one of the finest examples of the use of animatronics in storytelling.
It was an original attraction from the 1964 World's Fair along with "it's a small world" and Great Moments with Mr. Lincoln, each personally supervised by Walt Disney. The attraction gives the audience a glimpse of the American Family at different times throughout history and allows all ages to savor the challenge and promise of the future.
Unique to Magic Kingdom: Tomorrowland Transit Authority PeopleMover
For those young at heart who remember the PeopleMover at Disneyland Resort, it is still running at the Magic Kingdom and gives you a great ride around Tomorrowland. The ride even features Walt's original idea and model of EPCOT, takes you through the middle of Space Mountain and other attractions.
Unique to Magic Kingdom: Be Our Guest
Food and dining is an attraction all of its own at Be Our Guest. You'll dine in one of three exquisite dining areas ready to immerse you in the mystery and romance of Beauty and the Beast:
The Grand Ballroom – Go for baroque in this magnificent ballroom with its high, domed ceiling, chandeliers and snow-laced Gothic arches.
The West Wing – Dine in the Beast's mysterious West Wing study—if you dare—and perhaps you'll even spy his enchanted rose.
The Castle Gallery – Get swept up in the romance of Belle's private library, and inspired by the larger-than-life figures of Belle and Beast dancing.
Inside, you'll feast on French-inspired cuisine at the foot of Beast's Castle in Fantasyland. Although your table location inside the castle isn't guaranteed, if you have your heart set on a specific spot, you can enter the request when making your reservation and again when you check-in at the restaurant.
Open for lunch and dinner you'll enjoy a 3-course prix fixe meal fit for royalty. Some of our favorite offerings include:
French Onion Soup
Center-cut Filet Mignon
The dessert trio including the famous grey stuff
And don't worry, just because it's French and a little fancy, of course kids have their own menu including choices like fresh fruit and macaroni & cheese. The crowd favorite is always their own version of the dessert trio that comes with a white chocolate 'Chip' cup that they can paint with colored frosting.
Get free dining alerts for open reservations at Be Our Guest here.
Unique to Magic Kingdom: Cinderella's Royal Table
Unique and always popular Cinderella's Royal Table located in Fantasyland at Magic Kingdom Park. Dining takes place in a storybook setting with vibrant medieval flags and stained-glass windows, all overlooking Fantasyland.
Open for breakfast, lunch and dinner you'll delight in some of their classic options for breakfast like:
Caramel Apple-Stuffed French Toast
Beef Tenderloin and Egg
For lunch and dinner, your three-course meal is inspired by everything you love about fairytales. We always like trying new combinations such as:
Charcuterie starter
Magic Carpet Ride (spiced-crusted pork tenderloin and pork Belly with curry couscous, glazed rainbow carrots, and a peppercorn flying carpet)
The Clock Strikes Twelve chocolate mousse and hazelnut gelato for dessert
A full childrens' menu is also available for younger taste buds to enjoy
A full selection of beer, wine and champagne are available with your meal. Get free dining alerts for open reservations at Cinderella's Royal Table here.
Unique to Magic Kingdom: TRON Lightcycle Run
Now open at Walt Disney World, this ride is only found in one other park on the planet! Besides visiting Shanghai Disney in China, this is the only place to experience Tron in the U.S.
Leave the real world behind and join Team Blue in an epic quest across the Grid—the dark, computerized world with no horizons from TRON. Here, there's no limit to the excitement.
Climb aboard your very own Lightcycle and take off on a high-speed adventure, racing against the Grid's most menacing Programs. Surge past your fierce opponents as you attempt to cross through 8 Energy Gates and secure your team's victory—so you can survive to race another day.
Unique to Magic Kingdom: Transportation
For new visitors to Walt Disney World, you'll be blown away by how many unique transportation methods there are to get you everywhere you need to go.
To get to Magic Kingdom park, guests have to travel by boat, Monorail or bus. That's right, you can't just walk right in from your hotel or parking space.
Walt wanted the park to be separated from the outside world and be immersed in the magic. You'll travel just a short distance to get to the park by riding the boat or monorail which is a fun way to build excitement!
Unique to Magic Kingdom: Interactive Queues
The Magic Kingdom was built for the young and young at heart. While the rides and attractions are worth the wait, parents often wonder how to keep little ones occupied while waiting.
Magic Kingdom does an amazing job entertaining those waiting in line with many attractions featuring interactive games and activities. Don't be surprised if your child is disappointed when it's time to get onto the ride and out of line – a good indication that Imagineers really hit the mark for queue design.
Our favorite interactive lines include:
Many Adventures of Winnie The Pooh
Peter Pan's Flight
The Haunted Mansion
Seven Dwarfs Mine Train
Dumbo the Flying Elephant
Get Away Today provides amazing service to ensure you and your family have a magical time on your vacation. Sometimes a new experience and perspective can be a little confusing, but with Get Away Today as your guide, your trip will be magical!
At Get Away Today, we would love to help you plan your vacation to Walt Disney World to experience attractions you won't find anywhere else. Book your Walt Disney World package online or call our travel experts at 855-GET-AWAY.