Walt Disney was an amazing man who created an industry, a brand, and a philosophy that changed the world. He was involved in every aspect of the Disney Company, creating the idea, the philosophy and the details. Some say that Walt was a creative genius, creating a link between art, culture, and commerce. Many want to know more fun facts about Walt Disney and understand what he did and his personal life.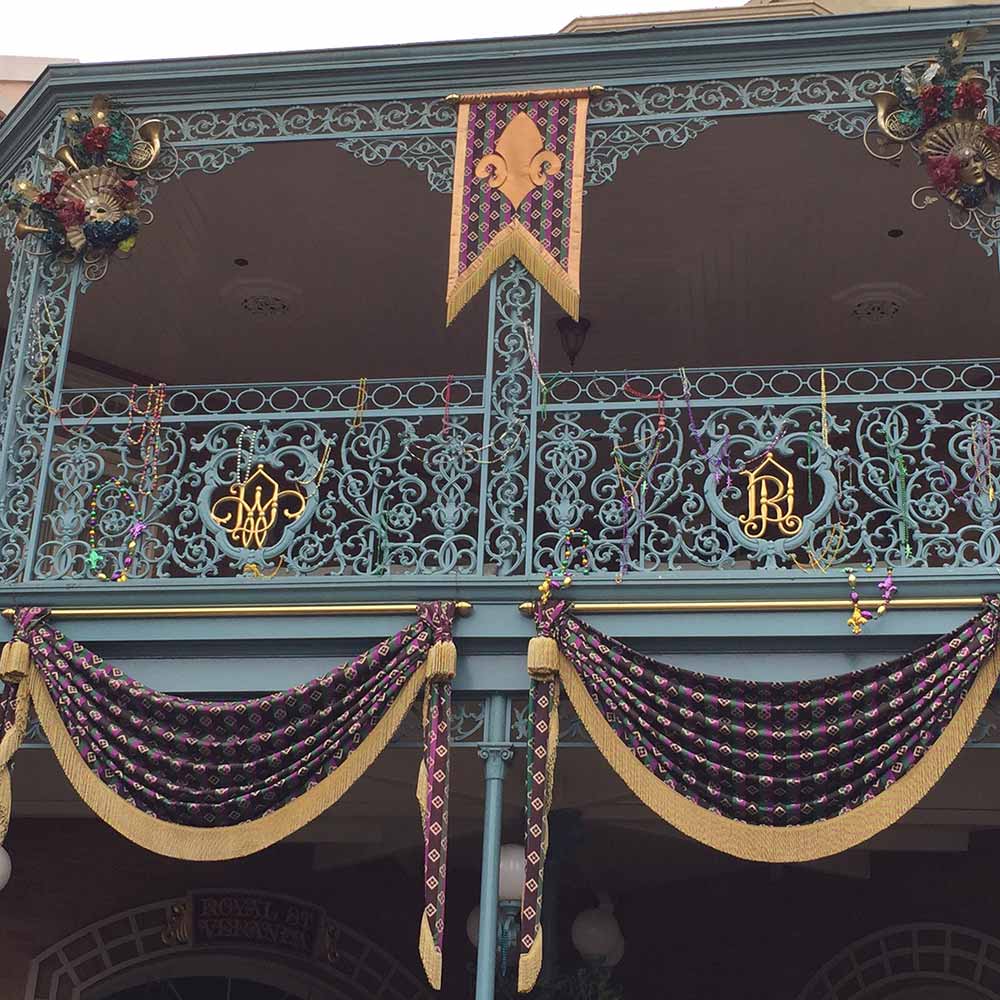 Fun Facts About Walt Disney
Did you know there really is a paid, guided tour that allows you to walk in Walt Disney's footsteps at Disneyland? You could do that on your next vacation, or you could pin this article and use it as your FREE guide to historic sites in Disneyland! Join us as we "Walk in Walt's footsteps" for free *with 12 great stops at Disneyland to trace Walt's time and influence in building one of the most recognizable brands and experiences in the world.
*with valid Disneyland Resort admission
Fun Facts About Walt Disney - #1
Walt was born in Chicago in 1901. Disneyland features a nursery at Disneyland park, located on Main Street, U.S.A.. Just inside the door is a picture of Walt as a baby. Not only are the staff helpful and friendly for all of your child's needs, it is a place that features 1901 décor and details. Speaking of 1901, look closely at the penny on the Penny Arcade on Main Street, U.S.A.. You've got it – its date is 1901!
Fun Facts About Walt Disney - #2
Walt's family moved to Marceline, MO in 1905. Walt's father Elias Disney was a contractor in Chicago and built their home. He picked up the family and moved to a farm for a change of pace and for health reasons. Walt said of Marceline: "To tell the truth, more things of importance happened to me in Marceline than have happened since – or are likely to in the future."
There are several references throughout the park about Marceline, Missouri, including Main Street, U.S.A.. Marceline, Missouri's Main Street features small shops, a movie theater and Coke Corner, just like Disneyland! Over the years, Marceline's City Council recognized its significance in the history of Disneyland. It went full circle and Marceline renamed its Main Street to Main Street, U.S.A..
Disneyland expert insider tip: Main Street U.S.A. was designed by Imagineer Harper Goff, the same designer who helped bring life to the Jungle Cruise. Harper used two US cities to help with the design of Main Street, U.S.A. – Walt Disney's home town, Marceline, MO and his own home town of Fort Collins, Colorado. Next time you are in either city look around and you'll see some familiar sites.
Look close for additional references to Marceline throughout Disneyland There's the bakery in Downtown Disney, Ms Tilly at the Main Street Cinema, and a Marceline business on Center Street.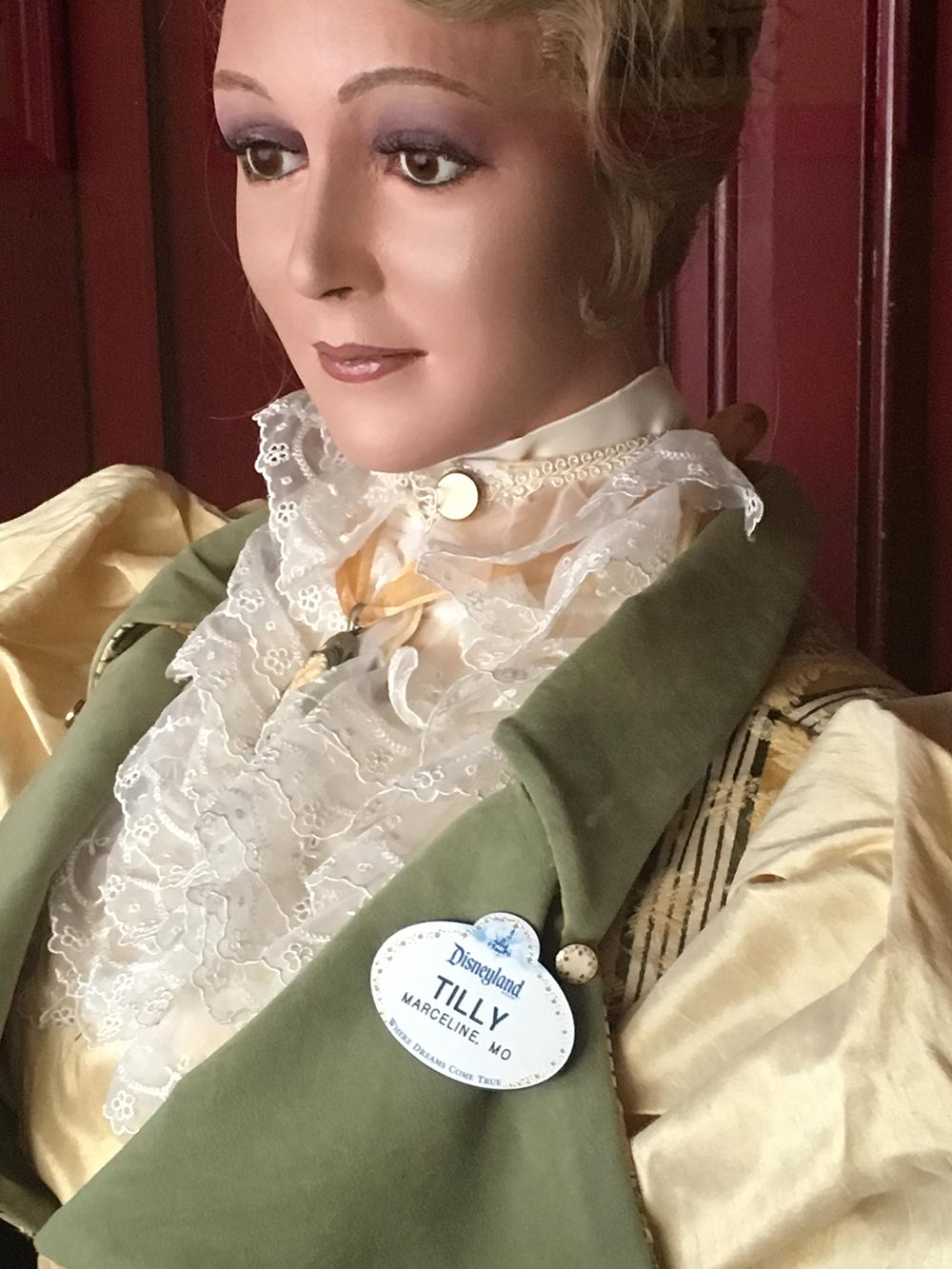 Fun Facts About Walt Disney - #3
Walt moved to Kansas City, Missouri and started Laugh O'Gram studios. The enterprise failed, but not before he created his first cartoon character, Julius the Cat, in his first animated series, "The Alice Comedies." Look for references on Buena Street in Disney's California Adventure.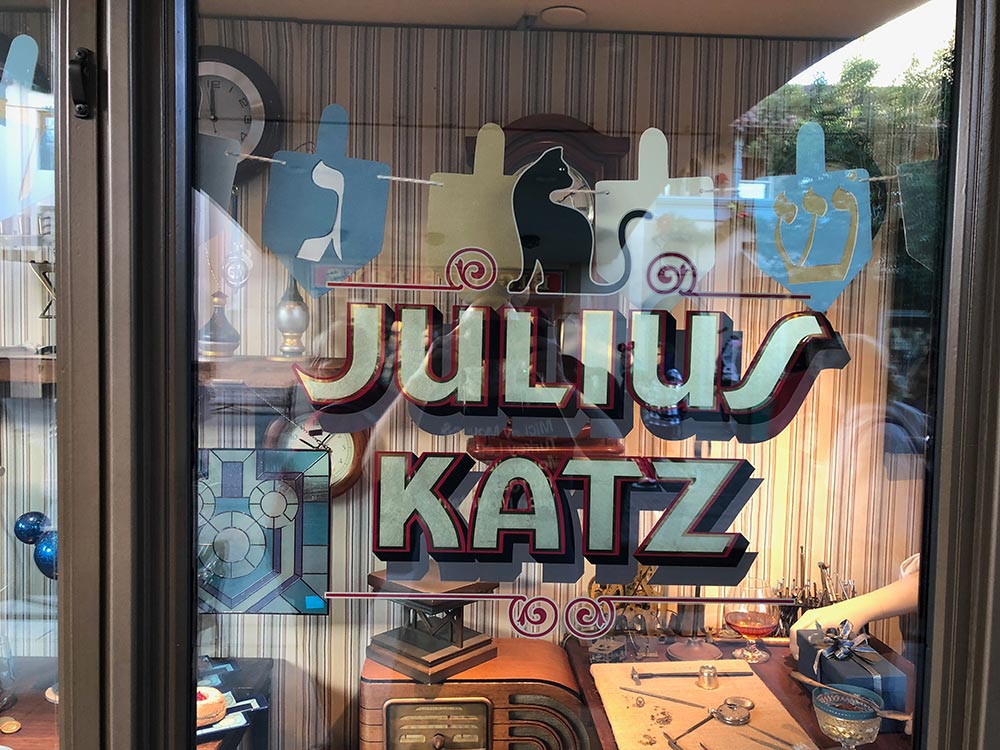 Fun Facts About Walt Disney - #4
In 1923, Walt Disney moved to California with his brother Roy, and friend Ub Iworks. Together, they started the Disney Brothers Studios. The new studios were completed on Hyperion Ave in Los Angeles. Look for many references to the Hyperion studios, including the Hyperion Theatre in California Adventure. It was there Walt and Roy created Oswald the Lucky Rabbit. Walt was working for Universal at the time, and the contract stated that the character belonged to Universal. Walt lost Oswald the Lucky Rabbit in a contract dispute. However, eventually in a trade deal with Universal, Disney was able to get Oswald the Lucky Rabbit back into the Disney family. On Walt's way back from the meeting in New York, he and his wife Lillian sketched out a mouse as a new cartoon character to produce. Walt called him Mortimer Mouse. Quickly, Lillian corrected Walt and said that she liked Mickey better. Later, Mortimer Mouse became Mickey's nemesis.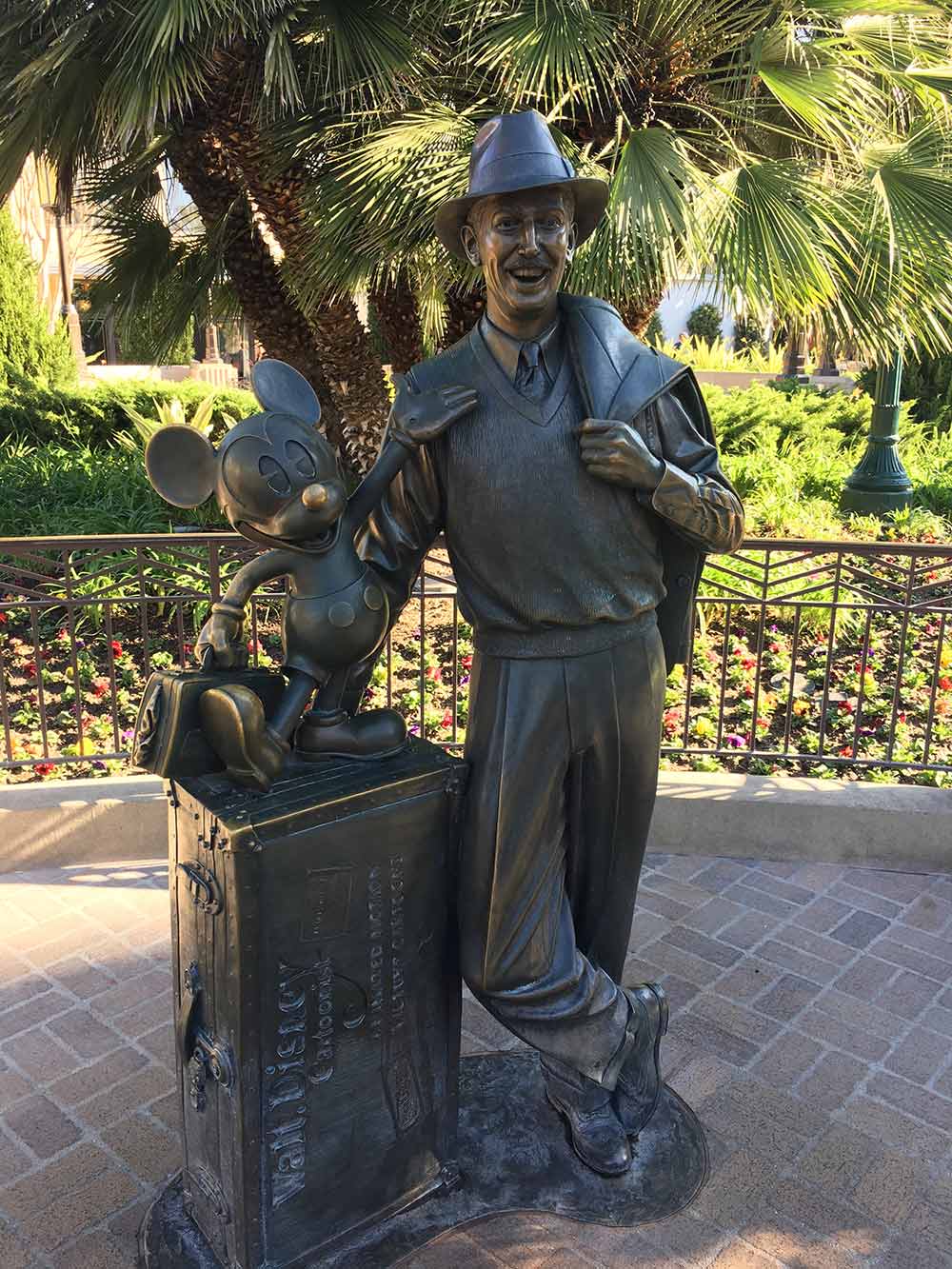 Disney insider details: There are references to Mortimer Mouse, Oswald the Lucky Rabbit and other early cartoon characters on the Buena Vista Street in Disney California Adventure.
Located on Buena Street, look closely at the Walt and Mickey statue… The suit case has a likeness of Walt's original business card from Laugh O' Gram Studios in Kansas City, among other references to Walt's early enterprises.
Fun Facts About Walt Disney - #5
In November of 1928, Mickey Mouse premiered in theaters in New York City. Ironically, the first film produced was Plane Crazy, but Walt and his early partner Ub Iwerks wanted to make a "splash." They created another film called Steamboat Willie that showed to audiences first, which was one of the first cartoons that included sound! Both films can be seen in the Main Street Cinema on Main Street, U.S.A..
Disney expert tip: Every hand drawn frame for the first Mickey Mouse film can be found on a special wall at the Walt Disney Family Museum in San Francisco. In addition, Walt's sketch of Mickey Mouse on a napkin can be viewed as well!
Fun Fact About Walt Disney - #6
Walt loved trains! Walt and his friends would often meet after work to design, build, and play with trains. Walt built his own miniature train in his backyard. The train system was called the Carolwood Pacific, named after the street he lived om. His locomotive was named after his wife, Lillian, the Lilly Belle! A replica of the Lilly Belle can be found in Main Street Station on Main Street, U.S.A.. The original can be found at the Disney Family Museum in San Francisco.
Disney expert advice: Pay attention to the name of the locomotives. The C.K. Holliday and the E.P. Ripley were hand built by Walt and his friends and they still run at Disneyland.
Walt's original railroad barn where he built the Carolwood Pacific has been preserved, and it is open one Sunday a month at Griffith Park. This is where steam locomotive hobbyists still meet to run their homemade trains on miniature tracks.
Fun Facts About Walt Disney - #7
Walt and his team were very successful. Walt Disney still owns the record for the number of academy awards in film excellence. Walt received a special award for his work on the first full-length animated movie Snow White and the Seven Dwarfs. The film premiered at the Carthay Circle Theatre in Los Angeles, and a replica of that building is at the end of Buena Street in California Adventure!
Fun Facts About Walt Disney - #8
Walt was a great father to his two girls, Diane and Sharon. On weekends, he would take his girls for fun adventures. On one occasion, he took them to the Griffith Park Carousel. Parents weren't allowed to ride, and Walt thought to himself that there should be an enterprise where parents and children could have fun together. There, on that park bench, Walt created the idea for Disneyland. Originally called Mickey Mouse Park, Disneyland quickly grew into a much bigger idea. The bench and a carousel horse from Griffith Park can be found just inside the Opera House on Main Street, U.S.A..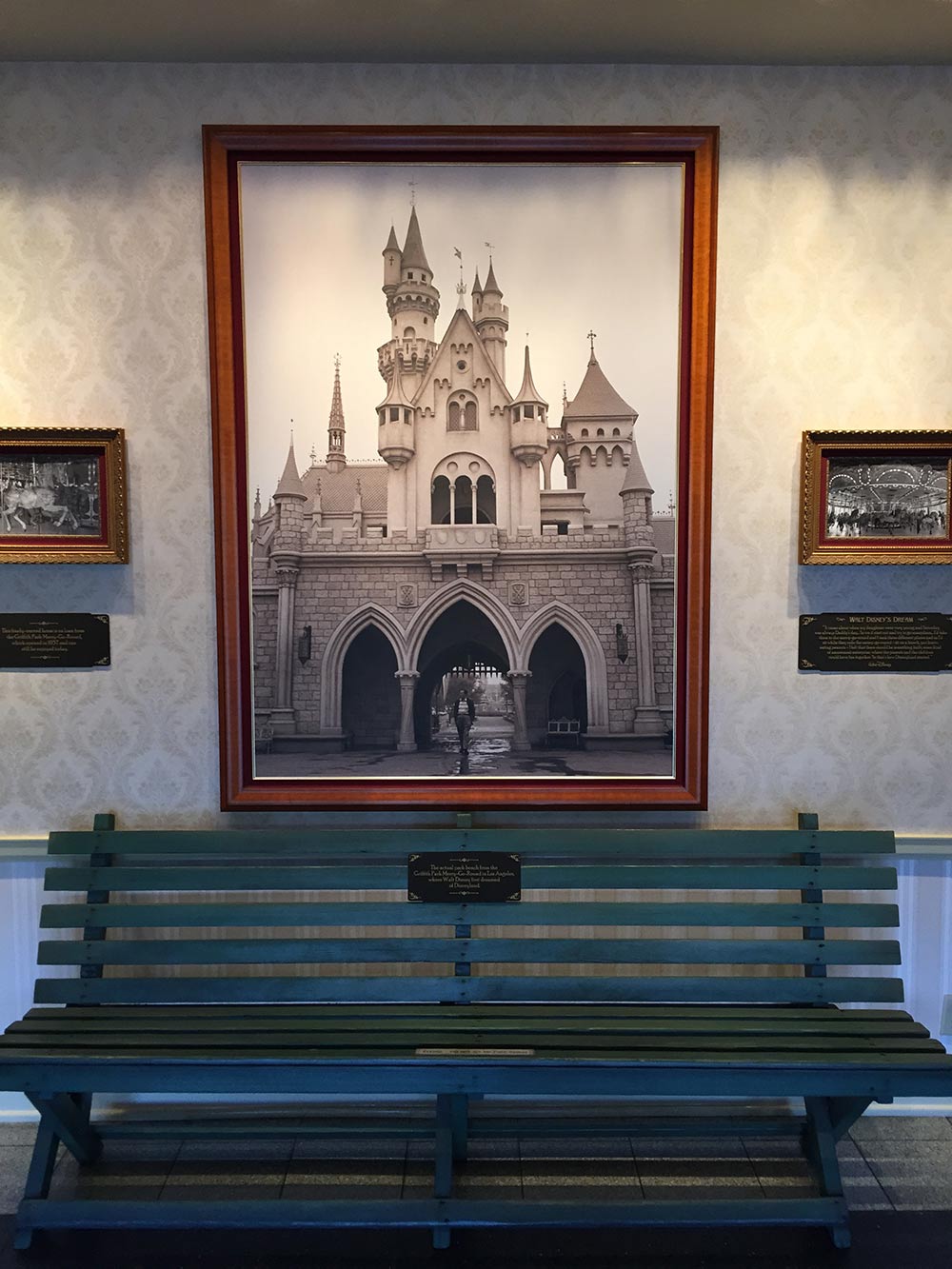 Fun Facts About Walt Disney - #9
In order for his dream to be built, Walt assigned a few of his movie set builders, designers, and artists to a new enterprise that he called WED Enterprises (Walter Elias Disney). WED was later changed to Walt Disney Imagineering. The group worked to design Disneyland, which construction beginning in 1954. The first building to be built was the Opera House, and the second was the Fire Station. Walt had to travel quite some distance to check up on construction, so an apartment for Walt and his family was added to the fire station. Walt would often stay at the park and when he would arrive, he would turn a lamp on in the window to let cast members know that he was there. Today, Disney keeps the light on because many believe that Walt's spirit and influence is still alive at Disneyland. Look just above the Fire Station sign on Main Street, U.S.A. for the lamp. During Christmas time, the lamp is changed to a small Christmas tree with lights. Either way, many Disney fans make sure that the light is on when they arrive at the park!
Fun Facts About Walt Disney - #10
Stop by the flagpole on Main Street, U.S.A. where Walt gave his famous opening speech at Disneyland on July 17, 1955.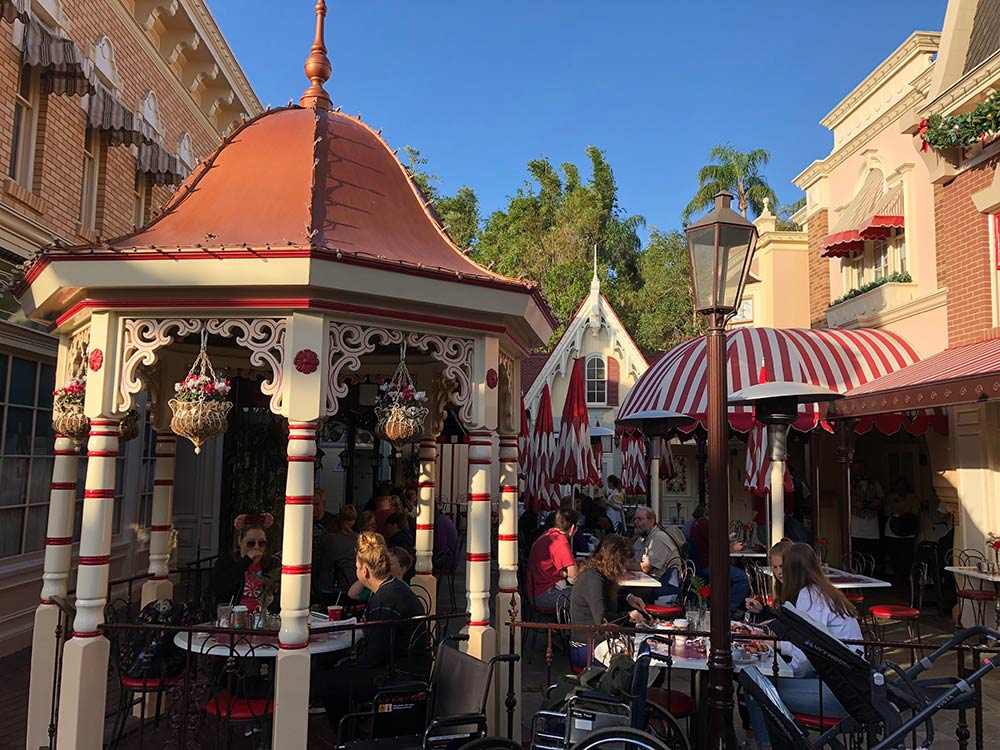 Fun Facts About Walt Disney - #11
Eat where Walt loved to eat! Stop by the Carnation Café where Walt's favorite meal was a grilled cheese sandwich, chili and a cherry shake! Up until 2018, Oscar Martinez worked at the Carnation Café and would tell stories about Walt and serving him his favorite meal. Oscar is now retired but can still often be found at the park as a guest!
Fun Facts About Walt Disney - #12
The Pirates of the Caribbean was the last project personally supervised by Walt Disney himself. Walt did not live to see the ride to completion, but many theme park experts consider The Pirates of the Caribbean attraction one of the best ever built!
Disney expert information: Walt had plans for another apartment and built his initials and Roy's into the iron work above the Pirates of the Caribbean. Look close for WD and RD next time you visit New Orleans Square!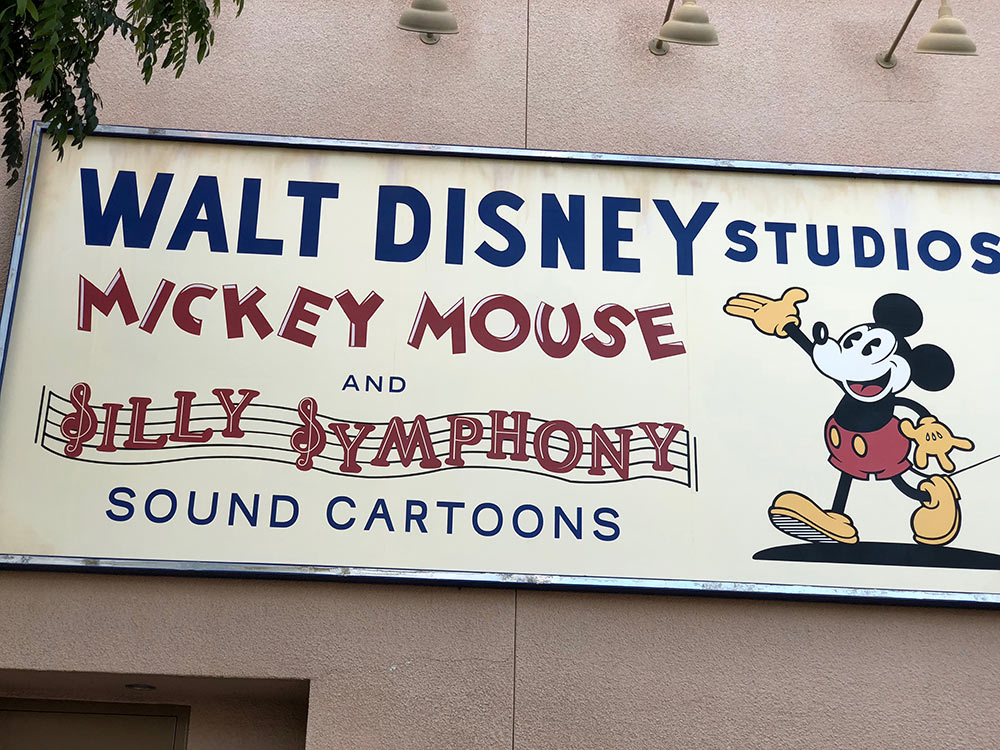 Walt Disney created an amazing enterprise that has had an impact on the world. Next time you are at Disneyland you can look for evidence of these fun fact about Walt Disney! Get Away Today Vacations will help you get there and will provide your family with every detail to choose a fun adventure. Get Away Today Vacations can guide you to a creative vacation fit for every member of your family with everything from discount park tickets, a list of secrets to make your trip special, and information to the most affordable and themed hotel accommodations. Call Get Away Today's experts at 855-GET-AWAY for your free quote today.