Disney entertainment and Disneyland have been created by dedicated people and processes that have come to be known as the most creative and professional in the world. For years, the Group Department at Get Away Today has been helping performing arts groups, passionate friends, school bands, choirs, and dance groups go to Disneyland to learn from some of the best performing arts coaches in the world. Youth groups can learn from the very coaches that teach cast members and actors to give Disney Park guests a magical experience.
Disney continues to wow audiences by connecting with people and now it is your chance to take your group of 15 or more to connect with the world's best professionals that create the magic of the Disney parades, shows, and magical experiences! Disney Performing Arts (or DPA) offers specialty performance training as well. Imagine learning puppetry from Jim Henson's creature shop, the very coaches that help to bring life to Kermit the Frog and Miss Piggy! Or record music with a Disney sound engineer. It's possible! Recently, one of the dance groups Get Away Today helped returned from their trip and wanted to share a behind-the-scenes look into everything you need to know about Disney Performing Arts.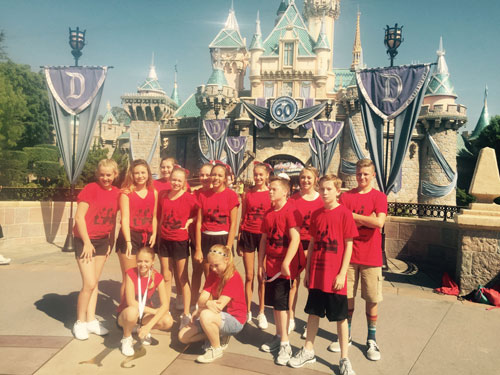 Hidden behind Minnie's House in Toontown at Disneyland Park is a performing arts complex that houses the auditions, rehearsals and magic that produces the Disney parades and stage productions. Disney made it clear that pictures were not allowed, so we will tell you about all of the details: the performing arts complex is located directly across from the maintenance building where Haunted Mansion Doom Buggies, Matterhorn Bobsleds, and Buzz Lightyear Astro Blasters Space Ships were being painted and maintained. Seeing Disney backstage produced even more magic, because the group was able to see that people who are at the top of their craft are behind the magical experiences at the Happiest Place on Earth. The complex contains three different rehearsal spaces including a small space referred to as the Baby Bear, a medium space, called the Mamma Bear, and not surprising, a large space, big enough to rehearse Disney shows like "Aladdin" and the new musical "Frozen" coming to Disney California Adventure Park summer 2016. Performers were also in the parking lot rehearsing for the upcoming Christmas parade and festivities, which was fun to see.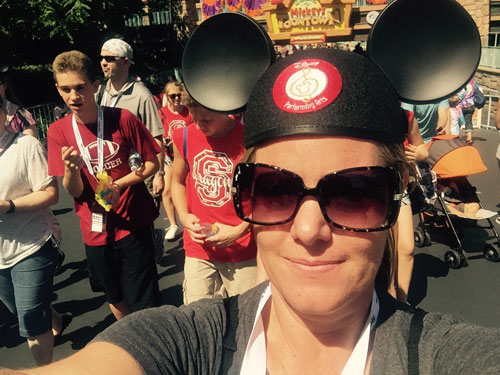 Once in the workshop, each participant in the dance group received personalized attention and learned amazing lessons that will stick with them throughout the rest of their lives. To summarize, here are the top 5 lessons learned from attending a Disney Performance Arts workshop:
1. Always perform at your best – someone is always watching! A Disney Casting Agent can pop in at anytime. In previous classes students have been encouraged to audition for a role when the class was over! A lesson that will be applied to daily life – dance and act like a Disney casting agent is watching, always be at your best and always give it your all.
2. One of the coaches encouraged the students to try something new – do it big, give it everything you've got. You cannot improve unless you are pushing yourself. Disney dance professionals are more interested when someone is learning and falls down more than trying to do it perfectly and not improving.
3. Share it - don't show it! The Disney coaches taught the group that in order to truly be at Disney performance level, you yourself need to believe in the magic. Many can dance, but few can share the magic in their facial expressions, movements, and excitement.
4. The Disney classes taught more than dance and performing; they taught how to make a connection with people. Looking someone in the eye, smiling, and making a real connection is a skill that is slowly being lost in our culture. That is why Disney is so great at what they do. They put people first and understand the magic that comes from valuing feelings. A true Disney performer makes someone feel great about themselves and their day!
5. Performers need to be in the moment in order to truly connect with the audience. Think about the princesses on Main Street, or shaking Mickey Mouse's hand. If the performers are not in the moment, the audience can tell and the magic disappears! Be in the moment and make someone's day magical!
Participants also receive special Performing Arts Mickey ears, a commemorative plaque, and most importantly, lessons and memories that will last a lifetime.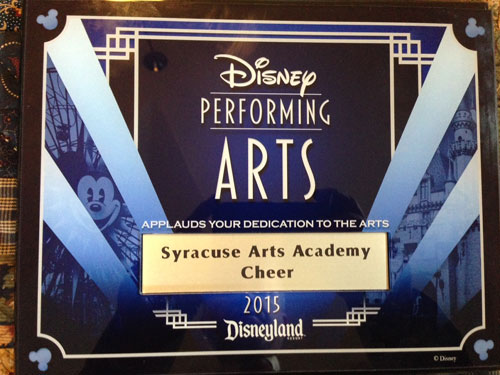 Ready to go? Choose your Disney Performance Arts experience.There is an option for all ages 7 - 21. Your group can tailor-make a package to include learning behind the scenes, or performing for audiences inside Disney Parks.
• Disney Performing Arts OnStage includes experiences with Dance, Instrumental, and vocal options.
• Behind the scenes performing arts classes and workshops include: Acting, Dance Audition, Costuming, Dance, Dance Technique, Improv Acting, Music, Puppetry, Show Choir, and the Performance Lab.
• Soundtrack recording sessions include Jazz, Vocal, Technical Theatre.
Get Away Today's Group Department can help you create the perfect trip for your performing arts group with everything from discount park tickets to the most affordable hotel accommodations. Call Get Away Today's experts for your free quote today: 888-943-2929.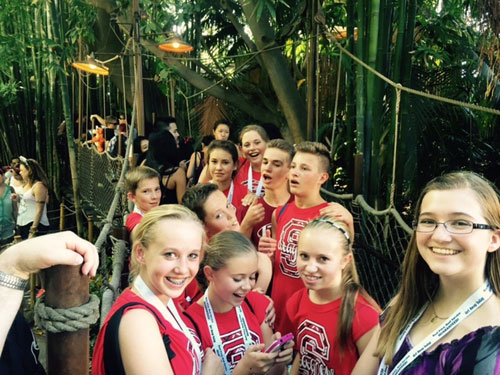 Chris Dallin is a Disneyland fanatic. He travels to Disney parks several times a year and continues to find hidden gems, joy and magic in the Happiest Place on Earth. Tune into future blogs for additional ways to experience the Disneyland Resort.
Check out these other great articles:
Be a Star With Disney Performing Arts
Catch a Glimpse into Disney Performing Arts
Disneyland Student Group Travel Options 101