One of the best ways to look back on and remember your magical Disneyland vacation is with the perfect Disneyland souvenirs. Not only do they make great keepsakes for your trip, but a souvenir from Disneyland is also an excellent gift idea for your travel buddy or someone left at home. Before you
get Disneyland tickets
, let's look at the best souvenirs available. This way, you will be prepared with a list ahead of your Anaheim adventure.
Top 9 Disneyland Souvenirs
There is no need to resort to keychains and magnets when the souvenir shops and attractions at Disneyland Resort offer so many unique options. You'll surely find more than one thing you want to take home.
1. Mickey Mouse Ears
There is no more classic Disneyland souvenir than a pair of Mickey Mouse ears. Mickey Mouse ears come in every color, theme, pattern, and style you can imagine. You can wear a different pair every day of the year. There are Minnie Mouse Ears, Star Wars ears, ears with birthday hats, Christmas-themed ears, rainbow ears, and more. Even if you've got a long list of people to purchase gifts for, you will find a unique pair of ears to get them in character. It is even possible to get your name embroidered on your ears during your visit to the
Disneyland Resort
. Get a pair of Mickey Mouse ears for every member of your family and head to The Mad Hatter Shop on Main Street for custom embroidery.
2. Photographs
What better way to remember your time at Disneyland than with amazing photographs? If you don't have a designated photographer in your family, consider adding Disney Genie+ to your
Disneyland tickets
so you can have access to free Disney PhotoPass photos. PhotoPass allows you to get quality pictures of the whole family taken by Disney PhotoPass Photographers. You'll find photographers at dining experiences, Character Greetings, and in front of iconic backdrops throughout the parks. You can view, download, and print your photos when you get home.
3. Character Autographs
Collecting Disney character autographs has been a long-standing tradition at Disney parks. It's best to bring a Disney autograph book or festive notebook to collect all the signatures of the characters you meet. If you've forgotten your autograph book or are looking for something different, characters can also sign other items. Some ideas of alternatives include an extra t-shirt, ball cap, or tote.
4. Pressed Souvenir Coins
Disneyland was the first Disney Resort to introduce pressed penny souvenir machines way back in 1987. Since then, souvenir coins have become a popular collectible item. The designs continue to change over the years. There are now over 150 images that may be pressed into a penny, and many machines accept credit cards as payment.
5. DIY Lightsabers
Any Star Wars fan (and there are a lot of those) would be over the moon with a personalized lightsaber. Go to Savi's Workshop at Star Wars: Galaxy's Edge, where you can customize every part from the hilt to the blade based on your preferences and the power of your force. While a lightsaber is one of the priciest souvenirs you can purchase at Disneyland, it is certainly unique and out of this world.
6. Holiday Ornaments
Disneyland loves to celebrate holidays and seasons. Each year you'll find various Christmas and holiday ornaments available at gift shops around the parks. What better way to remember your Disneyland trip than by bringing home souvenirs to make your house more festive during the holidays? While you're shopping around, keep an eye out for limited-edition collectible ornaments.
7. Disneyland Artwork
Artwork and animation are cornerstones of Disney. A few different options are available so you can take home a piece of Disney art to hang in your home. At gift and souvenir shops around the parks, you'll find animation stills, original pieces by Disney artists, and canvas or fine art prints of Disney scenes and characters. If you want something more personalized, consider visiting the Disney Silhouette Studio for a custom hand-cut silhouette portrait of your face or favorite character. There is also the option to get a customized painting of your name. Each letter will be illustrated to represent a Disney movie or character.
8. Cookbooks
One of the best parts of every Disneyland adventure is the food. Disney lovers will enjoy creating Disney-themed dishes at home with a Disney cookbook. Some fun recipe books include BB Ate: Awaken To The Force of Breakfast and Brunch, Marvel's Eat the Universe, and Kitchen Magic with Mickey. Each book offers recipes to fit every taste.
9. In-Park Freebies
You don't have to shell out lots of money to take home some Disneyland souvenirs. Some great options include in-park freebies.
If you're visiting on a birthday or to celebrate an anniversary, Disneyland offers free commemorative buttons. They're available at almost every cash register in the souvenir shops, just ask!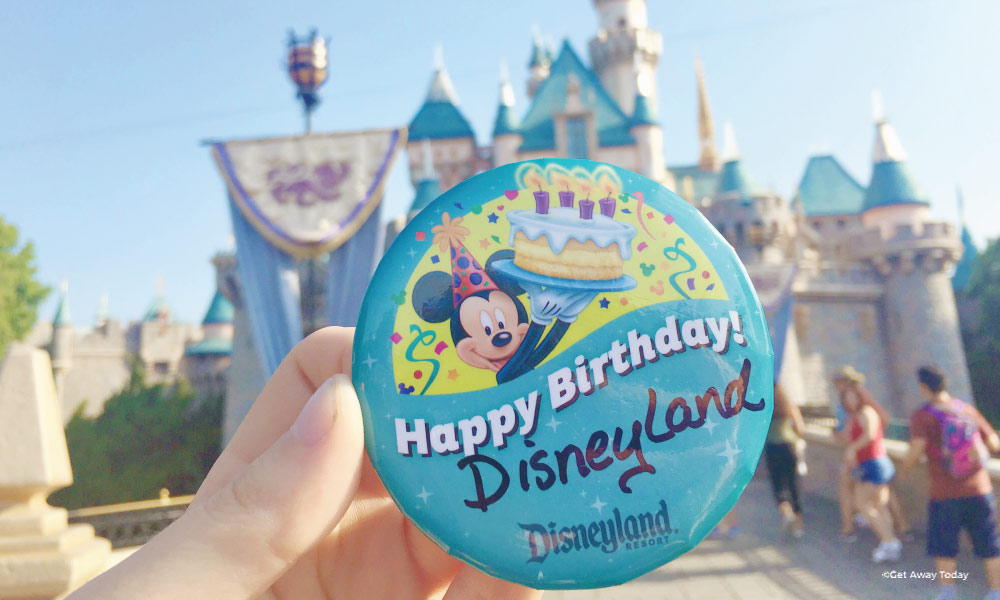 If you like to scrapbook, a map of the Jungle Cruise would be a perfect addition. Just ask your skipper for one when you leave the ride.
With this guide in mind, you'll be ready to visit the many gift shops, stands, and custom attractions at the Disneyland Resort. The right souvenirs can help keep the magic of your Disney vacation with you always!