UPDATED 2024 Festival. The EPCOT International Festival of the Arts invites you to let your creativity shine! At the beginning of each year EPCOT comes alive with interactive exhibits of culinary arts, performing arts and visual arts.
EPCOT is one of the four parks of the Walt Disney World Resort and is widely known for its cultural and seasonal festivities.
During the new year EPCOT is the best spot at Disney Parks to enjoy creativity at every turn. You'll experience exhibits from up and coming featured artists, captivating performances and culinary creations featuring Disney favorites.
EPCOT International Festival of the Arts Details
Walt Disney World invites you to "Celebrate the Creation of Art and Cuisine" at EPCOT's International Festival of the Arts.
Festival of the Arts returns mid January 12 through February 19, 2024.
Some of the most notable highlights earch year are:
Disney on Broadway Concert Series
Hands-on art activities for all ages
Festival food studios across EPCOT
Visit galleries and witness exceptional talent that proves the power of imagination
For the full EPCOT Festival of the Arts Festival experience we suggest:

The International Festival of the Arts is an annual event perfect for families, couples, friend trips, and everyone in between!
The main highlights include wandering your way through art exhibits, culinary art to taste, and live performances to experience. Of course, you'll also find the can't-miss attractions at EPCOT during your vacation.
Top Picks at EPCOT International Festival of the Arts
Choose your own adventure while you create, dine and enjoy a variety of art mediums. Our Get Away Today favorites include these top picks at EPCOT Festival of the Arts.
Culinary Arts & Food Studios
Snack your way around EPCOT and World Showcase during the International Festival of the Arts. Get Away Today stand-outs from the last festival include…
Tomato Soup with pimento cheese, bacon, and fried green tomato grilled cheese (Pop Eats near Port of Entry)
Moelleux aux Noisettes et Chocolats Valrhona: Molten chocolate and hazelnut cake with pure origin Valrhona chocolates and passion fruit-mango sauce (L'Art de la Cuisine Française |France)
Deconstructed French Onion Soup: Beef broth ravioli, gruyère cream, onion bread pudding, and onion textures (The Deconstructed Dish near Port of Entry)
Orange Mousse with Lemon Cake and Raspberry Meringues (Deco Delights near Port of Entry)
Red Wine-braised Beef Short Rib with parsnip purée, broccolini, baby tomatoes, and aged balsamic (Pastoral Palate | Germany)
Sipping Chocolate Flight: White, milk, and dark chocolates, non-alcoholic (The Artist's Table | The American Adventure)
Chai Tea Mint Sparkler featuring Twinings Chai Tea with Sprite, non-alcoholic (Tangierine Café: Flavors of the Medina | Morocco)
Chorizo and Potato Empanada with turmeric aïoli and annatto aïoli (Vibrante & Vívido: Encanto Cocina between Morocco & France)
Fruit Pizza (Figment's Inspiration Station at the Odyssey)
Carne Asada: Chipotle-marinated beef sirloin (El Artista Hambriento | Mexico)
Mozzarella Fritta (L'Arte di Mangiare | Italy)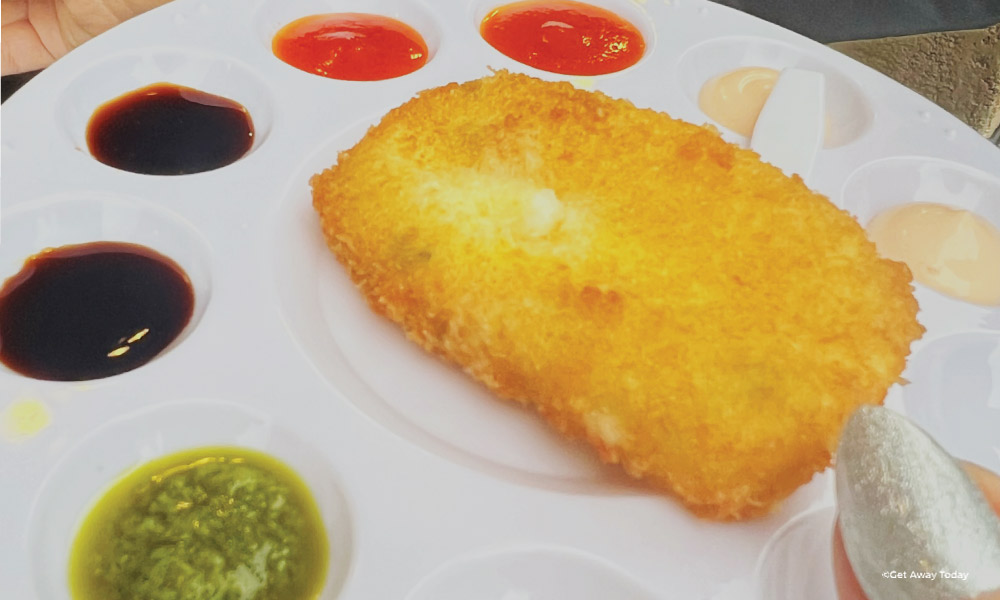 Performing Arts & Disney on Broadway Concert Series
Disney entertainment is one of the most popular events during the International Festival of the Arts. Get Away Today favorites include…
Art Defying Gravity performs "thrilling acts" throughout the Festival are show stopping moments you won't want to miss.
Disney on Broadway Concert Series features live performances from popular Broadway and Disney stars. Grab a spot to watch at the America Gardens Theatre or enjoy guaranteed seating with fabulous lunch or dinner options before attending a concert with a Disney on Broadway Concert Series Dining Package.
Visual Art
Come along a visual journey where you not only see, but create art in EPCOT. Get Away Today favorites include…
Animation Academy encourages guests to create their own piece of Disney artistry with step-by-step instructions to draw your favorite Disney characters.
Artful Photo Ops invite you to actually step into a piece of art for a one of a kind photo. Find familiar favorites like the Mona Lisa and be part of the picture.
Disney Chalk Artcan be found around EPCOT all festival long. There are also opportunities for kids to create their own Disney chalk art.
Figment's Brush with the Masters Scavenger Hunt isets you on the search for Figement, the mascot of Festival of the Arts. Everyone in your group will enjoy keeping an eye out for Figment hiding in plain sight in some of the world's most notable pieces of art.
Purchase a map and sticker set from select locations at EPCOT. Then match the stickers to the location on your map and redeem them for a Festival keepsake.
Paint by Number Mural stop by the mural and take a turn painting a few squares yourself. Then watch in awe as the image comes to life throughout the day. It's all hand painted by you and the other guests visiting EPCOT during the festival.
Strolling Art Exhibits is one of the top picks during EPCOT International Festival of the Arts. Be sure to check the schedule to see which artists you can meet during the festival as well.
Best Snacks at EPCOT Year Round
There are so many favorite things to eat at Walt Disney World theme parks but EPCOT is truly a foodie's dream. When the Disney dining plan and snack credits are in place, it's the best place to spend your time!
Did some of your favorite things and sweet treats make our list?
School Bread Sweet Roll filled with Custard and dipped in Coconut (Kringla Bakeri Og Kafe | World Showcase | Norway Pavilion)
Fish and Chips Yorkshire County Fish Shop | World Showcase | United Kingdom)
Taco Trio La Cantina de San Angel | World Showcase | Mexico)
Traditional Poutine French Fries smothered in Gravy and topped with Cheese Curds (Refreshment Port | World Showcase | near Canada)
Macaron Lime Raspberry plus one of every pastry on the menu (Les Halles Boulangerie-Patisserie | World Showcase | France Pavilion
KakigōriJapanese shaved ice available in Rainbow, Strawberry, Melon, Cherry, Tangerine or Blue Raspberry (Kabuki Cafe | EPCOT's World Showcase | Japan)
Maple Popcorn (EPCOT's World Showcase | Canada)
Chicken Pot Stickers (Lotus Blossom Cafe | World Showcase | China)
This annual event brings beautiful artwork, delicious culinary masterpieces and great entertainment together each year.
Tell us your favorite things about the EPCOT's International Festival of the Arts so we can all start planning! And of course, reach out to our planning experts at Get Away Today to book your next Walt Disney World vacation.