Our ALO Hotel by Ayres review will take you through everything you need to know about staying at this hotel near Disneyland. We share what we think about the rooms, amenities, location and dining at the ALO.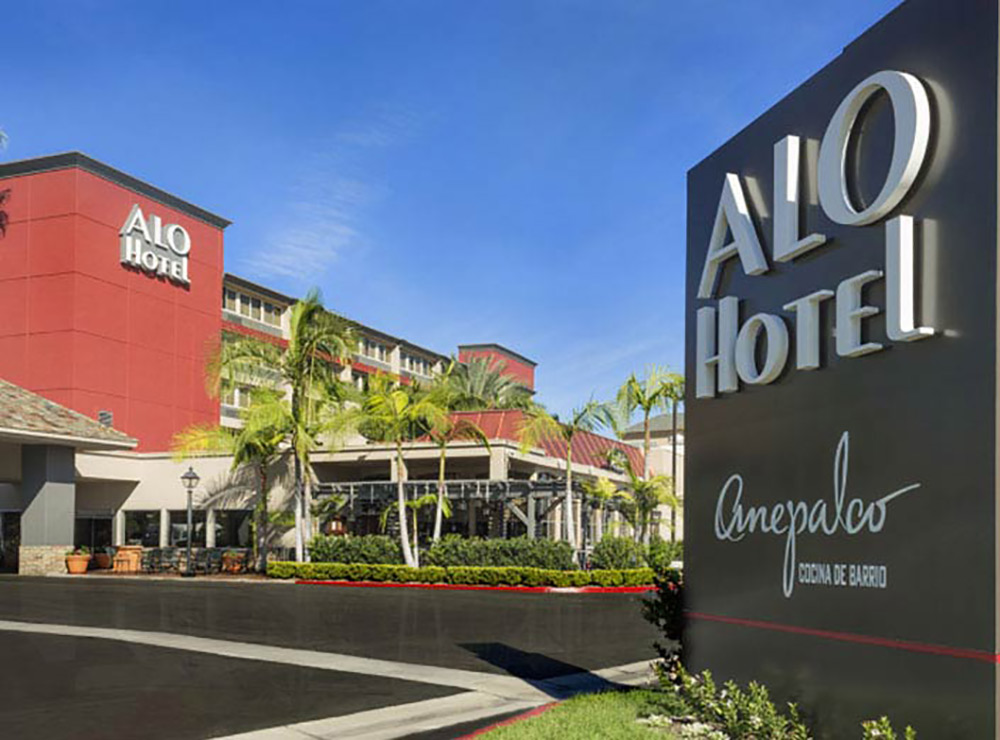 Photo courtesy of ALO Hotel by Ayres
If you've read any of our Anaheim hotel reviews, you likely know that our team at Get Away Today visits our Anaheim hotels on an annual basis. In addition to visiting the hotels near Disneyland, our staff stays at our hotels when we visit for our own vacations. Between all of the hotels we work with, each of the hotels has hosted at least one of our employees individually. The ALO Hotel by Ayres is different. It is one of the few hotels that nearly ALL of our employees have stayed at one time or another. In fact, most recently, half of our staff stayed there for our recent familiarization trip.
ALO Hotel by Ayres Review
Today we are reviewing all of the aspects of the property. Our ALO Hotel by Ayres review will break down everything you need to know. We'll review what we think of the guestrooms, amenities, dining and location.
ALO Hotel by Ayres Review: Rooms
The ALO Hotel by Ayres has two main standard room types available. One is king bed room with a sofa bed, and the other comes with two queen beds. The rooms here were recently updated and feel so fresh. All of the rooms are spacious with a large work space, flat screen TV and a mini fridge. Our team was also able to stay connected with free in-room WiFi, and loved the iHome alarm clocks with music docking.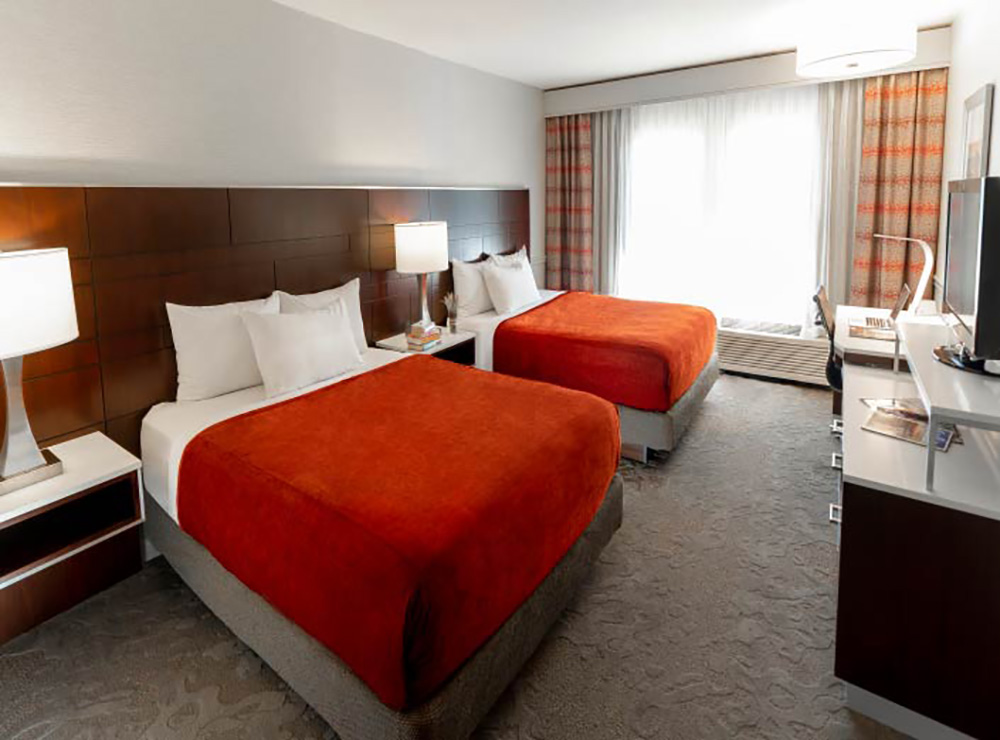 Photo courtesy of ALO Hotel by Ayres
We give the new rooms at the ALO Hotel by Ayres two thumbs way up.
ALO Hotel by Ayres Review: Amenities
As far as amenites go, the ALO Hotel has many. There is a great outdoor pool and spa, and an updated fitness center. The lobby is cozy as well with a beautiful fire place. It provides a great space for family or friends to hang out after a day of fun at Disneyland or beyond.
And although it may not be an amenity per se, it's impossible to talk about the ALO without talking about the people who make it so great. The entire team at the ALO bends over backwards for their guests, and that's especially true for their Get Away Today guests. If there's anything they can do to make your vacation better, don't hesitate to let them know.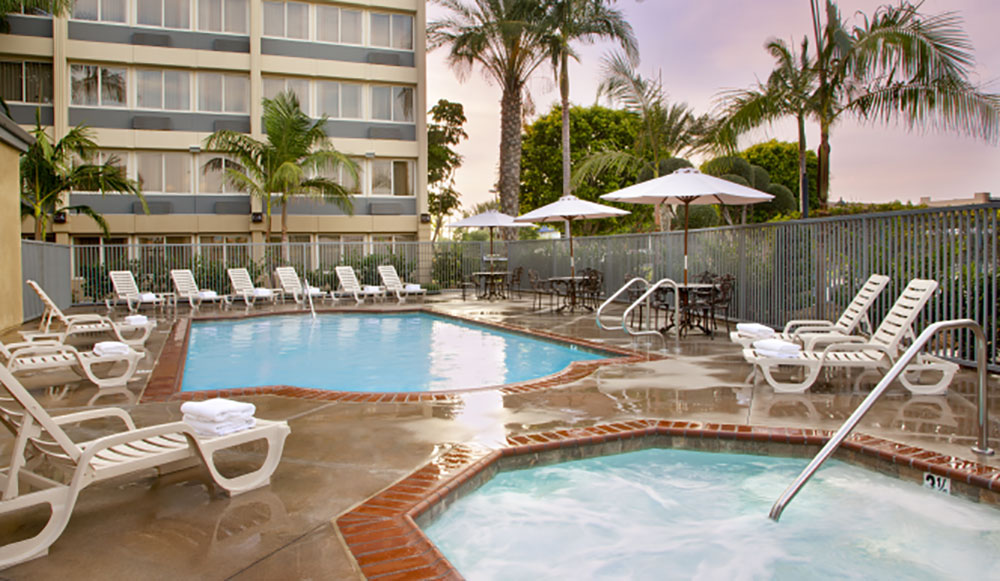 Photo courtesy of ALO Hotel by Ayres
ALO Hotel by Ayres Review: Dining
One of our favorite amenities of the ALO Hotel is their complimentary breakfast each morning. It truly is a feast with a spread of popular hot and cold breakfast items. You'll find everything from yogurt to fresh fruit to eggs to a make your own waffle station. It's nearly impossible to leave the ALO hungry.
The ALO Hotel by Ayres is also where you'll find one of the top rated restaurants in Orange County: Anepalco. This French-Mexican fusion restaurant may sound strange, but believe us when we tell you it is one of our very favorite places to eat. Everything is fresh and delicious. The dining area of the restaurant is held in the same space where the complimentary breakfast is served, so it is only open for lunch or dinner.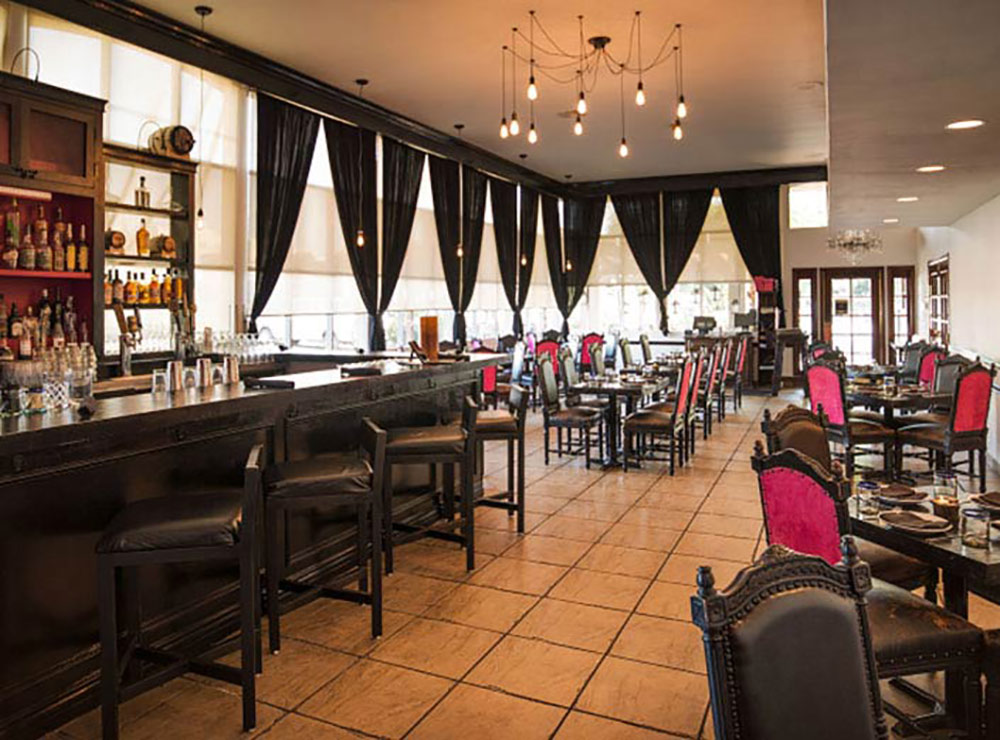 Photo courtesy of ALO Hotel by Ayres
If you want to venture away from the hotel for meals, you don't have to go far. The ALO Hotel is located within walking distance of a Wendy's and Starbucks. They're both pretty much in the same parking lot as the hotel. Additionally, you're about half a mile from the Outlets at Orange. The Outlets at Orange is a huge shopping, dining and entertainment district with a wide selection of restaurants. There you'll find a BJ's Restaurant Brewery, Saddle Ranch Chophouse, Cafe Tu Tu Tango and so much more. You'll also find quick, easy options like Carl's Jr. and Rubio's. There truly is something for everyone.
ALO Hotel by Ayres Review: Location
The ALO Hotel by Ayres is located about two miles from the Disneyland Resort. Some people see that as a plus. You're definitely close enough to get to the parks in the morning easily, but feel far enough removed from too much hustle and bustle. You can choose to take the ART (Anaheim Resort Transit) Shuttle, or you could drive your own car and park in the Disney parking structure. It's also become popular for ALO Hotel guests to use Uber or Lyft to get to the parks in the morning. These ride services will drop you off outside the pedestrian walkway on Harbor Boulevard.
In addition to being close to Disneyland, the ALO Hotel by Ayres is centrally located to many popular area attractions. You're only a mile away from the Angel Stadium of Anaheim and two miles from the Anaheim Ducks Hockey Club. You're also right off of the I-5 freeway, which means you have easy access to area beaches, LEGOLAND, Knott's Berry Farm and more. It's hard to find such a convenient location for so many area attractions.
Planning Your Stay at the ALO Hotel by Ayres
If you'd like to book your next vacation at the ALO Hotel by Ayres, let us help. You can find our exclusive rates - including 3rd or 4th night free offers - both online or over the phone. You can find our ALO Hotel Disneyland packages online, or you can call our agents at 855-GET-AWAY. I'm sure they'd be happy to tell you all about their latest stay at the ALO as well!