Our Bahia Resort Hotel review tells you everything you need to know about this popular hotel in San Diego. Find out more about its location and all that it offers.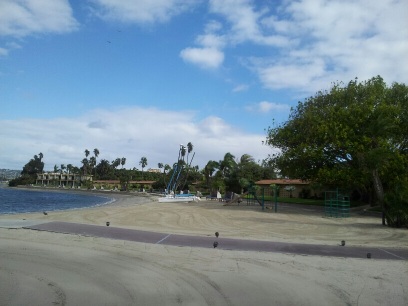 If you've been following our blog or our YouTube channel recently, then you likely know that I recently stayed at the Bahia Resort Hotel. Last week I shared a room tour of the bay view studio suite. You can watch the video here:
And just yesterday, we shared a video that shows you some of the highlights of the entire resort. You can watch that video here:
Now onto the Bahia Resort Hotel Review. I will break it down by our room and a few of the main amenities.
Bahia Resort Hotel Room Review
On this particular trip, our family stayed in the bay view studio suite. These rooms are located in the four story building on the very end of the property. Last year, we were lucky enough to stay in a studio suite across the hall. Even if you don't have a bay view, each of the rooms in this tower have a balcony or patio. And, the views of the property are pretty great too. The balconies are really large. Large enough to easily fit two full size lounge chairs, which is perfect for spending an afternoon relaxing.
There are three main room types at the Bahia; standard rooms, studio suites and suites. Since we most recently stayed in the studio suite, that's what I'll be reviewing today. The studio suites are really spacious and incredibly comfortable. They're nothing super fancy, but I think that's a plus when I'm traveling with my kids. There is plenty of storage space, and each room has a sofa bed. This means if you're in a room with two double beds, you can sleep six. The rooms are clean and the beds are comfortable.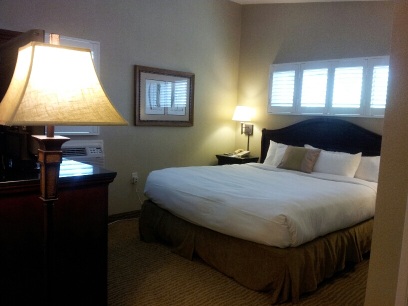 Best of all about the studio suites at the Bahia is that there's a full kitchen in each one. Although small and dated, there is everything you could possibly need. Not only is there a fridge, microwave and coffee maker, there is a stove top and an oven. The kitchen also is fully equipped with dishes, utensils and nearly any gadget you can think of.
Bahia Resort Hotel Pool Review
The Bahia Resort Hotel has one of my favorite pools in San Diego. It's located in the middle of the property and looks like a Mediterranean oasis. The pool itself is large and heated year-round. There is abundant seating and plenty of towels. My favorite thing about the pool area at the Bahia is the giant hot tub, which like the rest of the pool area, stays open until 11pm nightly. It is the perfect way to unwind after a day of fun in San Diego.
Bahia Resort Hotel Beach/Location Review
I think the Bahia's location on Mission Bay can't be beat. One of the best things about the beach at the Bahia Resort is that it's private. You won't find throngs of people, giant tents, or out of control parties. Plus, since it's on the bay side, there are no waves, which makes it a perfect playground for little kids. Another huge perk to the private beach at the Bahia Resort is that there are a number of beach lounges. The lounges are cozy and have a sun shade that make it almost like a mini cabana. Best of all, they are free for hotel guests to use on a first come, first serve basis. In a day and age of so many hotels charging for everything, it is refreshing to have such an awesome amenity for free.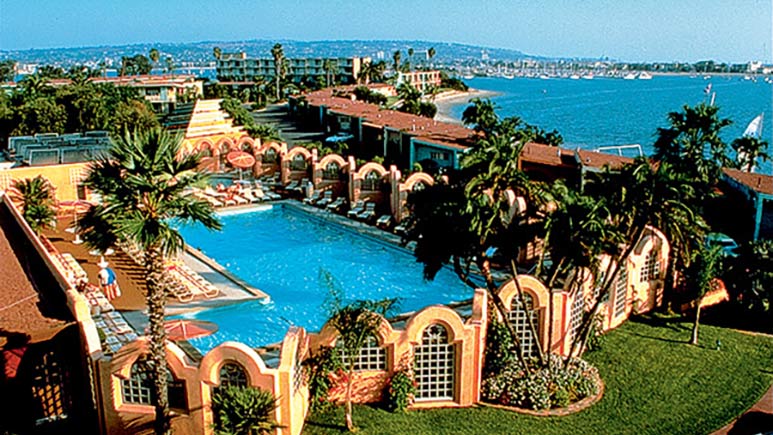 Bahia Resort Hotel Grounds Review
This is hard to fit everything into one category, but I'm going to try. The grounds of the Bahia are beautiful and so well maintained. You feel like you are in a tropical paradise. There are winding paths, ponds, flowers, and even tennis and shuffle board. Of course, all of this is steps from the private beach. And I would be remiss if I failed to mention one of the most unique features of the Bahia, its seal pool. Right at the entrance of the hotel, you'll find the home of Billy and Gracie, two harbor seals. These seals were rescued off the coast and are cared for by SeaWorld. The seals are fed publicly at 9am and 2pm each day, which makes for a fun activity.
There is a lot more I could say about the Bahia Resort Hotel, but overall, I think it's one of the very best values in San Diego. The fact that they don't charge for parking or a resort fee kind of blows my mind. For more information and to book with Get Away Today's reduced rates, visit our Bahia Resort Hotel page. Don't forget to add on discount tickets to some of the best area attractions, like SeaWorld San Diego and the San Diego Zoo. You can book online now or give our travel experts a call at 855-GET-AWAY.

Check out more Get Away Today hotel reviews: