Our Tropicana Inn & Suites Anaheim review will tell you exactly what you can expect when you stay at this hotel near Disneyland. We love to spotlight our Disneyland area hotels to help you plan your vacation.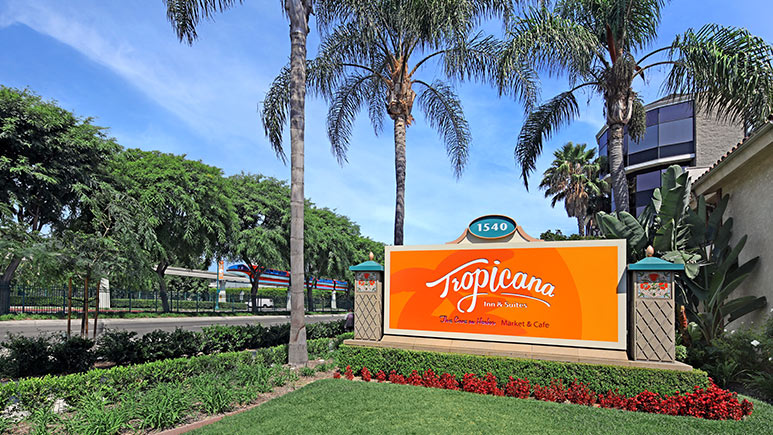 Hotels Near Disneyland: Tropicana Inn & Suites Review
The Tropicana Inn & Suites Anaheim is the first choice for many families visiting Disneyland. It is right across the street from the main gate at the Disneyland Resort. As far as hotels near Disneyland, does it get much better than that?! Although that's a huge perk, that's not all. For out hotel spotlight today, we're going to share a review of the Tropicana Inn & Suites. We'll tell you the what, where and how - all about booking your stay at the Tropicana.
Tropicana Inn & Suites Review - Rooms
The rooms at the Tropicana Inn & Suites are super comfortable and really fun. The hotel rooms were recently renovated with a fresh, retro beach theme. You know you are in Southern California when you walk in. Most of the rooms have two queen beds, but there are also a few standard rooms that have one king. All of the guestrooms come standard with a mini fridge and a microwave, which is perfect for families. All guestrooms also come with an in-room safe and free Wi-Fi.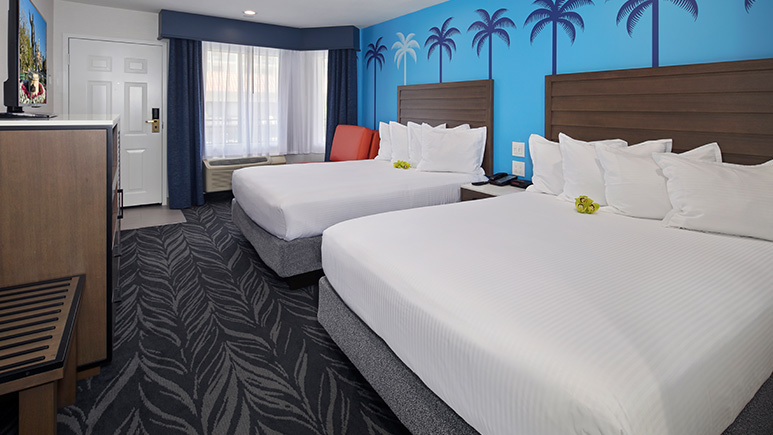 If you have a larger family, there are a handful of family suites. These suites are composed of two standard two queen bed rooms connected by a full kitchen area. It's awesome because it's typically only a little bit more than two standard rooms would cost, but you have a ton of extra space and all of the amenities of a full kitchen. If you are interested in this room type, just call our agents at 855-GET-AWAY. They will contact the hotel in your behalf to see if they have any of the family suites available at our discounted room rates.
Tropicana Inn & Suites Anaheim - Features
The comfortable guest rooms aren't the only reason to stay at the Tropicana. The hotel has a great oversized heated pool and hot tub area. They also feature an on-site market and cafe, and have easy on-site parking. While there is a charge for parking, prices are pretty reasonable. Not to mention, it's less than you'd pay at Disneyland, and you won't have to take a shuttle to get to Disneyland. More on that later. And finally, the staff at the Tropicana Inn is among the best. Everyone who works there wants to make sure your stay is everything you want it to be.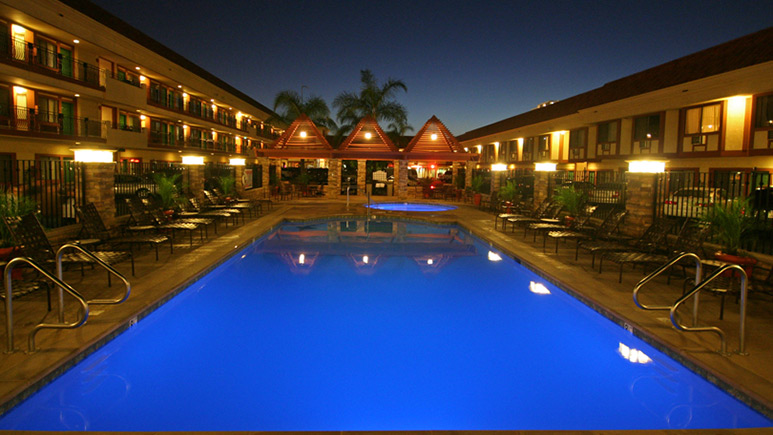 Tropicana Inn & Suites Review - Location
The Tropicana Inn & Suites Anaheim is one of the closest hotels to the main gate of the Disneyland Resort. You'll walk across the street, through the shuttle drop off area and be at the security check point. It's obviously very appealing for families to be just a few steps away from the magic. This may be the best info for helping you choose amongst all the hotels near Disneyland!
But that's not all. The Tropicana is also located next to tons of restaurants. Panera Bread, McDonald's, The Pizza Press, IHOP and Mimi's Cafe are just a few of the closest restaurants. And of course, because you are so close to Disneyland, you're also close to Downtown Disney.
Downtown Disney has table service and quick service restaurants, a variety of shops, and unique experiences you won't find anywhere else. If you're looking for something new to do, consider an evening of luxury bowling at the newly opened Splitsville. Or, if you have a Star Wars fan in the group, make a reservation for The Void, a new Star Wars virtual reality experience. No matter where you spend your non-park time, you won't find a better or more convenient off-site hotel than the Tropicana. Some even argue its location is preferable to some of the on-site Disney properties.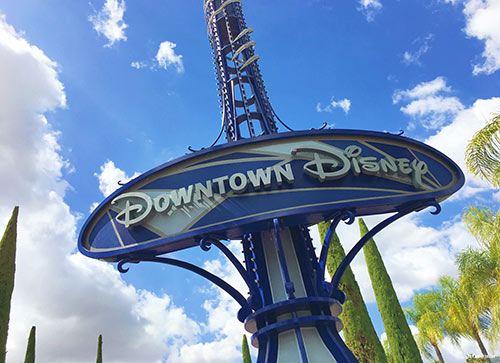 When you're ready to book your stay at the Tropicana Inn & Suites, you can find the lowest rates on our site. Or, you can call our agents at 855-GET-AWAY for the same prices, but you'll actually get to talk to a live person. Remember if you're thinking of booking one of the large family suites, you'll need to call our team. Because of the limited availability, they go quickly and we stay in close contact with the Tropicana about those rooms.
Then, after you've stayed at the Tropicana Inn, come back to our site and leave your own review. Our customer reviews help other families decide which hotel is best for them. And who knows, you may just answer the questions someone is looking for!

Check out these other great hotel reviews: