For today's #MovieMonday, we're taking you on a tour of the Bahia Resort Hotel, located on Mission Bay in San Diego. You'll see the grounds and a few of the things that make this such an awesome hotel for your vacation.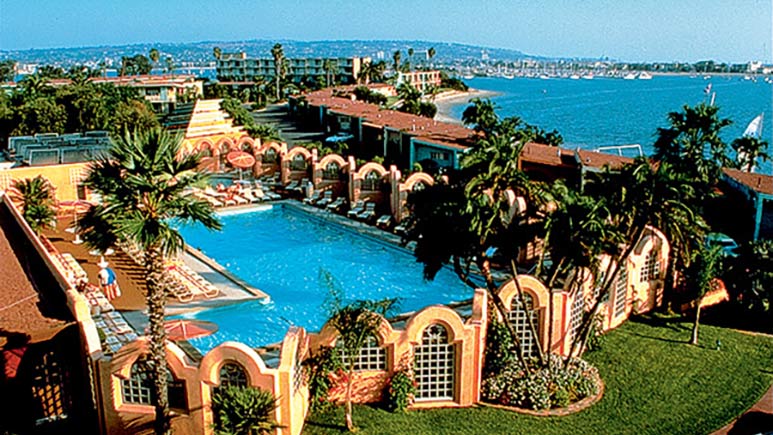 If you're looking for a true San Diego experience, look no further than the Bahia Resort Hotel. The Bahia is one of the best values in all of San Diego. Not only is it located directly on Mission Bay, it has some of the most stunning grounds you'll find. Plus, it has so many amenities, that you may never want to leave.
Some of the amenities are not just above average, some are so unique that you won't find them at any other San Diego hotel. And while many resorts have extra charges for things like parking and resort fees, most everything at the Bahia is already included in your stay. Instead of just telling you all about it, we'd love for you to see it. Watch our Bahia Resort Hotel video tour to see what we mean:
Isn't it beautiful? As you saw on the video, the Bahia Resort Hotel has pretty impressive activities, amenities and grounds. As a quick reference, here are a few of my favorite things at the Bahia Resort Hotel:
Private beach on Mission Bay. Get there early and grab one of their beach loungers free of charge. You can also ask the concierge for beach toys if you have little kids. It's better than hauling all of your own beach toys!
Seal pool. Yes, there's a seal pool where you can find Billy and Gracie, two harbor seal rescues.
Tennis and shuffle board. Not only does the hotel have courts available, they also offer free equipment rentals and court time. Just contact the concierge desk.
Swimming pool and hot tub. I love how large and beautiful this area is, but if you watched the video tour of the resort, you already know that.
Bahia Belle. How many hotels in the area offer free bay cruises on their own steam boats? Two. The Bahia Resort Hotel and its sister property, the Catamaran Resort Hotel. Be sure to check the schedule during your stay and enjoy.
A wide variety of guest room types. The Bahia Resort Hotel has standard rooms, studio suites and bay view suites. Last week I shared the video of our studio suite. You can see exactly what it was like here.
I hope our Bahia Resort Hotel video tour helped answer your questions and gave you a good idea of what you can expect to find at the Bahia. If you're thinking about going to San Diego, we'd love to help. Our agents can help you decide which hotel and which room type is best for your San Diego vacation, as well as what attractions to add on.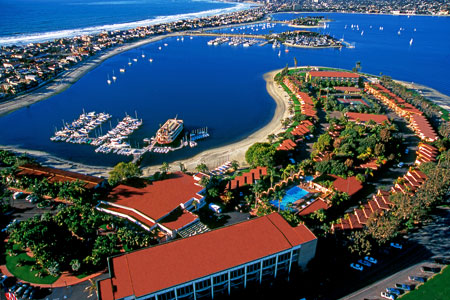 The Bahia Resort Hotel is about a mile from SeaWorld San Diego, which is one of our top picks for San Diego attractions. It's also nearby the world famous San Diego Zoo, USS Midway and the Old Town Trolley Tour. And about 30-40 minutes away are LEGOLAND California and the San Diego Zoo Safari Park. No matter what you choose to add on to your hotel stay, we'll make sure you get the lowest price and the best service. You can find our packages for the Bahia Resort Hotel and other San Diego hotels online, or you can call any of our agents at 855-GET-AWAY. Either way, we'd love to help.

Check out more hotel room tours: