Thinking about staying at the Pavilions for your next Disneyland vacation? Great! Make sure to read our Best Western Plus Pavilions review for more information on the rooms, dining options, amenities and more.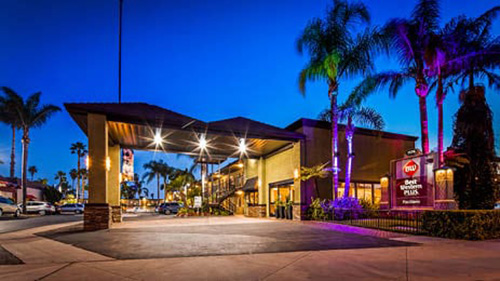 Photo courtesy of Best Western Plus Pavilions
Best Western Plus Pavilions Review
At Get Away Today, we understand how important choosing the right hotel is for a Disneyland vacation. It's why we tour the properties we offer at least once a year. When you call in to book a hotel or read one of our reviews, you can be assured you're talking with people who have visited and have first-hand experience of these hotels near Disneyland. We know this is something that is so important when trying to make your lodging decision!
Today, we're sharing our Best Western Plus Pavilions review. The Best Western Pavilions is one of the most popular value hotels near Disneyland and families seem to really love it. Find out why, including information on rooms, amenities and more below.
Best Western Plus Pavilions Review – Rooms:
The Best Western Pavilions is a family favorite and the rooms are one of the reasons why. Through Get Away Today, guests can get the standard rooms with two double beds at a discounted rate. Additionally, the hotel has standard rooms with two queens or a king as well as a suite with a king bed and three double beds. These room options can be requested with the hotel directly after booking through Get Away Today. If the hotel has the availability, guests will be able to pay the upgrade fee directly to the Pavilions.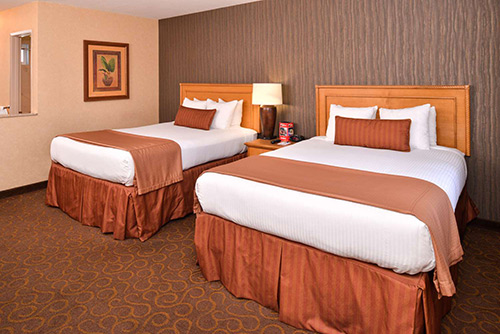 ?Photo courtesy of Best Western Plus Pavilions
On top of the great layout options, each room has its own microwave and mini-fridge. This is a huge bonus for families looking to save money or who need to prepare
allergy-friendly
foods. The coffeemaker is also great for those who need that caffeine boost before the park each morning. Our favorite feature has to be the bathroom vanity though. It's separate from the toilet and shower and has a tiled floor, which makes getting ready in the morning so much easier for multiple people.
Best Western Plus Pavilions Review – Amenities:
If you're visiting the Disneyland Resort, you'll likely want to rest your feet in the pool each night after all that walking. Luckily, the Best Western Pavilions has a great hot tub and heated pool that are open year-round.
Need to do laundry? You won't have to go far because the Pavilions offers an on-site coin-operated laundry. Or, you can choose to utilize their same day dry cleaning and laundry service for a minimal fee. Either way, you won't have to worry about not having any clean clothes when you sat at the Best Western Pavilions.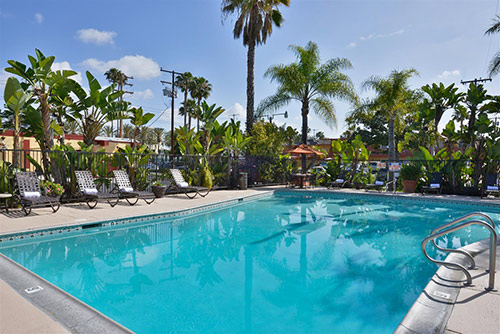 ?Photo courtesy of Best Western Plus Pavilions
Another incredibly appreciated amenity is the free parking. Each room is allowed free parking for one car, a huge savings when you consider nearby hotels that charge anywhere from $10-$20 per night. There is a small resort fee of $5 per night, unless you book with Get Away Today. That's right, Get Away Today guests don't have to pay for parking or a resort fee at the Pavilions. That extra $5 per night can easily be spent on churros or other fun treats in Disneyland!
Best Western Plus Pavilions Review – Dining:
The Pavilions recently started offering two great breakfast options. You can either choose a cook-to-order meal for two from the Denny's right next door or one of the grab-n-go items (apples, yogurt, granola bars, etc.) from their lobby. Either option is entirely free for Get Away Today guests, which adds up to some big savings when you consider how expensive breakfast can be. And kids always eat free with a paying adult, which helps even more when it comes to saving money on food.
Denny's might be known for their breakfast, but they serve lunch and dinner as well. The best part is that you can order room service for lunch and dinner from the Denny's. That's right, you won't even have to leave your room if you want to grab a quick meal during naptime! Having a restaurant right next door is so convenient and just another reason why families love the value of the Best Western Pavilions. And if Denny's isn't your top pick, you can find tons of dining options only two to three blocks away.
Best Western Plus Pavilions Review – Location:
Another perk of staying at the Pavilions is the location. It's only two blocks from the Disneyland Resort, making it easy to walk to and from. If your feet are tired after so much fun, the hotel is also serviced by the ART shuttle. You can get discounted ART shuttle tickets with Get Away Today, too. And like we mentioned above, the hotel is only a few blocks from all kinds of restaurants, the Anaheim GardenWalk included.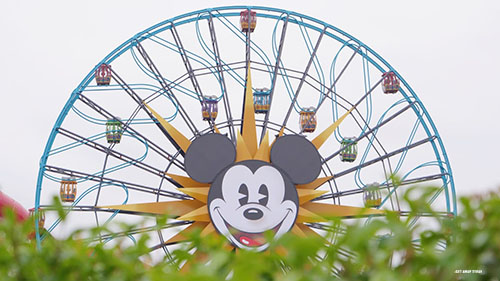 Best Western Plus Pavilions Review – Overview:
Overall, it's easy to see why the Best Western Plus Pavilions is such a popular pick for families looking for an affordable hotel option near Disneyland. The rooms, dining options and amenities all make I a great choice for your next vacation. And don't forget you can save with Get Away Today's exclusive rates!
Book any of our Disneyland packages online now or give our travel experts a call at 855-GET-AWAY. Our agents have toured all of the hotels we offer and will be able to help you pick the best option for your family.

Check out more Disneyland area hotel reviews: