There are more than 25 on-site properties at Walt Disney World Resort, so how do you choose where to stay? Our review of the
Campsites at Fort Wilderness R
esort
will help you determine if it's the right choice for your next Walt Disney World vacation.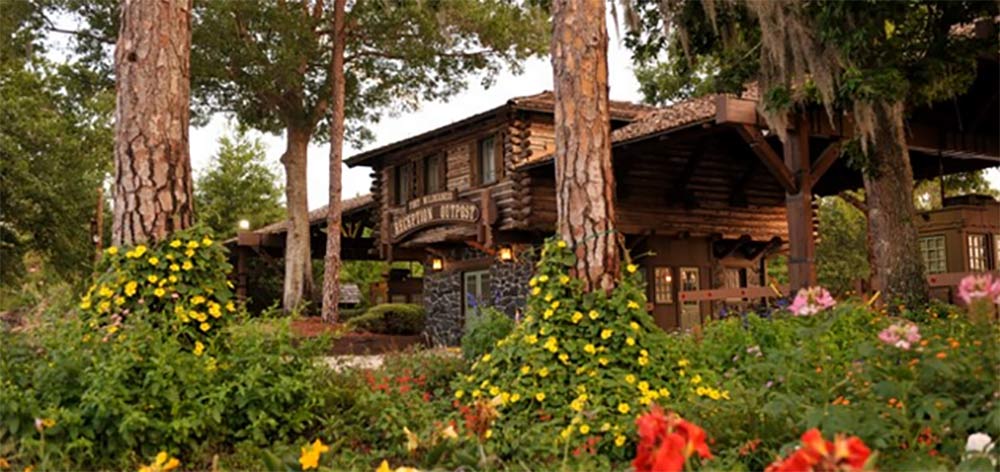 Photo courtesy of Campsites at Fort Wilderness Lodge
Campsites at Fort Wilderness Resort Review
Enjoy the great outdoors while also staying close to the magic of the Walt Disney World Resort. See what the Campsites at Fort Wilderness Resort have to offer, and learn about what makes them the perfect spot to kick back after a day of adventure.

Campsites at Fort Wilderness Resort Review - Lots
More than just a campsite, Fort Wilderness Resort is an experience of its own! It makes a great addition to any Disney World vacation. Campsites at Fort Wilderness are spread out over 750 acres of land, where you might spot ducks, deer and wild rabbits roaming. There are four different campsites at Fort Wilderness, ranging from spots for tents to spots for recreational vehicles (RV).
Tent or Pop-Up Campsite
You can sleep up to ten adults at this campsite, which has space for a pop-up camper or a camper van-type vehicle, and up to 2 tents. There's even a concrete pad (10' x 25') for any equipment you need to set up.
Full Hook-Up Campsite
You can sleep up to ten adults at the Full Hook-Up site, which accommodates an RV plus a tent. This site comes with a concrete pad measuring 10' x 50' and sewage hook-up.
Photo courtesy of Campsites at Fort Wilderness Resort
Preferred Campsite
With close proximity to the Marina, a Preferred Campsite fits an RV and a tent, allowing up to ten adults onsite. There is a 10' x 45' concrete pad at each Preferred site as well as sewage hook-up.
Premium Campsite
For larger RVs, consider a Premium Campsite. There's room for up to ten adults to spread out, and it includes a 18' x 60' concrete pad and sewage hook-up.
Premium Meadow Campsite
Sleep up to ten adults in a larger RV, with an 18' x 60' concrete pad for equipment. Premium Meadow Campsites include sewage hook-ups, and proximity to the Meadow Trading Post, Meadow Recreation Area, Bike Barn and Campfire Area.

Campsites at Fort Wilderness Resort Review - Amenities
The list of things to enjoy at Fort Wilderness Resort seems endless! Amenities at your campsite include the following and more:
Each campsite rental at Campsites at Fort Wilderness Resort includes includes one complimentary vehicle parking spot.
Vehicles - Both licensed and recreational vehicles are permitted to drive through the "wilderness." You can traverse Fort Wilderness in a golf cart, on a bicycle or surrey bike or even a Segway.
RV rentals
Minnie Van Lyft services - Additional cost ride share services are available at Walt Disney World Resort to make transportation to and from your campsite easy.
Disney water transportation - See more about this below where we talk about the location of the Campsites at Fort Wilderness Resort.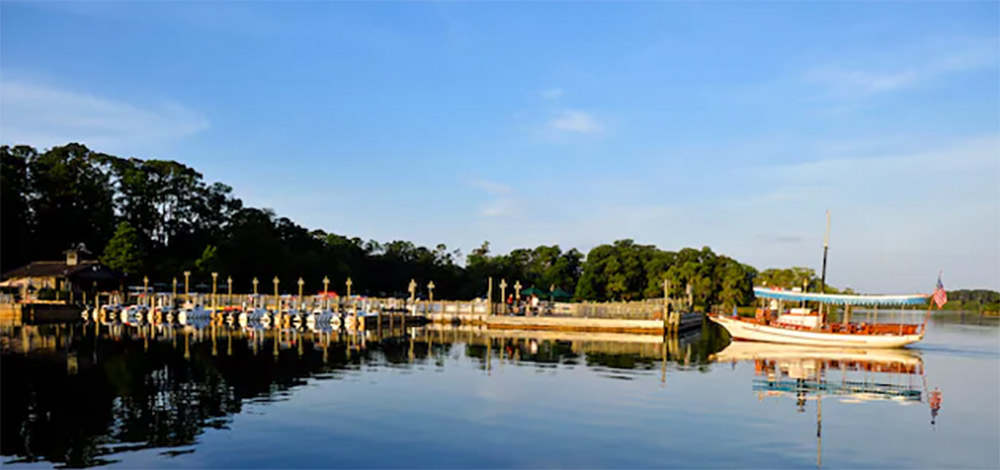 Photo courtesy of Campsites at Fort Wilderness Resort
Laundry/Dry-cleaning services
Meadows Swimmin' Pool and Wilderness Swimmin' Pool offer water slides, hot tubs, a leisure pool and even a fort-themed play area for young swimmers. As long as you bring your own towel, you're good to go!
Fort Wilderness Archery Experience - For an additional cost, guests age 7 and up can enjoy 75-minute lessons with archery experts at Fort Wilderness.
Tri-Circle-D Ranch - Closed for refurbishment, reservations are not currently accepted at the Ranch. However, walk-in guests may be accommodated for Holiday Sleigh Rides, Horse-Drawn Carriage Rides, Pony Rides and Wagon Rides. Be sure to check the Fort Wilderness Resort website to make your travel arrangements.
Chip 'N Dale's Campfire Sing-A-Long - There are multiple campfire locations throughout Walt Disney World Resort's onsite hotels. You'll not only enjoy s'mores and songs, but a Disney movie under the stars. These activities are complimentary and will be hosted at Fort Wilderness weather permitting.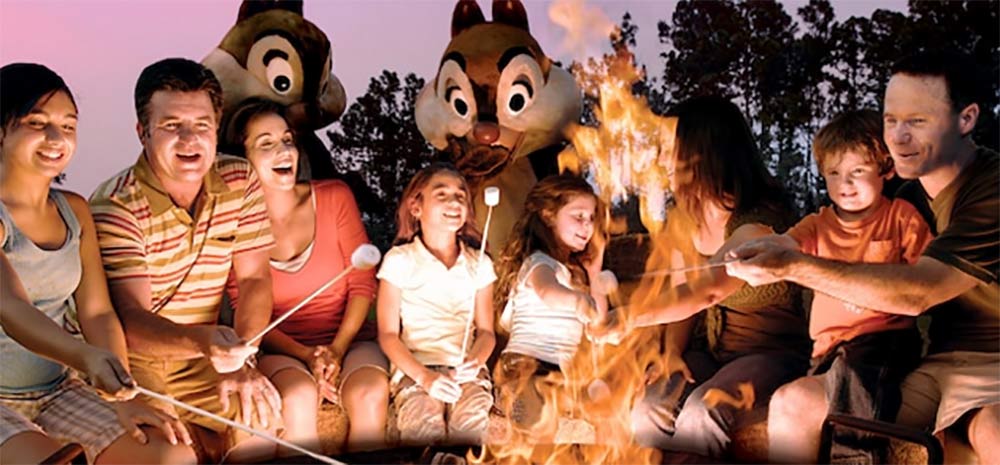 Photo courtesy of Campsites at Fort Wilderness Resort
Fishing
Rentals: At Disney's Fort Wilderness Resort you can make use of motorized boats, bicycles, canoes, kayaks for a small fee per hour. Reservations are not required, so check with the Bike Barn in the Meadow Recreation Area for rentals.
Outdoor basketball and volleyball courts
Jogging trails
Playgrounds
Davy Crockett's Wilderness Arcade and Daniel Boone's Wilderness Arcade - Just two of the many family-friendly arcades at Walt Disney World Resort, kids and kids-at-heart will love these entertainment options. With the purchase of a Game Card, you can play classic arcade games including pinball and air hockey.
Wilderness Back Trail Adventure - Step onto a Segway X2 for a tour of the nature that surrounds Fort Wilderness. Designed for all terrain, the Segway X2 will take you on a quiet ride through the beautiful Resort with a Cast Member as your guide. This experience is an additional cost, and the whole circuit can be completed in about two hours.

Campsites at Fort Wilderness Resort Review - Dining
Although you can live like you're roughin' it at Fort Wilderness, you're sure to find good grub at the campground! There's no shortage of dining options, whether you just want a snack or an opportunity to sit around the table together.
The Chuck Wagon - This quick-service food truck offers sandwiches, salads and even all the ingredients you need to make your own s'mores.
Crockett's Tavern - Located near Pioneer Hall, the Tavern is a walk-up lounge that serves alcoholic drinks and bar snacks such as wings and nachos.
Hoop-Dee-Doo Musical Revue - Hosted in Pioneer Hall, this dinner show requires advance reservations. Enjoy fried chicken, smoked BBQ and the playful antics of characters including Clare de Lune, Johnny Ringo and Six Bits Slocum. Three different seating options are available for this experience, starting at $38 for ages 3 - 9 and $64 for ages 10 and up.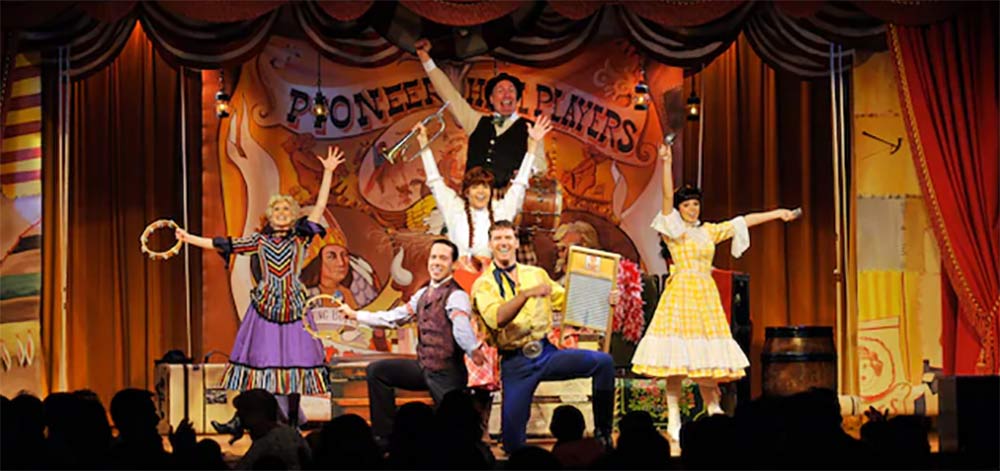 Photo courtesy of Campsites at Fort Wilderness Resort
Meadow Snack Bar - This quick-service snack bar can be found poolside at Fort Wilderness campsites. Order a fresh salad, turkey wrap or even a personal pizza. Beverages are also available, as well as dessert.
P & J's Southern Takeout - Enjoy a menu inspired by the wild west! P & J's serves breakfast, lunch and dinner, with options including sticky buns, pulled pork sandwiches, ribs and, of course, PB&J sandwiches.
Trail's End Restaurant - This restaurant in Fort Wilderness offers a breakfast buffet, brunch and dinner. The buffet is typically available from 7:30am - noon, while brunch is available 7:30am - 2:00pm. Select from a scrumptious spread of Mickey waffles, bacon and eggs, biscuits and gravy, fresh pastries and more for both the buffet and brunch. The brunch options expand to include fried chicken, smoked salmon, pulled pork and Disney's famous macaroni and cheese. Dinner is available from 4:30pm - 9:00pm, and you can enjoy delicious dishes including pasta, pizza, catch-of-the-day and hand-carved roasts.
Pioneer Hall - ?? No info on Disney's website. Is it closed?
Campsites at Fort Wilderness Resort Review - Location
Disney's Fort Wilderness area is located Southeast from Walt Disney World Resort, and can be found off Vista Boulevard. When you approach Fort Wilderness, you first stop at the Reception Outpost. From there you'll be directed past the lodges and toward the campsites and RV parking. As mentioned, Walt Disney World Resort guests can take advantage of complimentary transportation services including shuttles and water taxis.
Within the campground, shuttles can deliver you to the Settlement area for dining and access to the Meadow Recreation Center. From the Outpost Depot you can hop aboard shuttles that will take you to various parts of the Resort, including the theme parks, water parks and the Disney Springs area.
From Fort Wilderness campsites you can get to Magic Kingdom via water taxi in 15 - 30 minutes.
Campsites at Fort Wilderness Resort Review - Overview
You'll want to spend as much time as you can in Orlando on your next visit when the Campsites at Fort Wilderness Resort are included in your vacation package! With so much to experience, you can also get expert advice from one of our travel specialists at no extra cost. Get Away Today even offers complimentary concierge services for any 2-Night and longer vacation package (theme park tickets and Resort Hotel stay). See all our packages online, or call an expert at 855-GET-AWAY.