Have you heard of Catalina Island? Located off the coast of California, it is a small island with a big resume! At Get Away Today, we partner with Catalina Express, a transportation and touring company that operates between Catalina and the coast.

7 things you can do on Catalina Island with Catalina Express
Today, Lex visits with Kristin from Catalina Express to share seven things you can do on Catalina Island with their service. It's hard to believe such a small island can have so much to offer. Watch the video to learn more about Catalina Express and the packages you can book with Get Away Today.
In case you don't have time to watch the video, below we highlight 7 things you can do on Catalina Island with Catalina Express.
7 Things You Can Do On Catalina Island with Catalina Express
1. Transportation: First off, Catalina Express helps you get to and from the beautiful Avalon City on Catalina Island. It picks up from San Pedro, Dana Point and Long Beach on the California coast every day of the year - even holidays! In the off-season, it has at least 30 daily departments and increases availability in the summer. It takes about one hour to ferry from the coast to Catalina Island. You can choose to just take the Catalina Express as a means of transportation, or keep reading to see what tour options can be added for additional cost.
2. Avalon City Tour: Additionally, Catalina Express offers transportation with tour options like the Avalon City Tour. After the ferry, you can spend about 50 minutes touring Avalon City and learning its history. The Avalon City Tour also includes a stop at an expansive vista point so you can get pictures to commemorate the experience. Avalon is about 1 square mile, so you can see pretty much all of it in this short tour.
3. Undersea Expedition Tour: This tour takes place in a semi-submersible submarine! Once you get to Catalina Island on the Catalina Express, you can embark on this 45-minute tour in the water. Each seat has its own porthole so you won't miss a minute of the undersea action. The real fun starts when the Captain takes the submarine to a small cove, and you can see the fish swarm when the Captain tosses fish food into the water. It's like being in Finding Nemo as you watch sea life emerge from the kelp forest for a little snack.
4. Casino Tour: Don't be confused; there's no gambling on the casino tour! In Italian, casino means gathering place. In the 1920s this gathering place was built to host dances in the upstairs ballroom. In the downstairs area, you'll find a theater, in which a mural is featured. That mural was created by the same man who did the artwork in Grauman's Chinese Theater. Stunning art deco from the 1920s is preserved and visible on the Casino Tour.
5. Zipline Eco Tour: Another option that can be packaged with Catalina Express transportation is the zipline eco tour. There are five zipline routes, some up to 300 feet high. While on these outdoor adventures, you'll most likely come across the buffalo of Catalina Island. In the 1920s a western was filmed on the island, and the 10-12 buffalo used in the film were left behind. Since then, they've happily made Catalina Island their home.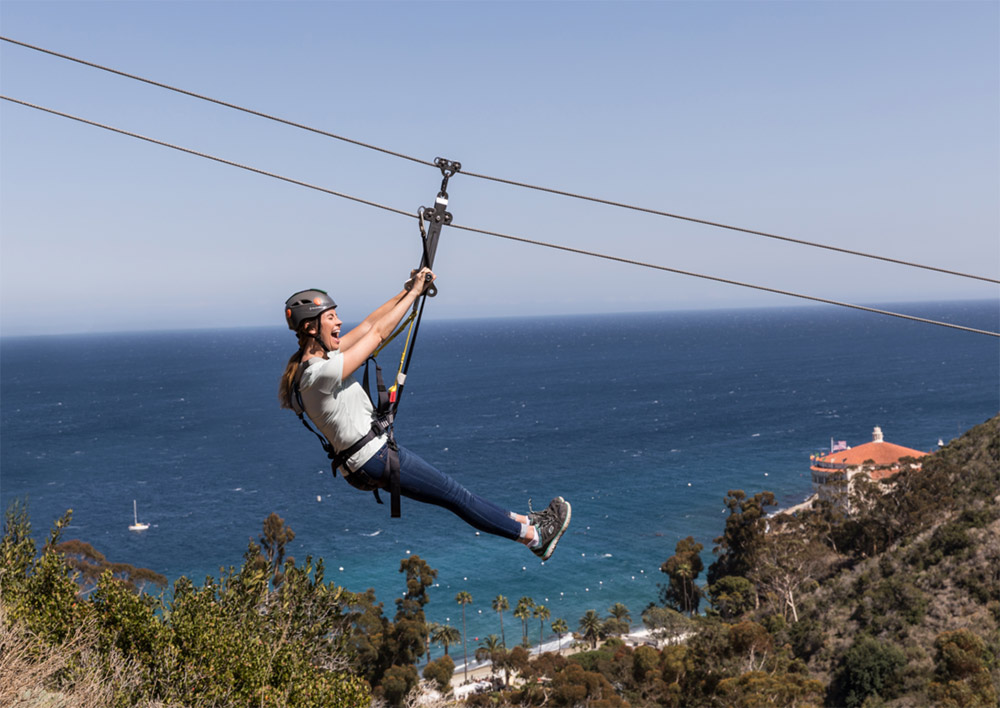 6. Non-Tour Options: Although Catalina Island is small enough to comfortably explore on foot, it can be fun to rent a golf cart. Since there are no traffic lights on the island, using a golf cart is a pretty safe option for zipping around. Plus, there are also a lot of water activities on Catalina Island, including snorkeling, kayaking, paddle boarding and more.
7. SAVE: Our favorite thing to do with Catalina Express is book with Get Away Today to SAVE! Once you have purchased transportation and tour vouchers with Get Away Today, give Catalina Express at least 3 days' notice after purchasing to schedule the tour(s) of your choice. In the summer months, the earlier you plan, the better the availability on Catalina Island.
Calatina Express on Catalina Island Packages
We are so grateful for the partnership we have with Catalina Express and are happy to have had Kristen in our office to catch up on all they have to offer. You can check out Catalina Express Catalina Island packages online, or call our travel agents at 855-GET-AWAY. Bon voyage!