Wondering how to surprise your family with a Christmas cruise vacation? Even Santa knows, life is better at the beach! This tropical printable and treat idea is perfect for a Christmas cruise vacation gift.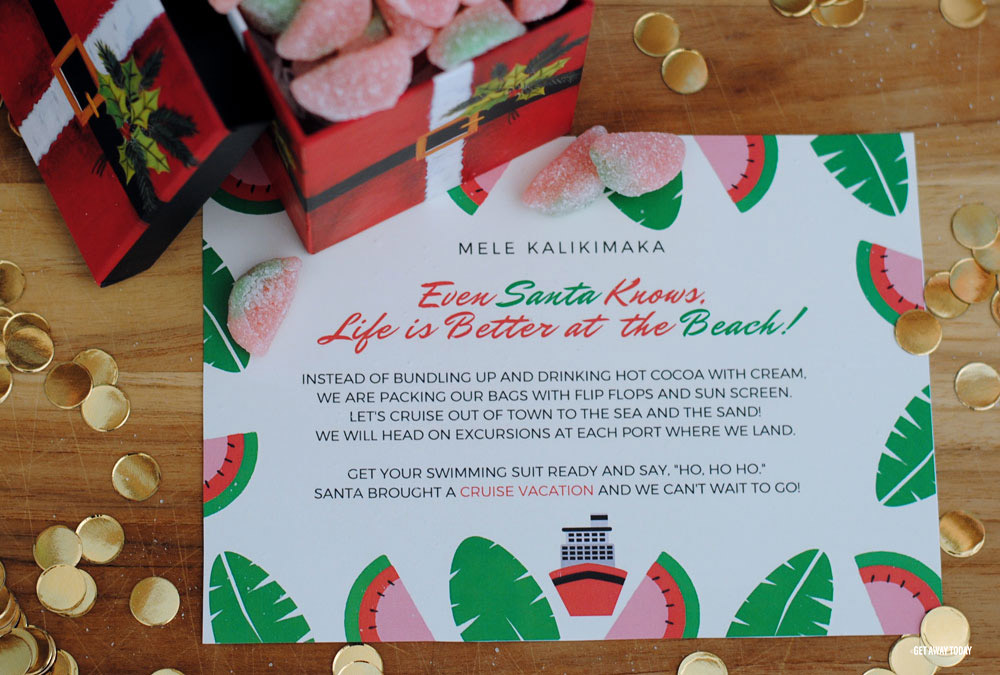 Vacations are an incredibly trendy gift during the holidays. It makes perfect sense. The sun and and the sand are much better than long lines and heaps of expensive toys. And, if you're traveling in the future, the anticipation of a cruise vacation is half the fun! Even Santa knows, life is better at the beach.
Christmas Cruise Vacation Planning
If you need help picking out the perfect cruise vacation to give your family for Christmas, then look no further. Our cruise specialists can help pick out the right cruise for your family's style and your budget. There are so many options to choose between. Whether you're looking for a quick Bahamas or Baja Mexico cruise, or a week in the Caribbean, they'll help you find it. It is nice to talk to someone who knows the cruise lines, has been on the ships and visited the ports. Our cruise specialists really are the experts! They can be reached Monday - Friday 9am - 5pm MT at 877-510-2929.
The best part about giving a cruise for Christmas is that you don't have to travel over the holidays to get the full effect of giving the gift of a cruise. By giving the gift of a future cruise, your family can look forward to the cruise together. Plus, if you're able to go during the off season, you'll save money versus traveling over the actual holidays. In my opinion, January and February are perfect cruise months. It's so nice to get out of the winter gloom after the magic of the holiday season has faded.
How to Give a Christmas Cruise Vacation
Once you have your exact cruise nailed down, then you can focus on giving it away! That is where this printable comes into play. I love giving vacations, but I don't love it when the vacation surprise costs a ton of money and when it takes forever to put together. It should be simple, easy and fun. This printable fits all those categories.
Start by downloading your free files here:
You can save it to your computer and then print it from home. I usually print on heaver paper like card stock. It makes the printable look more professional and also gives it some heft. Make sure to use color ink!
I included two copies of the Christmas Cruise Vacation Surprise template on each paper so you can give it to multiple children, or, so you have a spare in case you have a bad cut. Life happens!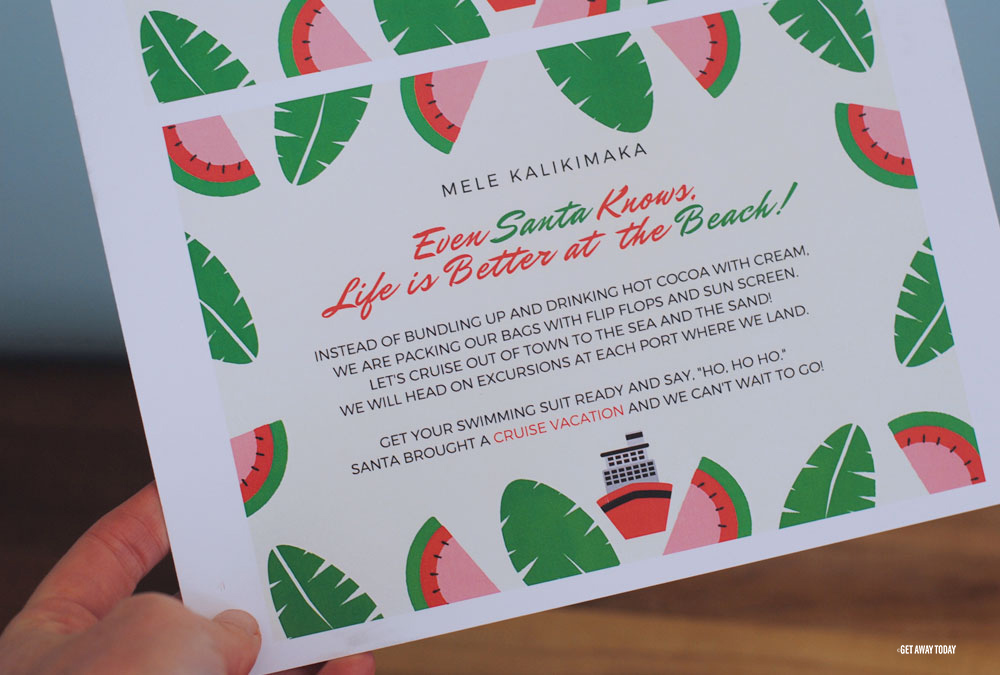 Cut around the template to make it into a card. You could leave a little white border around the card if you want a frame.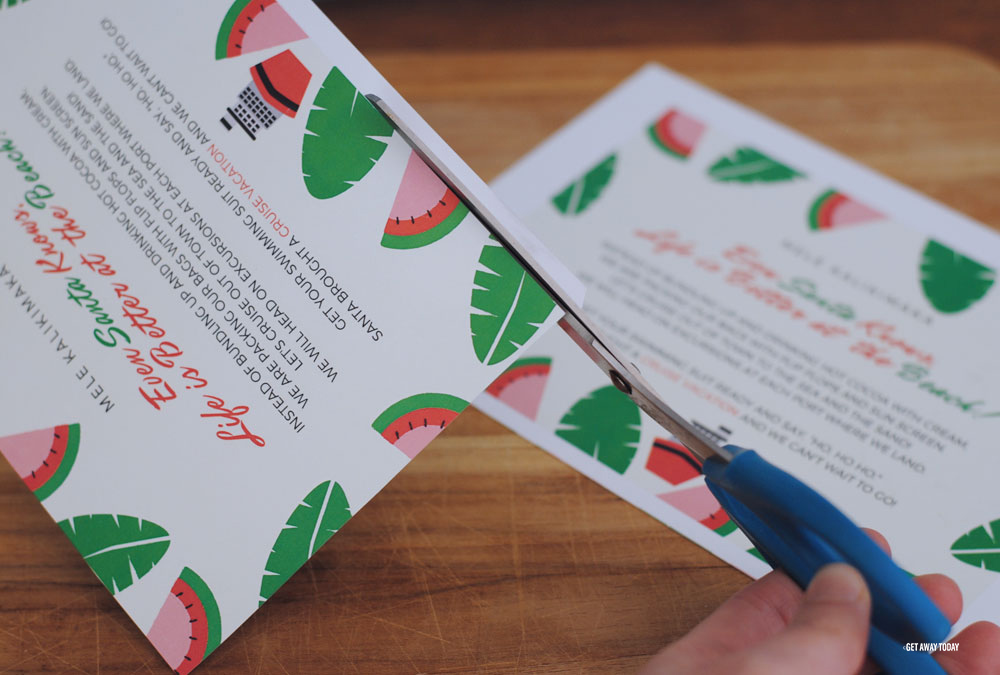 Presenting Your Christmas Cruise Vacation Printable
The cruise vacation template is tropical and fruity. There are so many options for what to pair it with. My kids love the watermelon fruit candies. You can buy them in bulk at the candy zone a the grocery store, or, buy a whole package of them. They are usually by the gummy bears. I have to admit, they are pretty tasty!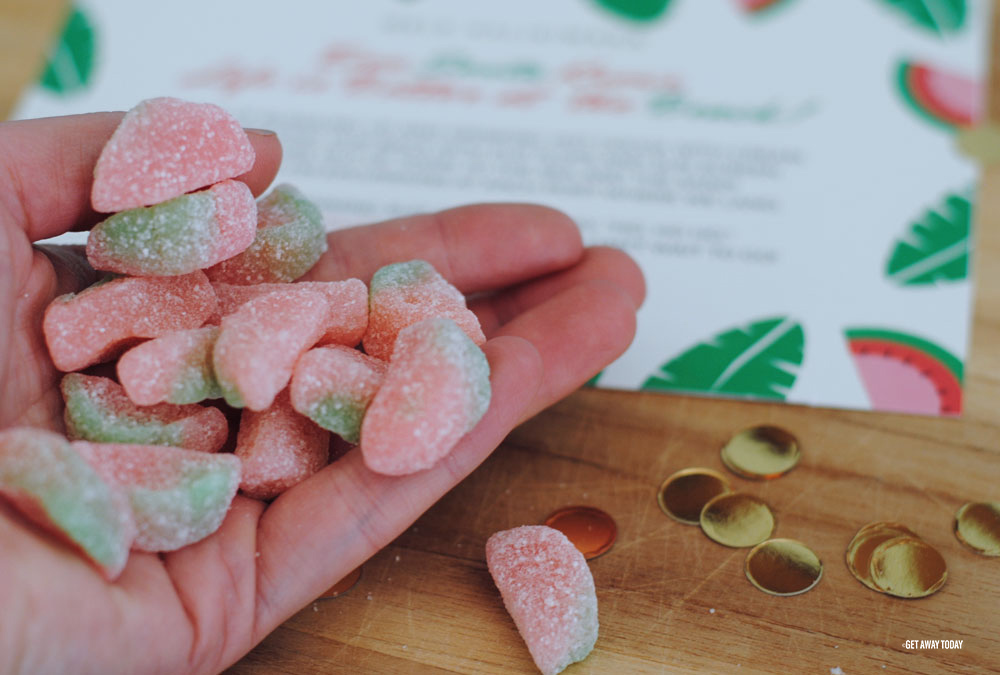 Don't they look cute? I thought it was a great combo. Put the candies in a festive little Christmas box or fill a small mason jar with the watermelon treats. Or, you could leave a little trail of candies through your house and have your kids follow the path to the printable...if you want a little action and adventure with your Christmas Cruise Vacation Surprise!
If you want a little bit bigger of a gift offering, place the card into a whole basket of watermelon themed items. Things like fruit drinks, bubble gum, smelly good spray, sunglasses, and pink and green nail polish would all be fun to use. You can be creative with it!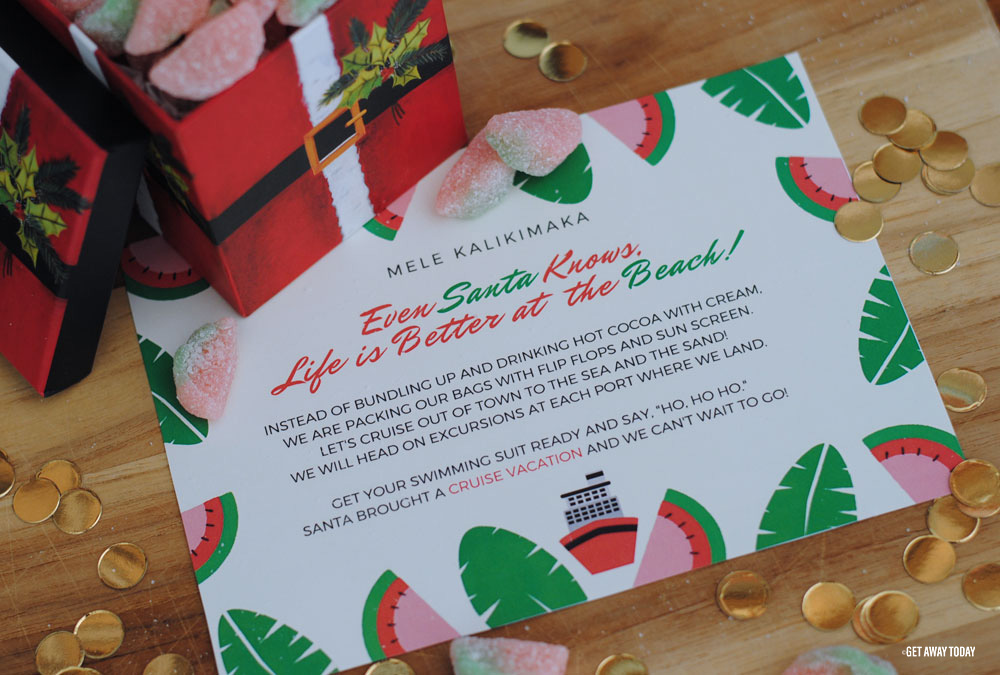 I hope you have fun surprising your family with a cruise vacation this Christmas! Family vacations make the most magical memories, especially when you are enjoying the sea and the sand. Santa will approve.
If you haven't already booked your Christmas cruise vacation, you can shop on our site. Or, call any of our cruise experts at 877-510-2929. We can't wait to help you have the most memorable Christmas morning yet!