Thinking of a surprise LEGOLAND vacation for your family? Use our free LEGOLAND vacation surprise printable to help. Your family will need to decode the secret message using the accompanying LEGO character code to reveal their trip!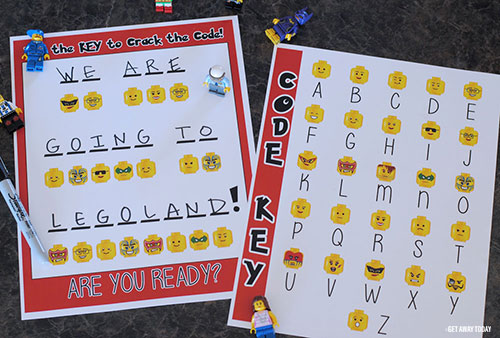 LEGOLAND California is such a fun place to visit. It is a perfect theme park for young children. There is so much to see and do beyond riding the amusement park rides. There are free play parks and playgrounds, dance parties on the lawn, building stations, yummy picnic areas, a whole LEGO village to explore and more. LEGO fans will say everything is awesome at LEGOLAND!
If you're planning a surprise LEGOLAND trip, use this free LEGOLAND vacation surprise printable. It will let your kids be the awesome detectives they are! Put their secret message skills to use with this LEGOLAND vacation surprise. It is a free printable message that is written in LEGO character head code. Let your kids use the special code to decipher the vacation reveal hidden in the message. The character heads are all unique and the printable pages are free for you to use!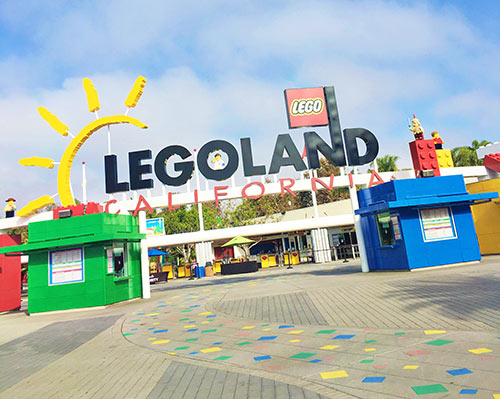 This LEGOLAND vacation surprise is inexpensive to produce and only takes moments to print. Build awesome adventures together as a family from the very beginning of your LEGOLAND adventure with this festive trip surprise.
The coded message is also really easy to use, making it perfect for families of all ages. Start by downloading the two files to your computer. You can find them below:
LEGOLAND Vacation Surprise Message Printable
LEGOLAND Vacation Surprise Key Printable
The first file contains the secret vacation message to decode while the second file has the LEGO head code to use. Print both. If you have color ink then use that! It makes the pages more fun. Then let your family decode the message and reveal their LEGOLAND vacation surprise.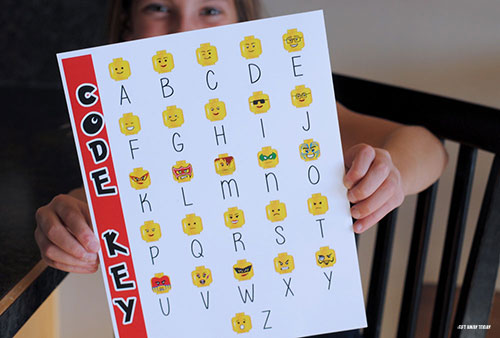 Each LEGO character head on the code key has a unique letter of the alphabet that it represents. The letter is shown just below the head. In the image here, the letter "L" is associated with the LEGO head that has a man with a red mask that has white dots around the edges. Aren't they all so fun? I love LEGO faces.
Let your little detectives fill in the blank spots on the secret message with the right letters.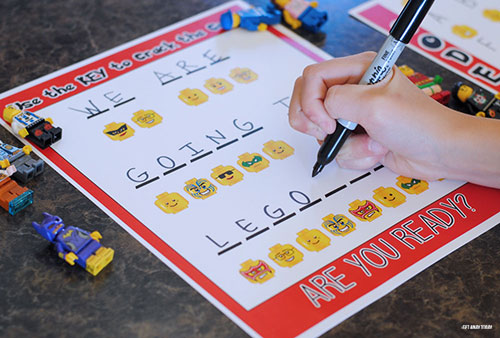 Once all of the letters are in place, the LEGOLAND vacation surprise reads, "We are going to LEGOLAND!" You could add some additional information on the back of the paper about when you are leaving and for how long.
If that sounds too easy for your detective kids, you can easily add to this LEGOLAND vacation surprise. One idea is to cut the key code into 26 separate pieces. Then, hide those pieces throughout the house and send your family on a scavenger hunt. Another idea is using the key code to create your own message – maybe even with more details on the trip (when do you leave, for how long, etc.). The best part is that it's up to you; the LEGOLAND vacation surprise can take as much or as little time as you would like.
You'll be starting your LEGOLAND vacation off right when you use this free printable. And, if you haven't booked your LEGOLAND vacation, we can help with that. Get Away Today offers discount LEGOLAND tickets, reduced rates for Carlsbad hotels and all kinds of LEGOLAND crafts to get you excited for your upcoming vacation. Book any of our LEGOLAND packages online or give our travel experts a call at 855-GET-AWAY.

Check out more LEGOLAND fun: