Find out how to have a fun time at Disneyland on your birthday. Then, celebrate the occasion by making our easy copycat Black Tap Milkshake!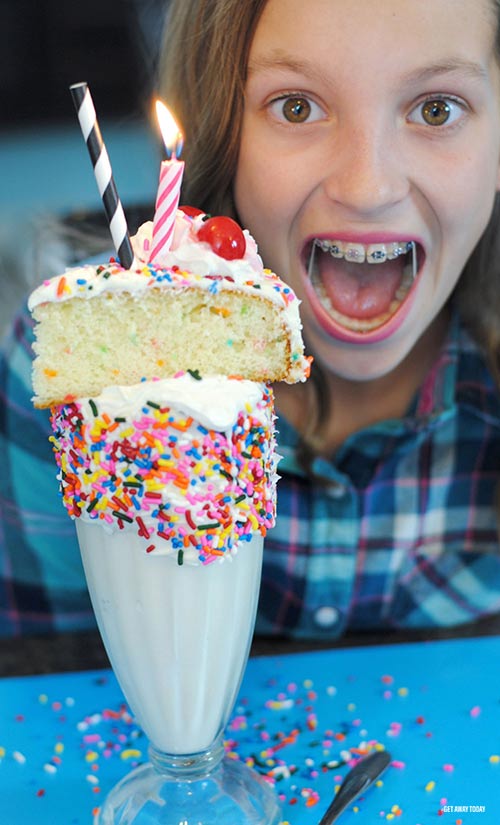 My family is lucky enough to be traveling to Disneyland this year on my husband's birthday. I can't think of a better place to spend a special day than Disneyland. What's better than the Happiest Place on Earth? I have been looking into festive ways to celebrate at Disneyland and thought it would be fun to share them here with you.
First of all, one of my favorite restaurants of all time is coming to Downtown Disney in 2018. It is called Black Tap Craft Burgers and Beer. Don't let the not-so-family-friendly name fool you folks, this New York based restaurant is best known for their amazing and crazy milkshakes! Their (WAY) over the top milkshakes are almost as fun to photograph as they are to eat. Black Tap is creating some special milkshakes for their Disneyland location that I am sure will be on everyone's Disney vacation bucket list. I can't wait!
If you are looking for a fun place to celebrate at Disneyland and will be visiting in winter of 2018, make sure to stop at Black Tap Craft Burgers and Beer. One of the most popular milkshakes on the menu has a huge slice of birthday cake placed right on top of the milkshake. It is cake and ice cream at its finest.
I thought it would be fun to make this at home to get us in the mood for celebrating my husband's birthday at Disneyland. I've seen hundreds of delicious food photos on Black Tap's Instagram feed over the past few years and I figured, why not give it a shot?! Here is a tutorial on how I made my copycat Black Tap Milkshake.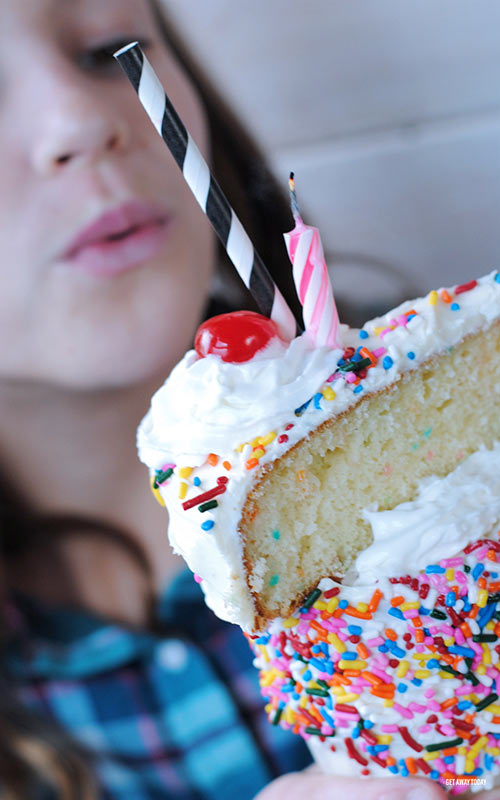 Copycat Black Tap Milkshake Recipe:
Milkshake Glass
Vanilla Ice Cream
Milk
One Baked Round Confetti Cake
Vanilla Frosting
Colorful Sprinkles
Whipping Cream
Maraschino Cherry
I was in the ice cream isle at the grocery store a few years ago and I happened to run into a nice gentleman who claimed to be an ice cream expert. He worked for an ice cream manufacturing company and had been making ice cream for over 40 years. He shared a little secret with me that I am now passing on to you! This is the secret...cheap ice cream is whipped full of air. What?! According to our ice cream expert, ice cream makers whip air into the product to save money on ingredients. So, if you are planning to make milkshakes, buy quality name brand ice cream. You will get more milkshakes per carton of ice cream because it doesn't have as much air whipped into it. Which means you'll potentially save since you'll be able to make more milkshakes per carton. The more you know!
You can buy festive milkshake glasses on Amazon. They are a must for the copycat Black Tap Milkshake recipe as presentation is half the fun.
To start your copycat Black Tap Milkshake, bake a confetti cake. I put the batter in two 8-inch round cake pans.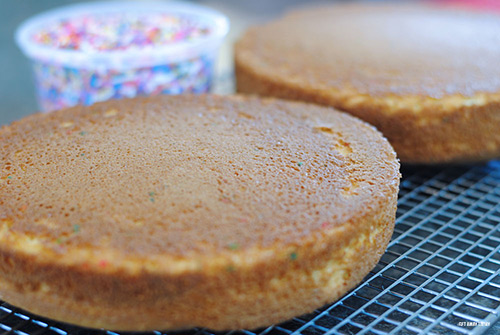 Let the cakes cool on a rack until they are room temperature. I used one of the cakes for the milkshakes and froze the second cake for another time! Frost the cake with vanilla frosting.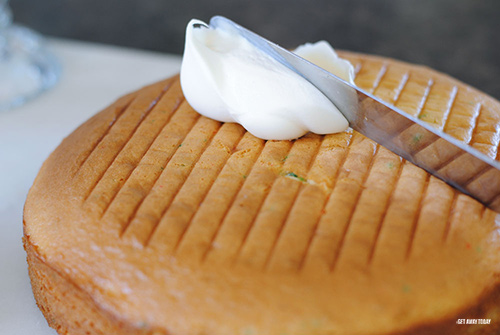 Then, cover the frosting with colorful sprinkles! You can go crazy with the sprinkles.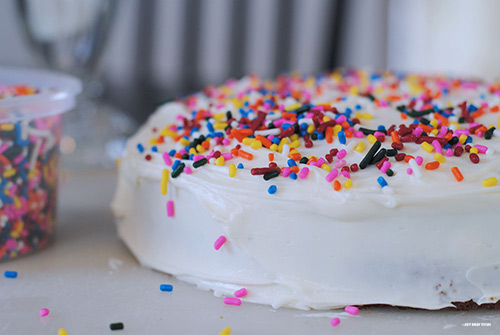 For the next step of your copycat Black Tap Milkshake, frost the top 2 inches of the milkshake glass with vanilla frosting. You'll want to apply it nice and thick.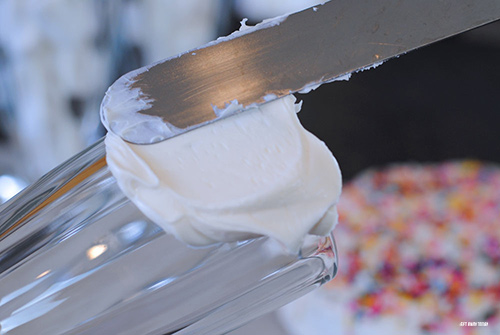 Roll the frosted glass in a plate of sprinkles.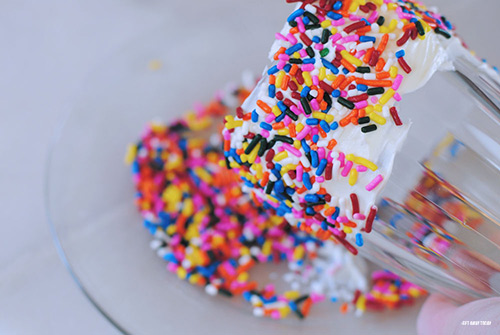 If you are making multiple milkshakes, then you will repeat this process for each milkshake glass. Don't you think it makes them so fancy!?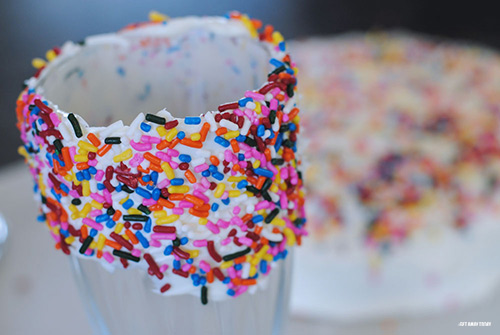 Prepare the copycat Black Tap Milkshake in a blender. Place about 4 giant scoops of ice cream into the blender with 1/4 cup of whole milk. Blend it together until the ice cream is smooth and thick. Pour the milkshake into the fancy glass.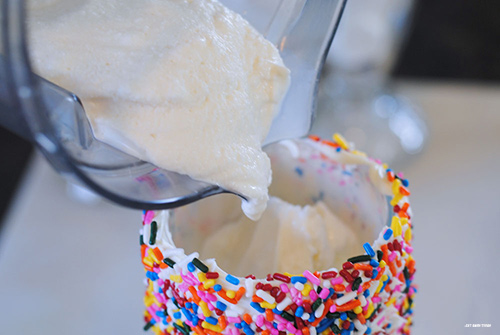 Swirl a layer of whipping cream on the top of the milkshake. Then, add a slice of birthday cake to the top.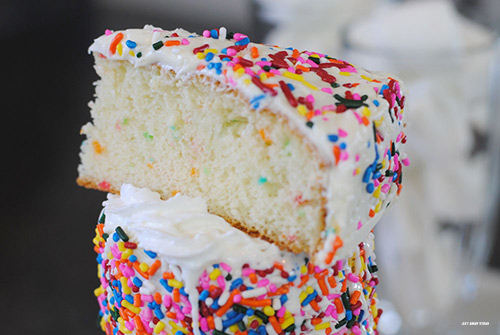 Once the cake is balanced on top of the glass, add a little spot of whipped cream to the top of the cake and finish it off with a decorative cherry!
Stick a straw through the cake all the way down into the yummy ice cream.
I added a candle, so we could make a special birthday wish. I wished for more copycat Black Tap Milkshakes!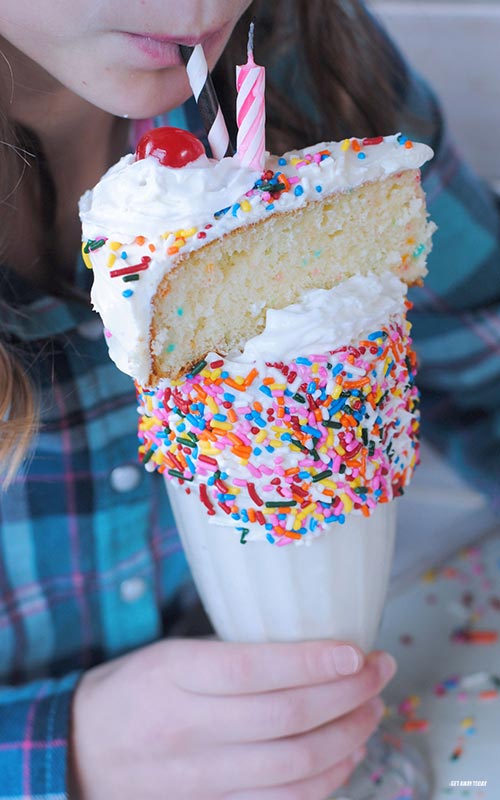 Now, I know you are going to want to try one of these amazing shakes at Black Tap once they open in Downtown Disney this winter. In the meantime, you can make your own copycat Black Tap Milkshake at home. Or, celebrate your birthday in Disneyland with these fun ideas:
You can get a free Disney birthday button from either Disneyland's City Hall, Chamber of Commerce in Disney's California Adventure or almost any shopping location within the parks. You do not need to provide any proof that it is your birthday. So, technically, you could celebrate your birthday at Disneyland any day of the year! Also, there are no age limits. So, even the oldest members of your family can grab a button.
Many of the Disney characters and Cast Members will give you special birthday greetings if you are wearing a birthday button. If you have an autograph book, they may even write you a special birthday message. That would be a pretty fantastic birthday souvenir!
The musicians and performers might even give you a special birthday song. Show off that birthday button and wait for a happy serenade.
One of the most popular traditions is to reserve Character Dining experiences for the special day. I have tried several of the Character Dining locations and they have all been so magical and memorable. The staff makes the experience even more special if you let them know you are celebrating a birthday or other big event!
Do you have any other fun ideas for celebrating at Disneyland? Make sure to check out 5 things you need to do during your birthday at Disneyland here.
If your ready to plan your next birthday bash at Disneyland, let Get Away Today help. Our discount Disneyland tickets and reduced hotel rates make a trip affordable, meaning you'll have more birthday money to splurge on special souvenirs or enhanced experiences. Book any of our Disneyland packages online or give our travel experts a call at 855-GET-AWAY.

Check out more Disney-inspired recipes: