This delicious Mickey Mouse Beignets copycat recipe will help you create the perfect Disney treat for your family at home. They are just like the famous New Orleans beignets, but with a Disney twist.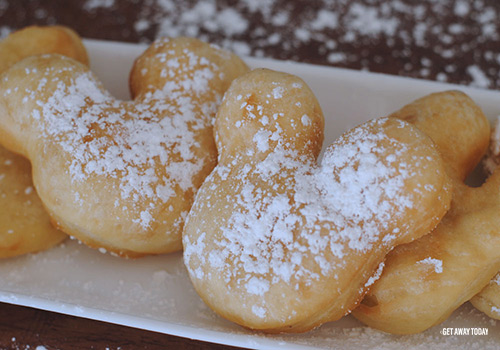 Thinking about a trip to Disneyland gets me all jazzed up. One of my favorite places to wander in the park is through New Orleans Square. The festive jazz music, romantic French Quarter and warm Southern hospitality make a visitor want to relax. It's always a treat to sip a Mint Julep and enjoy some time in the elegant South.
It really wouldn't be a true New Orleans without their famous beignets. I have been to the Cafe Du Monde in Louisiana and I can tell you that the beignets served there are melt-in-your-mouth amazing. There is a reason why the tasty French-style doughnuts are world famous.
Disney does not disappoint with their own festive version of the treat. You can find Mickey Mouse Beignets at the Mint Julep Bar or Cafe Orleans. At the Mint Julep Bar, the beignets are sold in bags of three or six. When you order the Mickey Mouse Beignets at the Cafe Orleans, you'll get to also choose either Vanilla Creme Anglais or Raspberry Coulis as your dipping sauce. I love the Raspberry Coulis as it reminds me of a jelly donut!
Make your own delicious Mickey Mouse Beignets at home with this copycat recipe. You are going to love how light and fluffy they are. Sprinkle a spoonful of confectioners sugar on top for a perfect Disney treat!
Mickey Mouse Beignets Copycat Recipe:
2 1/4 tsp active dry yeast
1 1/2 cups warm water
1/2 cup white sugar
1 tsp salt
2 eggs
1 cup heavy cream
7 cups flour (divided)
2 T soft butter
2 T coconut oil
dash of nutmeg
1 quart vegetable oil for frying
1/4 cup powdered sugar
In a large bowl, combine the yeast and warm water. You want the water to be pretty warm - I like to think of it simiolar to bath water temperature. Stir the yeast until it dissolves into the water. Let it sit for about ten minutes.
After it has sat for ten minutes, add the eggs, sugar, salt and heavy cream. Stir in all of the additions before adding four cups of flour. Blend the mixture until the batter for the Mickey Mouse Beignets looks smooth.
Next, add the butter and coconut oil. Most of the recipes I looked at for traditional New Orleans Beignets called for shortening. I don't like the taste of shortening so I replaced it with the combination of butter and coconut oil. They give the dough a nice rich flavor. The final product is still very light and fluffy, so don't worry about trading out the shortening. You could do just butter if you don't have coconut oil in your pantry. Blend the fats into the dough.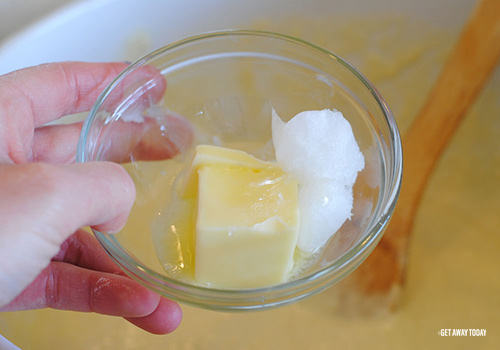 Add the remaining three cups of flour and a dash or two of Nutmeg. I love the hint of the spice in the dough. It is so tasty!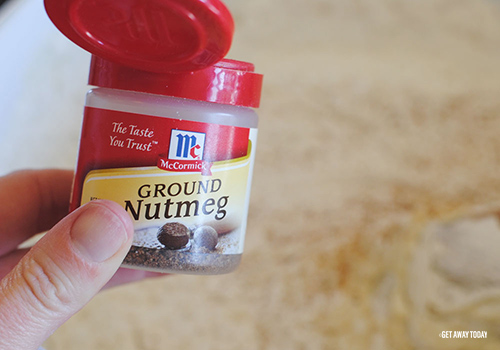 The beignet dough is supposed to be sticky. The sticky texture makes the Mickey Mouse Beignets soft and light when they are cooked. If your dough happens to be extremely sticky and won't form a ball at all, then add another 1/2 cup of flour. Don't add too much though!
Cover the dough and let it raise in the bowl for about 1 hour.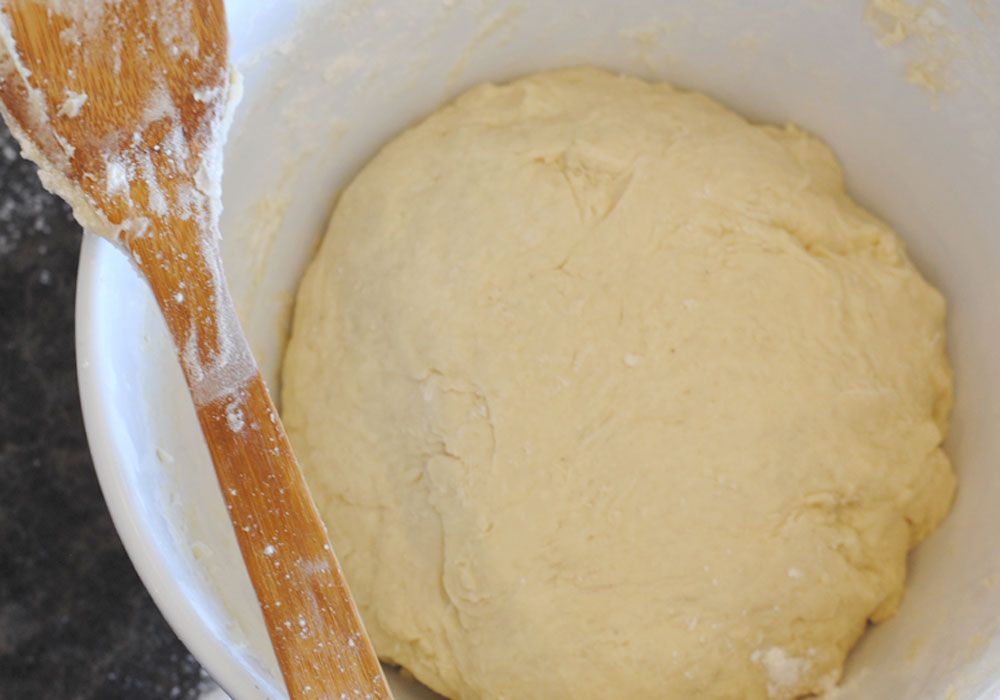 Place the vegetable oil into a frying pan and place it on your stovetop. You want the oil to be about 360 degrees Fahrenheit. I don't have a kitchen thermometer, so I will explain how to know when the oil is the right temperature without one.
Set the heat on your stovetop to medium. After about 5 minutes place the tip of your wooden spoon into the oil. If bubbles appear around the spoon, the oil is hot and ready. If no bubbles appear, wait a few more minutes and then try again. Do not turn the heat too high to rush the heating process. It will cause trouble in the long run.
While your oil is heating, divide the dough into two sections. Flour your countertop and place one of the dough balls onto the floured surface.
Roll the dough until it is about 1/8 inch thick. Use your Mickey Mouse cookie cutter to cut the dough into the iconic Mickey shape. Wiggle the cookie cutter around just a little bit when you are cutting to make sure you have all of the edges cut completely.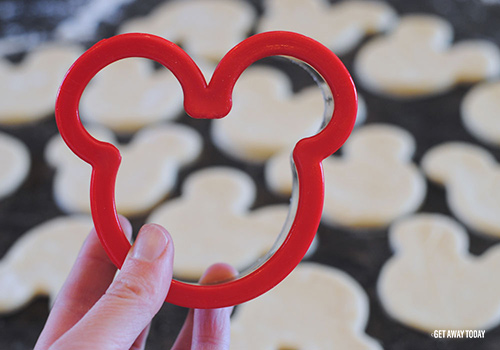 Carefully peel the Mickey shapes off of the counter one at a time and place them into the frying pan. Do not over crowd the oil pan. I like to cook three at a time. When the dough starts to turn golden brown, flip the shapes over to cook on the second side. I used Teflon covered kitchen tongs. Handle the Mickey Mouse Beignets carefully so you don't crack the dough. They are soft. It takes about 90 seconds to cook on each side.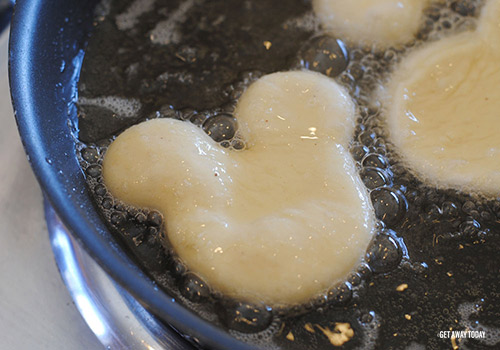 When they are finished frying, place the beignets onto a cooling rack to drip the excess oil. Serve warm. They are very best fresh out of the fryer.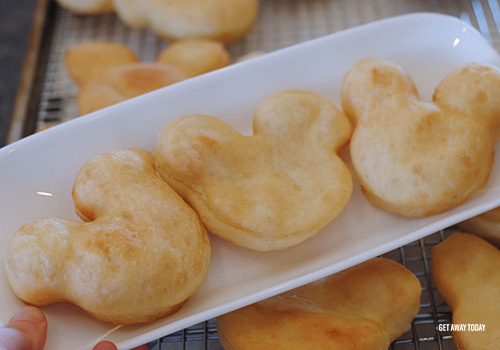 At the Cafe Du Monde in New Orleans they serve beignets nice and warm. Each table has a powdered sugar shaker, so customers can smother their treat in sweet powdery goodness. I recommend following their example. It is fun to shake on your own sugar! When I was there with my family a few years ago, we made a sugary mess on our table and we loved every second and every delicious bite!
You can also look to the Mint Julep Bar for inspiration on how to sugar your Mickey Mouse beignets. Just pour some powdered sugar into a paper sandwich bag and drop a few beignets in. Then, you can shake the bag all around to get perfectly sugared Mickey Mouse Beignets. This is a fun part to let your little ones help with - just remember to close the top of the bag before shaking!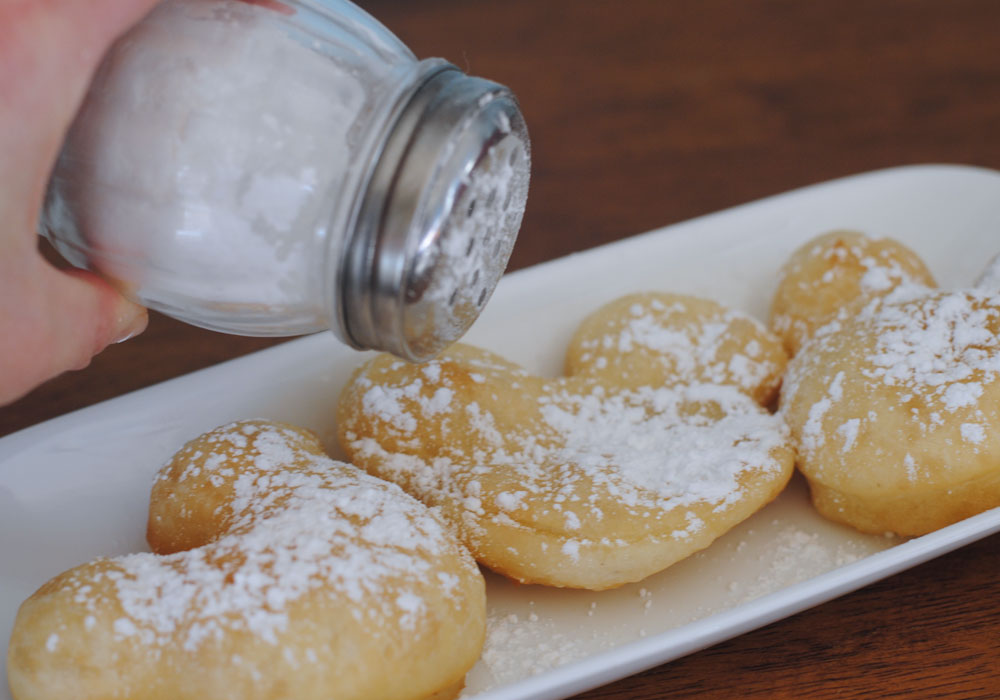 Disneyland even serves Mickey Mouse Beignets with seasonal flavors like gingerbread and peppermint. You could easily add a few drops of gingerbread or peppermint flavoring to these beignets to recreate those tastes. The Mickey Mouse Beignets copcyat recipe is a great way to bring some DIsney magic into your own home. There's something magical about enjoying the beignets in the park, so make sure to stop by the Mint Julep Bar or Cafe Orleans during your next stroll through New Orleans Square at Disneyland!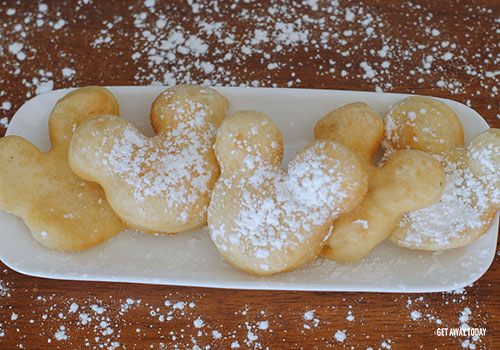 Speaking of your next trip to Disneyland, you can get the best prices and service when you book with Get Away Today. 2017 is the perfect year for a family vacation to Disneyland with all the new and returning attractions. You can book your
Disneyland package
online or by calling our travel experts at 855-GET-AWAY. We can't wait to help you plan your next "tasty" trip to Disneyland!