Make your own cold treats with this copycat Disneyland chocolate dipped waffle cones tutorial. Sprinkle on your favorite toppings to match any holiday or special occasion.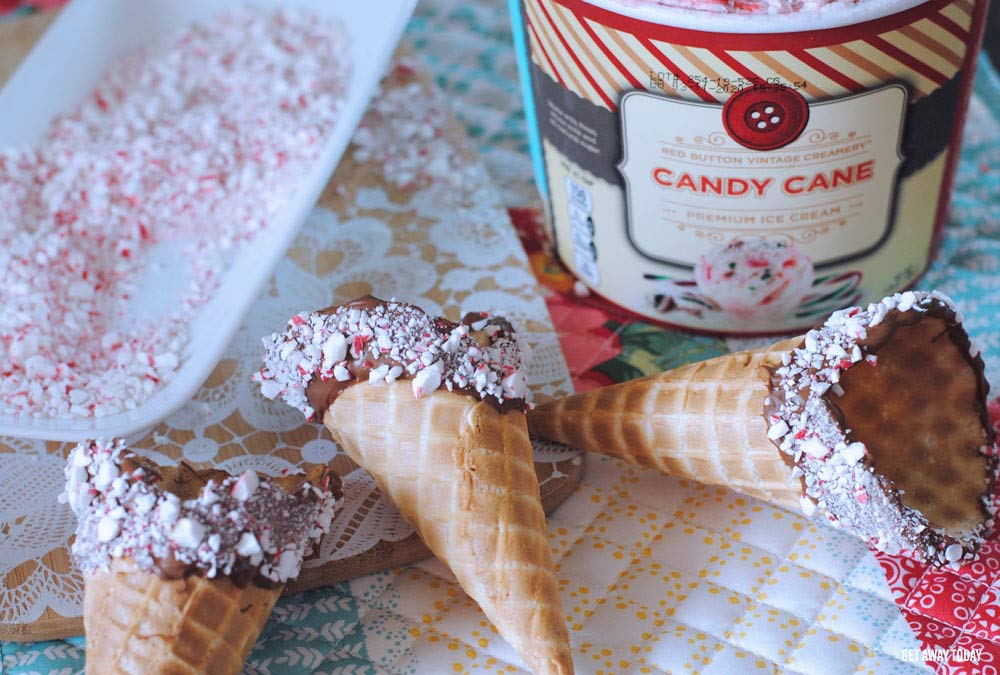 Do you want to know what I love about Disneyland? There are actually a lot of things that I love about the happy place, but I think I have finally put my finger on what makes it so magical. Disney takes everything just a step above normal or expected. They don't just pour sidewalks, they put glitter in the cement to make it sparkle! They don't just light beautiful fireworks. They time the fireworks to explode in syncopation with music and narration to tell a story.
Do they just offer you a creamy and delicious ice cream cone? Nope, not Disneyland. First, they hand dip the cones in melted chocolate and cover it with festive sprinkles. Then, they scoop in the ice cream. I think Walt really did understand how to make dreams come true. It just requires a little bit of imagination and taking that extra step.
During the holidays at Disneyland (going through January 6, 2019) you can enjoy delicious peppermint ice cream on Main Street USA. The seasonal ice cream comes in chocolate dipped waffle cones. These cones are covered in peppermint pieces. I thought it would be fun to dip some cones in my kitchen just to try it out. I am so glad I did. They are so yummy. And the process is so easy, even Cinderella's stepsisters could pull it off!
Copycat Disneyland Chocolate Dipped Waffle Cones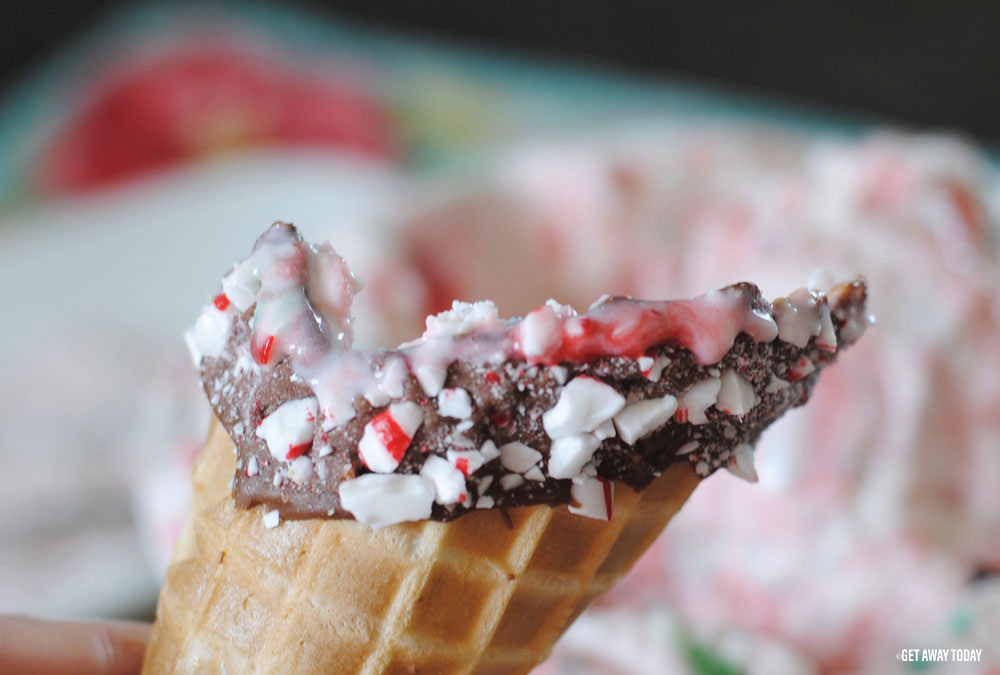 You will need:
Premium Milk Chocolate Chips
Microwave Safe Glass Bowl
To start your Disneyland chocolate dipped waffle cones, get a fresh box of waffle cones from the grocery store. I was pleased with the Keebler cones that I found. Open the cones and place them individually into short glass cups.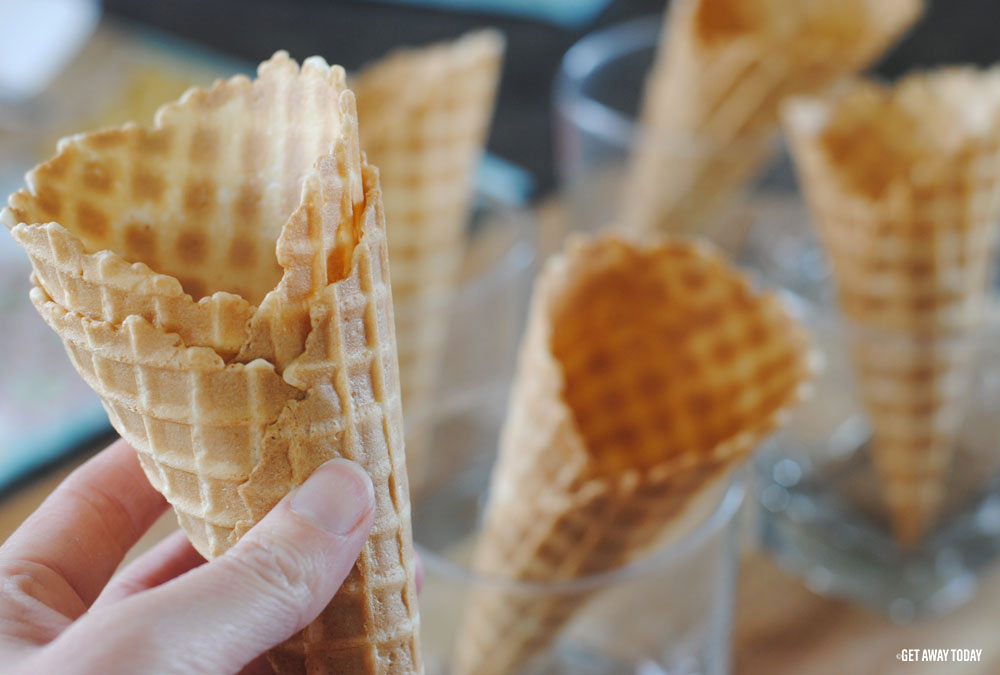 Next, get your toppings ready. If you are making the peppermint chocolate dipped waffle cones, then you will need candy canes. Other Disneyland chocolate dipped waffle cone toppings might include: sprinkles, crushed Oreos, colored sugar, graham cracker crumbs, candy pearls or any other crushable candy.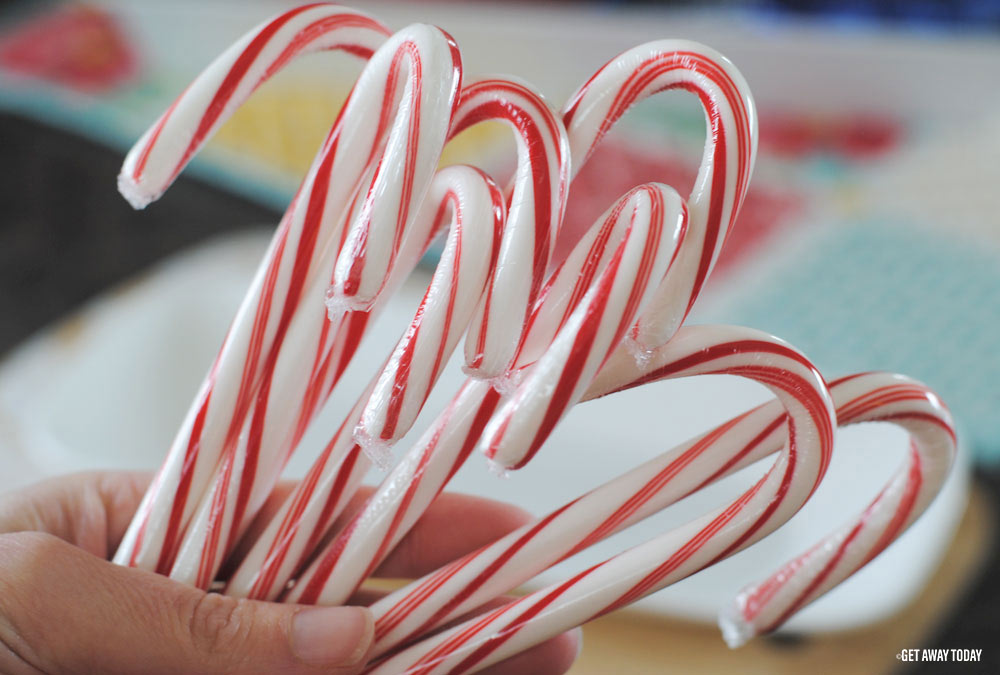 Unwrap about 5 candy canes and put them in the blender. Put on the lid - otherwise the little peppermint bits might come flying out at you. Blend the candy canes on low speed until they are cut into small pieces. Pour them into a small dish.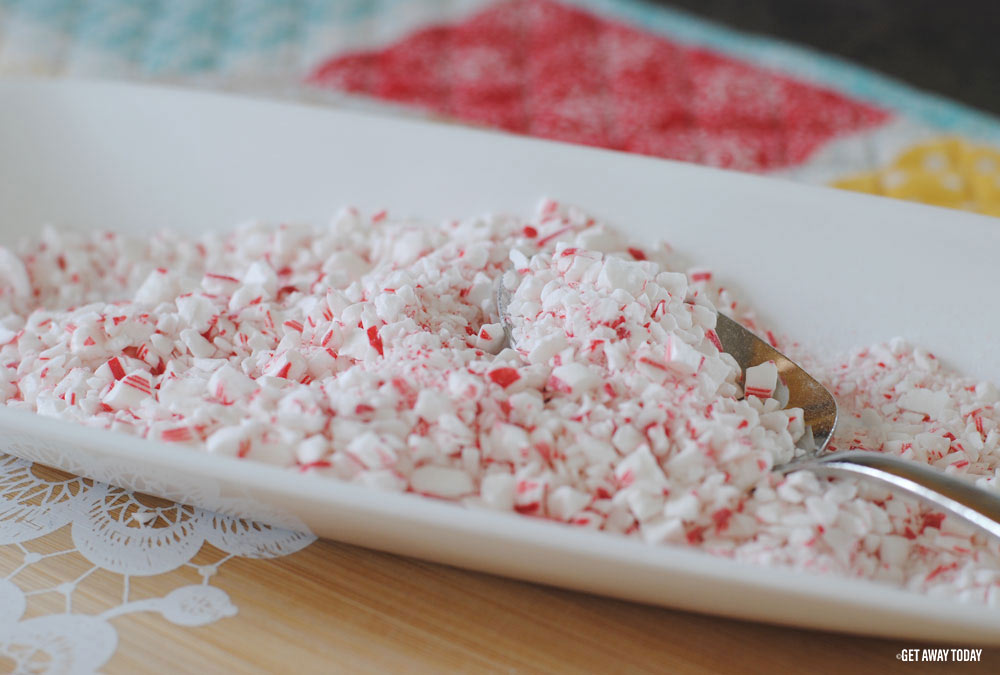 Then, get the chocolate ready to melt. I know it will feel tempting to buy the less expensive chocolate chips that are available, but resist. Get the really good ones like the Ghirardelli brand. They have less waxy filler and more quality ingredients. It helps make the chocolate melt better and tastes much more like the Disneyland chocolate dipped waffle cones we know and love.
Pour about half of the chocolate chips in a microwave safe bowl. Melt it in the microwave on about 70 percent power for a minute. Stir. If it needs a little bit more melting add an additional 30 seconds. Do not over melt the chocolate. It makes it hard and chalky.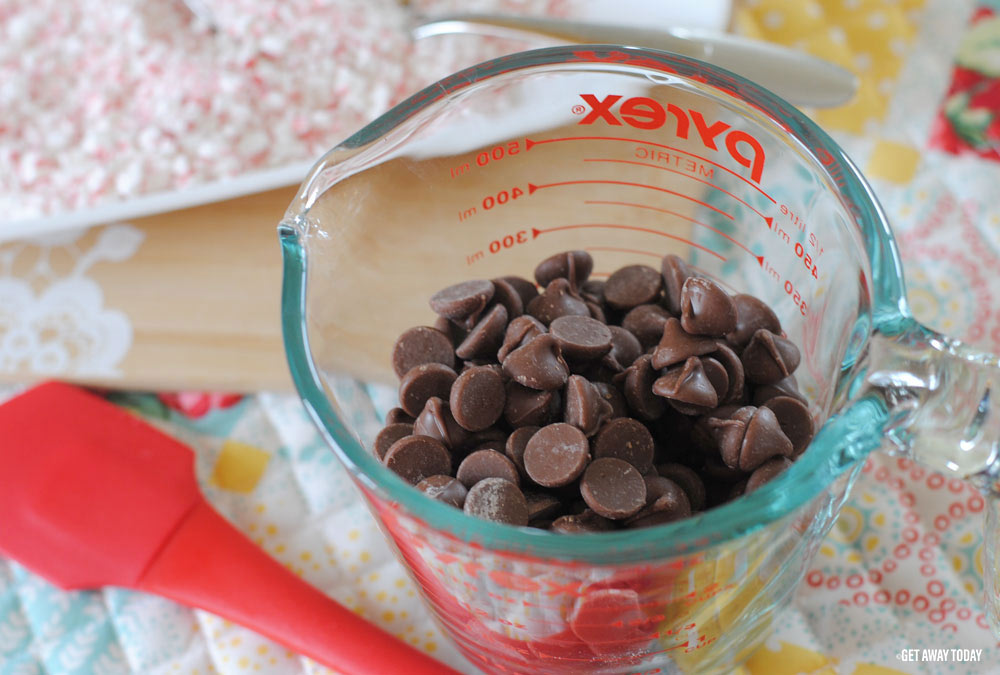 Paint the chocolate onto the top end of the waffle cone with a rubber spatula. I spread the chocolate about 1 inch down from the top of the cone.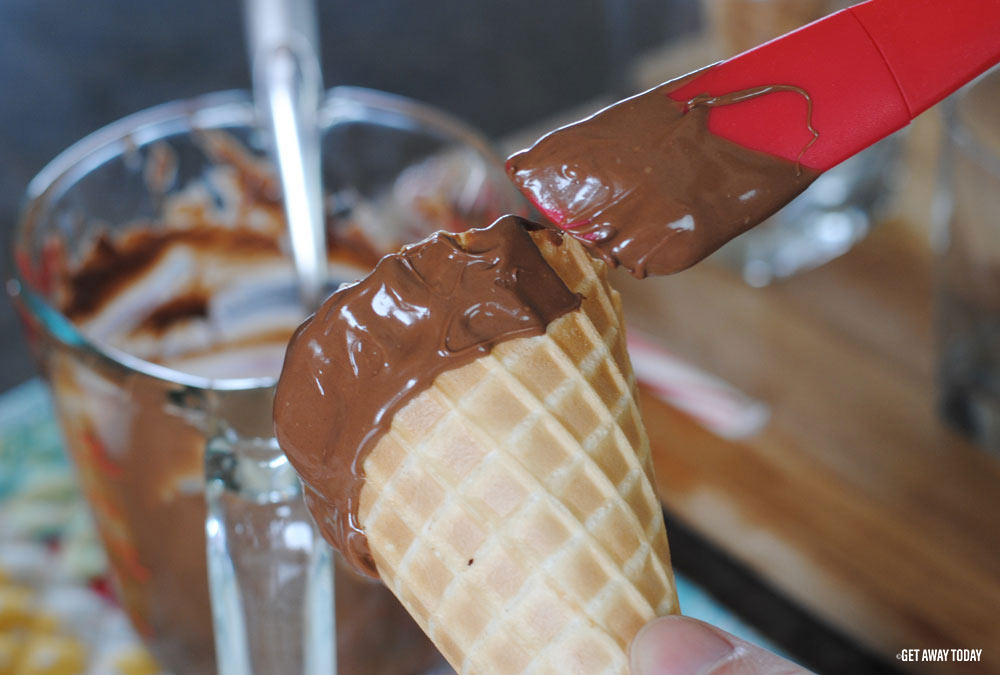 Immediately place the peppermint candies onto the chocolate. You may need to press it with the back of the spoon to get the candy to stick and hold in place. Then, set the chocolate dipped waffle cone back in the glass to set up.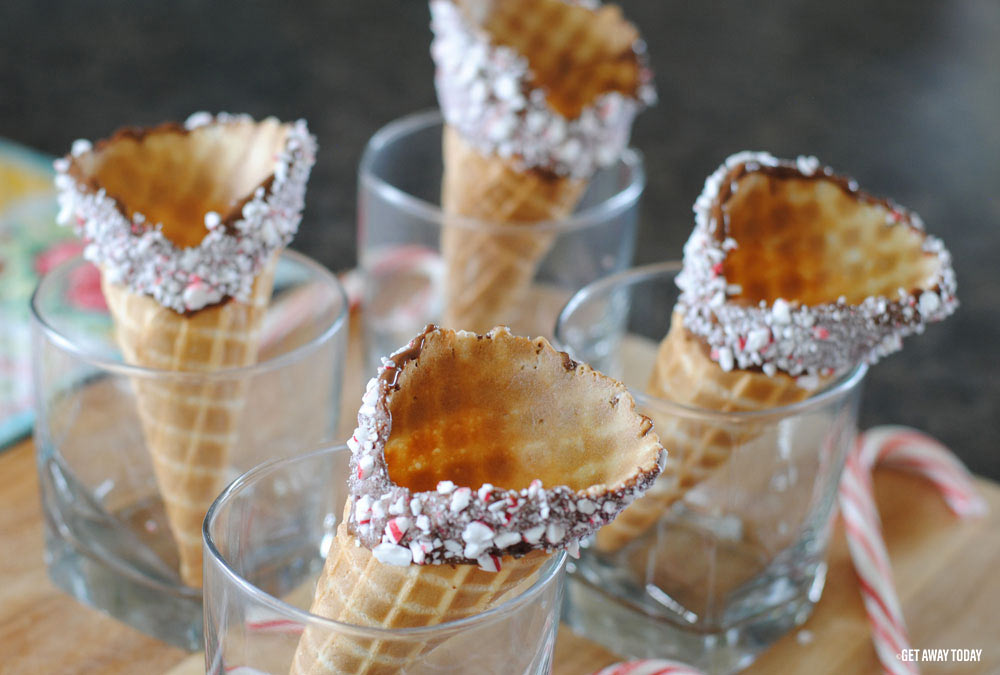 It only takes about 5-10 minutes for the cones to be ready for consumption. The chocolate sets up pretty quickly. Serve your holiday chocolate dipped waffle cones with peppermint ice cream...just like at Disneyland!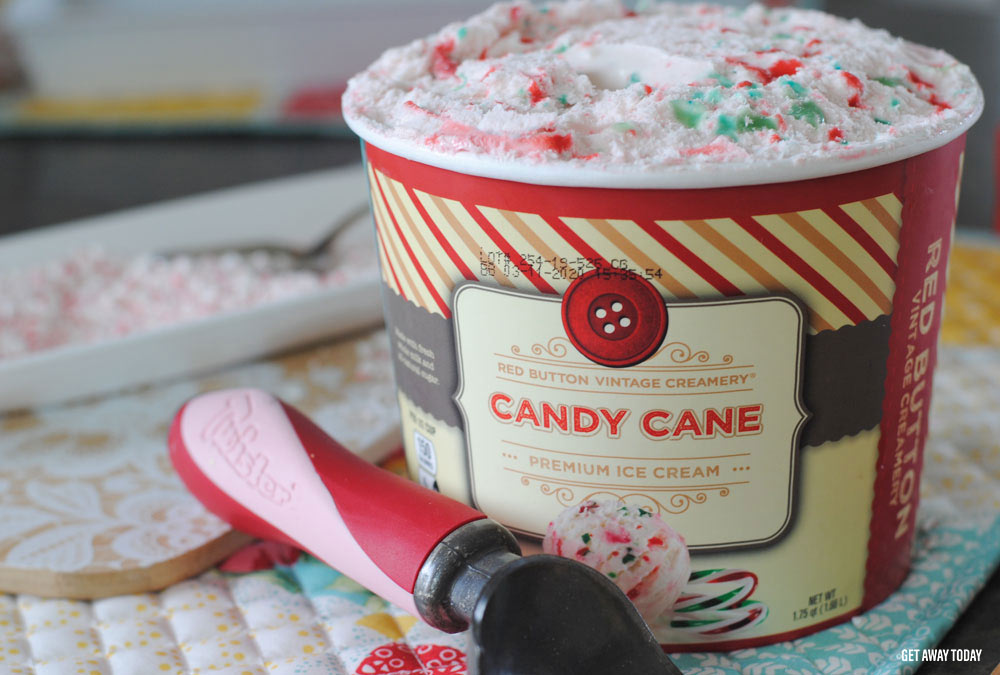 They don't hang around long enough to melt. I will guarantee that!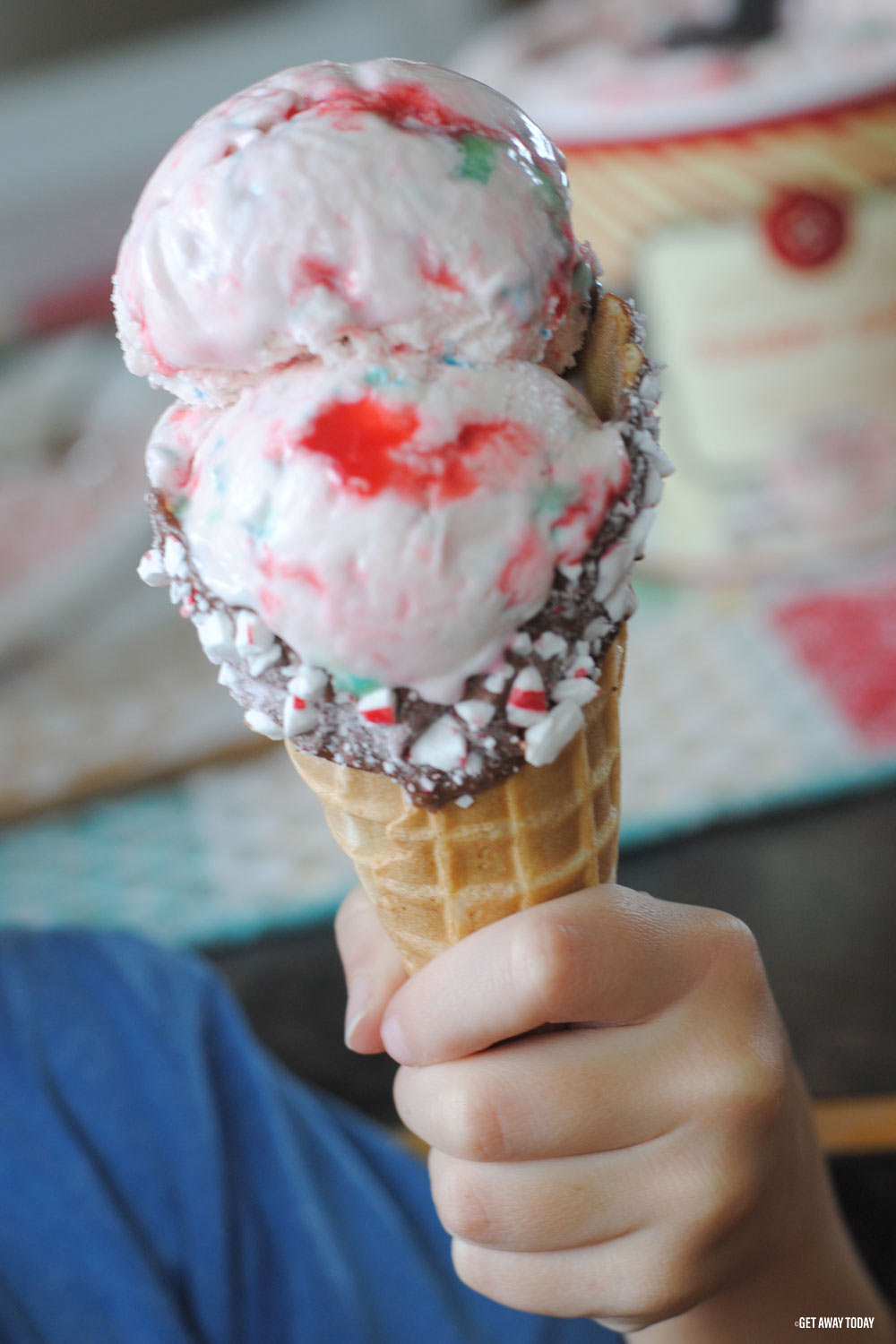 I can see myself using these copycat Disneyland chocolate dipped waffle cones for all sorts of celebrations. It would be darling to serve them at a birthday party or on the Fourth of July with some red white and blue sprinkles. The chocolate goes really well with the flavor of the waffle cone. I think chocolate is like a little black skirt. It can go with anything! Give it a try and let me know what you think in the comments below.
If you want to try the original version, you can book any of our Disneyland packages online or by giving our Disney experts a call at 855-GET-AWAY. Whether you're booking a last-minute trip to experience the Holidays at Disneyland this year or already planning for next year's holidays, we can help!