Bake your own warm gooey Jack-Jack Cookie Num Nums with this copycat recipe from Pixar Pier in Disney California Adventure Park. They are nothing short of incredible!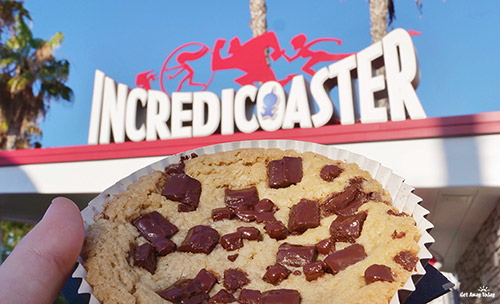 The new Incredicoaster is now open with Pixar Pier at Disney California Adventure Park. The re-imagined California Screamin' rollercoaster has been transformed into an exciting adventure with the Incredibles family. The attraction utilizes music, character voices, digital lighting and even smell to create a totally immersive experience.
If you have seen the new Incredibles 2 movie, you already know that Jack-Jack has powers. The only way to bribe the little super baby to come back from the other dimension is to offer Cookie Num Nums! Obviously, these cookies are magical. Disney has discovered how to make Jack-Jack Cookie Num Nums in real life and now offers them at Pixar Pier. You'll find the cookie cart at the exit point of the Incredicoaster, where smells of fresh cookies will lure you. Each cookie is sold warm with chocolate chip chunks just a bit melty. The cart also sells different kinds of milk, a perfect pairing for the sweet treat!
I decided we should all be able to bribe our kids to do things with Jack-jack Cookie Num Nums at home! So, here is a copycat recipe for you to use. Mr. Incredible would be so proud. Disney's cookies are served in paper baking cups so these ones are too. And while they aren't as giant as the ones in the park, that just means you can treat yourself to more than one. Are you ready to start baking?
Jack-Jack Cookie Num Nums Recipe
Ingredients Needed for Jack-Jack Cookie Num Nums:
1 cup butter, softened
3/4 cup white sugar
1 cup brown sugar
2 eggs
1 teaspoon vanilla
3 cups flour
3/4 teaspoon salt
3/4 teaspoon baking soda
8 oz milk chocolate chips
2 oz dark chocolate baking chunks
White baking cups
How to Make the Best Jack-Jack Cookie Num Nums:
Preheat the oven to 350 degrees.
Technically, this cookie recipe is one I got from my sister and I didn't change the ingredients in any way shape or form. Why? Because, it is the best chocolate chip cookie recipe of all time. Any time I take cookies to an event, I get swarmed for the recipe. It is seriously num num!
Start by combining the butter, sugars and eggs. Beat them together until they are smooth. Then, add the vanilla. Toss in the flour, salt and baking soda. Mix until incorporated. I like milk chocolate chips in my cookies. I have the refined taste buds of a child, so the sweeter the chocolate, the better! Add a half of a bag of milk chocolate chips. Sample. (Ok. I threw in that extra step just for the fun of it!)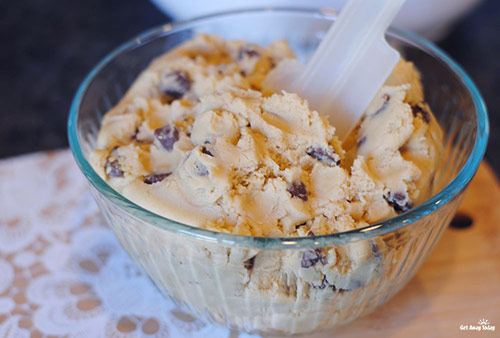 To officially be Jack-Jack Cookie Num Nums, these cookies need to have CHUNKS of chocolate in the dough. So, throw in a handful of dark chocolate baking chunks. I set some aside to sprinkle on top of the cookie too.
Line a baking sheet with white baking cups. This is the part of the process that is unique. Disney sells their Jack-Jack Cookie Num Nums in baking cups. The Disney version are substantially larger than the standard cups, so get ready for a big treat at the park! For mine, I decided to stick with normal cookie sizes.
I wondered why Disney used the baking cups when I first saw the cookies. Now I know! Baking cookies in liners makes them soft all the way around. There is no thin edge. It is amazing. If you have a child who won't eat "crust" then, these cookies are going to blow their mind.
Scoop the dough into the baking cups with a cookie scoop. Cookie scoops are so fun. My kids love pressing the little lever and watching the dough pop out. If you did want your cookies to be as big as the ones in the park, you could use bigger baking cups and put two scoops instead of one.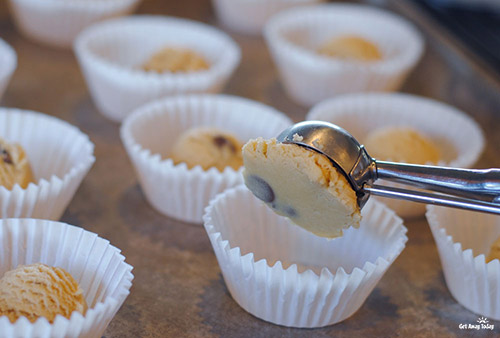 Once all the liners are full, the cookies are ready for action. Pop them in the oven and bake them for about 8-9 minutes. They take about one minute longer to cook in the liners than they do on their own.
When the cookies are ready, you can serve them right from the oven! The chocolate should be melty and warm. A cold glass of milk is recommended to balance out the sweetness.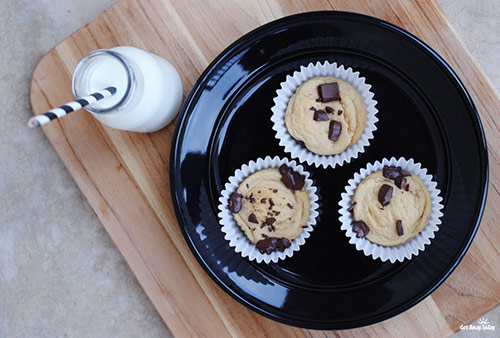 I hope you enjoy these incredible cookies! Make sure to follow your nose to Pixar Pier so you can enjoy the Jack-Jack Cookie Num Nums during your Disneyland vacation. You can begin planning your next trip to the Happiest Place on Earth with Get Away Today. Our discount Disneyland tickets, reduced hotel rates and expert tips promise both an affordable and magical time. Book online now or give our agents a call at 855-GET-AWAY. Then celebrate your newly booked trip with your own Jack-Jack Cookie Num Nums!

Check out more Pixar inspired recipes and crafts: