Bake a delicious copycat of the Disneyland Mint Chocolate Whoopie Pie with this fool proof recipe. The underlying mint flavor captures the magic of the Holiday Season and is a tasty twist to the classic Whoopie Pie.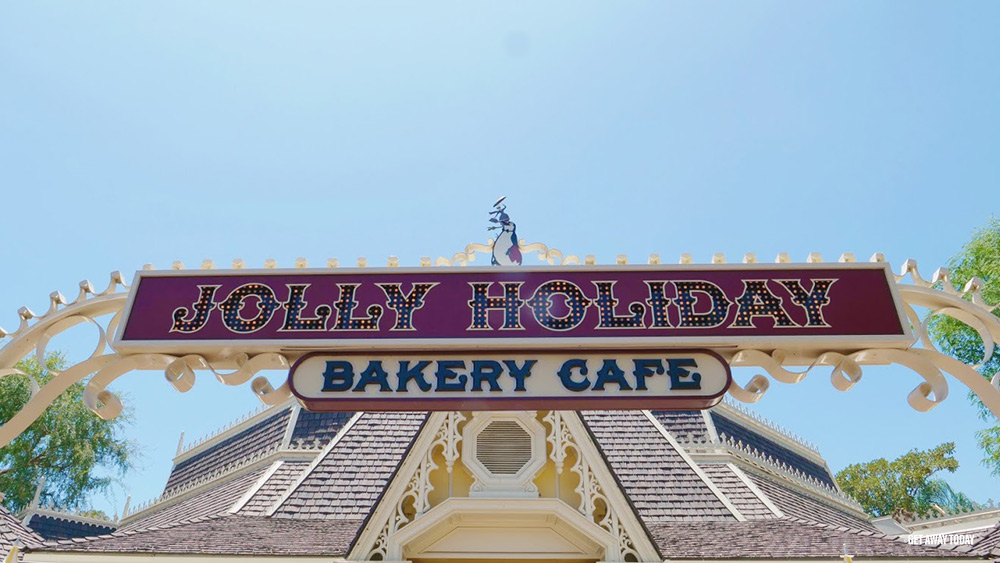 It is often said that Santa likes cookies, especially with milk. If you don't believe it, just take a look at the size of his round belly! These copycat Disneyland Mint Chocolate Whoopie Pies are on the top of his wish list this Christmas. You can make Santa extra jolly by baking up a batch of the sweet minty treats this year.
Whoopie Pies are a popular treat at the Disneyland Resort. If you happen to be traveling to Disneyland this holiday season, you can find Mint Chocolate Whoopie Pies at the Jolly Holiday Bakery. They are a special treat that only come around during the Holidays!
Our copycat Disneyland Mint Chocolate Whoopie Pies combine the magic of Disney and Christmas into one amazing dessert.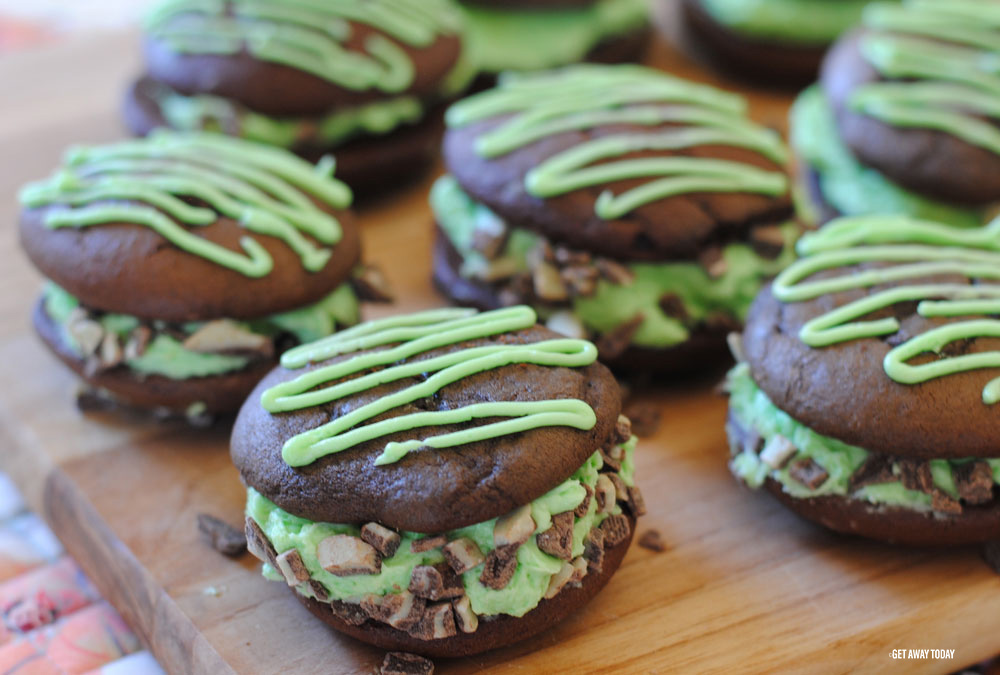 Copycat Disneyland Mint Chocolate Whoopie Pie Recipe:
Cookie Ingredients:
2 cups flour
3/4 cups cocoa
1 tsp baking soda
1/2 tsp baking powder
1/2 tsp salt
1 cup butter (2 sticks)
1 1/4 cups sugar
2 eggs
1 tsp vanilla extract
Mint Cream Filling Ingredients:
2 sticks butter
4 cups powdered sugar
1/2 cup whipping cream
1/4 tsp salt
1/2 tsp vanilla
2-3 drops peppermint flavoring
3 drops green food coloring
First, heat your oven to 375 degrees.
While that heats, make the cookie dough. There are a million recipes online for chocolate cake cookies. I like my tried and true recipe. It actually came from a bag of Reese's Pieces baking chips. I cut the recipe off the packaging and tucked it into my recipe book about 10 years ago. It hasn't been replaced and I don't expect it ever will.
Mix together all the wet ingredients. Add the dry ingredients and mix them all together until the dough is nice and creamy.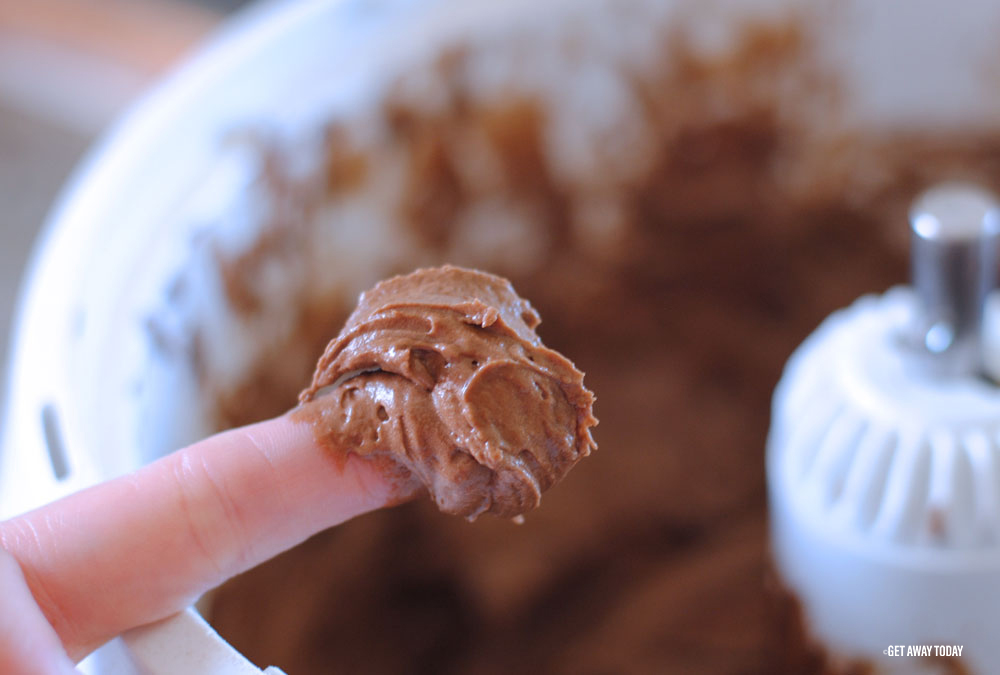 Scoop the chocolate dough onto a baking sheet. You can line it with parchment paper to make the cleanup nice and easy. It also prevents the cookies from sticking to the pan.
Bake the cookies for about 8-9 minutes. You want them to be a little bit firm. Normally, I like my cookies pretty soft. But, if the cookies are too soft, they break when you add the filling to your Whoopie Pies.
Take the baked cookies off the cookie sheet and let them cool on a wire rack.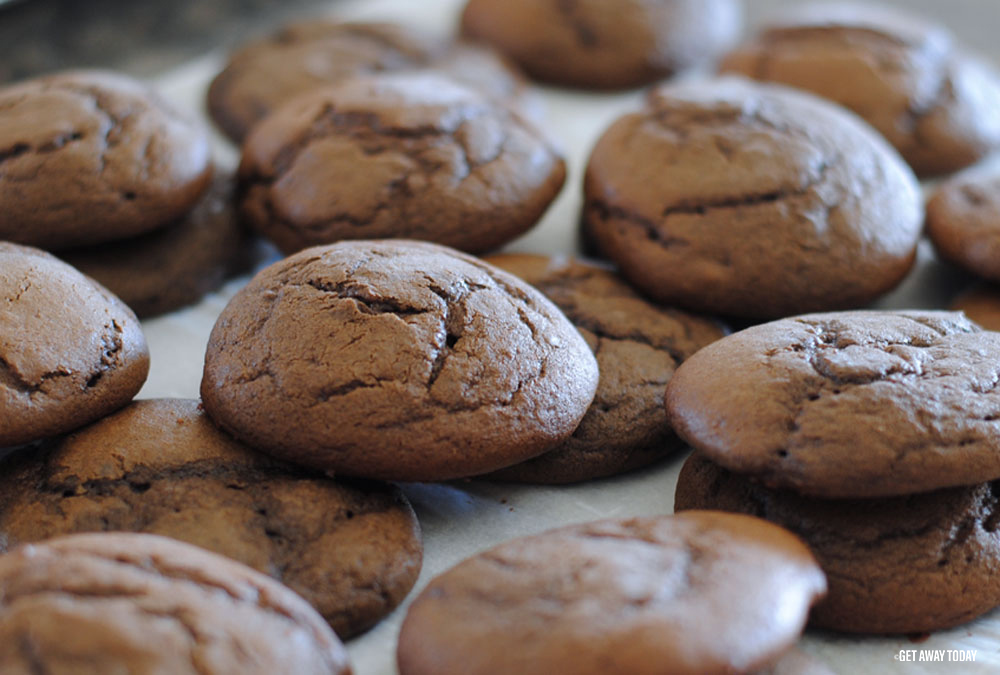 While the cookies are cooling, make the mint filling. The cookies themselves aren't terribly sweet. That's intentional – it's so the filling can be sweet instead!
Place 2 sticks of butter, 4 cups of powdered sugar, 1/2 tsp vanilla extract, 1/4 tsp salt, and 1/2 cup whipping cream into a bowl. Mix. Then add a few drops of green food coloring and 2-3 drops of peppermint flavoring. Continue to whip until the filling is nice and fluffy. You can sample a little bit to make sure the balance of flavors is right for you. Add more mint or more sugar if necessary.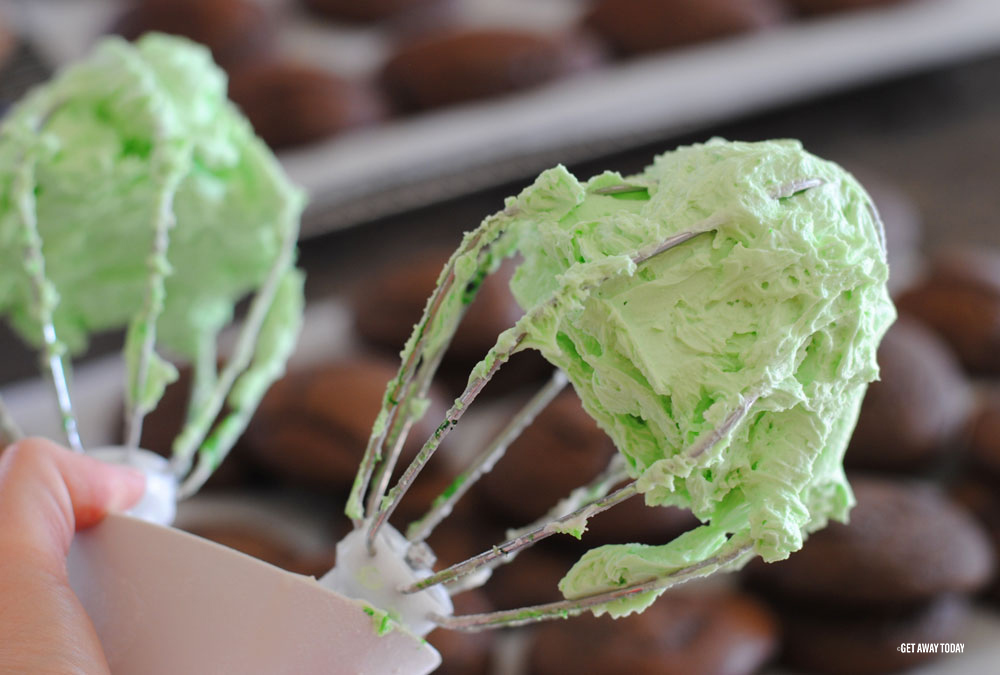 Once the cookies are cool, scoop a mountain of mint filling onto the bottom of a cookie. Spread the filling to fill the entire cookie bottom.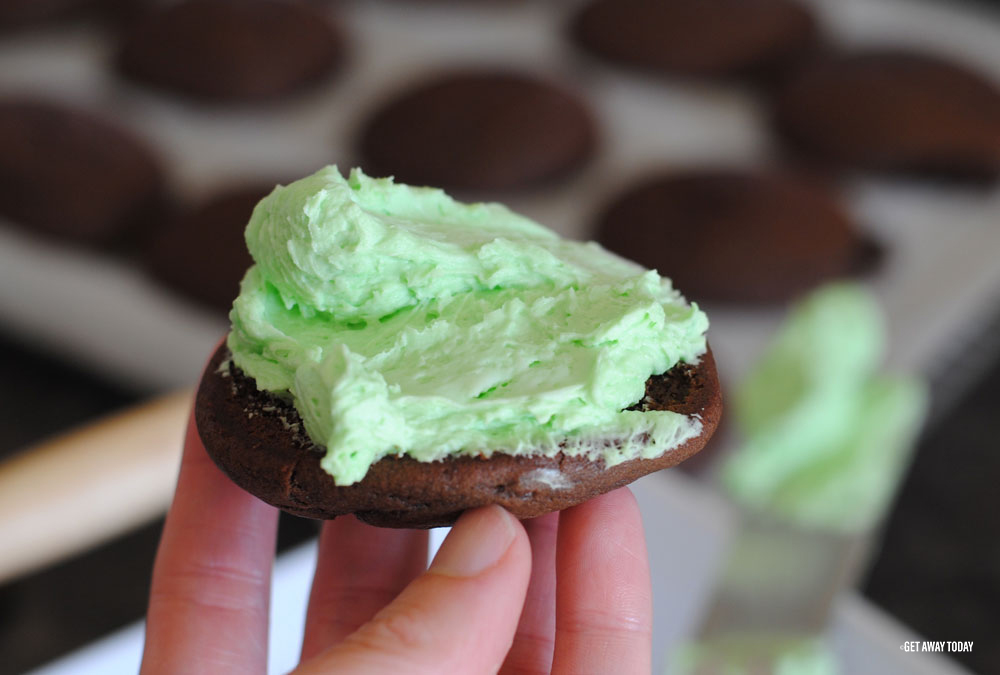 Then, place a cookie on top of the filling. Try to find a cookie that matches the size of the first. Doesn't it look tasty?! Keep filling and topping each cookie until you have a whole bunch of Disneyland Mint Chocolate Whoopie Pies.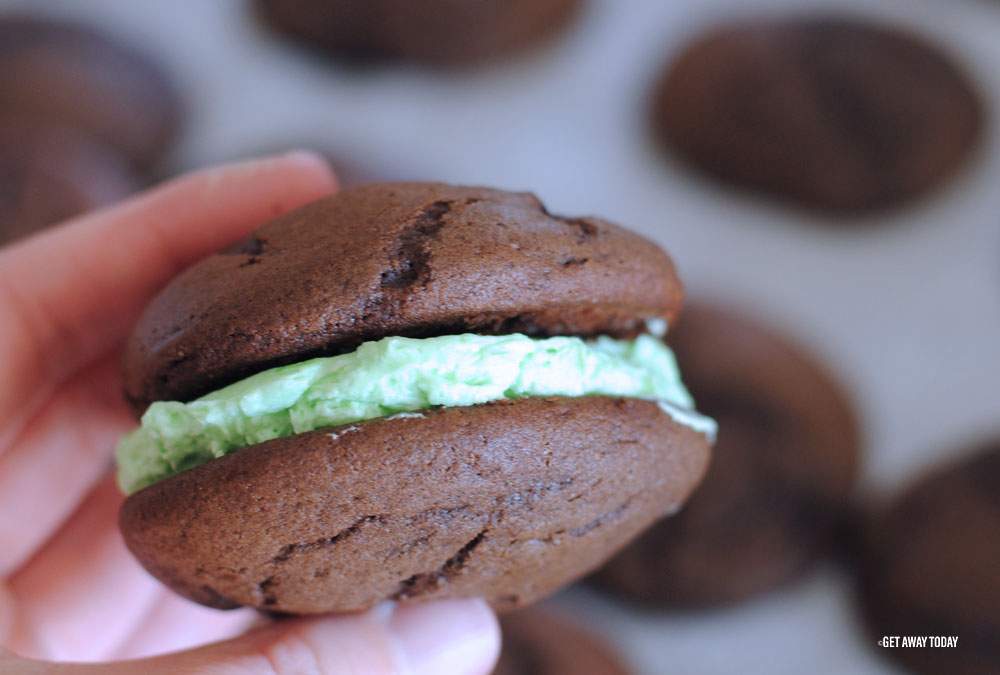 Put about 1/2 cup of the mint green filling into a frosting bag and fit it with a small circle tip. Decorate the tops of each Disneyland Mint Chocolate Whoopie Pie. Swirl the frosting across the tops.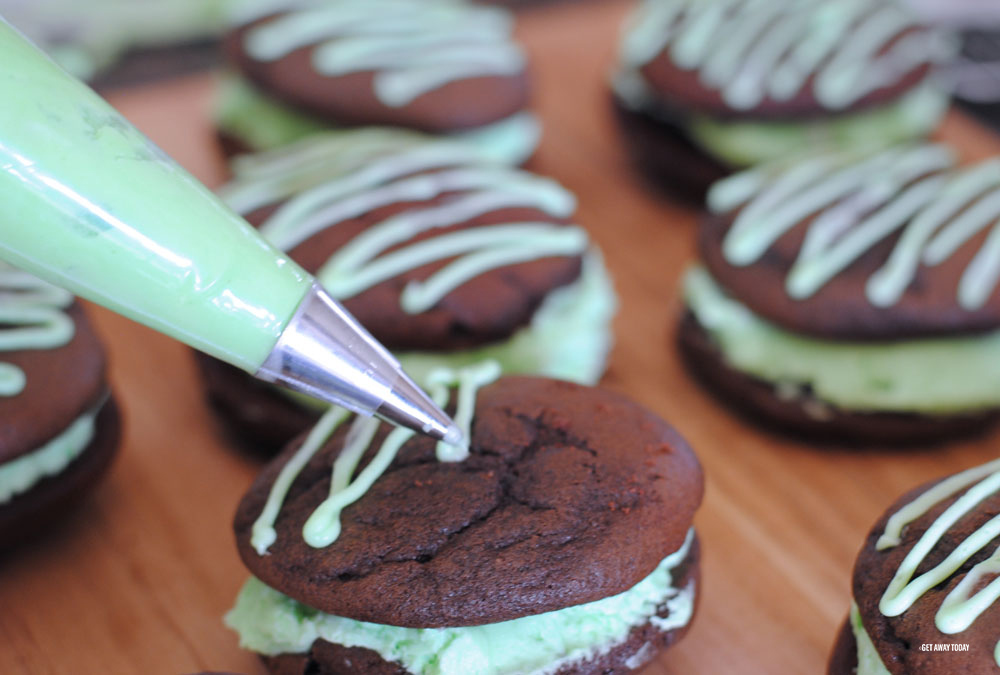 I decided that our copycat Disneyland Mint Chocolate Whoopie Pies needed a little bit of sugar bling. So, I rolled them in a pile of Andes Mint Chocolate Baking Bits. Disneyland doesn't do this, but I think they should. It is delicious.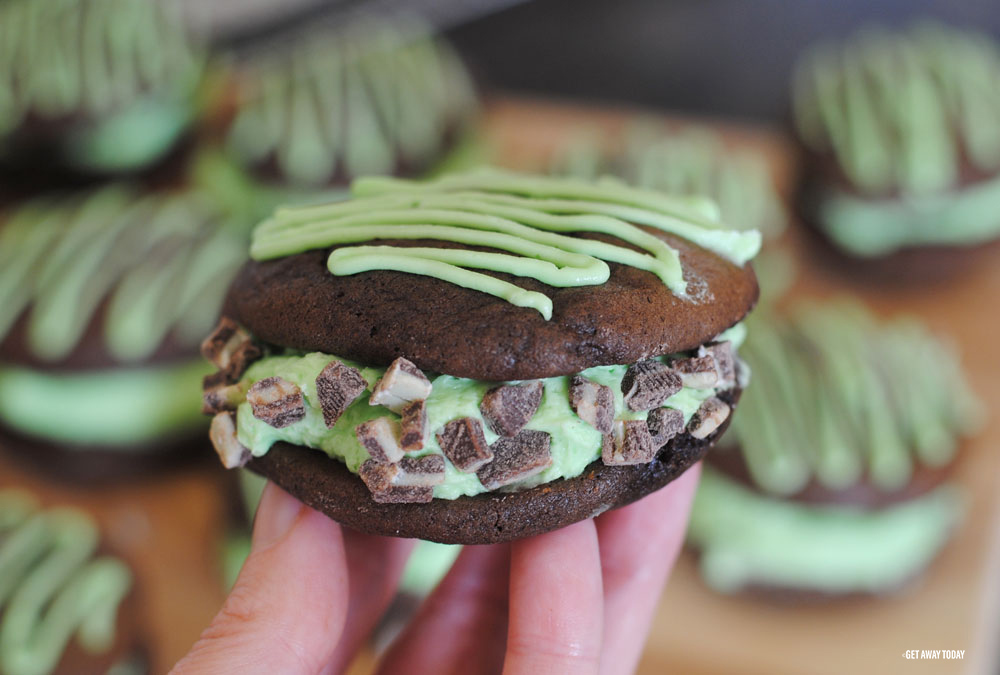 Make your Christmas season merry and bright with this Disney copycat recipe. We don't want to encourage bribes, but these Whoopie Pies might just help get you all the items on your Christmas List. Maybe even a trip to Disneyland!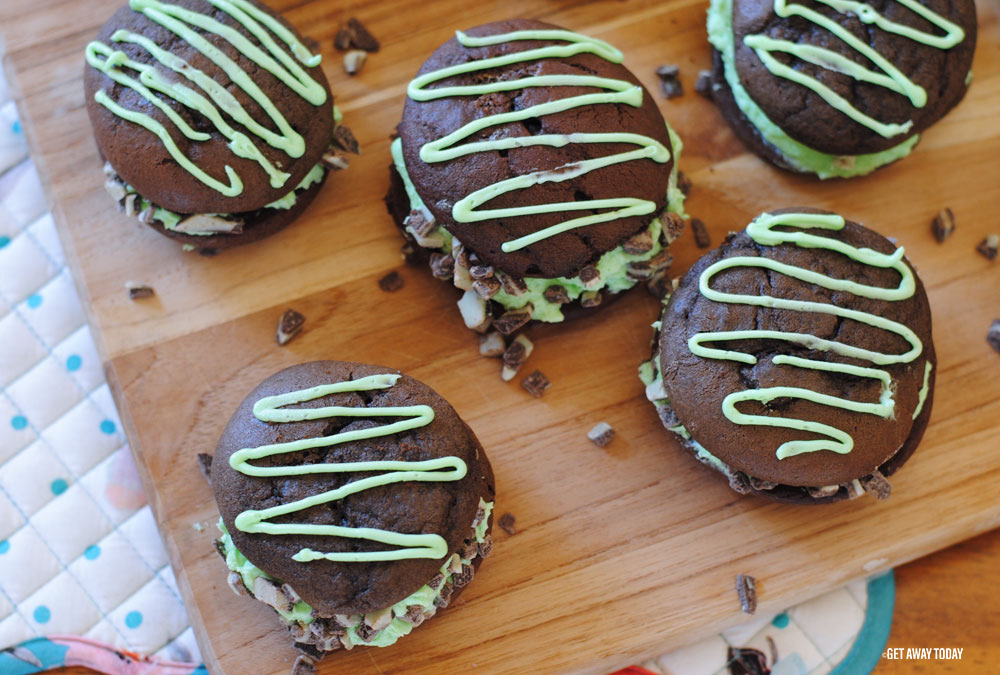 As with all baking, it is only proper to take a bite (or twelve) to make sure your goodies pass inspection. Sneak in a taste or two before you leave them out for Santa!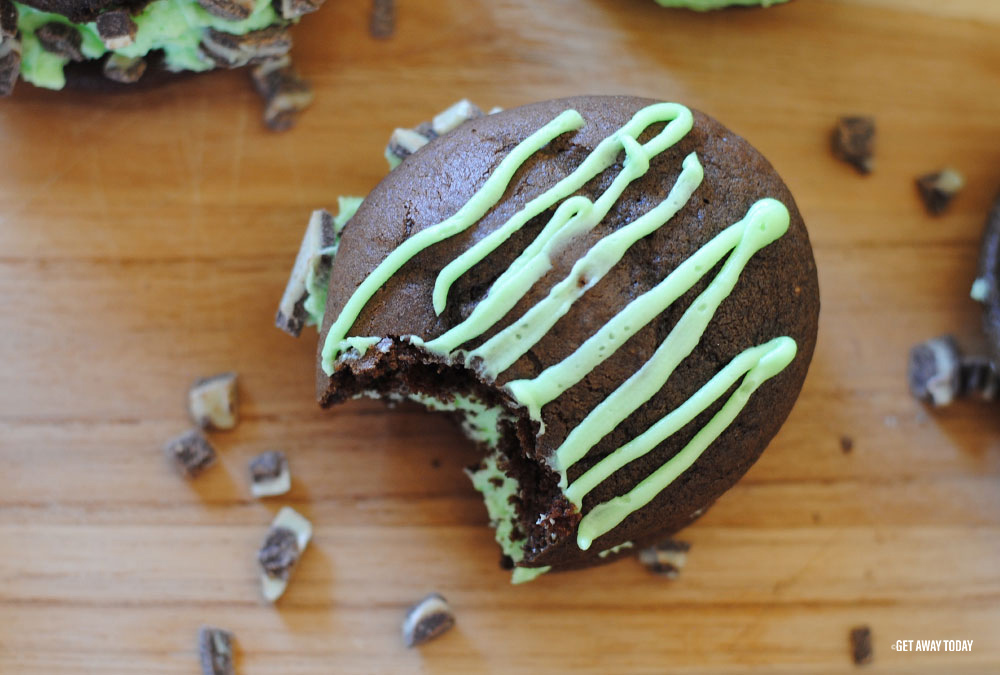 I hope you enjoy your holiday baking. What is your favorite seasonal treat to eat during the Holidays? While we love these Disneyland Mint Chocolate Whoopie Pies, we don't know if we'd be able to choose them over the special churros or Festival of Holidays treats. Let us know your favorite treat in the comments below.
If you're ready to head to Disneyland and give the original festive cookies a taste, Get Away Today is ready to help! We love the Holidays at Disneyland and have some fantastic specials to get you there this year. You can purchase our discount Disneyland tickets online or give our travel experts a call at 855-GET-AWAY. Don't forget that we can help you save even more by bundling your tickets with our exclusive hotel rates, too. You'll be enjoying the Merriest Place on Earth in no time!