This copycat Disneyland Rose Gold Churros recipe will make frying up a batch of the famous churros at home easy and fun. Sprinkle pink strawberry sugar on top to make them festive and pretty.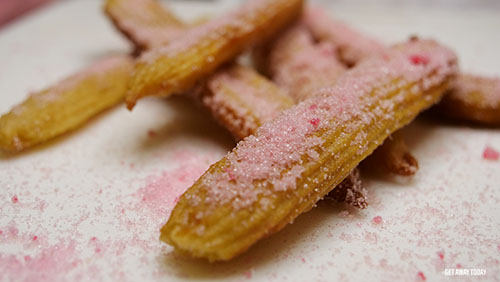 Copycat Disneyland Rose Gold Churros Recipe
There is always something new going on at the Disney Parks. This year is all about rose gold! It started with the sparkling sequin Rose Gold Minnie Mouse Ears. No one could have predicted how popular they would be! They flew off the shelves faster than Lightning McQueen. They really are adorable. Then, came the Rose Gold Minnie Mouse Cupcakes that were too pretty to eat...almost. But, I think the crowning glory of the rose gold fad are the Disneyland Rose Gold Churros.
Disneyland and all of the Disney Parks have a reputation for selling the best churros on the planet. What is it about Disney churros that are so special? Could it be that they sprinkle a little bit of magic into the pastry dough before frying it up for guests? The Disneyland Rose Gold Churros are another testament to this theory. They are so yummy. Instead of traditional cinnamon and sugar coating, the churros are sprinkled with strawberry flavored sugar. It is pink and oh so tasty!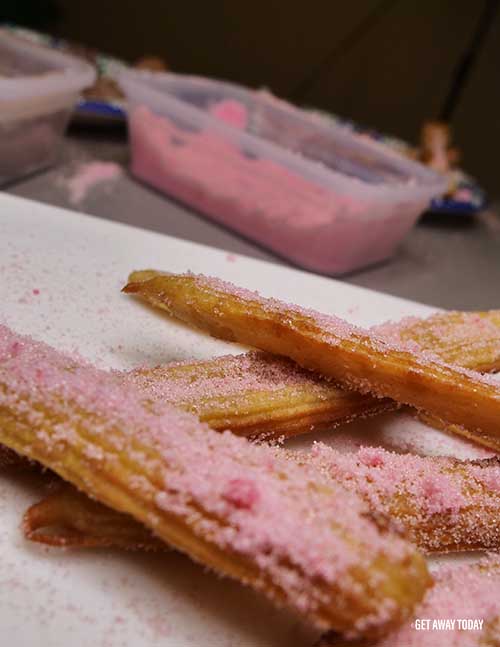 We tested out the recipe with our Get Away Today staff. The general consensus was the Rose Gold Churros are even better than the cinnamon churros. I was actually surprised at the enthusiastic feedback because I really love traditional churros. Don't be surprised if your new favorite Disneyland treat is the Rose Gold Churro! It is a crowd pleaser for sure.
Make your own Disneyland Rose Gold Churros at home with this easy recipe and tutorial. A lot of people are scared of making churros, but they really are easier than you think. Give it a try.
Copycat Disneyland Rose Gold Churros Recipe:
1/2 C Buttermilk
1/2 C Water
4 T Butter
2 T Brown Sugar
Pinch of Salt
Pinch of Cinnamon
1 1/3 C Flour
3 Eggs
Coconut Oil (amount will vary based on frying pan size, but about 2 cups should be good!)
1 Cup White Sugar
Place 1 cup of white granulated sugar in a bowl. Add 3/4 tsp of strawberry flavoring to the sugar and stir until all of the sugar is coated evenly. You can adjust the flavoring to your taste. This is just the combination that felt right to me. I ordered the strawberry flavoring off of Amazon. You could also find it at a specialty baking store. I hear it is delicious in macarons, so I might need to try that next.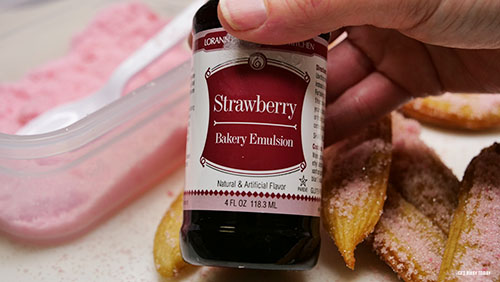 Begin heating your cooking oil. My favorite oil for frying pastries is coconut oil. It is more expensive then vegetable oil, but the flavor is amazing. If you don't love coconut oil, then vegetable oil works just fine.
You want the oil to be at least 1.5 inches thick in your pan. Heat the oil over medium heat until it is about 375 degrees. You can tell when the oil is ready by sticking the end of your wooden spoon into the pan. If little bubbles form around the spoon, then it is ready for frying.
While the oil is heating, in a medium saucepan add the buttermilk, water, butter, brown sugar, salt and cinnamon. Stir over medium low heat until the butter is melted and the contents begin to softly boil. Add the flour and stir quickly until it forms a nice ball. I like to use a wooden spoon for churros.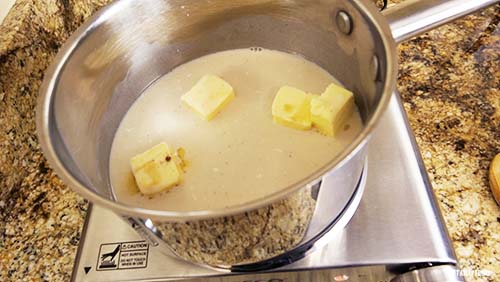 Immediately remove the pan from the heat source. Make a little indentation in the top of the dough. It should look like a little bowl. Crack an egg into the dough bowl. Stir it until the egg is fully incorporated into the dough. Add the second egg in the same way. Then, add the final egg. Do not add all three eggs at the same time. It will be too slippery! Your dough should be shiny and slick. It will be thicker than cake batter, but less thick than play dough.
Fit a plastic frosting bag with a star tip. You want the tip opening to be about 1/2 inch wide. Scoop the churro dough into the bag.
Pipe long stretches of the dough into the hot oil. I use scissors to cut the dough when my churro is the desired length. It makes piping the churros so easy!
Let them cook for about 1 minute and then use tongs to turn them over to cook on the second side. They should be golden brown. If your churros cook too fast and start to burn, turn the oil temperature down a little bit. If they sit in the pan and get soggy without puffing up and turning brown, then you need to increase the heat to your frying pan.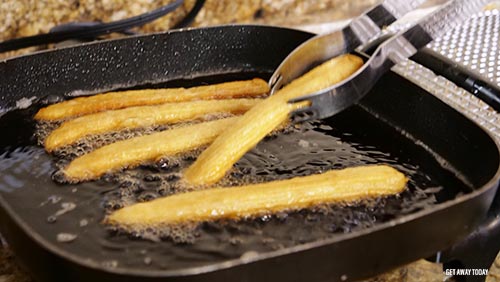 Remove the cooked churros from the oil. Roll them in the rose gold sugar and serve while hot. They are seriously magical.
You can find these delicious Disneyland Rose Gold Churros in Fantasyland by Sleeping Beauty's Castle. They are scheduled to be around for the Summer of 2018, but I'm hoping they'll stick around longer. I hope you enjoy your copycat Disneyland Rose Gold Churros!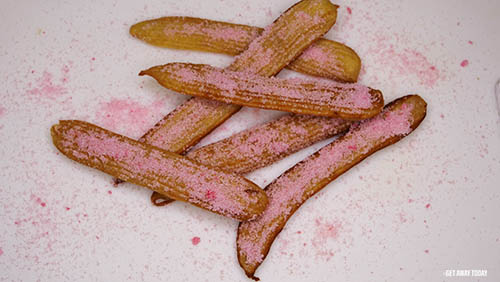 If you're ready to head to the Disneyland Resort to try these churros for yourself, we can help. Get Away Today offers discount Disneyland tickets, reduced Anaheim area hotel rates and so much more. Book online now or give our Disney experts a call at 855-GET-AWAY.

Check out more Disneyland copycat recipes: