We often get asked what the best age for a Disney Cruise is. While it's a magical vacation for anyone of any age, we especially enjoyed our cruise with our young kids ages five, three and nearly two. Today we're going to focus on our best Disney Cruise Line tips for toddlers from our personal experiences.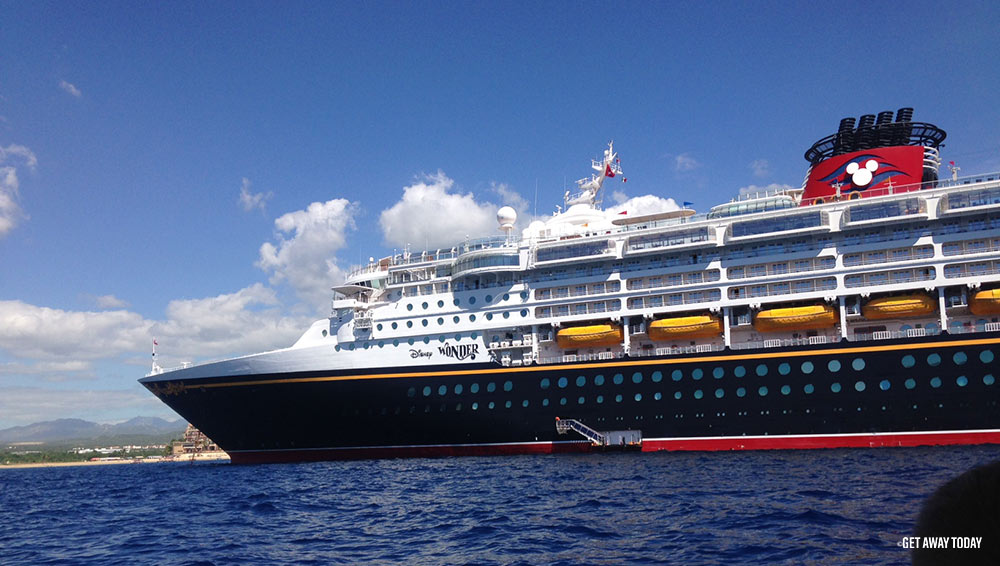 Disney Cruise Line Tips for Toddlers
When it comes to traveling with toddlers, there are many general tips that can make your life easier. Having a ready supply of snacks and wipes are just the basics. But when you take a Disney Cruise vacation, there are a few specific things that you can do to make your trip go as smoothly as possible. Our master list of Disney Cruise Line tips for toddlers begins from the moment you book your vacation and continues through when you return home.
I just returned from a magical five night cruise aboard the Disney Wonder with my three kids. Two of them are toddlers and we had a blast! I hope that these tips will help you along your journey.
Disney Cruise Line Tips for Toddlers Before You Go
There are many things you can do before your Disney Cruise to make traveling with toddlers that much smoother. Here are a few of our favorite pre-Disney Cruise tips:
Pre-register for the Oceaneer Club and Lab
One of our most important Disney Cruise Line tips for toddlers begins before you even board the ship. When you are able to do your online check-in for your cruise, you can register your kids for both the Oceaneer Club and the Oceaneer Lab. You'll need to provide any of your children's dietary needs, confirm that they are potty trained and approve who is able to pick-up your children. Additionally, you'll need to come up with a password that anyone who picks up your children will need to provide.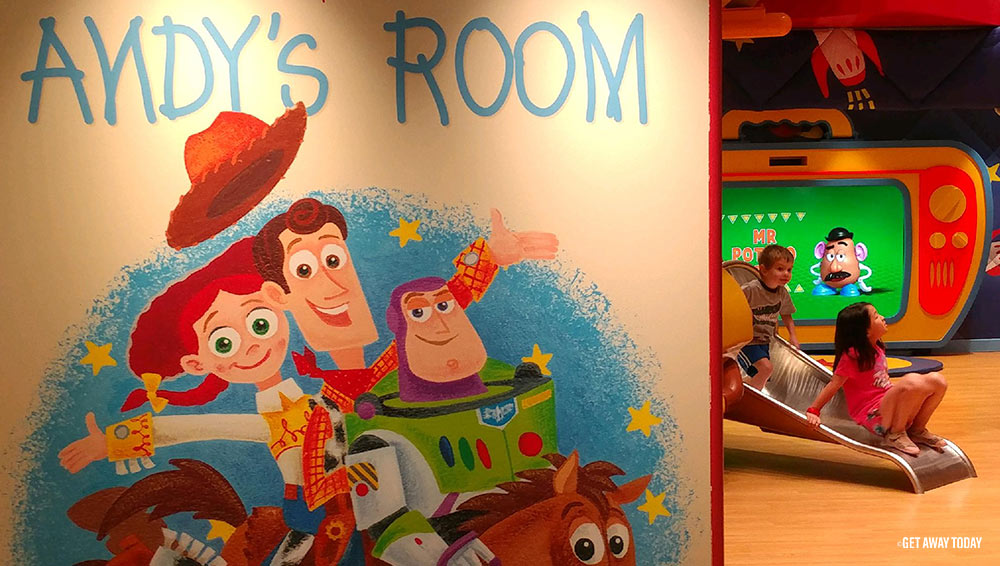 You're able to register your children once you're on board the ship, however the line to do that is long. As soon as you get on the ship you'll want to explore. By doing the registering ahead of time, your vacation begins as soon as you walk on the ship.
Consider Dinner and Show Times
Disney Cruise Line offers some of the best entertainment and the most unique dining experiences at sea. Their rotational dining allows you to dine at a different themed restaurant each night and your servers follow you throughout your cruise. There are two different dining times that coincide with a show time. There is typically a 6pm dinner, which would put you at the 8pm show. On the flip side, there is a 6:30pm show time followed by an 8:15pm dinner. There are advantages to both. Understanding what those are is at the top of our list of Disney Cruise Line tips for toddlers.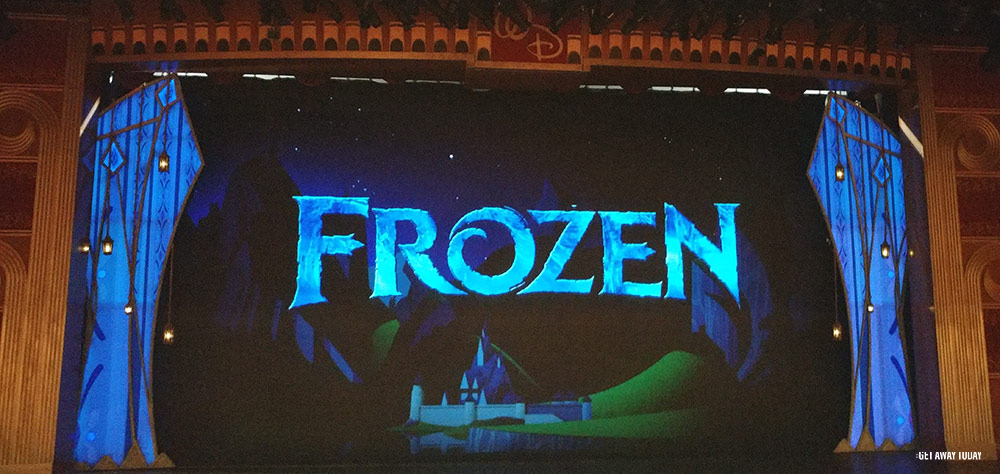 Obviously, if you have toddlers, they may be used to eating dinner early. However, they may be restless during a later performance. Even though it was much later than our regular dinner time, we opted for the later dining for two main reasons. First, we wanted our kids to be alert and excited during the shows. Second, if you choose the second dining, your servers can rush dinner service. Then, part way through your meal, counselors from the Oceaneers Club come to the restaurant to collect any kids who'd like to go play in the Club or Lab. It was lovely to enjoy the rest of dinner.
You should be aware that the first dining assignment tends to be the most popular for families. You can request a dining time when booking your reservations, so if you have a preference, make sure to let us know. You can always request a change once you're on the ship, but it's much harder to make changes once you're onboard.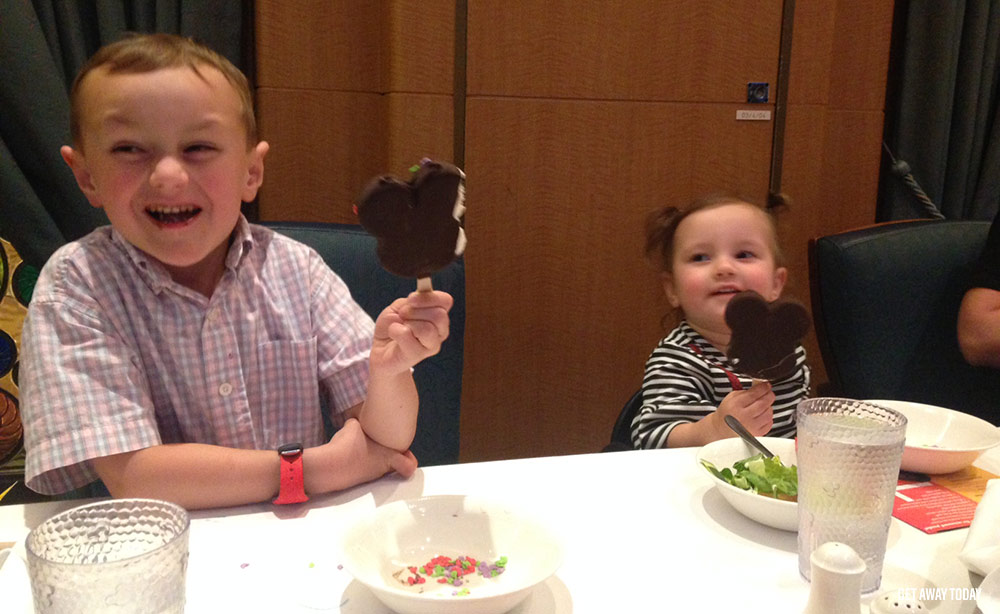 If you opt for the second dining time like we did, I would recommend grabbing a "snack" from Deck 9 shortly before your show. Keeping toddlers fed is a imperative. My kids especially enjoyed grabbing pizza and soft serve ice cream around 4 or 5pm. Then by 8:15 they were ready for dinner and play time!
Bring Family and Friends
When it comes to a Disney Cruise, the more the merrier. This isn't just one of our Disney Cruise Line tips for toddlers. It's for EVERYONE. We were so lucky to be able to enjoy our cruise with grandparents, an aunt, uncle, toddler cousin and family friends. It was the best! If you have a nervous toddler then having siblings, cousins or friends in the kids areas will make going easier and much more fun. My kids weren't nervous at all, but it was such a treat for them to have so many friends in there with them. Having extra adults around at meal times was also incredibly helpful.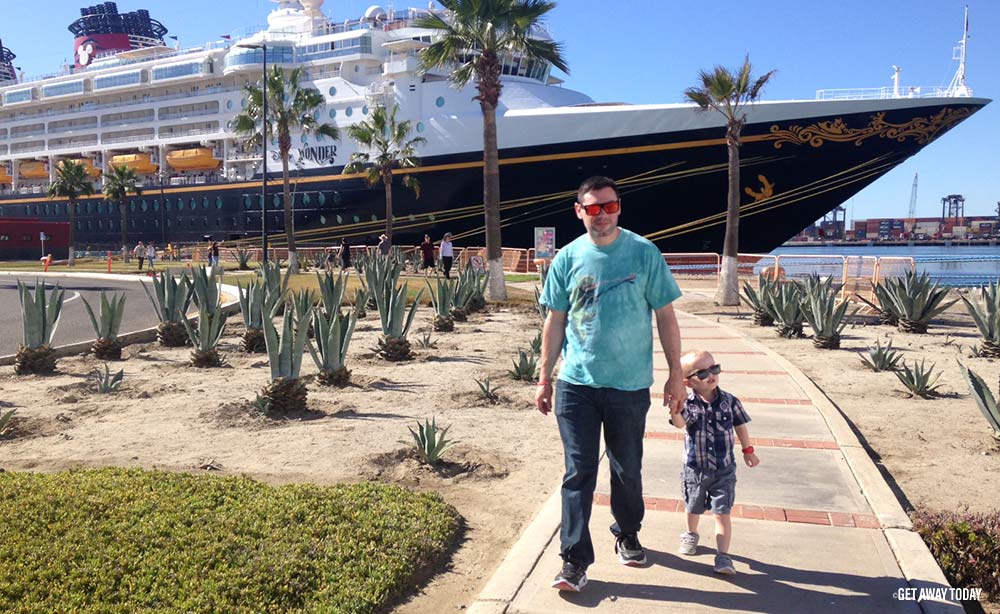 Print the Disney Cruise Pre-Workbook
The more you can prepare your toddlers for their Disney Cruise, the better. Once you've registered, Disney Cruise Line has a free printable workbook that is perfect for toddlers and young kids. It includes pictures of what the ship looks like, including the toilets and teaches new words that your kids will hear on the ship. The workbook even goes into detail about some of the safety procedures in a fun way that kids will understand. There's also plenty of coloring pages. We did a cruise prep night the week before we left for our cruise and our kids loved it. They were so excited to see everything we learned about in person.
Consider Joining a Fish Extender Group
Something not all cruisers know about are the popular, unofficial Fish Extender Groups. These are small groups of normally 10 participants who participate in gift exchanges. These groups are typically pre-arranged on private Facebook Groups. You can find them by going online and searching for the ship and your sailing dates. Once you find a Fish Extender Group to join, you'll get the stateroom numbers of everyone in your group. Then, when you're on the cruise you'll deliver a gift to each of them and get nine (or more) gifts in return. Your group will dictate the value of the gift, many of which are handmade. We saw so many Fish Extender displays outside stateroom doors and they were always fun to see.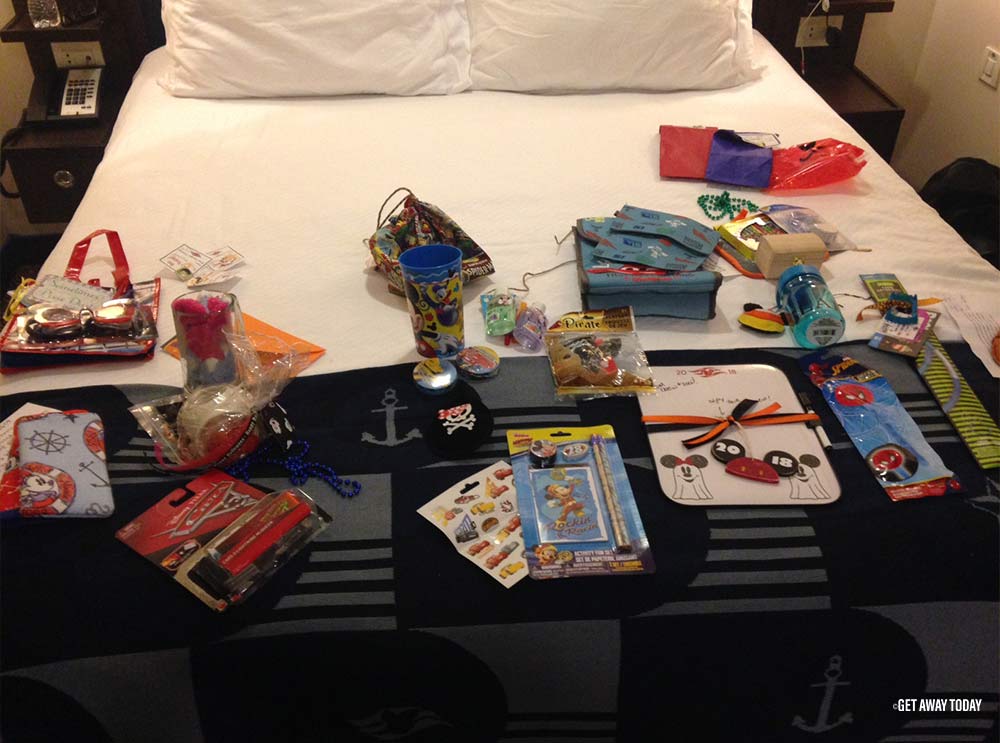 Disney Cruise Line Tips for Toddlers While Onboard
Once you actually get on the ship is when the fun really begins!
Take Advantage of Open Hours at the Oceaneers Club
The Oceaneers Club and the Oceaneers Lab both allow potty trained children ages 3 - 12. The Club is geared towards the younger kids and the Lab caters more to the older kids. During regular club hours only children those ages are allowed in the secure areas. However, during open house hours, anyone is able to enter. With such fun play areas like the Toy Story Room, Disney Junior Room and Super Hero Academy, your toddlers will want to be there.
Oftentimes the camps will even hold special "Toddler Time" structured play for any kids who'd like to participate. My kids loved playing with larger than life puzzles, making Doc McStuffins magic stethoscopes and playing with the giant parachutes.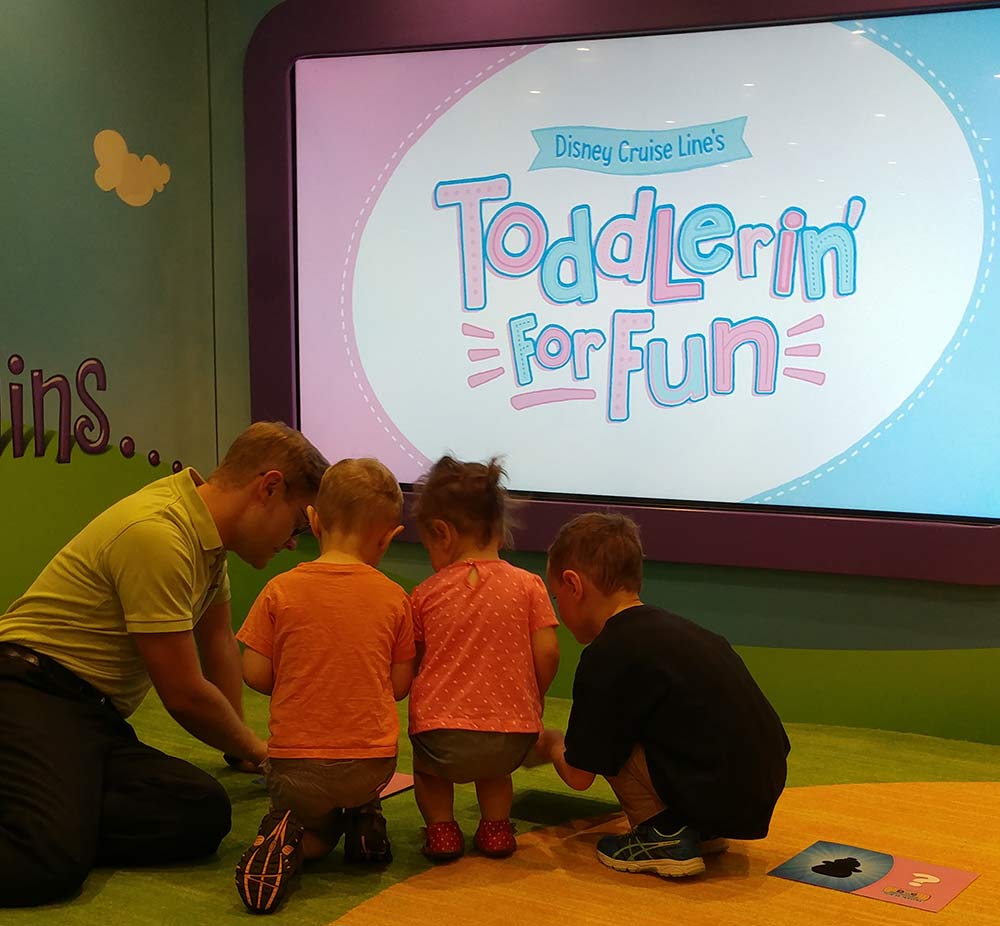 Use the Official Disney Cruise Line App
Disney Cruise Line has an official app that is one of the easiest ways to make your day-to-day plans onboard. Download the app before you get on the ship. Then, once you're onbard, you simply set your phone to airplane mode and use the ship's Wi-Fi. It's free to use as long as you are using the app.
You can use the app in a number of ways, but there are a few things you can do specifically with toddlers. First, one of our Disney Cruise Line tips for toddlers is to go through and view any of the toddler events. You can view open house hours for the Oceaneers Club, as well as specific Oceaneers Club activities. Toddler Time Activities are normally held daily in different pulic areas of the ship. As you go through activities, you can favorite them. By doing that you'll get a 15 minute alert before anything starts and can keep your toddlers happy.
Another thing that really helped us with toddlers was using the app to view the dinner menus for each night. The kids menu for each night almost always included a burger and mac-n-cheese option. We would have the kids tell us what they'd like before we headed into the restaurant. It made it really easy to let kids color and enjoy the atmosphere of the restaurant already knowing what they wanted to eat for dinner.
Schedule Nap Time
This is one of our Disney Cruise Line tips for toddlers that applies to daily life as well. Just like at home, nap time is important. It's even more important with how many nighttime activities are available on a Disney Cruise. You don't want your toddlers to be melted down during the Pirates in the Caribbean Party fireworks, or missing out on the Broadway caliber shows. The ship always has something going on and your kids will likely be overstimulated. Our young kids did so much better when we made sure to look at the schedule, prioritize what activities we really wanted to do, and schedule some down time. We also found that we really liked having an inside stateroom so that our kids could nap, or at least rest during the afternoon.
Always Keep Your Key to the World Card With You
Although seemingly simple, this is one of the most important Disney Cruise Line tips for toddlers. If you're taking kids to the Oceaneers Club, you'll need it to pick them up. In addition to having your Key to the World Card as ID, you'll need that password you created when you registered and they'll verify your photo that was taken when you boarded the ship.
Play Dress-Up
One of the highlights for my toddlers was dressing up on the cruise. They love playing dress-up and make believe at home, and it was even better on our Disney Cruise. Our cruise was extra special because it was a Halloween on the High Seas cruise where Halloween costumes were encouraged for our special trick-or-treat celebration. But nearly every Disney Cruise has a pirate theme night. Dressing up is half the fun!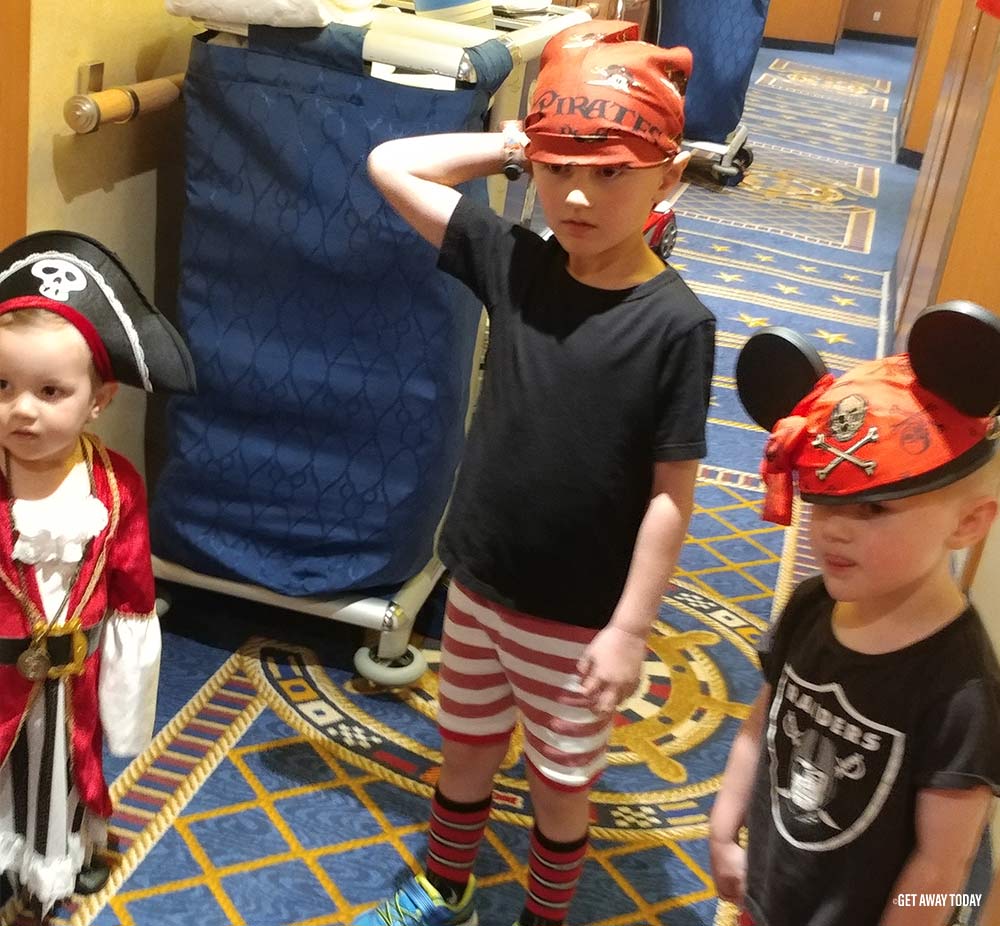 Consider bringing princess dresses for semi formal nights and the Character meet and greets. Our daughter was called "princess" by nearly every Cast Member we encountered and my heart melted each time. Character t-shirts are also a great way to get special attention from Characters. Your toddlers will feel like they're on top of the world when they see the Characters they are sporting on their shirts.
Disney Cruise Line Tips for Toddlers When You Get Home
The fun shouldn't end when you leave the ship. You can keep your Disney Cruise magic alive - especially with toddlers. You could have your own pirates night at home, or learn how to fold your towels at home into animal shapes. However, no matter what you do once you get home, we have two top tips.
Preserve Your Memories
If your kids are anything like mine, they'll be talking about their Disney Cruise for years to come. There are a number of ways to preserve your memories, so do what's easiest for you. We love Chatbooks to have our photo memories printed. I also kept a few of the crafts that the kids made in the Oceaneers Club. They have loved playing with their super hero masks and Doc McStuffins magical stethoscopes that they made on the Disney Wonder. Also, make sure to ask them what their favorite parts of the cruise were and write them down.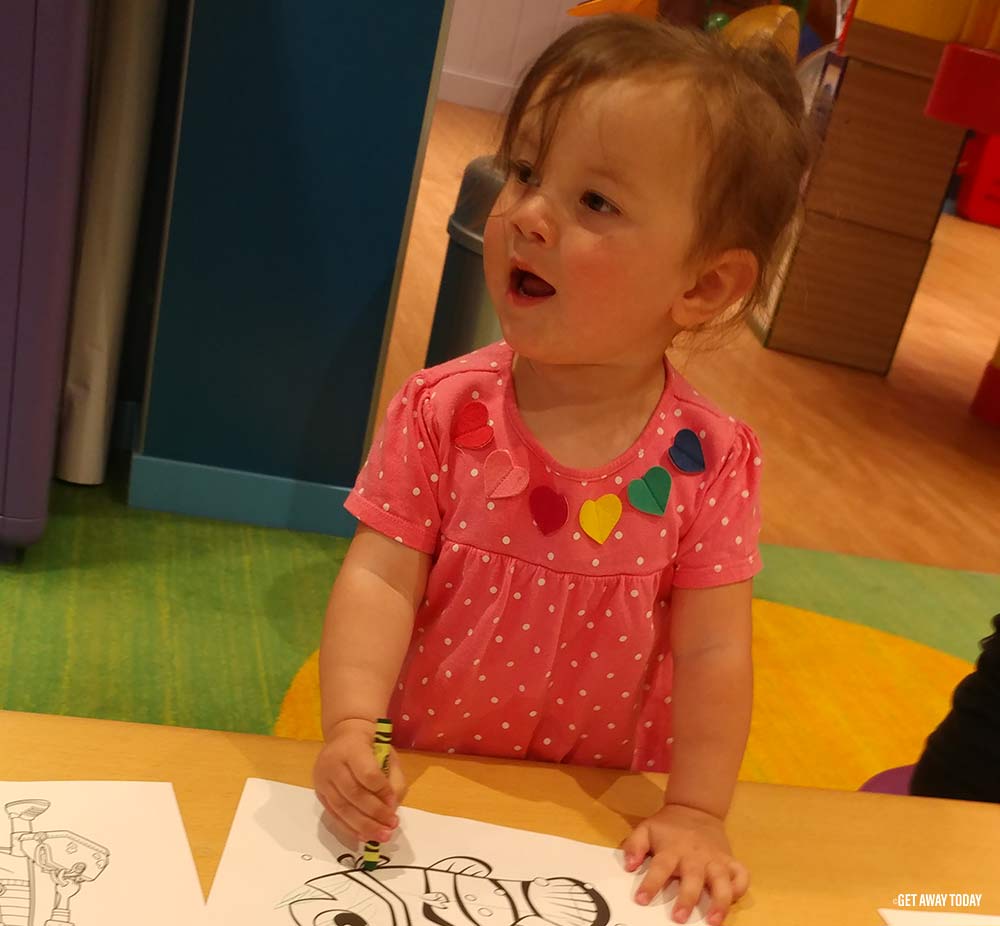 Book Your Next Disney Cruise
Of course the only way to really get over getting of a Disney Cruise is knowing that there will be another one. You can book your next Disney Cruise while you are onboard. You'll save 10% and get an onboard credit for your next sailing. While you're booking, make sure they know Get Away Today is your travel agent. Disney will send us your booking information so we can help with the rest. And, as a bonus, you'll also get our exclusive onboard credit added to the mix. It's one of the only ways to get a discount on your Disney Cruise and it's so easy to do. But, if you missed that boat (pun intended), our Cruise experts here in the office will help you find the lowest price and you'll still get our exclusive onboard credit. Either way, we'd love to help you with your Disney Cruise.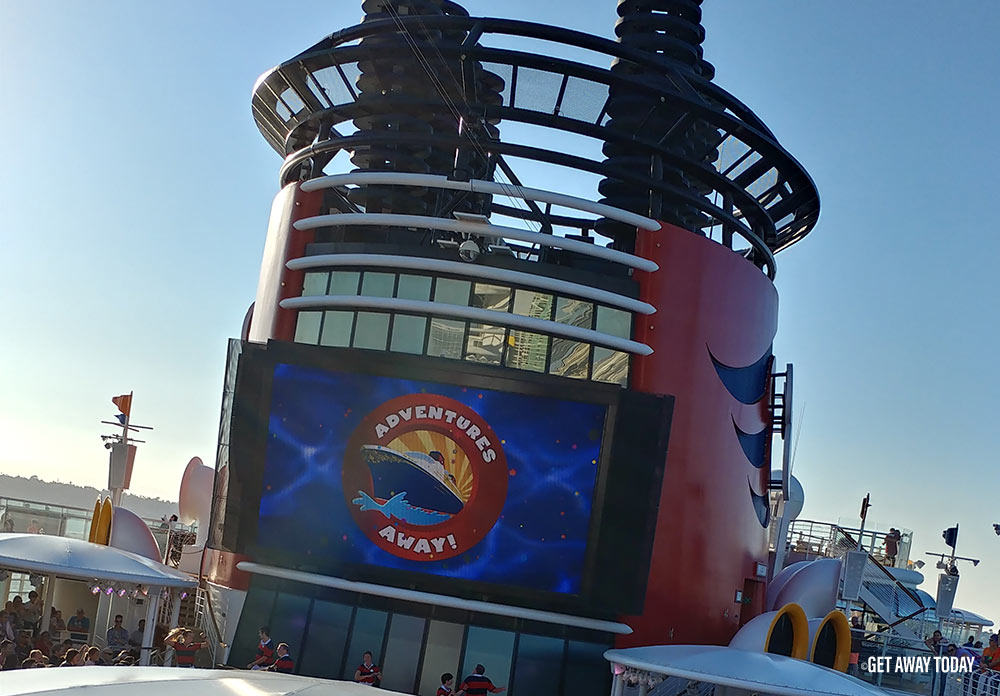 If you're looking for Disney Cruise Line tips for toddlers, I hope these helped. Our best and most crucial tip for any cruise of course is to book with Get Away Today from the get-go. Our cruise experts will walk you through every aspect of your vacation planning. Call them at 877-510-2929 for personalized help planning your Disney Cruise.