At Get Away Today one of the most popular promotions we get is the occasional Kids Sail
Free on
Disney Cruise Line
. Yesterday we announced a slew of new dates on four, six, and eight night cruises from January 12 - April 26 to the Bahamas and Western Caribbean out of Galveston, Texas. (
Find more information on all of the sailings on yesterday's blog article by clicking here.
) Each time we promote an exciting offer like Kids Sail Free, we get a lot of questions. To help make your planning a little easier, we've compiled a list of the most frequently asked questions about Disney Cruise Line's Kids Sail Free Special:
Q: What ages are considered "kids" on Disney Cruise Line?
A: Kids are considered from infant to 17 years old on Disney Cruise Line.
Q: How many kids can sail for free?
A: Most staterooms sleep up to four guests, so normally it's up to two free children per stateroom. The first two guests in each stateroom must be paid, regardless of age, so larger families may require multiple staterooms. There are a limited amount of staterooms that sleep up to five guests where all three children would sail free, but the rate for the first two adults is higher because it is a larger room. Because staterooms that sleep up to five are limited, they tend to sell out first.
Q: How much are the adults?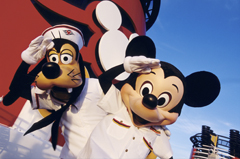 A: Cost always depends on a number of factors, but the most important include: the dates you choose, the length of the sailing, and the category you book. The less expensive staterooms are normally the first to go, so you'll want to book first for highly desirable cruise dates (normally holidays and school breaks). Shorter cruises are normally less expensive than longer cruises. However, longer cruises often have a lower per night price, so you can compare overall cost vs. overall value. Cost also depends on which stateroom type and category you select. Inside staterooms are less than Oceanview or Verandah staterooms, and even within room types, you'll see pricing variations within categories. The best way to get an accurate price is to call our agents at 877.510.2929.
Q: Is there an average cost I can expect to pay?
A: Costs vary dramatically depending on a number of factors, but to give an idea of this current run of Kids Sail Free offers on Disney Cruise Line, here are some SAMPLE prices that can be used to get an idea of cost:
4-night Western Caribbean Oceanview Stateroom from $604/adult
6-night Western Caribbean Inside Stateroom from $900/adult
8-night Bahamian Inside Stateroom from $1,204/adult
Guests are also responsible for Government taxes and fees for all travelers (including children during Kids Sail Free) which average approximately $12/person per day.
Q: How can I get the best price on my Disney Cruise during Kids Sail Free?
A: Flexibility is the key when you're looking to get the very best price on your Disney Cruise. Our agents would love to look at all of the different dates, staterooms, and itineraries to determine which is the best price for your family's Disney Cruise.
Q: When do I have to book Kids Sail Free?
A: Sometimes there will be a cut-off date when Kids Sail Free expires. However, oftentimes the Kids Sail Free specials sell out long before the expiration date. Our best advice is to book as soon as possible to guarantee that you'll get the best stateroom availability and that Kids Sail Free will still be available.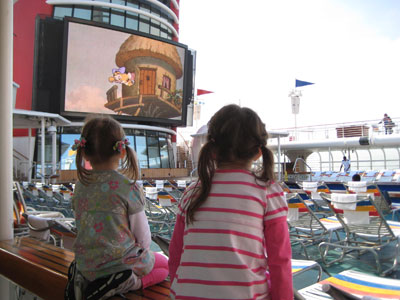 We also threw in a few of our regularly asked general questions about Disney Cruise Line
Q: What is included with my cruise?
A: In addition to your accommodations, all of your onboard entertainment, kids camps, meals, snacks, and most non-alcoholic beverages are included. Plus, your cruise includes transportation to some of the world's best ports!
Q: What extras do I have to pay for on my cruise?
A: There are some optional activities that require an extra charge: spa treatments, salon visits, phone calls, photos, video games, babysitting for children 12 weeks to three years old, Internet, shopping, alcoholic beverages, and specialty drinks from select vendors.
Q: Do I need a Passport to sail on Disney Cruise Line?
A: A Passport is required to enter or re-enter the United States by air. If you are leaving and returning to the United States via Disney Cruise Line, you can use a Government issued photo ID with an original copy of your birth certificate. However, we strongly recommend Passports for all travelers in case you need to return to the States by air. Once you've booked, you'll want to visit Disney Cruise Line's Travel Document Information section for any further information and you'll need to bring all completed and signed cruise documents from the Guest Ticket Booklet which will be mailed to you.
Q: How old does my baby have to be to sail on Disney Cruise Line?
A: Children must be 12 weeks old on the day you set sail to sail on Disney Cruise Line.
Q: Can I sail on Disney Cruise Line if I'm pregnant?
A: You can sail on Disney Cruise Line up until your 24th week of pregnancy. Once you're in your 24th week (as of embarkation), you will be refused passage due to safety concerns. Disney Cruise Line will not accept a liability waiver or physician's statement. They also cannot be held responsible or liable for any pregnancy complications during any stage of pregnancy.
We hope these were helpful in answering some questions about Disney Cruise Line and Kids Sail Free. If you have any other questions, or would like personalized assistance for your Disney Cruise, call our Cruise Specialists at 877.510.2929.

Check out these other great articles:
NEW Kids Sail Free Dates from Disney Cruise Line
Disney Cruise Line Named Best Cruise Line
Disney's Castaway Cay: What's New