Family road trips are so much fun, especially when you are traveling to Disneyland. Now that school is out, road trip season has officially begun. You want to arrive at the Happiest Place on Earth with a car full of cheerful kids, right? Here is an entertaining travel game for any family to play while on the road. It will keep you laughing and chatting for miles and miles.
Disney Would You Rather - Free Printable Game
To start, download the Disney Would You Rather Cards below. There are eight pages with six questions per page. I printed our cards at my local print shop on card stock and had the sheets laminated to give them extra durability. Download them below:

Disney Would You Rather 1
Disney Would You Rather 2
Disney Would You Rather 3
Disney Would You Rather 4
Disney Would You Rather 5
Disney Would You Rather 6
Disney Would You Rather 7
Disney Would You Rather 8
Disney Game Supplies
Here are links so you can purchase some supplies for this Would You Rather game, as well as the others we have on our blog: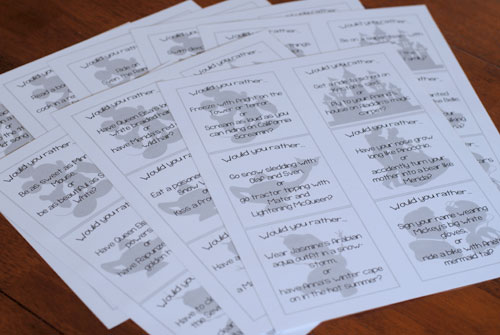 Disney Would You Rather Game
You can keep the pages whole, just like this, if you want. Give each person in the car their own sheet of questions to read aloud to the group. Easy as it can be, right?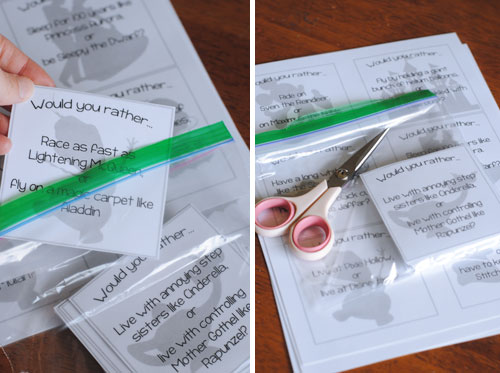 Or, if you want to get fancier, you can make a tiny travel sized book! Cut the questions out along the square borders to make the pages. There will be 48 cards total. I slipped the cards into a ziplock bag to keep them together and organized. Our local copy and print shop was able to bind the book for me for just a few dollars. It is such a cute size and the spiral binding makes the cards so easy for kids to use.

Anyone can answer these comical Disney Would You Rather questions! The text on each card gives a different two part scenario. Once the card is read aloud, the players each say what action they would chose. For example, the reader would ask, " Would you rather live in the Mickey Mouse Clubhouse, or in Cinderella's beautiful castle?" Players get to state what option they would choose and why. It is fun to discover new things about each other.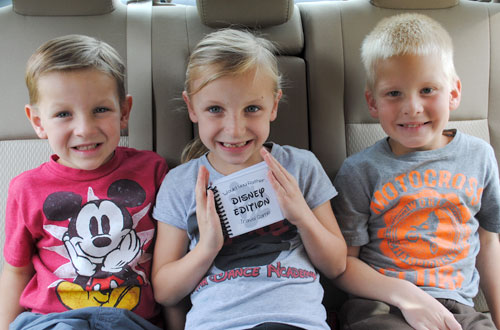 This Disney Would You Rather game is seriously a hoot. My kids enjoyed playing it so much. I know your family will love it to! Make your next road trip to Disneyland even happier with this entertaining conversation game. This little booklet would also make a great way to pass the time waiting in line for your favorite attractions. I love anything that keeps my kids engaged and entertained without a screen!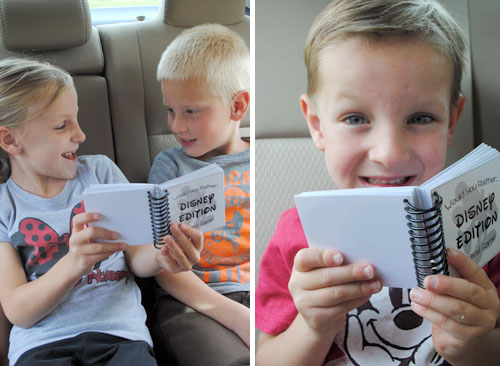 When you're ready to book your next road trip to Disneyland, let us know! You can book for as low as $175 down using the interest-free Layaway Plan, and make flexible payments up until seven days before you travel. Our Disneyland packages can be booked online or by calling our Disney Experts at 855-GET-AWAY.