This free printable Pixar Would You Rather game is a fun way to get your family talking. There are 30 unique questions based on Pixar movie characters and story lines for you to answer and discuss as a group. It's the perfect boredom buster whether you're flying, driving or waiting in line!
Pixar Would You Rather Game & Disneyland Pixar Fest Updates
I didn't think that Disney California Adventure Park could top last year's Summer of Heroes event. It was seriously epic. But, it looks like they are going to surprise me! This year, park guests get the pleasure of attending Pixar Fest. The Pixar fun focused on all things friendship and family begins April 13, 2018 and ends on September 3rd.
I can't decide what I am looking forward to most at Pixar Fest! I do know that the new Together Forever fireworks show bursting into Disneyland is at the top of my list. The sneak peek pictures of the show are seriously dazzling. On top of fireworks, the show includes pyrotechnics, music themes from the Pixar films, storytelling and the UP house flying over Sleeping Beauty's castle. I know I'm going to get goose bumps. This will be a must-see show!
The Pixar Play Parade has hopped parks and is going to be at Disneyland for Pixar Fest as well. They added some new floats to the lineup, including Luxo Jr. the lamp and characters from UP and Inside Out. I love the Pixar Parade because of all the bubbles.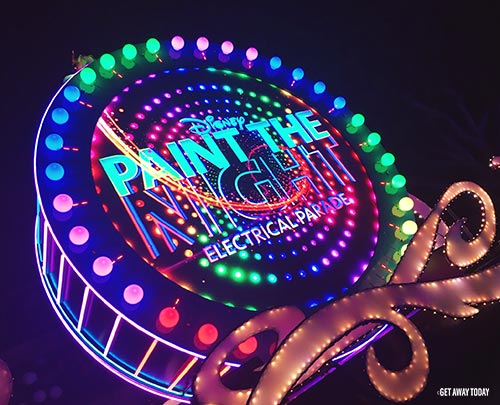 There is so much going on at Disney California Adventure Park too! The Paint the Night Parade is hitting the streets of DCA, with a brand-new Incredibles float joining the lineup in June. Did you get a chance to see the original Paint the Night Parade during the Diamond Celebration at Disneyland? I didn't! So, I am thrilled that it is coming back for another round. Everyone always talks about how spectacular and dazzling Paint the Night is.
Disney California Adventure Park will also be hosting a Pixar Shorts film festival at the Sunset Showcase Theater in Hollywood Land. You can take a break from the sun and relax in the theater for some fan favorite short films like Lava and For the Birds.
The Paradise Gardens area will be stocked with Pixar crafts for kids. Character greeting areas will be set up for photos and hugs! A Pixar-themed musical troupe will entertain guests as they enjoy the festivities, too. I hope that they play guitar music from Coco. Wouldn't that be fun?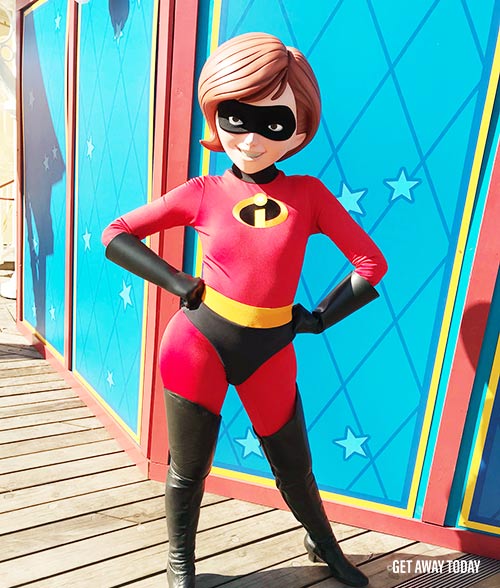 The re-imaged Pixar Pier will also open this summer during Pixar Fest. You can find out all about the Pixar Pier enhancements here. Whether you visit before the opening on June 23rd or after, prepare yourself for some serious Pixar fun.
To kick off the Pixar theme, I designed a Pixar Would You Rather game to play with your family. I love Would You Rather questions. They always spark such fun conversation. It also gives you a glimpse into each person's personality! You'll be surprised what you can learn about your kids through a few silly questions.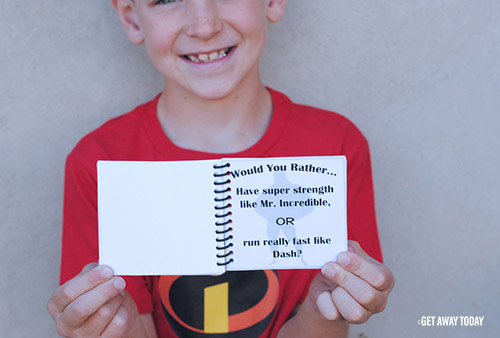 Pixar Would You Rather Printable Sheets:
To play, download the free Pixar Would You Rather Game templates above. There are five sheets total.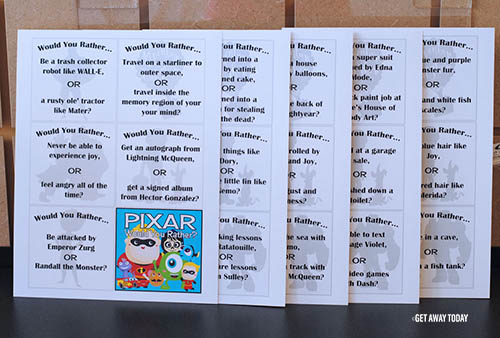 One of the pages has the game cover on it. You will want to be sure to print that page in color.
Cut around the question boxes so you have individual squares. I made sure to design the templates so make cutting fast and easy! You are very welcome.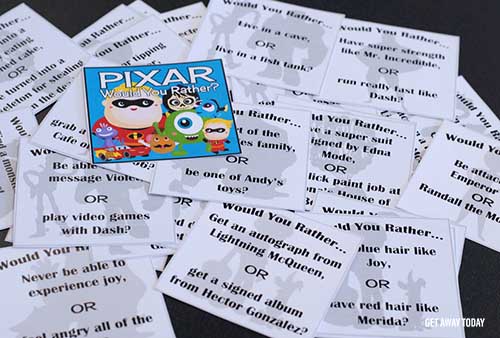 Pile the Would You Rather Pixar questions into one stack. Make sure that each card has the question facing the correct direction. You do not want them upside down or backwards.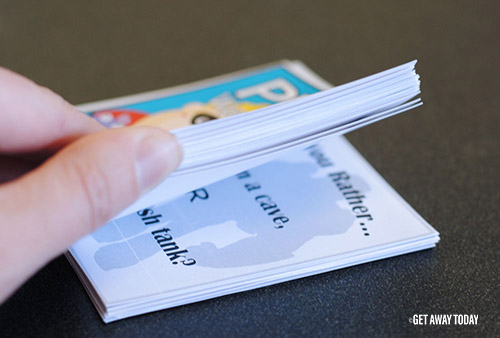 I made mine into a little spiral bound book. You can do this at the UPS Store or at any local print shop. The whole thing cost less than $5 to print and have bound. So, it's totally budget friendly.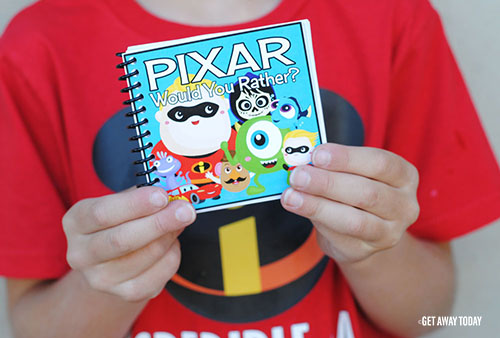 To play, simply read the questions that are posed on each card. Each question is posed as a "this or that" scenario. For example, "Would you rather win the Piston Cup, or win the Monsters University Scare Games?"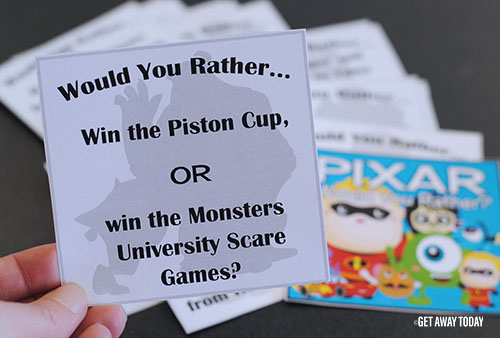 Or, "Would you rather find a monster in your closet, or see the ghost skeletons on the Day of the Dead?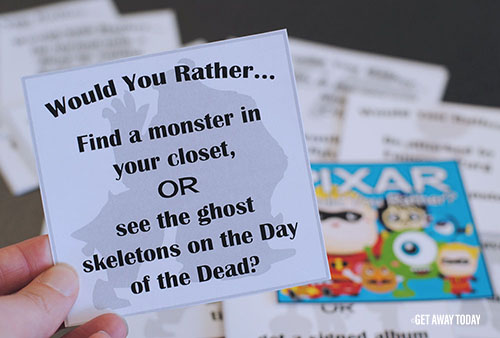 I like to read the questions out loud and let the whole group answer every time. It makes the game last longer and you also get to debate and persuade each other about what answer is the best!
You can play your free Would You Rather Pixar Game while you are traveling to your Disney vacation, or use it while you are waiting in line for an attraction or gathering for the fireworks or a parade. It is small enough to tuck into your fanny pack or purse, so you can have it handy whenever your family needs a distraction or a little bit of Pixar entertainment.
To plan your Pixar-fueled vacation with the most affordable prices and best customer service, let Get Away Today help. Our Disney experts know all the tips and tricks to help you have the best Disneyland vacation yet. And our discount Disneyland tickets and reduced hotel rates will have you singing from rooftops about your savings. Book online now or give our agents a call at 855-GET-AWAY.

Check out more Pixar-inspired crafts: