This free printable Pixar Would You Rather game is a fun way to get your family talking and enjoying time together at Disney Parks and at home.
There are 30 unique questions based on Pixar movie characters and storylines for you to answer and discuss as a group. It's the perfect boredom buster whether you're flying, driving or waiting in line! It's also a great way to create a little bit of Disney-Pixar magic at home before and after your Disney vacation.
Pixar Would You Rather Game & Pixar at Disney Parks
It's no question that Pixar has influenced Disney storytelling in an incredible way. You'll find these stories at various Disney Parks in the U.S. including:
Pixar at Disney's Hollywood Studios (Orlando, FL)
Pixar at Magic Kingdom (Orlando, FL)
Pixar at EPCOT (Orlando, FL)
Pixar at Disney's Animal Kingdom (Orlando, FL)
You can even stay inside the Pixar magic at select hotels featuring beloved characters:
Pixar Place Hotel reimagining coming in 2023 (Anaheim, CA)
It's pretty amazing to think about how many Pixar movies there are and how they have become such a huge part of the Disney story. That's what makes our Pixar Would You Rather Game so much fun!
Pixar at Disney Would You Rather Game Printable
To kick off the Pixar theme, we designed a Pixar Would You Rather game to play with your family. Would You Rather questions always spark such fun conversation. It also gives you a glimpse into each person's personality! You'll be surprised what you can learn about your kids through a few silly questions.
Pixar Would You Rather Printable Sheets:
To play, download the free Pixar Would You Rather Game templates above. There are five sheets total. If you need printer paper, stock up on Amazon HERE.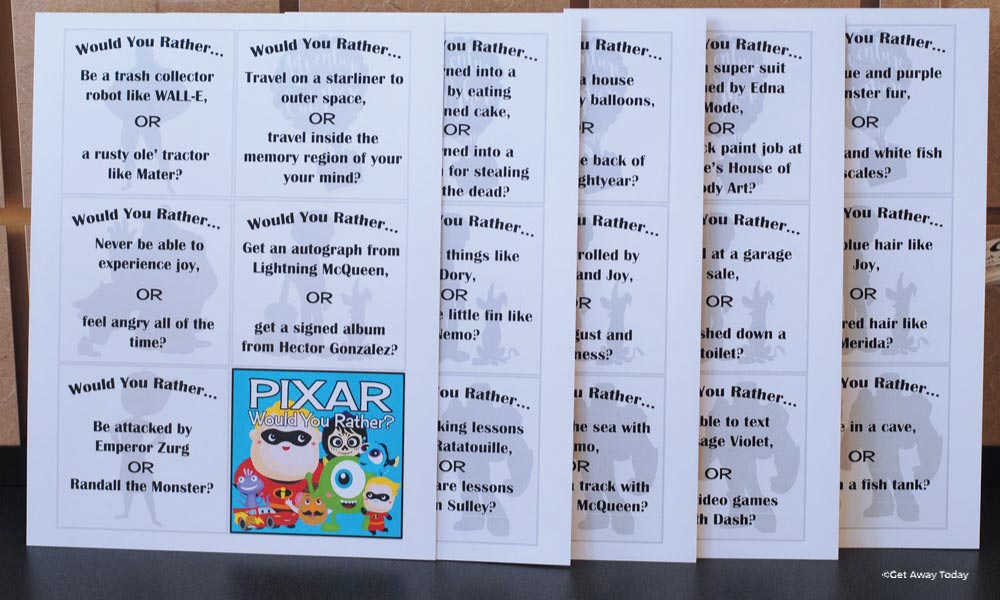 One of the pages has the game cover on it. You will want to be sure to print that page in color.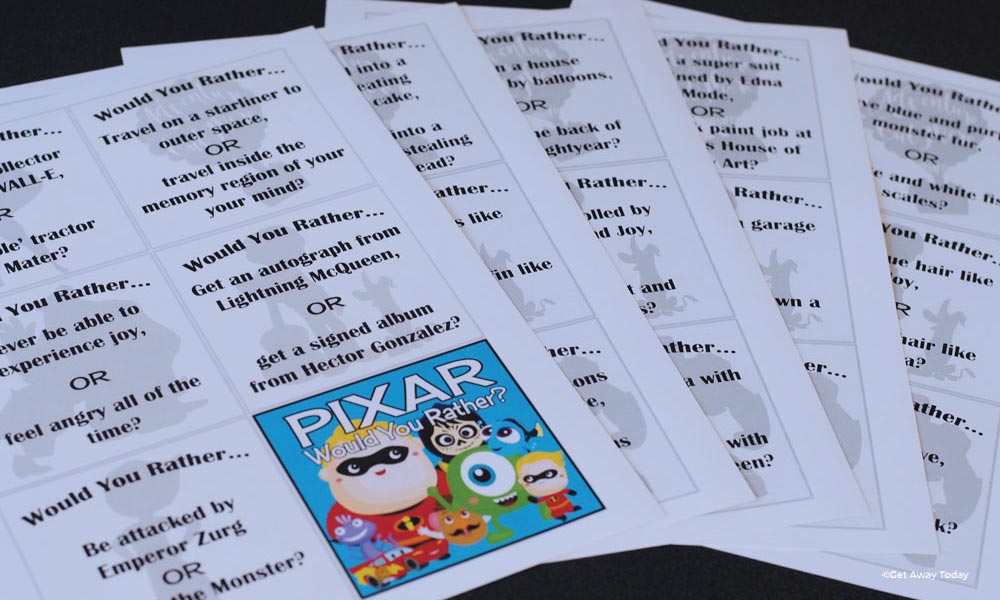 Cut around the question boxes so you have individual squares. We made sure to design the templates so make cutting fast and easy!
Pile the Would You Rather Pixar questions into one stack. Make sure that each card has the question facing the correct direction. You do not want them upside down or backwards.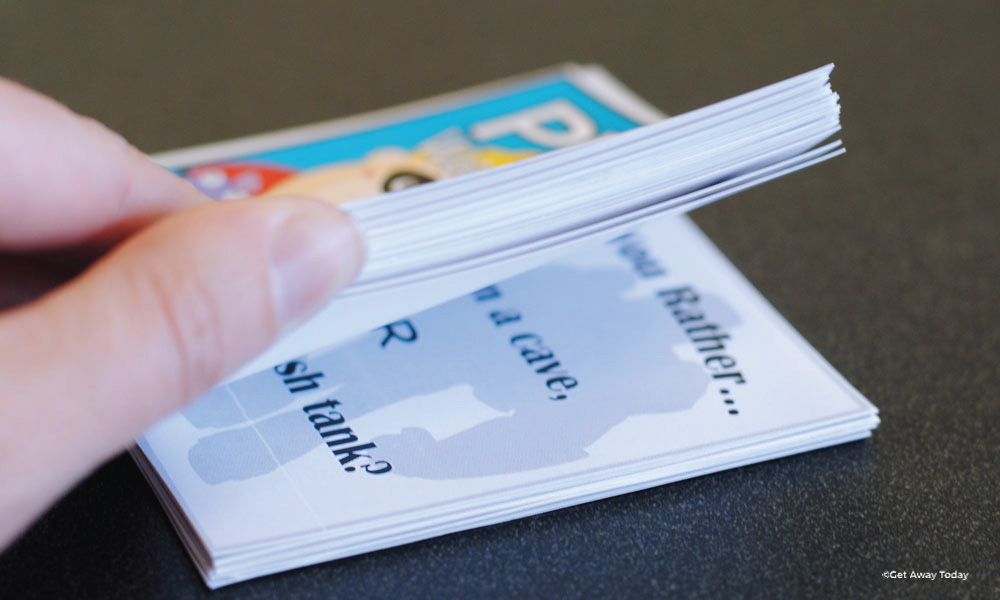 You can even make yours into a little spiral bound book at the UPS Store or at any local print shop. The whole thing cost less than $5 to print and have bound. So, it's totally budget friendly. If you'd rather hole punch each one, purchase an hole punch from Amazon HERE, and slip each question on a book ring from HERE.
To play, simply read the questions that are posed on each card. Each question is posed as a "this or that" scenario. For example, "Would you rather win the Piston Cup, or win the Monsters University Scare Games?"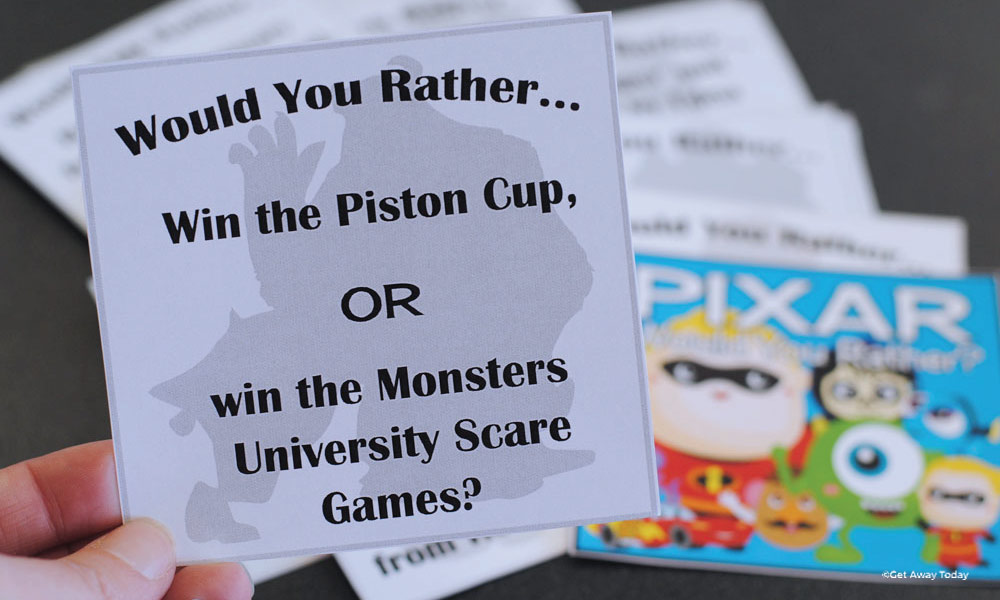 Or, "Would you rather find a monster in your closet, or see the ghost skeletons on the Day of the Dead?
I like to read the questions out loud and let the whole group answer every time. It makes the game last longer and you also get to debate and persuade each other about what answer is the best!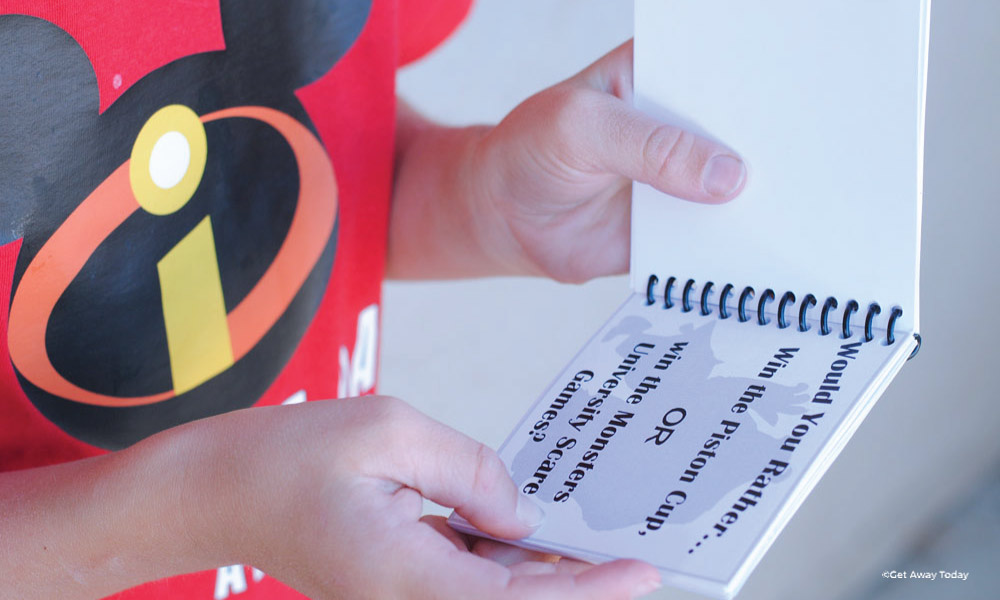 You can play your free Would You Rather Pixar Game while you are traveling to your Disney vacation, or use it while you are waiting in line for an attraction or gathering for the fireworks or a parade. It is small enough to tuck into your fanny pack or purse, so you can have it handy whenever your family needs a distraction or a little bit of Pixar entertainment.
Planning Your Disney Vacation
To plan your Pixar-fueled vacation with the most affordable prices and best customer service, let Get Away Today help. Our Disney experts know all the tips and tricks to help you have the best Disney vacation yet. And our discount Disneyland tickets and Walt Disney World packages will have you singing from rooftops about your savings. Book online now or give our agents a call at 855-GET-AWAY.