UPDATED APRIL 11, 2019 - There is something so magical about a first visit to the Disneyland Resort. The attractions, shows, atmosphere, food, details and theming are something you've never experienced before, unless you've been to a Disney Park. With two theme parks, three hotels and an entertainment district, there are hundreds of attractions, entertainment options, restaurants, shops and more. With so much to see and do, we've compiled a guide to help those that are planning their very first visit to the Happiest Place on Earth.

First things first, you'll hear a few new vocabulary words, so we want to give you some definitions:

Park Hopper: This is a ticket that is good for admission to both Disneyland AND Disney California Adventure on the same day. If you purchase a 1-park per day ticket, you will not be able to go into both parks on the same day.

FASTPASS: Many of the most popular attractions and entertainment at the Disneyland Resort have two lines - a stand-by line and a FASTPASS line. Anyone can enter a stand-by line at any time. Wait times are normally posted outside each attraction. The FASTPASS line is a much shorter line and is restricted to those that have a FASTPASS ticket. FASTPASS is a feature that is built into your Disneyland tickets (both Park Hoppers and 1-park per day). You'll see FASTPASS machines outside the entrance to some of the more popular attractions. When you insert your park ticket, you'll get a FASTPASS ticket with a return time for you to come back and ride the attraction using the FASTPASS line.

Cast Member: An employee of the Disneyland Resort.

Magic Morning: Magic Morning refers to the extra perk of early entry that comes with your 3-day or longer Disneyland Resort tickets. It is valid for one admission into select areas of Disneyland Park that you can use on your choice of Tuesday, Thursday or Saturday only.

Extra Magic Hour: Not to be confused with Magic Morning, the Extra Magic Hour is only available to guests staying at one of the three Hotels of the Disneyland Resort; Disney's Grand Californian Hotel & Spa, the Disneyland Hotel and Disney's Paradise Pier Hotel. It is valid for one hour early admission into Disney California Adventure Park on Mondays, Wednesdays, Fridays and Sundays. Guests staying on-property can also get early admission to Disneyland Park during the Magic Morning hour with a valid ticket and room key.

Next, we'd like to share some of our best tips from our Disneyland experts:

Get your tickets the night before you plan on entering the park. That means either choosing physical tickets when purchasing your Disneyland package, or going to a ticket window to pick up your electronic tickets the afternoon/evening that you arrive. Ticket windows open about 30 minutes prior to the park opening and generally stay open to park closing. You don't want to waste any valuable morning hours standing in line to pick-up your tickets.

Get a Park Map and Schedule when you pick up your tickets or right when you arrive at the parks. You can also do some planning online before you get to the parks to determine which shows and attractions are most important to your family. Pay special attention to the nights that the fireworks and Fantasmic! are playing, as they don't always show nightly, and plan your days accordingly.
Pro tip: World of Color plays nightly and is a must-see. You'll need to grab a FASTPASS ticket the morning of the show.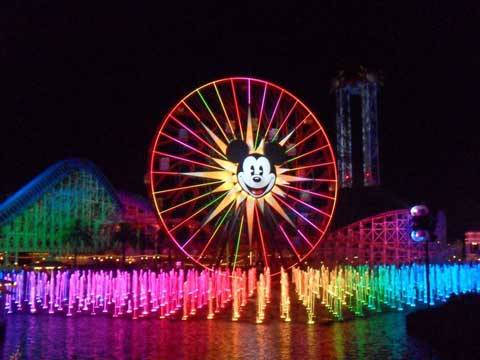 Get to the parks early. If you have early entry, be sure to take advantage of it. We suggest arriving approximately 15 minutes before early entry begins to get in and start playing as soon as possible.

Use the FASTPASS system. Get a FASTPASS for the attractions and entertainment you most want to experience first. Keep track of your times so that you can get your next FASTPASS as soon as it's available. It's also a good idea to appoint one person in your group to be in charge of the FASTPASS tickets for your entire party. If you want more information on how the FASTPASS system works, check out these articles: All You've Ever Wanted to Know About FASTPASS and Disneyland: FASTPASS 101 - the Video
Pro tip: Grab a FASTPASS for Radiator Springs Racers first thing in the morning. It is one of the most popular rides and FASTPASS tickets run out quickly.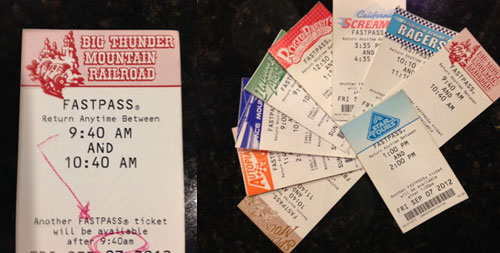 Photo credit: Chris Dallin

Make a reservation for Character Dining. There are five different locations throughout the resort and each offer a unique experience. It's a great way to get to spend time with the characters, and since they come to your table while you're eating, there are no wait times! Plus, the food is delicious. Be sure to read our article about Character Dining here: Disney Character Dining In a Nutshell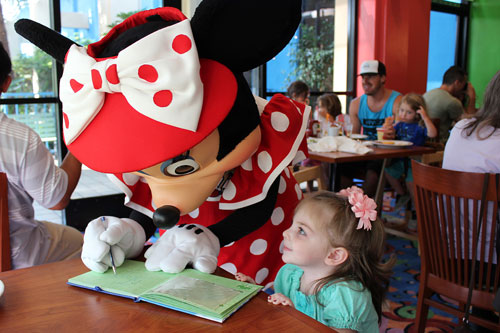 Speaking of dining, there are so many great places to eat at the Disneyland Resort. We also get a lot of questions about what you can bring into the parks and how to save money on snacking. If you want to save money on food and don't want to leave the parks, you can bring in outside food and drink - just no alcohol, glass containers or large coolers. We've put together some different articles with some of our favorite restaurants and outside snacks for our Disneyland vacations: Where and How to Eat on the Cheap at Disneyland, 12 Healthy and Simple Snack Foods for your Disneyland Vacation, 3 Easy Meals to Cook on Vacation
Pro tip: Alcohol is not served inside Disneyland, but it is available for purchase in the Downtown Disney District and Disney California Adventure Park.

If you're traveling with small children, there are a lot of things that will make your trip easier. We've compiled an article with everything from stroller rentals, baby center information and even the rider switch/child swap pass. Be sure to read the article here: 7 Things All Parents Should Know Before Taking the Kids to Disneyland
Pro tip: If you have Frozen fans at your house, you'll want to read: The Inside Scoop on All Things Frozen at Disneyland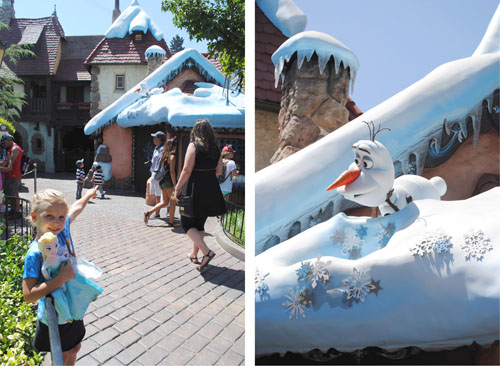 If you're celebrating a special occasion, like a birthday or anniversary, let it be known! There are so many fun ways to celebrate at the Disneyland Resort. Be sure to read our article to learn about ways you can make your celebration extra special: Ways to Celebrate at the Disneyland Resort
Pro tip: Even if you're not celebrating a special occasion, a first Disneyland vacation is something to celebrate. Go to City Hall in Main Street U.S.A. and get a free "1st Visit" button to wear throughout your vacation.

We hope that this helps you feel prepared and get even more excited for your trip! You can get your family in on the fun with our Disneyland vacation countdown chain and other ideas to create vacation magic at home. If you have any questions for your first Disneyland visit or if you haven't booked your Disneyland vacation yet, our agents would love to help you. Our agents have been to the Disneyland Resort numerous times and can give you even more expert advice. We also have the best deal on Disneyland packages and Disneyland tickets. Book online or give us a call at 855-GET-AWAY.


Check out these other great articles:

A Magical First Disneyland Vacation - Photo blog
Disneyland Vacation Fun For Everyone
Get Away Today Helps Happy Vacations Happen