Do you want to take a magical
vacation to Disneyland
, but are worried that with young kids it won't be so "magical?" EVERYONE needs to remember that Disneyland is MADE for families! I have a few tips to make your trip to Disneyland with little ones the best and most magical vacation you and your kids will never forget!
While considering your hotel options, think about what would accommodate you and your children best. You may want to go back to your hotel during the day for naps or for a swim. I personally would recommend staying at one of the Disney hotels. They are extremely nice and within easy walking distance to the parks. If you stay at
Disney's Grand Californian Hotel & Spa
you get your own private entrance into Disney California Adventure Park. All three Disney hotels can use the entrance, plus when you stay on-property, you can get in an hour early to Disneyland or Disney California Adventure Park every day you are there. There are also several options for good neighbor hotels that are walking distance as well. Some people also like to take advantage of hotels with a free breakfast or a kitchen so they can eat before they head over to the park.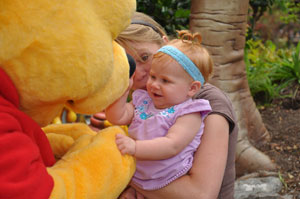 When traveling with small kids, you may want to consider bringing or renting a stroller. Both are great options. Renting a stroller is going to be about $15 per day and bringing your own will, of course, be free. You should keep in mind, however, that your stroller will be left unattended on multiple occasions throughout the day while you are waiting in line. Strollers are great for giving tired kids a rest and keeping snacks handy throughout the day.
There are so many amazing rides for kids of all ages! Here are a few rides with no restrictions:
| | |
| --- | --- |
| Disneyland Park | Disney California Adventure Park |
| The Jungle Cruise | Monsters Inc. Mikey and Sulley to the Rescue |
| Tarzan's Treehouse | Disney Junior - Live on Stage |
| Pirates of the Caribbean | Flik's Flyers |
| The Haunted Mansion | The Little Mermaid ~Ariel's Undersea Adventure |
| Adventures of Winnie the Pooh | Francis' Lady Bug Boogie |
| Explorer Canoes | King Triton's Carousel |
| Mark Twain River Boat | Heimlich's Chew Chew Train |
| Buzz Lightyear's AstroBlasters | Mickey's Fun Wheel |
| Alice in Wonderland | Toy Story Midway Mania |
| Dumbo the Flying Elephant | Princess Dot Puddle Park |
| Peter Pan's Flight | Redwood Creek Challenge Trail |
These are just a few of the rides without height requirements, but there are so many more. If your young kids are a little taller, there are more rides available, but with height requirements. Kids can also ride the trolley down Main Street and Buena Vista Street, see TONS of different characters, and watch all the shows that go on throughout the day.
Disney even offers something called a "Rider Switch" which is so great! The "Rider Switch" is when you have two (or more) adults who want to ride and a young one who can't. Before getting in line, you go to a cast member and request a "Rider Switch" pass. Your party waits in line while someone stays behind with the young child (or children). Then, whoever waits with the kids, goes to the front of the line and can bring a guest with them. This is so great so you can still enjoy your favorite rides and don't have to wait in the same line twice!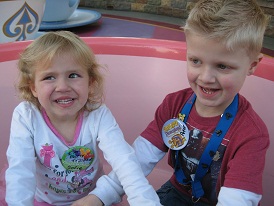 Both Disneyland and Disney's California Adventure have Baby Centers/ Lost Children Centers. They carry extra diapers, formula, and other baby supplies. They have accommodations for diaper changing, nursing, and bottle feeding. In Disneyland, the center is at the end of Main Street next to First Aid. At California Adventure, the center is next to the Bakery Tour in Pacific Wharf. I also recommend pinning your name and cell phone number to your toddler or infant in case you get separated in the park. If a staff member finds a lost child, they take them to the Baby Center.
I definitely recommend bringing snacks with you into the park (goldfish, apples, candy, etc.). Disneyland will not allow you to bring glass or large coolers. They must be small lunch box sized coolers. You will want to find some sneaky strategies for keeping the kids quiet in long lines. Maybe bring a small bottle of bubbles or toys for them to play with. There are also tons of treats you can buy at the park. You can even eat them in line. My favorite treat is the Dole Whip!
You are definitely going to want to bring a camera and maybe even a video camera to capture these spectacular moments with your kids. I hope I have given you some great tips and made you so excited to travel with your little ones! I know I got even more excited to take my 2 and half year old this fall.
You can always
book your Disneyland vacation online
. If you would like more tips or help booking your Disneyland vacation, please give our wonderful reservation staff a call at 855-GET-AWAY.

Check out these other great blog articles:
How to Take the Best Vacation Photos
Top 12 Tips to Save on Vacation
20 Things To Do at Disneyland When It's Crowded
Baby Your Baby at the Disneyland Resort