The Paradise Pier Hotel is a sea-side themed hotel that is absolutely perfect for families. It gives you the ultimate Disney vacation with a more affordable price. The pool is located on the roof, and on select nights, make your way up there for an exceptional view of the fireworks with the soundtrack to go along with it. Surf's Up! Is a Character Dinning you are going to want to experience as well. It's surfed themed so you and your kids will experience a breakfast like you have never had before!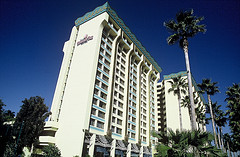 As if this hotel isn't great enough, upgrade to the Concierge level and not only will you be saving some money by not spending so much on food in the park, but you will be treated like the ultimate VIP! The Beach Comber Club is located on the second floor and will give you the vacation upgrade you and your family will love!
You will receive priority check-in and check-out, personal assistance from the Concierge staff, a large assortment of Disney DVD's and board games to check out and so much more! One of my favorite elements to the Concierge level is the food! Because the upgrade fee for the Concierge level is charged per room and not per person, this is an even greater benefit for larger families since you won't have to pay for food in the park as often.
In the mornings, they offer a wonderful continental breakfast with fresh fruit, pastries, cereal, and beverages. In the afternoon, they offer mid-day snacks to hold you over until dinner. At night they offer a "Moment in Paradise" with delicious appetizers, a cheese tray, hors d'oeuvres, and even complimentary wine and beer. To wrap up the day they serve assorted cookies and deserts with beverages all day long.
I have always had the best experiences while staying on property at the Disneyland Resort and with the concierge upgrade it makes it even better! We would be happy to help you get to the happiest place on earth with any of our
discount Disneyland packages
! Book online or call our Disney experts at 855-GET-AWAY.