Make your Halloween awesome with this DIY Descendants Evie costume. Get our full tutorial on how to make Evie's wicked blue dress with pictures and detailed instructions.
Being evil isn't all it's cracked up to be. Just ask Evie! She might not be following in her mother's villainous ways, but she sure knows how to put together a killer outfit. Evie is always rocking something blue, shiny and totally hip. If your little princess is hoping to be the fairest of them all this Halloween, then this DIY Descendants Evie costume is perfect for you.
Designing a costume for Evie is almost as fun as casting a spell. This tutorial will take you through the steps of creating a DIY Descendants Evie costume. There are several fun accessories you can add to the dress to make it totally authentic and awesome to the core.
DIY Descendants Evie Costume Supplies:
Instead of designing our own pattern for the dress, I thought it would be easier to start with a basic pattern from the fabric store. That way, when you are making the dress at home, you can have a good base to work with. The pattern that I picked out that best matched Evie's dress from the Descendants show was McCall's pattern M6878.
Follow the pattern recommendations for the amount of fabric you will need. I made a girl's size 7 dress, which called for 1 3/4 yards of fabric. Evie has a shiny royal blue dress. You can find great fabric in the costume section that is usually a good deal! Or, there are lots of options online.
I didn't take pictures of the actual dress making process, so just follow the pattern. It is labeled as "easy" so it should be doable for anyone! Here are a few tips that will help you in the process:
*When the pattern says to "fold the pleated parts to the center," that means to fold them to their own center, not the center of the dress.
*Make sure to test the bodice section on your little Evie, because my dress fit pretty wide. If your child is narrow, you might want to adjust the pleated sections to make it more snug.
*The pattern picture shows the dress hitting just above the knee. When I made my own dress it hit my Evie mid-calf. I cut about 6 inches off the bottom of the dress so that it matched the Evie dress we are imitating. You could check this length with the pattern before you cut it out so you don't waste fabric.
*When you sew in the zipper, it is helpful to hand stitch (basting stitch) it in place first, and then use the sewing machine to sew it in place.
I hope those tips help. If you have any other questions, feel free to ask in the comments below. When your blue dress is finished, you can start the finishing touches of your DIY Descendants Evie costume.
Evie has a metallic zipper in the front of her dress. I found a fun trim at the fabric store that looked a lot like a cool zipper. You could also use some silver or gold rick rack. Check out the trim section, where there will definitely be something cool for you to use for your DIY Descendants Evie Costume.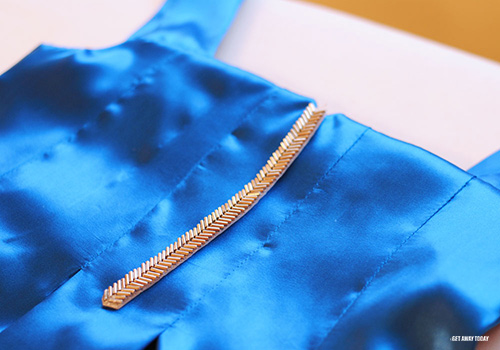 Mark the center of the bodice. Pin the trim onto the dress so it goes straight down the center. You want it to go about 2/3 of the way from the top of the dress to the waist. Sew it in place.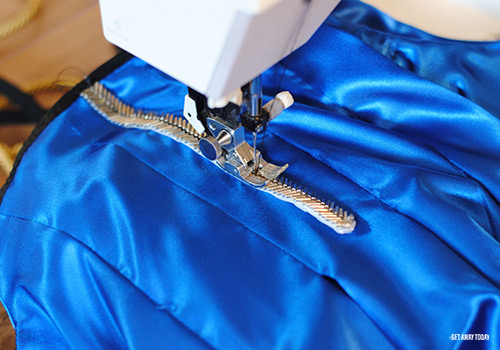 Add black trim to the top edge of the dress. Fold the edges of the ends under before you sew them in place for a nice clean finish. Note that the picture doesn't show the zipper in place. Make sure that you do that step before you add the black trim. The black trim hides the top of the zipper so it looks neat and professional.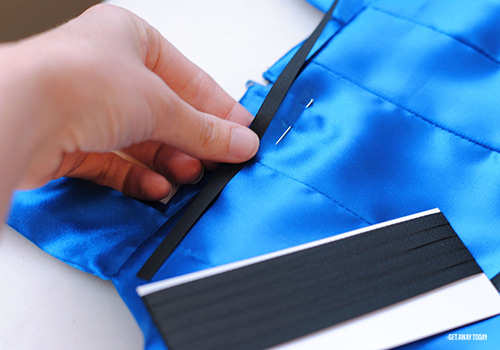 The last embellishment for your DIY Descendants Evie costume is to add the rope belt. This requires zero work. Just purchase the rope and tie it around her waist. I found the rope next to all of the fancy trims. It was sold by the yard. You will want to measure your Evie's waist and then buy three times the length of her waist measurement.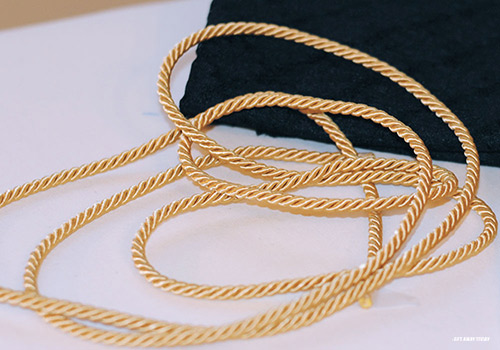 The final sewing step is to make the black slip. It is very easy! I created a PDF you can download with step-by-step instructions with pictures for making the slip. You can print the file and have it handy while you sew.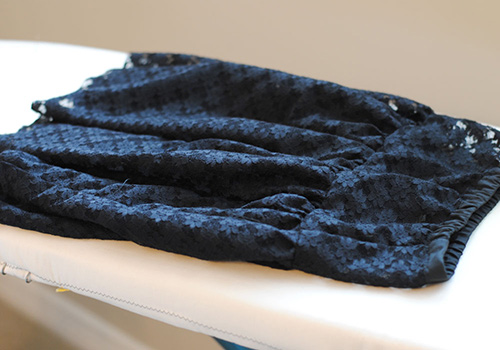 This dress is very cute on its own! But, if you want to add Evie's leather jacket you can find it here on Amazon. I like the idea of the jacket because where we live, it can get pretty chilly on Halloween night. Plus - it looks nice when it is part of the costume. My daughter is being Evie for Halloween and she is so excited to have the jacket to wear after the holiday is over!
Evie has blue hair. I don't know very many kids that have bright blue hair, so a wig is a great option! If you aren't into wigs, then you can also just purchase some blue hair spray and go to town with it. Evie wears this dress with black tights and black ankle boots, so you can add those on too.
I hope you have fun making this DIY Descendants Evie costume. My little Evie can't wait to be chillin' like a villain this Halloween in her DIY Descendants Evie costume. It is comfortable, cute and totally wicked!
Halloween Time at Disneyland is the perfect place for little ones to show off their Halloween costumes. If you were able to snag Mickey's Halloween Party tickets before they sold out, adults can show off their costumes as well during the separate event. Just make sure to check Disneyland's costume guidelines before you go.
Even if you don't have Mickey's Halloween Party tickets, you can have an amazing vacation during Halloween Time. We still have some packages available to experience the not-so-spooky fun, but you'll want to book now. You can buy your discount Disneyland tickets and reduced hotel stay online or by calling our agents at 855-GET-AWAY.

Check out these other frightfully fun Halloween costume tutorials: