This DIY Harry Potter Broom is a fun and easy project for any Harry Potter party. You can even make a bundle for non-treat handouts for Halloween night! Download the free printable and follow the easy tutorial to make your own magical glowing brooms.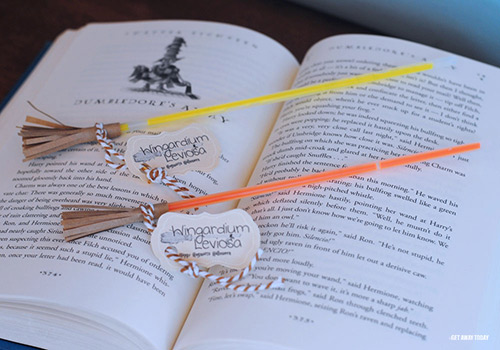 DIY Harry Potter Brooms
Harry Potter is always popular, but during Halloween season, witches and Muggles alike are even more enamored with The Boy Who Lived and his fantastic Hogwarts world. Both magic and mystery take the stage during the Halloween season. If you wish you could communicate using Owl Post, munch on Bott's Every Flavor Beans, warm up with a mug of sweet butterbeer or take a ride on the Hogwarts Express, then you are going to love today's craft.
The DIY Harry Potter Broom craft is sure to put a spell on your little witches and wizards. You will learn how to make glow stick brooms and how to recite the spell that makes them fly. They might not be quite as fast as a Nimbus 2000, but they are still pretty magical. Plus, they glow! You won't need headlights while flying at night!
Bring your imagination and a few supplies to your Harry Potter party or Halloween night celebrations to create a fun non-treat handout that is sure to lift you off your feet.
DIY Harry Potter Broom Supplies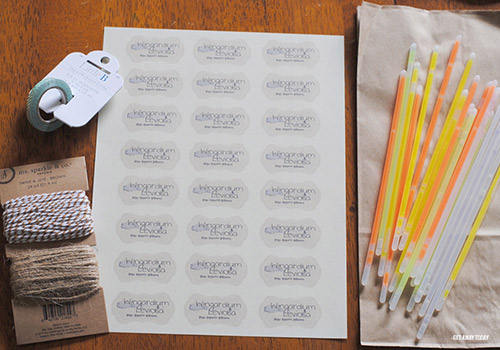 While you are collecting supplies, keep in mind that you can make about 12 glow broom sticks with each paper bag. The DIY Harry Potter Broom Template has 24 tags on each page. You will use about eight inches of twine per broomstick and one inch of tape. Hopefully that will help you plan for a big group!
DIY Harry Potter Brooms - Getting Started
Download the DIY Harry Potter Broom Template here. Make sure to print it in color ink. I used regular printer paper, but you could use cardstock if you wanted a sturdier tag. The words on the tag are magic. They read, "Wingardium Leviosa." Be careful using them lightly, just in case you aren't a Muggle after all. I'd hate to see all your possessions floating around the house!
Now, cut out the tags and set them aside.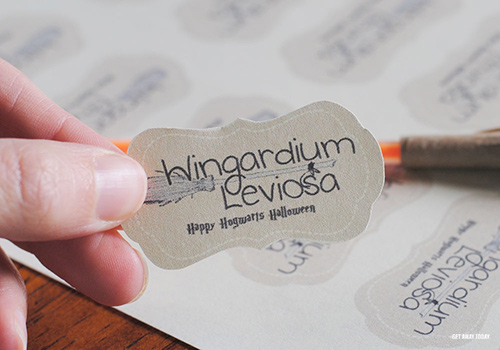 Cut the paper bag into 1.5-inch strips. Each strip will make four broom heads. Cut the strip in half and then in half again to make four equal strips. Stack them on top of each other.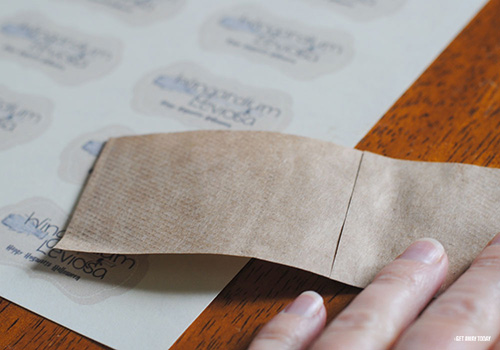 Then, use the scissors to cut fringe onto the bottom inch of the paper strips. I made my fringe thin.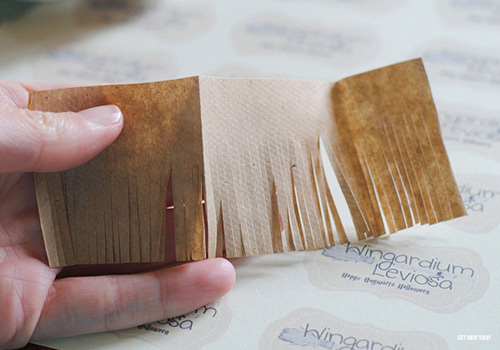 Carefully, pick up a glow stick. You do not want to crack them and start the chemical, I mean, magical reaction yet! Place a small piece of double sided tape onto the edge of the fringe strip and roll it onto the end of the glow stick. Then, place a piece of tape at the other end of the fringe strip to hold it in place as you finish rolling the glow stick in the paper.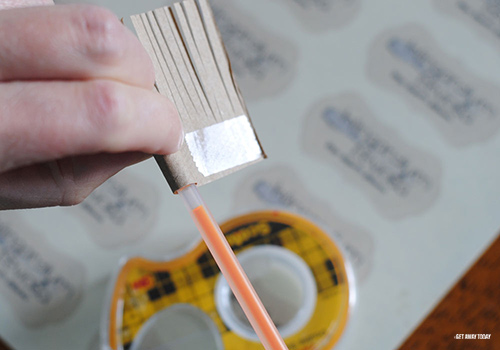 Now, punch a hole in the tag. Cut an 8-inch piece of twine and wrap it around the paper broom head. Pull it snug and tie it tightly. Use the extra string to thread through the hole in the magic words tag. Tie the twine in a knot to hold the tag in place.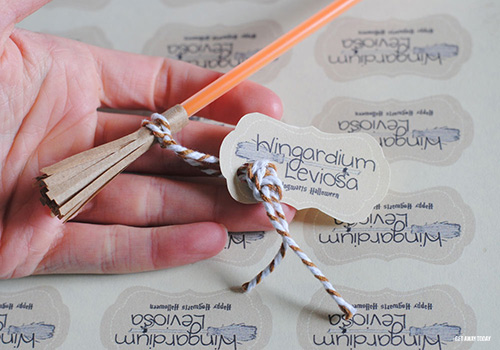 Your broom is now ready for takeoff! Repeat the process until all of your DIY Harry Potter Brooms are complete. They are easy to make and so festive.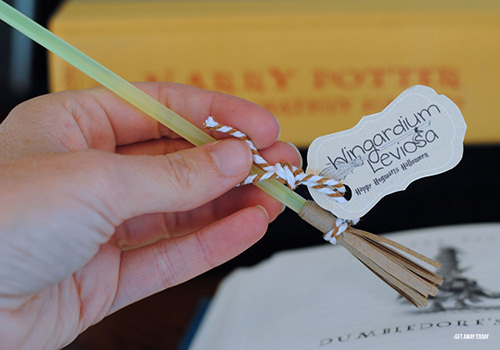 If you are using them for a Hogwarts Halloween Party with children, you can practice saying the magic words together. A little bit of imagination goes a long way. Make the broomsticks fly around the room. You can even mount them and go for a ride! Make them glow by cracking the sticks and giving them a little shake. The glow effect will typically last about 12-24 hours.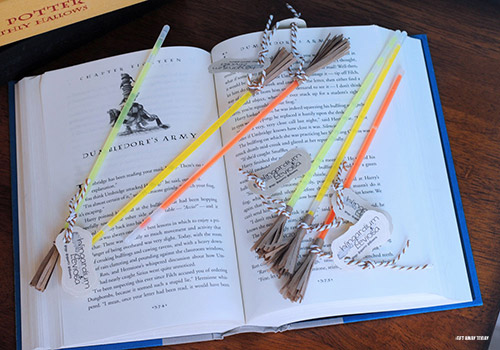 If you are a Harry Potter fan, you should fly on over to The Wizarding World of Harry Potter at Universal Studios in Hollywood. Stepping into the magical world is an experience every wizard-loving Muggle deserves! The attention to detail is amazing. It truly feels like you are stepping into the story! You will want to sample the food at the Three Broomsticks, select a wand from Ollivander's Wand Shop and fly through Hogwarts Castle.
We can help you plan your Wizarding World of Harry Potter adventure! From discount Universal Studios Hollywood tickets to reduced hotel rates, you'll save so much you'll wonder if it's magic. Book your Universal Studios Hollywood vacation online now or by giving our wiz- we mean Muggle agents, a call at 855-GET-AWAY.

Check out these other magical articles: