Want to know how to make Harry Potter Butterbeer served warm? We have a delicious copycat recipe of the warm butterbeer served at the Wizarding World of Harry Potter at Universal Studios.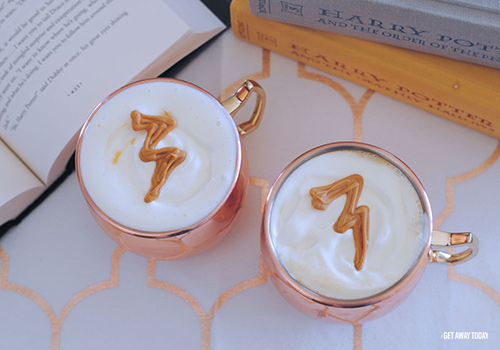 Have you ever dreamed of tucking into a booth at the Leaky Cauldron to sip on Harry Potter Butterbeer served warm and steamy in a mug? Now your dream can come true! It doesn't even take a ride on the Hogwarts Express to make it happen. With this copycat recipe, you can brew up a batch of your own Harry Potter Butterbeer served warm -- no magic needed! This heated version of the popular wizard beverage is not quite as sweet and a bit more creamy than the cold drink. It is just the right combination of buttery sweetness to make a perfect hot treat for a cool day.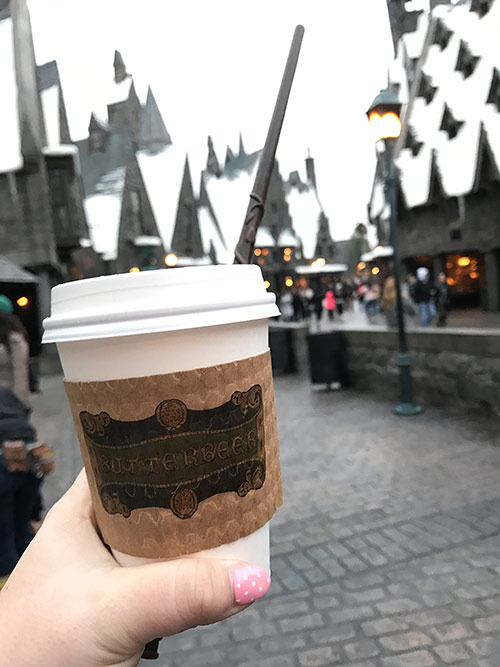 Harry Potter Warm Butterbeer Recipe
You can find a mug of this delicious Harry Potter Butterbeer served warm at the Wizarding World of Harry Potter in Orlando and Hollywood! Fill your mug in Diagon Alley at the Leaky Cauldron, The Hopping Pot, and the Fountain of Fair Fortune. If you are walking the streets of Hogsmeade, pop into the Three Broomsticks or Hog's Head Pub for a mug of the warm treat. There are so many ways to enjoy the popular Butterbeer flavor and I hope you enjoy this new addition to the recipe book of Harry Potter Butterbeer! It really is pure magic in the kitchen.
Harry Potter Butterbeer (Served Warm)
3 Cups Whole Milk
2 T Sweetened Condensed Milk
2 Cups Cream Soda
Butterbeer Cream Topping
1 Cup Heavy Whipping Cream
1 Tsp Sugar
1 T Sweetened Condensed Milk
Butterscotch Lightening Bolt Topper
Line a baking sheet with wax paper. Place 1/2 cup Butterscotch Baking Chips into a microwave safe bowl. Melt the chips in the microwave for one minute. Stir every twenty seconds.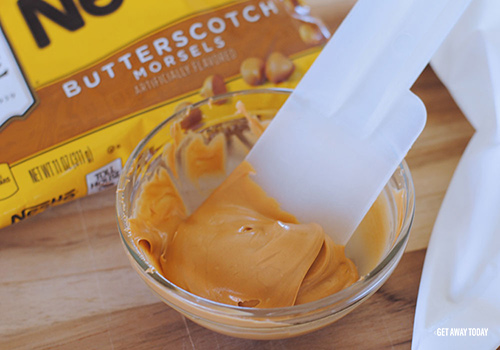 Place the melted butterscotch into a pastry bag that has been fitted with a small round tip. Squeeze the bag to let the butterscotch slide out onto the baking sheet. Maneuver the tip to make lightning bolt designs. These will be used as an accent for the warm butterbeer when serving it to your guests! It is the sign of the "Boy Who Lived."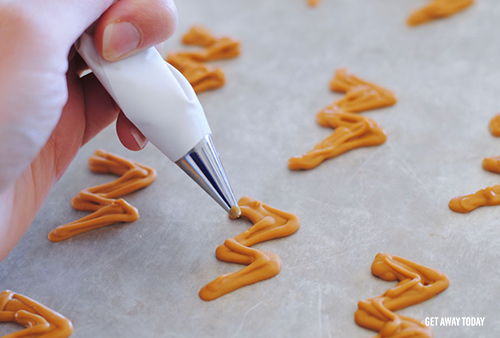 While the lightning bolts are setting up, place a saucepan onto the stove. Turn the heat to medium. Place the milk, sweetened condensed milk, and butterscotch chips into the pot. Stir them constantly for about 10 minutes. The milk mixture should get hot and steamy.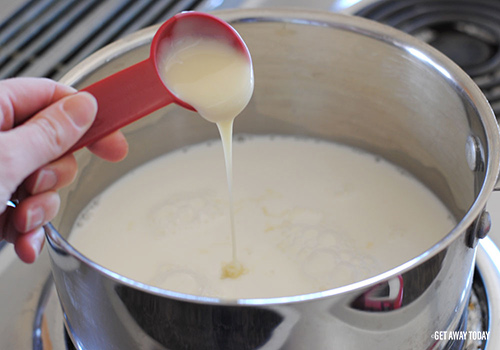 When the contents are hot, but not boiling, add the cream soda and butter extract. It will foam up and get bubbly when you pour in the soda. Remove from heat.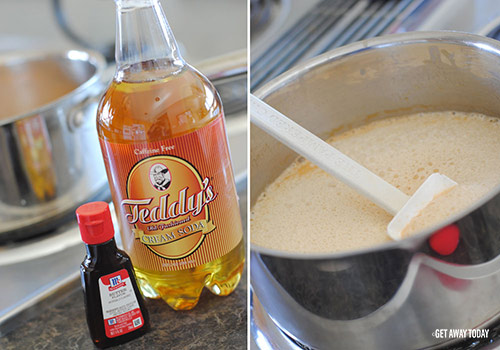 Quickly whip the heavy cream with the sugar, sweetened condensed milk, and vanilla. Make sure the cream gets fluffy and firm enough to hold soft peaks.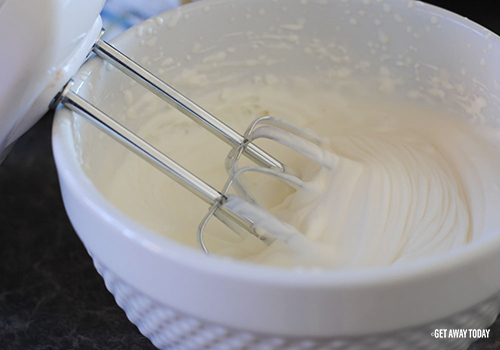 Pour the warm butterbeer into a mug and top it with a dollop of cream.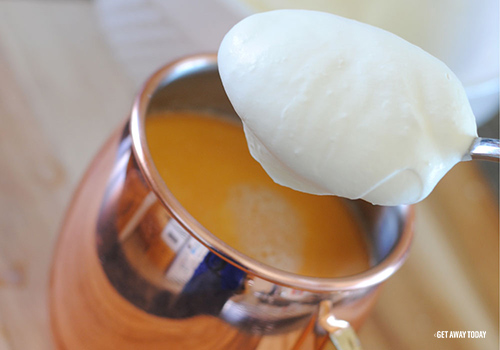 Add a butterscotch lightening bolt to finish the look. You can swirl the cream into the mixture or sip it off of the top. Be prepared to get a milk mustache. There are plenty of lightning bolts, so add as many as you want to create a perfect personal level of butterscotch flavor.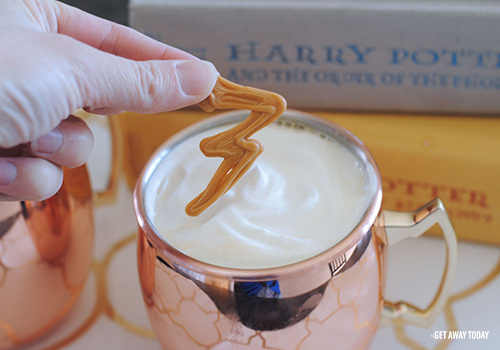 I hope you enjoy this recipe for Harry Potter Butterbeer served warm. I think you will find it quite magical. I wanted to create a beverage that had all of the right flavors, but didn't make my stomach hurt when consumed. Some butterbeer recipes are extra sweet! If you are looking for a warm, creamy version of the wizard brew, then look no further than this Harry Potter Butterbeer served warm.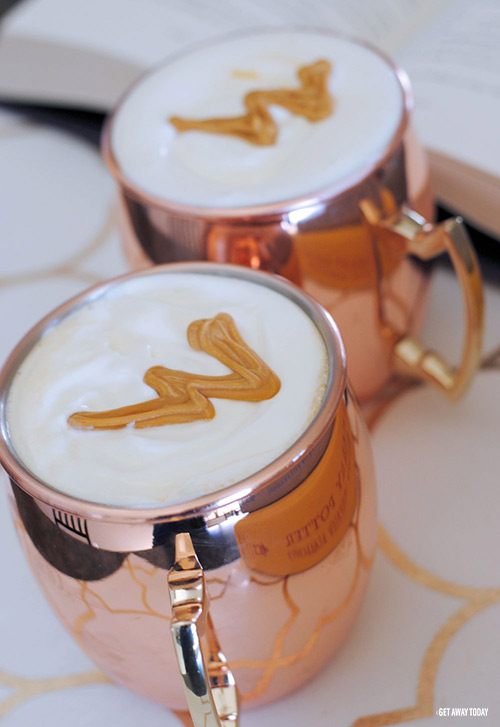 You can even combine it with a tasty biscuit (cookie) and enjoy an authentic British wizard snack.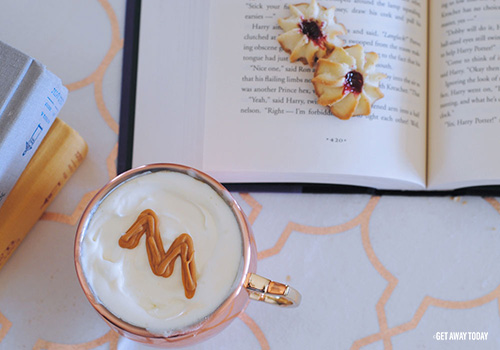 You'll want to try a mug of Harry Potter Butterbeer served warm at the Wizarding World of Harry Potter in Universal Studios to compare it to your homemade drink. Let us know which recipe you prefer!
Make sure to book your next trip to
Universal Studios Hollywood
or Orlando online or by giving us a call at 855-GET-AWAY. Our travel experts have more wizarding tips than you can imagine to make your Universal Studios trip as magical as possible. You might even think they're wizards themselves!