This free printable Star Wars Yoda Bank is perfect for saving money. Whether the money is for a Star Wars movie or a galactic Disneyland vacation, your family will love using the Force to save.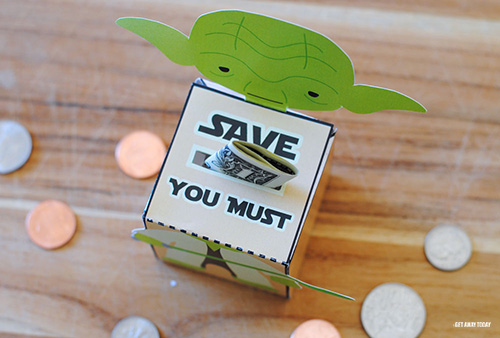 You can always count on Yoda to offer good advice. He is one wise Jedi Master! This free printable Star Wars Yoda Bank captures the essence of Yoda with the words, "Save. You must." It's perfect to get your family in on the adventure of saving for a Disneyland vacation. Download, print and fold the origami bank before you start filling it with extra coins and cash.
There are a lot of ways to let kids earn family vacation money for their Star Wars Yoda Bank. Give them extra jobs to complete around the house. Pay a few quarters for unloading the dishwasher or a dollar for vacuuming! Set up a chore chart with jobs and their associated payment. Let them decide what they can do to help.
Money is also a great motivator for completing homework. How about offering a penny per page that they read each night? It's funny how much more exciting it is to read when there is coin involved.
Star Wars Yoda Bank
The idea behind the Star Wars Yoda Bank is to help the entire family play a part in making the vacation happen. It makes kids feel like they are important and helpful. It also helps them appreciate the outing even more. Share your ideas in the comments below. Have you ever had your family help with saving for a Disney vacation?
Making the Star Wars Yoda Bank is really easy. Use of the Force is not necessary. Although, we now know that we can all access the Force, no special Jedi heritage needed. That is pretty awesome.
Star Wars Yoda Bank Supplies
(these may be affiliate links)
Start by downloading the file and saving it to your computer. You can download the Star Wars Yoda Bank Printable here. You'll want to print it on card stock or computer paper using color ink.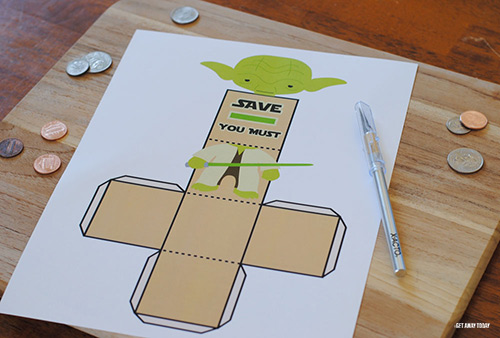 Yoda Bank Tutorial
Use an X-Acto knife to trim around the border of the rectangle slot that is on the square with the text. This hole is for inserting money into the box. The straight blade makes cutting easy.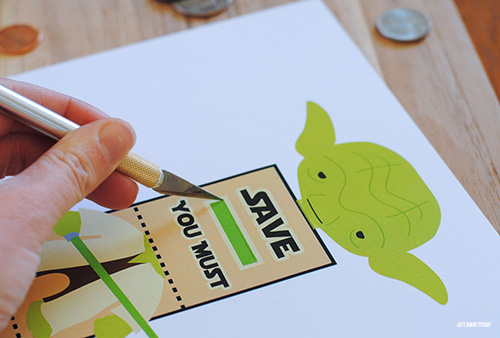 Next, cut around the entire border of the template. Be careful when you are trimming around Yoda's light saber. It is kind of skinny.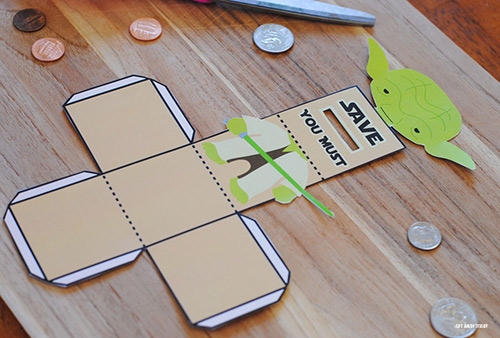 Turn the Star Wars Yoda Bank over so that the printed area is facing down. Then, fold up on all of the black borders and tabs. Give each a good crease.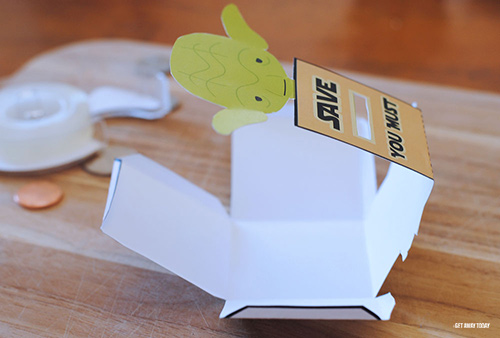 Use double-sided tape to attach the tabs to the inside of the neighboring section of the template. It should fold into a cube. Press the tab so that it sticks really well. You want the cube to be solid.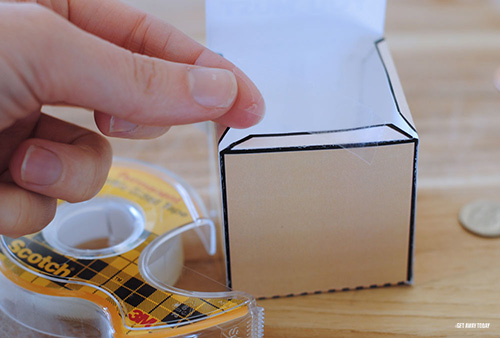 Fold Yoda's head "up" at the neck so that his head is poking up from the top of the box.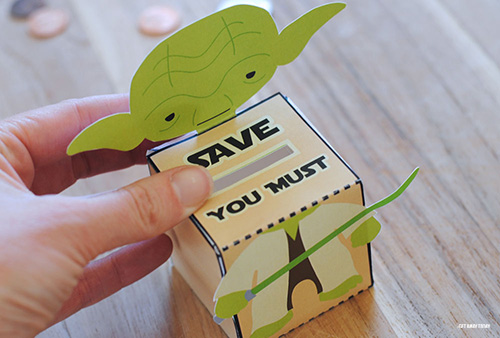 Your Star Wars Yoda Bank is ready to be filled with money.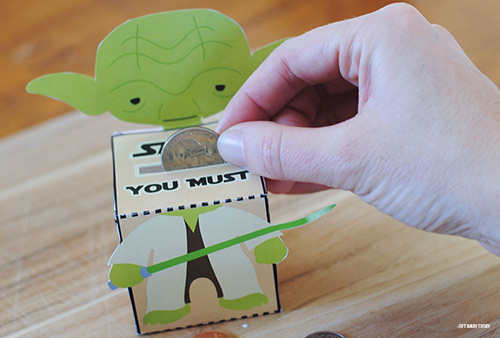 Just like a Star Wars story, Disneyland vacations are full of action and adventure. The park is a blast for families. We are so excited for the brand-new Star Wars Land Disneyland to open May 31, 2019. Construction has begun, and you can catch a peek of the process when you are there. You can also find out everything you need to know about Star Wars: Galaxy's Edge here.
In the meantime, head over to Tomorrowland to participate in a taste of the Star Wars experience. Storm Troopers patrol the area, Darth Vador and Kylo Ren make appearances on stage during the Jedi Training academy, and you can immerse yourself in the 3-D action of Star Tours.
If you need additional help saving for a family vacation to Disneyland, we can help! You'll save the most when you combine our discount Disneyland tickets with our reduced hotel rates. Plus, our Disney experts have all the tips to make your Disneyland trip the best ever. Book online now or give our agents a call at 855-GET-AWAY.

Check out more Star Wars articles: